Mother's Day 2022 is coming soon, it's taking place on Sunday 8th May 2022! Have you bought your Mother's Day gifts yet? Don't worry, let me share with you how you can celebrate Mother's Day in Superhero fashion with SK Jewellery! Kids love and adore superheroes with amazing powers, SK Jewellery invites everyone to express their love for the uncapped and unsung superhero of the house, your SuperMom, with the same degree of unabashed earnestness and creativity we has as children.
SK Jewellery aims to inspire a deeper bond between mother and children with art from the heart, through various collaborations and challenges spiced up with generous sponsorships of jewellery.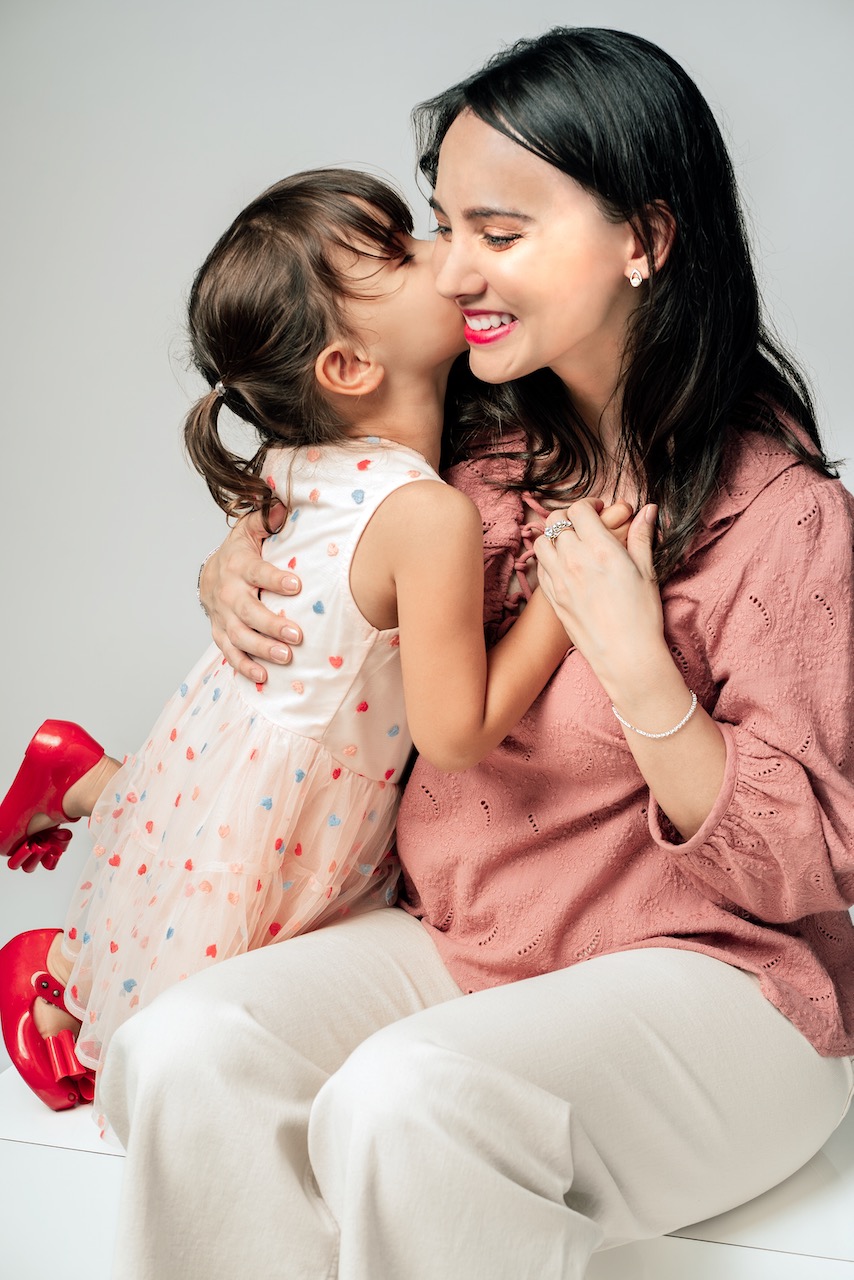 Embrace Your Inner Child: SK Jewellery collaborates with local pre-school Learning Vision
Do you remember the good old days of hand-drawn cards that were lovingly rendered in crayons, colour pencils and whatever creative tools we as children could get our hands on? For the SuperMoms, don't you love those precious, priceless and treasured artworks produced by your kids, keeping them for many years no matter how messy they are.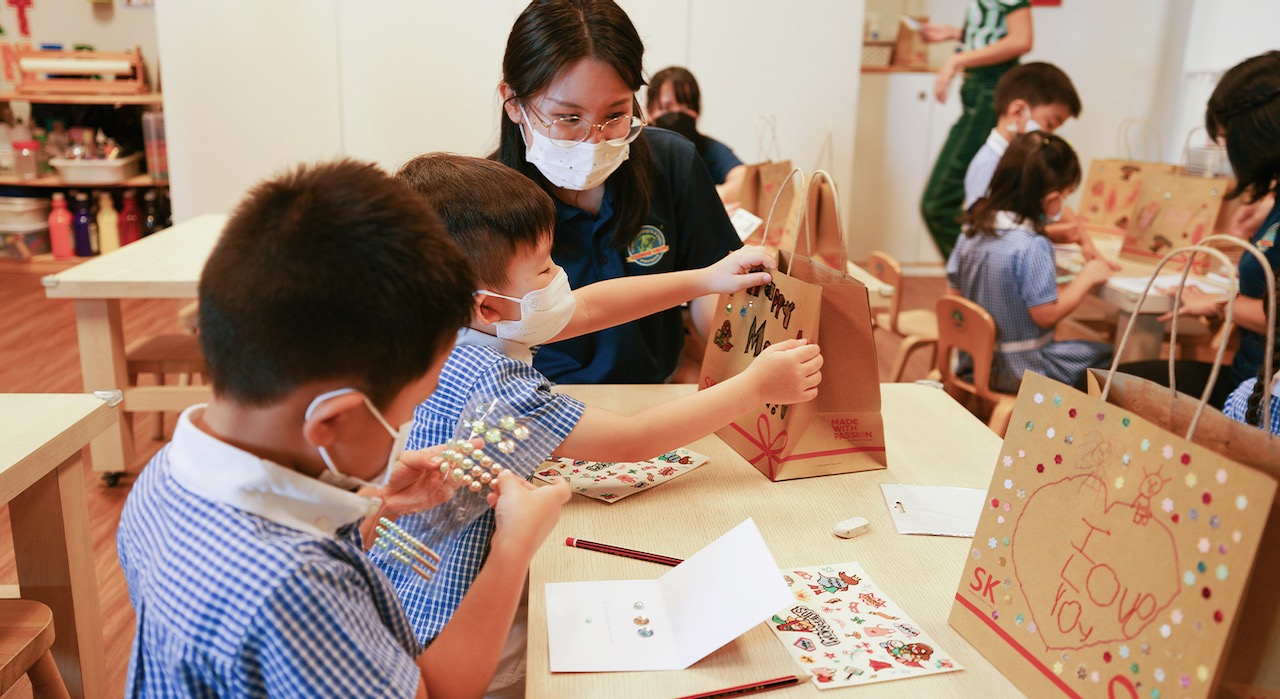 With this in mind, SK Jewellery invites Mom's favourite artist on a trip down memory lane, teaming up with the children of local pre-school, Learning Vision.
SK Jewellery aims to create an expression of love that is unique, heartfelt and sweet. They gifted freshwater pearl earrings for every student and teacher of Changi Business Park (CBP) branch. The kids were encouraged to infuse their appreciation for their SuperMom through heartfelt messages, drawings and stickers on the paper bags holding the gifts for their SuperMom.
SK Jewellery aims to create a heartfelt and purposeful celebration for all mothers through those art pieces. SK Jewellery is extending this collaboration to all Learning Vision centres, they have also sponsored a Mother's Day Greeting Card contest where the winning works of each centre get a pair of luxurious pearl earrings.
Make it a Gift of Meaning: A Collaboration with You
Inspired by the children with their uninhibited and heartfelt drawings dedicated to their SuperMoms, SK Jewellery has also ventured into its own form of "doodle craft", creating a SuperMom Doodle sticker sheet and card.
These Mother's Day exclusive supplies come as a part of their newly launched Mother's Day Doodle Box Kit. Through this Doodle Box Kit, SK Jewellery encourages its customers to join in on a creative expression of love, inviting them to decorate their white gift box in whatever ways they like, making their gift to SuperMom a unique one filled with love and meaning.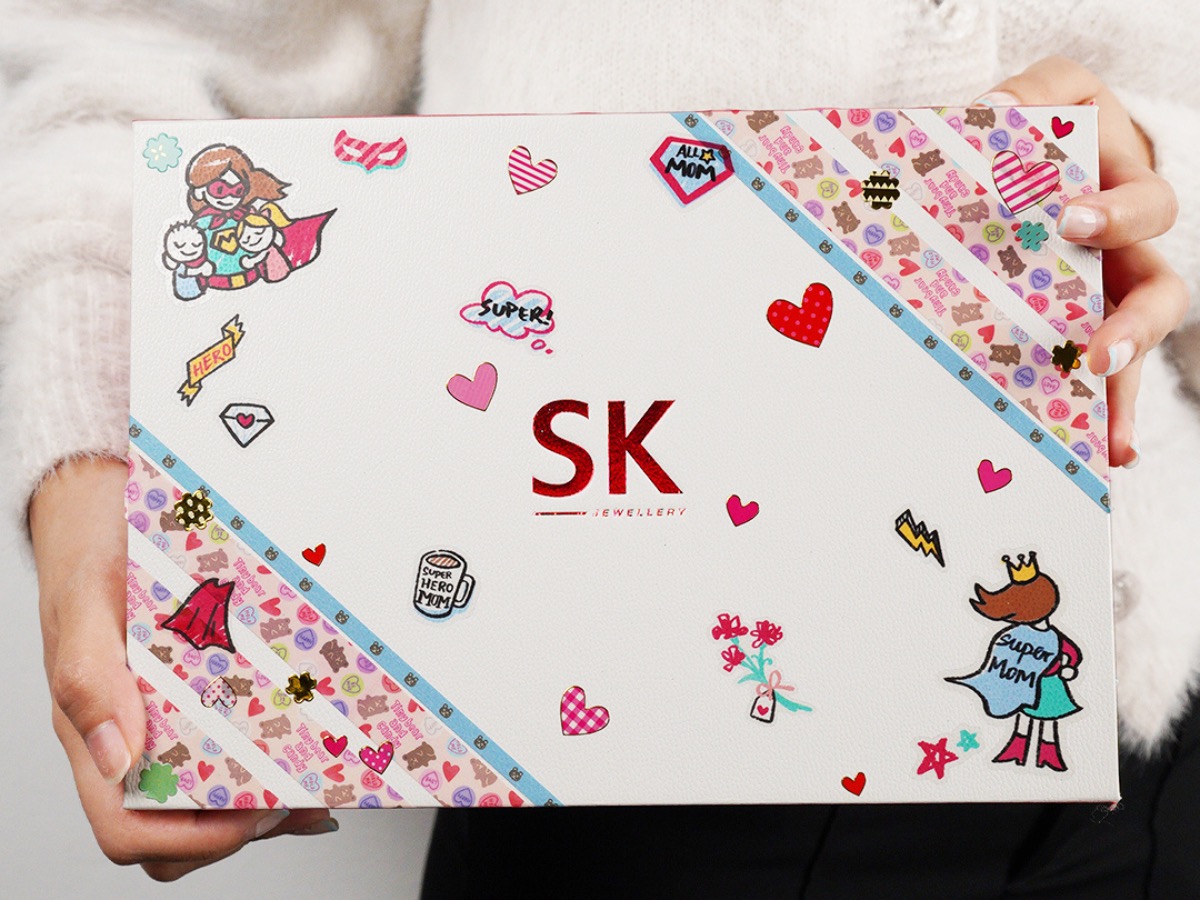 What's inside SK Jewellery Mother's Day Doodle Box Kit? It comes filled to the brim with decorative hearts and sweets, alongside SK Jewellery's SuperMom Doodle sticker sheet and card. This is available at $18 as an add-on with any jewellery purchase through their online store.
This is a limited-edition box, comes free with a purchase of any of the 3 featured pearl jewellery sets: their Mother's Day Enwind Pearl set, Beloved Pearl Set and Grace Pearl Set. You are invited to share your decorated Mother's Day Doodle Boxes on social media with the hashtag, #SKSupermom.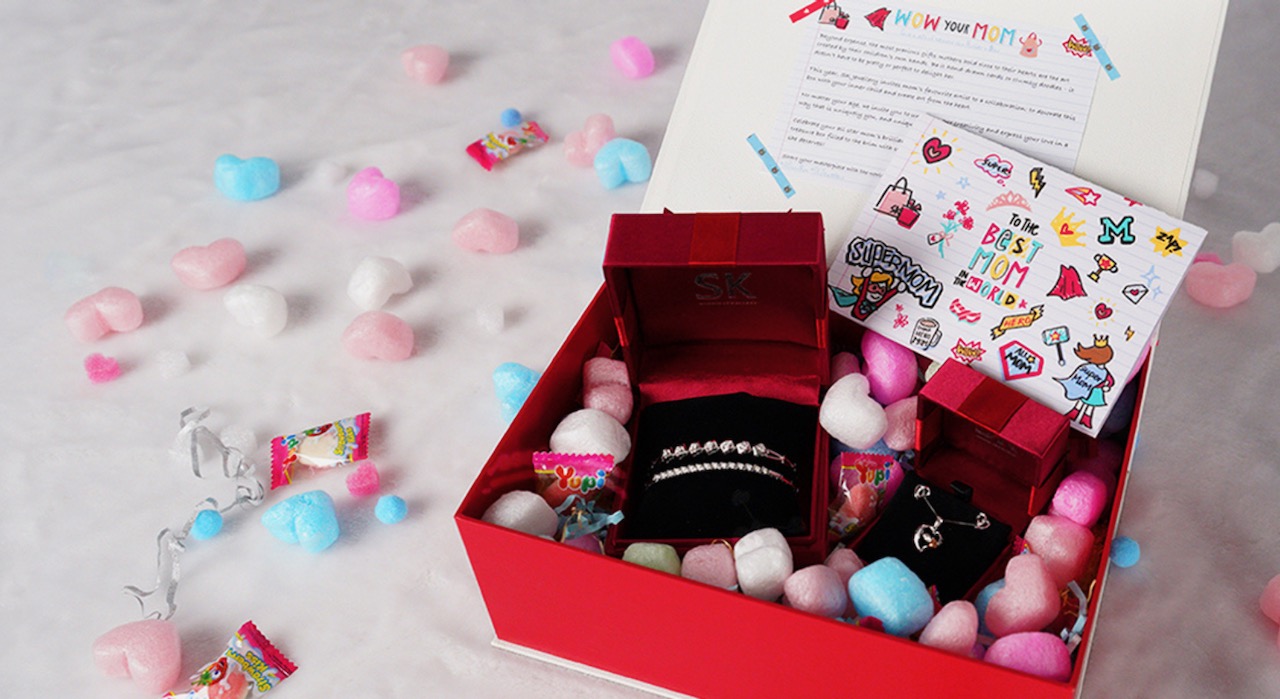 Digging the Dancing Queen: A Collaboration with TikTok Influencer Kevin Tristan
Well-known on TikTok for his awesome dance moves and close bond with his mom, SK Jewellery invited Kevin Tristan to choreograph a fun dance for Mother's Day.
SK Jewellery opens the floor to all Singaporeans on TikTok: To perform the dance challenge with mom.
There are exciting prizes on offer for those that participate in this TikTok challenge! The main winner gets a $500 SK gift voucher redeemable on SK's e-store, and 10 runner-ups win a gold-plated rose each.
The dance challenge runs from 22nd April to the 5th May 2022, and the winners will be announced on 6th May 2022.
For more information, you may visit SK Jewellery's TikTok page at @ skjewelleryofficial.
Supermom Moments: A Giveaway on Facebook and Instagram
SK Jewellery plans to engage Singaporeans through Facebook and Instagram as well. On 28th April, a Mother's Day giveaway will be launched on the two platforms, inviting Singaporeans to share about their supermom with the hashtag, #SKSupermom.
Participants stand a chance to win a Mother's Day Beloved Pearl Set, packaged in the Mother's Day Doodle Box Kit.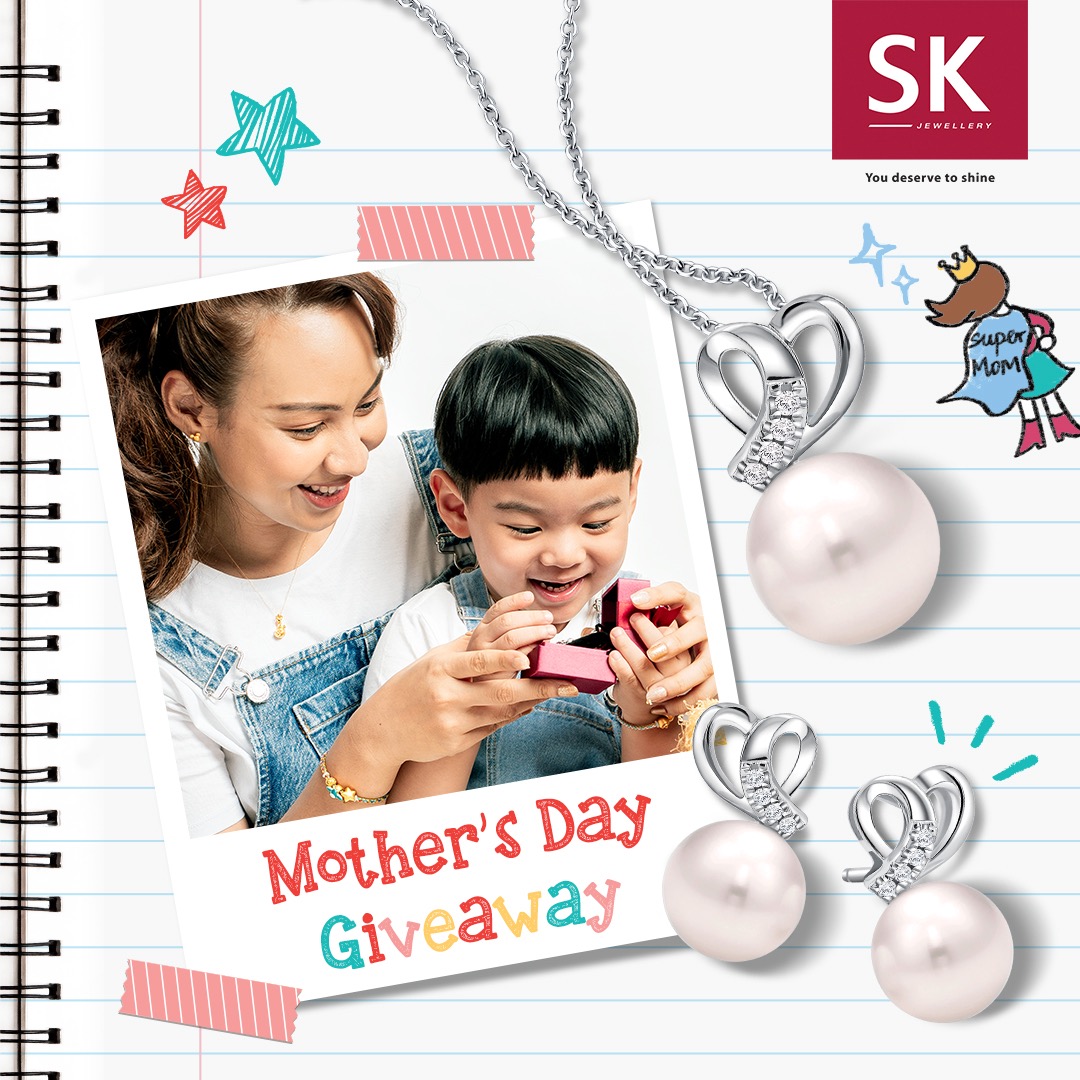 The giveaway will run from 28th April to the 3rd of May 2022, with winner announcements on 6th May 2022. For more information, kindly visit SK Jewellery's Facebook page, and its Instagram page at @skjewellery.
More about SK Jewellery Mother's Day promotions, please visit https://www.skjewellery.com/to-my-supermom/
* Information and pictures courtesy of SK Jewellery *