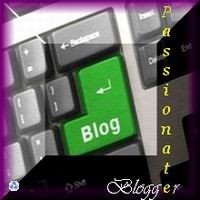 I am very honoured to receive The Passionate Blogger Award from my Big Sister and fellow blogger, iWalk, U2?. Thank you very much from the bottom of my heart for the above award !!! 
Right now, I am going to award The Passionate Blogger Award to my bloggers network, whom I have read and followed through blogging !
Here are the rules :
The rules :
1. Put the logo in your blog
2. Write five things you are passionate about apart from blogging
3. Tag 5 people on your lists and let them know you tagged them.
Five things I'm passionate about apart from blogging :
(1) Photography
(2) Travel 
(3) Eating 
(4) Hiking 
(5) Football
The Passionate Blogger Award is now passed on to ……..
Happy Blogging, my fellow Passionate Bloggers !