Do you remember this movie "Honey, I Shrunk the Kids!", have you ever wonder what it would be like to be shrunk and become a mini YOU? Yes, it is now possible to have a mini YOU today!! Today, Kinetic Singapore introduces Japanese 3D Printing Technology that enables you to create 3D customised figurines at their pop-up store Uu. This is a collaborative project by Kinetic Singapore, Mikanbako of Japan and venue sponsor Scotts Square. If you are ever keen to clone yourself and create your own mini YOU, you have to visit Uu 3D Customised Figurines pop-up store at Scotts Square soon because it will only open for a limited time from 21st September 2013 to 6th October 2013!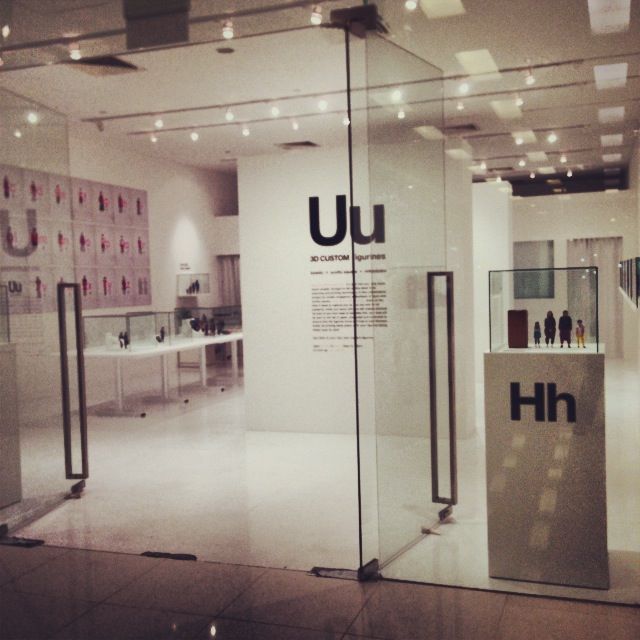 I dropped by Uu 3D pop-up store at Scotts Square and toured around, looking and admiring at the mini figurines of famous celebrities. The artwork was amazing and very beautiful! I was thinking about, how will it be like if I ever have a Mini Me, to get a customised 3D figurine done? If you love taking photographs of figurines, imagine putting U,yes! The small U, at interesting locations and you can compose many interesting photography / travel adventures!
The 3D scanning process takes about just under 30 minutes, customers will be scanned with cutting-edge equipment by professionals from Mikanbako. This collated data will then be sent to Mikanbako's lab in Japan to be processed and printed. Due to the complexity of the technical processes, customers will receive their figurine three months from their scan.Customers can choose from 3 sizes –small (15cm), medium (20cm) or large (25cm).
Here are some important information about Uu 3D Customised Figurines
Pricing
Small –S$850
Medium –S$1,000
Large –S$1,500
Location
Uu
Scotts Square
6 Scotts Road
#01-06/07
Singapore 228209
Opening hours 
From 21 Sep –6 Oct 2013
Daily: 10am –10pm
For more informationon Uu and how you can get your 3D custom figurine, visit https://uu.com.sg/
Uu 3D Custom Figurines Facebook Page: https://www.facebook.com/uu3dSG
Maybe I should also get my own Mini Me at the Uu 3D pop-up store 🙂