Charge your Device with the First Wireless Portable Charger from Sony
To meet the demands of the latest generation of smartphones users who prefer wireless charging of their devices, Sony has announced the CP-W5, a new USB Portable charger that is able to wirelessly charge[1] Qi-compatible devices using an electromagnetic field. This inductive charging technology presents extra convenience for gadget-savvy consumers who are always out and about, as they would not need to use a Micro USB cable. However, if they prefer charging using the conventional way, it can also be done with a cable. The CP-W5 has a high output of 1.0A if the device is charged wirelessly and 1.5A when used with a cable.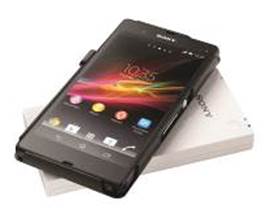 The CP-W5 has a broad range of charging options. Its main strength lies in the fact that it can charge devices wirelessly or via a charging cable while on the go. It also serves as a charging plate when connected to an AC power supply. Simply place the Qi-compatible device on top of the CP-W5 and both your device and CP-W5 will be charged at the same time. The CP-W5 comes with Sony's Li-ion Polymer rechargeable battery that has a capacity of 5,000mAh, and is ready to be used out of the package immediately to charge your smartphone.
Containing a Sony-made Lithium-ion battery that can be recharged 1,000 times, the CP-W5 leverages on Sony's Hybrid-Gel Technology, allowing it to retain more than 90 percent of its capacity even after 1,000 charges. The new CP-W5 USB Portable Charger from Sony comes in white, and will be available in Singapore from April 2014 onwards.
Specification Sheet
Model
CP-W5
Input
DC 5V, 0.5A ~ 1.5A
Output
DC 5V
1.5A (Max)
Size (W x H x D mm)
66.0 x 130.0 x 16.5
Weight
Approx. 188g
Supply Time *1
Approx 120 min

(Max 1.5A)

Battery Capacity (3.7V) *2
5,000mAh
Output Capacity (5V) *3
3,300mAh
Charging Time
AC adaptor
Approx. 4 hours
USB Port
Approx. 11 hours
Operating Temperature
0°C ~ 35°C
*1 Supply time varies depending on battery condition, storage condition and portable device
*2 Li-ion polymer battery nominal capacity
*3 Output capacity after voltage conversion to 5V
---
[1] Requires use of Qi-enabled smartphone or smartphone with Qi-enabled back casing. Qi & USB cannot be output at the same time.
* Information and Picture Courtesy of Sony Singapore and Waggener Edstrom Worldwide *