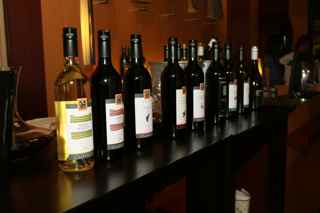 The appreciation and drinking of wine in Singapore had significantly grown in the past few years, nowadays, there were more retail outlets and supermarkets selling wines from different parts of the world and more varieties too. 
It was during a University of Queensland Alumni networking event that I was introduced to wines from Queensland, Australia and during that event, there was a lucky draw and I won myself 2 bottles of Queensland wine ! Recently, the University of Queensland Alumni Association of Singapore organised a wine appreciation event at The Wine Symphony, for its alumni members, a good chance for old and new graduates to mix and network. Due to the constraints of the floor size, there were limitations to the number of participants, nevertheless, it was an awesome event with great fun and enjoyment ! Do drop by my flickr and view the photos of our wine appreciation event at The Wine Symphony ! 
I would like to take this chance to introduce The Wine Symphony, please do drop by their webpage and have a read into their range of Queensland wines available. I was very impressed by the range of Queensland wines that I tasted during the wine appreciation event. Have a taste of the Queensland wine and you would give it the thumbs up !
For further information on The Wine Symphony, do contact the 2 beautiful ladies below
6 Mosque Street #03-00 Singapore 059486
telephone: +65 6224 2496
fax: +65 6224 2498
email: info@thewinesymphony.com
email: tunling@thewinesymphony.com ( Tan Tun Ling )
email: vivian@thewinesymphony.com ( Vivian Lee )