Chinese New Year 2023 is just round the corner, we are ushering in the Year of the Rabbit on Sunday 22nd January 2023! As we are preparing to celebrate a Happy Lunar New Year of the Rabbit, you can welcome a Hoppy New Year with Miffy at Frasers Property Malls! Taking place from 6th January to 5th February 2023, you can enjoy an extensive line-up of shopping rewards, handicraft workshops, contest, lucky draws, and exciting holiday treats!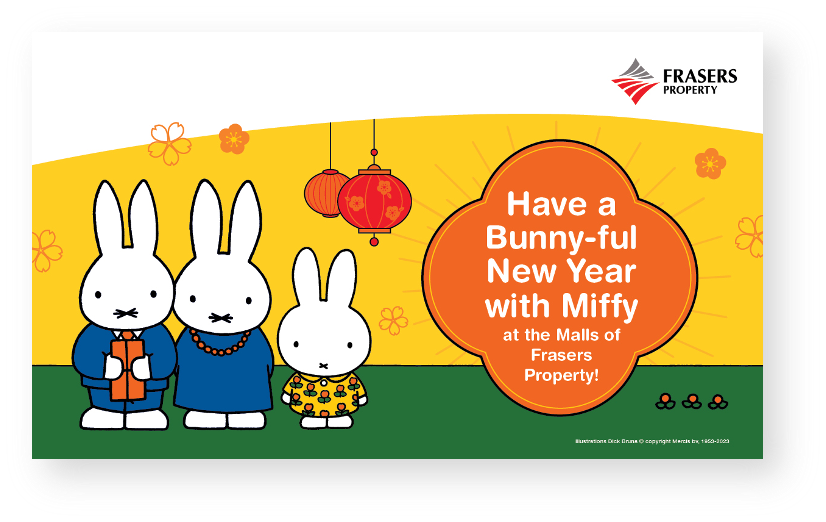 Flourish in Festivities
Frasers Property Malls (1) are offering a handsome lineup of redemptions and rewards as we are preparing for the familiar traditions and rituals of Lunar New Year.
This year 2023, the Malls of Frasers Property have designed environmentally friendly, tree-free red packets for a greener Lunar New Year! Made entirely from bamboo, these vibrant and festive red packets have a significantly reduced environmental impact, while retaining the spirit of this treasured tradition.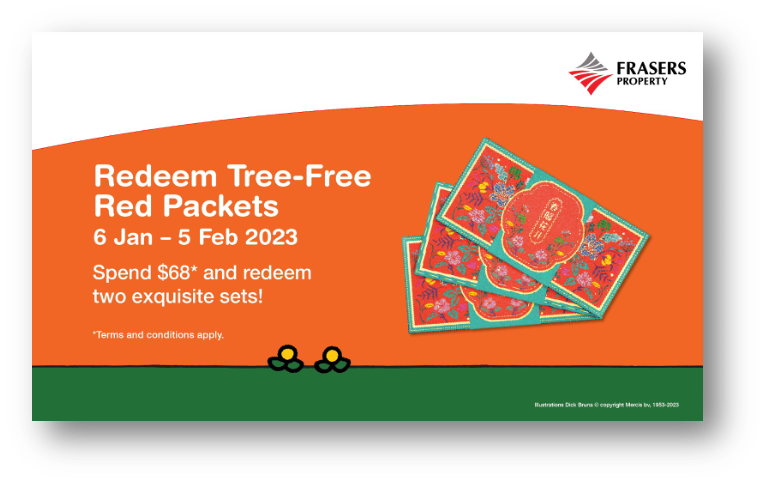 From 6 January, spend a minimum of $68 to receive two sets of tree-free red packets! To find out more about these tree-free red packets, visit https://bit.ly/FRxCNYwithMiffy
Shoppers who use GrabPay via the FRx app, we have good news for you! Simply spend $60 with GrabPay via the FRx app to receive a $10 FRx Gift Card. If you spend $30 with PayLater by Grab via the FRx app, you will also be able to redeem a $10 FRx Gift Card.
In partnership with GrabPay, each FRx member can send Miffy eHong Baos to 2 unique recipients in a day and get to receive a $6 FRx Gift Card per day. An in-app confirmation will be sent when the $6 FRx Gift Card is successfully auto-credited to the member's FRx e-wallet.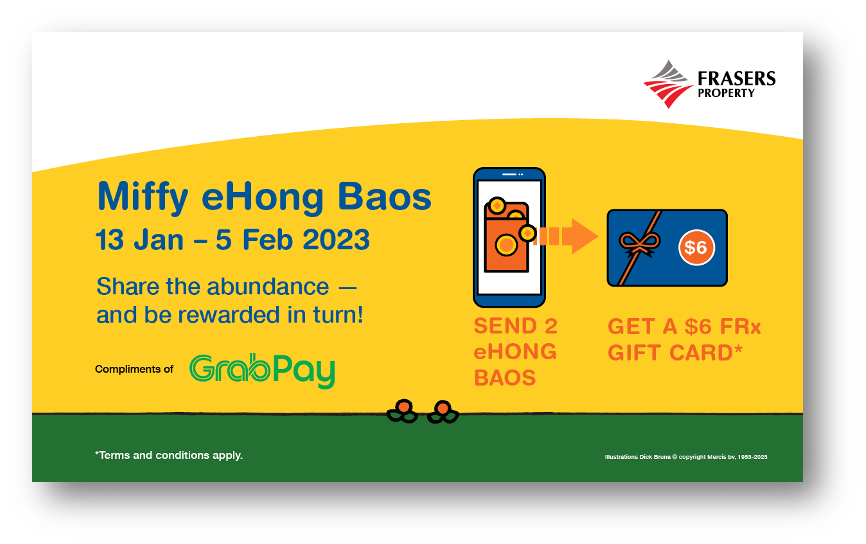 This way, shoppers can continue exchanging care, appreciation, and good wishes in an environmentally friendly way. So spread joy and prosperity with your friends and family sustainably throughout the festive season!
Abundance of Prosperity and Good Fortune
As you are preparing to welcome Lunar New Year 2023, shopping for your Chinese New Year goodies, you can have fun with your family and children at participating Malls of Frasers Property (2). Catch the thrilling lion, dragon, war drums, cai qing performances and the roving God of Fortune to usher in good fortune for the Chinese New Year.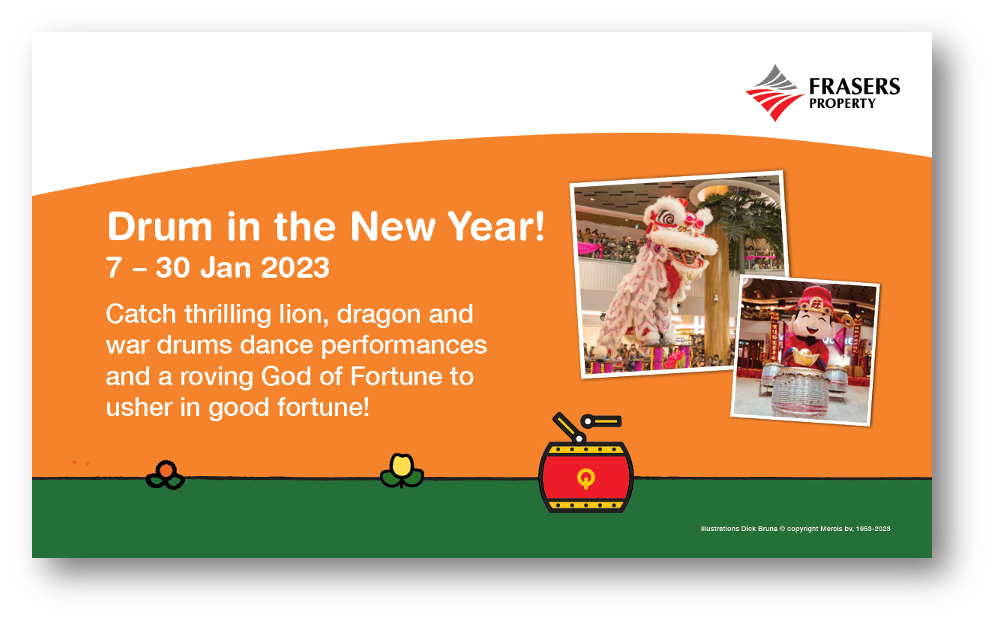 Get your cameras ready for the exciting acrobatic endeavours by the lion dance troupe as they usher in good fortune and get a picture with the roving God of Fortune!
Remember this old Chinese saying, "When flowers bloom, prosperity follows."
Across participating malls of Frasers Property, shoppers can look forward to lucky draw spins (3) and mall activities to usher in good luck and fortune! From 6 January to 5 February, shoppers get to test their skills at the time-attack game when they spend $38 in a single transaction, they get to redeem 2 game plays at the Customer Service Counter. Try to step and score 8.8888 on the timer to win exciting prizes.
Furthermore, head down to these malls (4) to get the latest updates on the zodiac this year from Fengshui World.
Let Your Inner Creativity Blossom
Looking to spruce up your home with unique handcrafted decorations? The Centrepoint, Changi City Point, and Tampines 1 are inviting shoppers to a range of handicraft workshops on weekends, starting 7 January. With a minimum spend of $10-$50, shoppers can sign up for a workshop of their choice, to make their very own MIFFY (5) coin bank, MIFFY blossom tote, DIY traditional fan, DIY pom pom rabbit, essential oil, and floral arrangement. Each workshop is limited to 1 redemption per member per day, only for the first 10 sign-ups so hurry and don't miss out on your chance to bring home a one-of-a-kind festive décor.
Exciting activities include "HUAT A SURPRISE", "Fortune Rewards", "Roving God of Fortune", "Usher in the New Year", "Prosperity Bag" and "Doing Good This CNY". Potential prizes include shopping vouchers, wine, red thermal bags, and surprise ang baos! To enjoy these rewards, all shoppers need to do is to scan their FRx member QR code when they spend at participating stores.
For more information on Hoppy New Year with Miffy at Frasers Property Malls!
Please visit www.FrasersExperience.com for more information on the full list of activities and rewards for shoppers at Frasers Property Malls.
Wishing you a Hoppy New Year with Miffy at Frasers Property Malls!
Notes:
(1) Participating malls include Changi City Point, Causeway Point, Century Square, Eastpoint Mall, Hougang Mall, Tampines 1, The Centrepoint, Tiong Bahru Plaza, Waterway Point, White Sands, Valley Point. 
(2) Participating malls: Changi City Point, Causeway Point, East Point Mall, Hougang Mall, NorthPoint City, Tiong Bahru Plaza and Waterway Point.
(3) Participating malls: Changi City Point, Causeway Point, Century Square and Tampines 1.
(4) Participating malls: White Sands, Tampines 1, Waterway Point, Century Square and Changi City Point.
(5) MIFFY workshops only available at The Centrepoint.
* Information and pictures courtesy of Frasers Property and Black Dot *