Singapore-based telecommunications and Internet Service Provider (ISP) ViewQwest recently announced the launch of SecureNet for homes and small and medium enterprises (SMEs) in Singapore. SecureNet is Southeast Asia's first consumer broadband with built-in security powered by Palo Alto Networks, the global cybersecurity leader.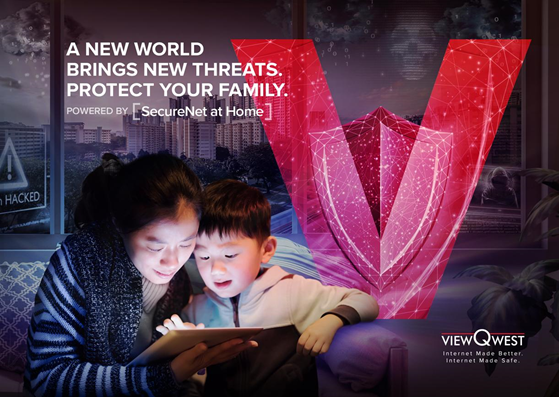 The topic on cybersecurity has risen in importance and significance over the past few years, especially more during 2020 when the global pandemic struck the world and the world economy has adapted,  how we work from home (WFH), moving into a new future of work, a hybrid working environment of home and office as time went by.
Not just for WFH environment, having cybersecurity solutions protect your family and loved ones at home, as for businesses, protecting their key information and data. Whilst families and SMEs may attempt to protect their privacy by installing cybersecurity solutions, it is often too difficult and troublesome for many, especially the less tech-savvy. With more connected devices such as home security cameras being installed that do not come with built-in security, this problem is increased significantly.
Last year, hacked footages from home security cameras in Singapore were uploaded to pornographic sites (1). As more families and small businesses spend time online at the comforts of their homes, hackers have been doubling down on their efforts to infiltrate home networks and attempt to steal valuable personal data via phishing.
With ViewQwest SecureNet for homes and SMEs, customers do not have to worry about adding additional technology devices or software to their home or office network setup for cybersecurity. This would give customers a peace of mind especially those less tech-savvy ones who might encounter issues in setting them up.
Vignesa Moorthy, CEO of ViewQwest, said: "As an ISP, we should take the lead in tackling cybersecurity threats from the get-go. For the first time in Southeast Asia and Singapore, consumers here can now get automatic, 24/7 cybersecurity protection without needing to install or purchase any additional software or hardware. This is possible as the entire broadband line itself is now secure and protected against cyber threats."
"There is a growing trend globally where ISPs have taken ownership(2) in tackling cyber threats by creating and offering broadbands with built-in security. With SecureNet, ViewQwest puts Singapore on the global map of advanced nations that can enjoy the latest cutting-edge technology in cybersecurity", Vignesa added.
Starting from $29.90 per month and $96.00 per month for home and SME customers respectively, ViewQwest customers can now enjoy a 24/7 network-delivered security solution that scans for malicious attacks, both known and unknown, to eradicate them before they can harm the users' devices. SecureNet can give these consumers peace of mind.
Advanced technology to block cybersecurity threats before they reach home or office
SecureNet is designed to act as the household's first line of defence against cybersecurity threats such as malware, adware, spyware, phishing, and system vulnerabilities (e.g. outdated operating system). Routing network traffic through the Palo Alto Networks machine learning-powered Next-Generation Firewall, SecureNet automatically scans the entire network for known and unknown file and web-based threats, and has three main threat prevention measures to deal with them:
Antivirus –  detects viruses and malware found in executable programmes and files
Anti-spyware –  detects spyware on infected devices that are collecting data without the user's consent
Vulnerability protection – detects system flaws that an attacker might attempt to exploit or abuse
The scanning, detecting, preventing, and protection measures all happen automatically and simultaneously throughout the entire network, without compromising on performance. This helps ensure that the threat do not spread to the network and potentially infect other devices.
Customisable threat protection
Users can choose amongst three different levels of protection depending on their preference, they are Essential, Enhanced and Max. For users who are more tech-savvy and understand the risks of installing a variety of software on their devices, they can go for the Essential level. For users who want more security protection but still want the freedom to be able to install certain software and visit websites, the Enhanced level is ideal for them. The Max level caters to families with children who want to enjoy the maximum level of cybersecurity protection.

Additionally, the Essential, Enhanced and Max levels block different types of URLs which contain malicious content or traffic.
Essential level URL filtering – blocks sites which contain malware, command and control, and phishing
Enhanced level URL filtering – in addition to blocking sites from the Basic level, also blocks sites with adult content, drug abuse, copyright infringement, extremism, gambling, grayware, newly registered domains, parked, questionable content, and weapons
Max level URL filtering – in addition to blocking sites from the Basic and Advanced levels, also blocks sites with proxy avoidance and anonymisers as well as unknown websites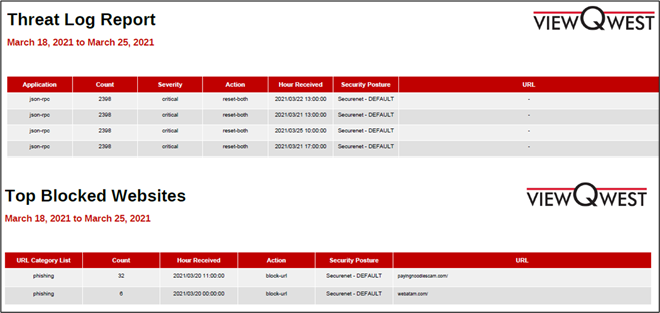 Hassle-free protection with weekly reports
Installing additional cybersecurity protection on individual devices such as laptops and computers can be complicated and troublesome for many families and SMEs. With SecureNet, families and SMEs do not have to actively meddle with their devices as the entire home network is protected from the get-go.
Families and SMEs who are subscribed to SecureNet will receive two security reports weekly, which will indicate all the threats that SecureNet has identified and the preventive measures executed. 
Pricing and Availability
For new ViewQwest customers:
Broadband plans with SecureNet* starts from $29.90 per month for home users
Broadband plans with SecureNet* starts from $96.00 per month for SMEs/office users
*Promotion: For a limited period, new and current customers subscribed to ViewQwest at home will receive SecureNet free of charge for the first three months.
For existing ViewQwest customers, you can subscribe to SecureNet at an additional $5.99 and $16 per month for home and SME customers respectively.
Notes:
(1) "Singapore home cams hacked and stolen footage sold on pornographic sites," The Straits Times, July 23, 2020
(2) "Clean pipes: Should ISPs provide a more secure internet?", Australian Strategic Policy Institute
** Information and pictures courtesy of VIewQwest and GLOO PR **