Handy SHARP Ultrasonic Washer
A portable device for your everyday busy life at work, on the move or even at home, that can clean off the stains on your clothing, does this device sounds like a great innovation and idea to you?
SHARP, Asia's leading electronics brand, introduced a revolutionary portable device with a revolutionary method to treat spot stains on your clothing. This would be very helpful especially for working professionals when they accidentally stained their business attires during lunch time and they still need to meet their clients! The SHARP Ultrasonic Washer would solve the headache of stains on your business attires!
This portable device is something very useful and handy for working professionals that you can consider purchasing for use in the office! Do share and spread the word with your family, friends and colleagues on the new portable SHARP Ultrasonic Washer!
Let me share with you more information on the revolutionary SHARP Ultrasonic Washer from the press release information –
SHARP, Asia's leading electronics appliances brand, today announced the launch of the Ultrasonic Washer, the UW-A1S, which introduces a revolutionary new way to treat spot stains on clothing. The portable device eliminates the inconvenience and worry caused by accidental stains, helping people lead confident lives.
A lipstick smudge on a white top or coffee spilled on a shirt sleeve are no longer a moment of embarrassment with the Ultrasonic Washer. Most stains, whether from food or cosmetics, can be removed by the Ultrasonic Washer on the spot*.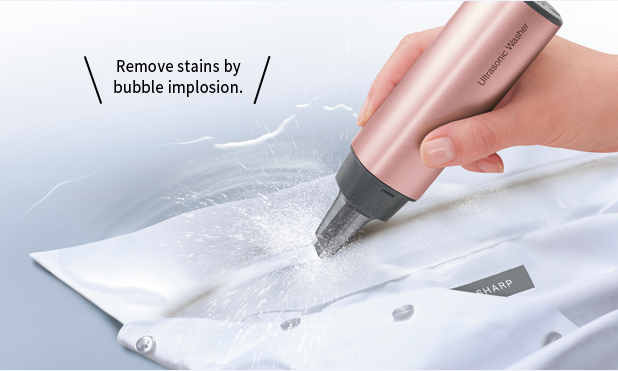 SHARP has designed the Ultrasonic Washer for people with busy lifestyles looking for convenience on-the-go. Rather than pop home to change a stained outfit, forward-thinking consumers can simply carry the compact and lightweight Ultrasonic Washer in their bags for immediate stain removal.
The device is extremely easy to use, and fits comfortably in one hand. SHARP has turned stain removal into a simple three-step process:
Soak the stained area in water, add a little detergent for stubborn stains;
Turn the Ultrasonic Washer on and trace over the stain; and
Rinse with clean water.
The Ultrasonic Washer is also perfect for pre-treating stains before machine washing. The Ultrasonic Washer attacks stains very effectively with ultrasonic waves. An innovative oscillator at the tip of the device vibrates at 38,000 strokes a second. When the tip is placed over wet fabric, the vibrations generate invisible micro-bubbles in the water in a process called cavitation. As the bubbles implode, they loosen and eventually remove foreign matter stuck on the fabric.
Internal tests by SHARP show that stains on shirt collars can be completely removed in one minute, using just the Ultrasonic Washer and ordinary water from the tap, while most stains can be taken off in two minutes. The method is also gentle with fabrics, leaving the delicate fibres intact, whereas hand washing or scrubbing with a toothbrush has been found to fray the fibres.
Availability
The Ultrasonic Washer has an elegant frosted aluminium case that is available in three trendy colours: gold, silver or pink. All models are on sale now at a recommended retail price of SGD$199 at all SHARP authorized dealer outlets.
Product Summary
Specifications
Product
Ultrasonic Washer
Cabinet Material
Aluminium
Colours
Gold / Pink / Silver
Input Voltage/Current
DCSv 500mA (battery capacity DC 4.8V / 900mAh)

(AAA x 4 pcs, Built-in type, not detachable)

Full Charge Time
5 hours full charge for 30 min operation (max.)
Consecutive Operating Time
3 minutes.

It is designed to stop in 3 minutes from safety standpoint. Users can resume by pushing power button again.

Ultrasonic Frequency
38 kHz
Product Weight
About 230 g with cap cover
Product Dimensions
Length 168 mm. Width 40mmx40mm
Operation Key
POWER ON/OFF
Waterproof
Splash proof (cannot be used under water)
Terminal on product body for charge
Micro USB
Accessories
USB Cable, Cloth Bag

Puff Case with puff (for portable use)
* Information and picture courtesy of SHARP Singapore and Cohn & Wolfe *