Logitech recently launched two new products, an awesome combination of a wireless keyboard and a wireless mouse that gamers would really like and be excited about. They are the G613 LIGHTSPEED™ Wireless Mechanical Gaming Keyboard and G603 LIGHTSPEED™ Wireless Gaming Mouse.
Having both the G613 wireless keyboard and G603 gaming mouse together, this combination gives gamers the best of mechanical switches and wireless gaming, the next generation of wireless desktop gaming. Even if you are not a gamer, this wireless mechanical keyboard and wireless mouse combination is pretty good for home usage too!
Let me share with you more information on the G613 LIGHTSPEED™ Wireless Mechanical Gaming Keyboard and G603 LIGHTSPEED™ Wireless Gaming Mouse from the press release information below:
Logitech G, a brand of Logitech, (SIX: LOGN) (NASDAQ: LOGI) announced the launch of two new products that advance high-performance wireless gaming. The Logitech® G603 LIGHTSPEED Wireless Gaming Mouse is a next-generation gaming mouse that uses Logitech G's new advanced HERO™ optical sensor and advanced LIGHTSPEED™ wireless technology, and the Logitech® G613 LIGHTSPEED Wireless Mechanical Gaming Keyboard is a high-performance wireless keyboard designed for gamers who demand the performance of mechanical switches and the freedom of wireless gaming. When both products are used together, the result is the next-generation wireless desktop.
"LIGHTSPEED and POWERPLAY made the dream of untethered and uncompromised wireless performance a reality," said Moninder Jain, Managing Director, ASEAN and Vice-President for Logitech. "The new HERO sensor in our G603 wireless mouse and the new G613 wireless mechanical keyboard show our commitment to driving wireless performance even further across our product line."
HERO Optical Sensor
To achieve the goal of creating a high-performance wireless gaming mouse that also offers long-lasting battery performance, we invented a brand new sensor. HERO, which stands for High Efficiency Rated Optical sensor, provides next-generation efficiency –  creating the best optical sensor ever designed for wireless gaming. HERO offers precision and accuracy at 12,000 DPI with no acceleration or smoothing and 10x the power efficiency of previous generation sensors.
Next Generation Wireless Gaming Mouse
The Logitech G603 delivers a completely wireless experience with performance high enough for   even the most demanding gamers. It's the first gaming mouse to feature Logitech G's HERO sensor with exceptional accuracy and precision with sensitivity up to 12,000 DPI. The Logitech G603 harnesses HERO's efficiency potential to deliver over 500 hours of non-stop gaming at maximum performance. It uses LIGHTSPEED wireless technology to deliver professional-grade wireless performance and unrivaled reliability, even surpassing many wired gaming mice.

High-Performance Wireless Mechanical Keyboard
Designed for a wireless world, the Logitech G613 features LIGHTSPEED wireless technology for a super fast 1ms report rate and Bluetooth for multi-device connectivity. It delivers up to 18 months of gaming on two AA batteries. The Logitech G613 also includes six programmable G-keys, putting custom macro sequences and in-app commands at your fingertips.  It also features Logitech G's exclusive Romer-G™ mechanical key switches, providing competition grade performance with incredible feel and durability. Romer-G switches actuate at a distance of 1.5mm, which is up to 25 percent shorter and faster than the leading competitor. Combined with a low-force 45g actuation, Romer-G switches provide near-instant responsiveness and help minimize fatigue over long gaming sessions.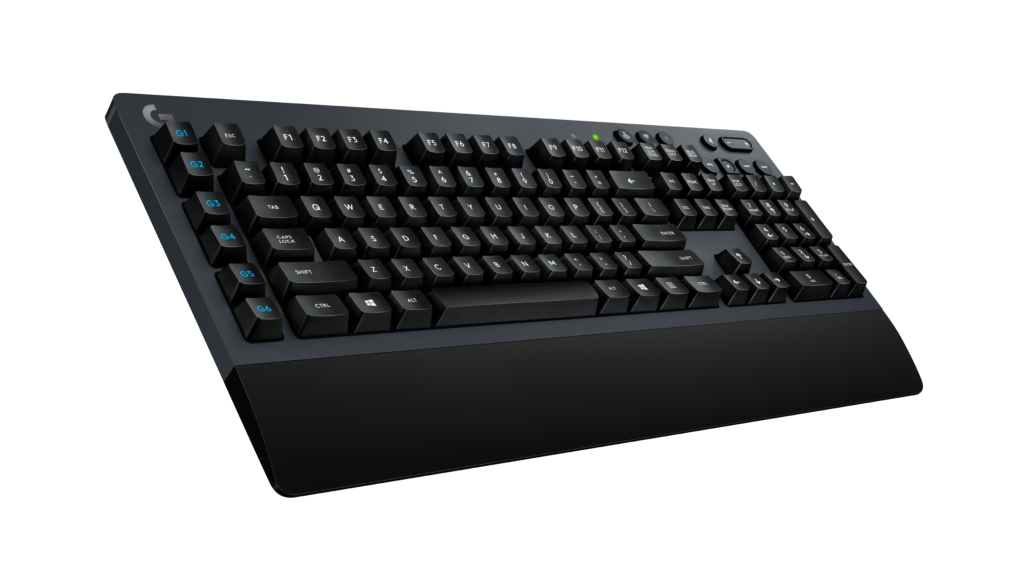 Pricing and Availability
The Logitech G603 LIGHTSPEED Wireless Gaming Mouse and G613 LIGHTSPEED Wireless Mechanical Gaming Keyboard are expected to be available at global retailers in September 2017 for suggested retail prices of $109.00 and $159.00, respectively. For more information please visit our website, our blog or connect with us on Facebook.
* Information and pictures courtesy of Logitech and SPRG *