Today, on the 25th July 2009, this is the 3rd day of Liverpool FC visit of Singapore, The Kop Comes to Asia. Liverpool FC had a scheduled Singapore River Cruise starting from Fullerton area, sailing upstream to Liang Court and turning back to Fullerton area again, relaxing and meeting loyal Reds fanatics along the 2 sides of the river.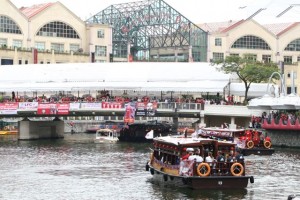 I was there, waiting patiently and when the 3 boats appeared, everybody went crazy, screamed, shouting for their favourite player, waving scarfs, singing, taking photos. Such were the passion, loyalty, pride and support for Liverpool FC, we the Reds fans pride ourselves as the most loyal fan club and from today's Liverpool FC river cruise, Singapore Reds Fans were no exception, standing by the motto "You'll Never Walk Alone".
Once the boats went upstream, fans uprooted themselves and started walking, running and chasing upstream and it was very evident from the Central Shopping side towards Riverside Point and of course, I was one of them. At Read Bridge, there were many banners showing and pouring our support, belief and love for Liverpool FC. Once the boats started turning back, the fans followed, turned back, chasing and running downstream towards Boat Quay, stopping occasionally to snap photos if they can find a space or going further upstream to find a new location.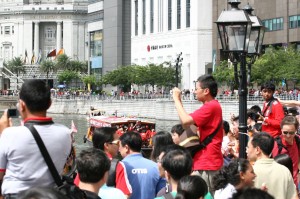 I was there, up and down, feeling the adrenaline, pride, passion of fellow Liverpool FC fans. My photos could be found in my photoblog and my Flickr ! Do read about Liverpool FC Official Website on their Day 3 adventure with the boats, Lucas having goose bumps when he saw and felt Singapore's Reds Fans singing "You'll Never Walk Alone".
Counting down to Liverpool FC Grand Finale at National Stadium !!
You'll Never Walk Alone !