It was an emotional and very heart warming night, when The Kop was at our National Stadium, the East Stand transformed into The Kop and we, the Singapore Red Fans of Liverpool FC did not disappoint and in a sea of Red with the scarfs holding up high, singing "You'll Never Walk Alone", Singapore National Stadium East Stand became Anfield's Kop End.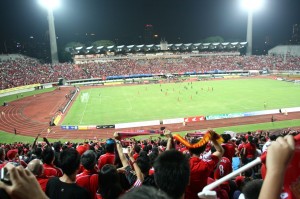 View from The Kop at National Stadium
The game was great, although our home country was beaten 5-0 (we still support our Singapore Lions !!), we loved the match, our heroes especially Torres, Xabi, Carragher and the rest of the Liverpool players. Looking back at my crazy chasing Liverpool FC schedule and sharing with fellow Reds supporters on beautiful memories
24th July – Vivo City Adidas Boutique
25th July – Liverpool FC Singapore River Cruise
26th July – Grand Finale at National Stadium
Was it worth it ? YES !! Absolutely !! No simple words could describe it, since I started following Liverpool FC around 1988/1989.
Liverpool FC has awesome fan support here in Singapore and the Official Liverpool FC home page had a "Thank You, Singapore" and we also want to THANK YOU, Liverpool FC for returning to Singapore !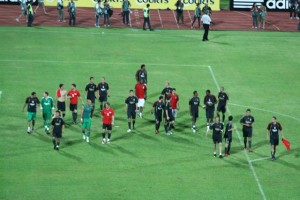 Liverpool FC doing a lap of honour !
The beautiful memories of Liverpool FC tour of Singapore, captured and stored in our hearts, minds and souls (in my Flickr too !! ).
You'll Never Walk Alone !