In a visit to InfoComm Accessibility Centre (IAC), understanding more in-depth of how people of different types of disabilities can learn and use the information technology and power of digital media tools, to equip themselves with professional skills and knowledge that would help them integrate and contribute to the society.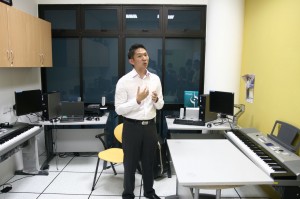 With the help of modern music equipment and software, trainees at IAC, had the opportunity to learn and compose their own music too. Here, I am pleased to share a music sample by Gerald Bartholomew, a graduate of IAC, with their kind permission given to share with everybody here.
Even though this is a short music clip, the time, efforts and challenges faced by people with different disabilities, producing a music piece is a great achievement and let's all cheer them on, to overcome their challenges and achieve their goals. Ladies and Gentlemen, presenting to you, a music piece by Gerald Bartholomew, a graduate of IAC –
There is a Tweet Meet Facebook http://pea.to/IACtms , do visit the site and join them !