The Price of Economic Growth & Expansion ?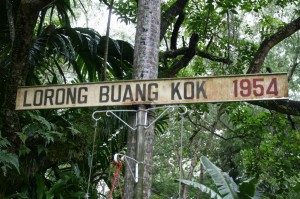 On the 30th August 2009, I went on a photojournalistic walkabout with my LG Photobloggers Chester & Clayton, visiting Kampung Lorong Buangkok, the last surviving kampung (village) in modern Singapore. While we had our fun taking photos and capturing them in memories, do drop by my Flickr to view more phoots of Kampung Lorong Buangkok, we were experiencing the peace and tranquility of the Kampung spirit, the community feeling in the midst of a very fast paced Singapore.
We asked ourselves, how long more can they last before the needs and demands of modern Singapore's economic growth and population expansion requires them to be cleared for building high rise public housing, private estates or factories ? Chester's blog post invoked the same feelings too ….. To some people, it is just another village or kampung, different generations from different eras probably would have mixed reactions, for the older generations, they would love to preserve the heritage to be part of continuing education for the future generation. For the younger generations who did not experience kampung/village life, they might not appreciate it that much as their forefathers, nevertheless, there are still younger generations that would make the effort to understand and preserve the heritage.
For us, we are kind of a bit of a sandwiched generation, mid 30s, experienced the economic growth and expansion with capitalism, transforming Singapore into a modern metropolis. My kampung experiences was in Malaysia, whereby my grandmother and relatives lived, and I had fun times there, the days of play and no worries, troubles and pressures. As much as I understood the need to grow, expand, increasing knowledge and higher education, the balance of growth versus preservation had never became more difficult over recent years.
This situation is not just faced by Singapore alone, this issue had been faced by many countries, old buildings and places were removed to make way for modern complexes, some inevitable, some can still be preserved. At what price of economic growth and expansion that our heritage is lost forever except in photographs and books?
There is definitely a need to grow and expand, for the better. However, we need to strike a balance between heritage and cultural preservation and growing bigger and stronger for our future generation. This is the biggest challenge.