A handheld tablet that is tough, rugged and protected, the World's lightest fully rugged handheld tablet – Toughpad FZ-N1. Although this is an industrial usage tablet, highly ideal for the logistics and transportation sectors, this would also be suitable for other heavy industries too.
While a fully rugged handheld tablet is not commonly used as well as not really that practical for the daily consumer. Moreover, it also might be a bit expensive for the daily consumer in a leisure/office work environment, it would be interesting to see them being used in the leisure/office work environment with a fully rugged and protected tablet.
Let me share with you some key information and details of the Toughpad FZ-N1 –
Panasonic announced the launch of the Panasonic Toughpad™ FZ-N1, the world's lightest1 fully rugged handheld tablet. Its smallest Toughpad™ device to date, the 4.7-inch Panasonic Toughpad™ FZ-N1 handheld tablet can be easily held and operated in one hand. It weighs well below 280g[1], and comes packed with productivity features in an ergonomically-designed case. With its integrated angled rear barcode reader which enhances user protection and productivity, this device is well-suited for workers in the logistics and transportation sectors.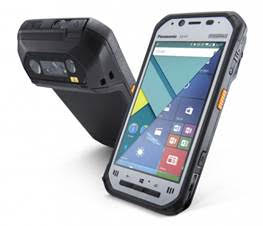 "The Panasonic Toughpad™ FZ-N1 significantly raises the bar for the handheld market. It combines the best of handheld, smartphone, and barcode reader functionality into an all-round rugged tablet which offers ultimate flexibility, portability, and productivity to meet the varied needs of the mobile workforce," said Yasuhide Fukunaga, General Manager of Toughbook™ Solution Team, ASEAN. "The Toughpad™ FZ-N1 builds on the legacy of Panasonic's industry-leading rugged devices which provide all-inclusive innovative solutions for professionals working in the toughest business environments."
Voice and data on the move
The Panasonic Toughpad™ FZ-N1 handheld tablets are equipped with both 4G LTE / 3G data and voice communications. These slim 16.3mm devices are well-equipped for phone calls in noisy environments: they each come with triple microphones for superior noise suppression and dual front speakers delivering up to 100 dBA for enhanced sound clarity.
To ensure mobile workers are always connected, the handheld tablet has Wi-Fi, Bluetooth, and NFC connectivity. It also comes with an 8MP rear and 5MP front camera for document capture and webcam use, as well as a micro USB port, micro SD card slot, and dual micro SIM slots[1].
The Panasonic Toughpad™ FZ-N1 runs on Android™ 5.1.1 with the Android™ for Work functionality, providing IT departments peace of mind by enabling them to separate business apps from personal apps on the device, thereby easing data security and management. The device is powered by a Qualcomm® Snapdragon™ Quad-core CPU with 2GB RAM and 16GB of Flash storage for greater worker productivity. 
Coupled with a standard battery and an optional extended battery targeting to deliver up to 8 and 16 hours continuous operating time[2] respectively, the Panasonic Toughpad™ FZ-N1 handheld tablet is built to last.
Rugged yet user-friendly
This lightweight and ergonomic device draws upon Panasonic's market-leading heritage for ruggedness with a MIL-STD-810G certification, an IP67 rating for dust and water submersion, 1.8-metre drop resistance and the ability to withstand as many as 1,000 tumbles from a height of 1 metre.
Pricing and availability
The Panasonic Toughpad™ FZ-N1 Android™ 5.1.1 handheld tablet comes with a standard 3-year warranty, and will be available from November 2016, priced at USD$1,665.
[1] At any given instance, only one SIM is active and it can be switched to the other SIM by GUI which means, Dual SIM – Single Standby.
[2] Battery life measurement conditions: Wireless LAN connection enabled; continuous access to the server while browsing; swipe every 1 second; page change every 30 seconds, communication every 30 seconds.
[1] The Japanese model weighs 275g and the European model weighs 277g.
* Information and picture courtesy of Panasonic Systems Solutions Asia Pacific and Ogilvy Public Relations *