Singapore's largest smart blinds fashion gallery mc.2 is celebrating its milestone 18th anniversary in the year 2022. They are commemorating 18 years of equipping homes with smart, stylish and sustainable home solutions, being at the forefront of it since 2003.
mc.2 is entering into a new chapter with a focus on sustainability, with a particular focus on energy-efficient products running on green energy. mc.2 would like to thank its loyal customers over the years for their support, they will be offering 10% OFF storewide and exciting surprises with any purchase of their products in May.

The mc.2 story
mc.2 began its humble roots in the early days of 2003, with its first store in Funan in the Civic District. They were into retailing computers, laptops and information technology (IT) accessories, within the walls of a modest 3,000 square feet space. Conceived during the boom of the IT wave, business picked up briskly and mc.2 recorded $50 million in revenue per annum.
Competition grew over the years in the form of bigger players by international brand names entering the market and online retail retail channels eating into the computer and IT accessories business pie, mc.2 persevered and discovered its niche in smart home solutions.
mc.2 prides itself on offering end-to-end service to its customers. They have a factory in place that has the capabilities to manage its own research and development for products such as retractable outdoor blinds. mc.2 sells directly to its customers, they handle the installation process as well, for quality assurance.
Home Solutions and Singapore's Largest Smart Blinds Gallery
In 2016, Wilson Chew, who is the founder and managing director, saw opportunities and demand in seamless smart home concepts, as an increasing trend home homeowners. A full year of research and development led the partnership of mc.2 number one bestseller, the ALTEX SecureZIP Smart Blinds, that quickly and efficiently transforms outdoor balcony spaces into indoor living spaces.
Driven by this stroke of innovation, mc.2 continued to create more SKUs under its home solutions umbrella while importing international offerings, including Hunter Douglas, Renson, Somfy, TOSO and more into Singapore. It was the first smart blinds producer to set up a home fashion gallery spanning 4,200 square feet to showcase its comprehensive list of home solutions for balconies, flooring, windows, audio and more.
In the year 2019, mc.2 expanded its floor space to a 7,000 square feet gallery to accommodate the growth of its own as well as its partners' brands. In less than two years, they also welcomed the world's first TOSO Gallery into its portfolio, a space of over 2,000 square feet showcasing one of the world's widest range of blinds and curtain tracks selection, each fully designed and produced in Japan for the strictest quality assurance.
Today, mc.2 stands as Singapore's first-of-its-kind gallery with its setup space that showcases home and blinds solutions that encompasses both indoors and outdoors show spaces.
Looking to the Future
mc.2 is now looking to the future, having carved a name for itself in providing quality and innovative home solutions. They are aligning itself with the vision of Singapore's Government to champion sustainability beginning from home. mc.2 is pivoting its focus to energy efficient products as well as those powered by green energy.
One of its first of many efforts includes its Renson FixScreen 100 Evo Solar blinds, a vertical sun protection screen powered by solar energy to harness electricity for indoor use while protecting the interiors from heat and glare. In the pipeline is another solar-powered indoor blinds offered at a more affordable price by ALTEXTM for more variety and choice for all customers.
Exclusive Discounts and Cashbacks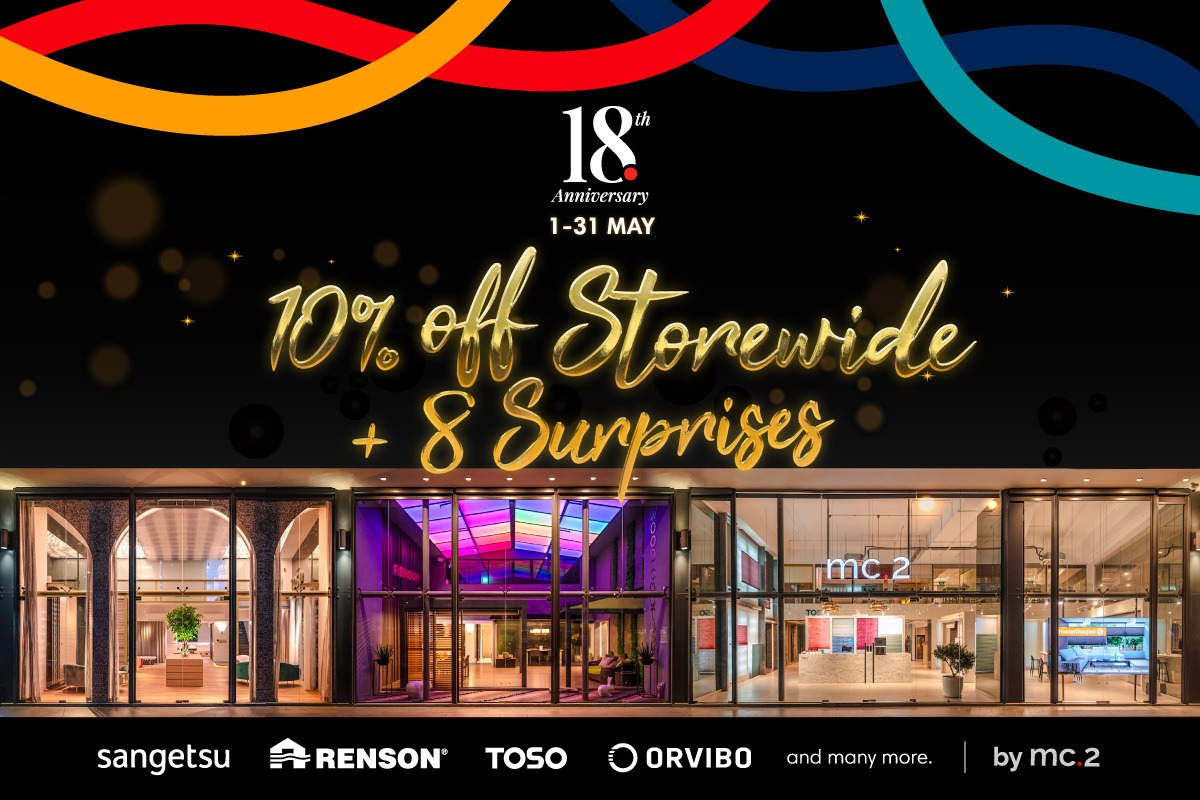 mc.2 is celebrating its 18th anniversary milestone this year, they would like to thank its many customers for the many years of support. mc.2 will be offering 10% OFF storewide and customers can stand a chance to win up to $888 cash vouchers or electronics items with any purchase of their products during the month of may.
Note: The cash vouchers can be used to offset immediately with minimum spending of $3,000. While stocks last!
| | |
| --- | --- |
| Product Name | Price |
| $888 mc.2 Cash Vouchers | $888 |
| $288 mc.2 Cash Vouchers | $288 |
| $188 mc.2 Cash Vouchers | $188 |
| $88 mc.2 Cash Vouchers | $88 |
| Duval-Leroy: Femme de Champagne Grand Cru 1996 | $455 |
| Dyson AM07/WS Tower Fan | $449 |
| Electrolux WQ61-10GG 18V Stick Vacuum | $349 |
| Sharp FU-NC01 Tower Air Purifier with Night Light | $299 |
They are applicable for 1-31 May 2022, customers can choose and select the right solutions for their home with these exclusive offers.
Visitors are also invited to complimentary Udders artisanal ice cream and get printed photos at the photobooth in mc.2 showroom located at 33 Ubi Ave 3, #01-28/29/30, Vertex Building, Singapore 408868 operating from 11am to 7pm on weekends and 10am to 5pm on weekends.
* Information and pictures courtesy of mc.2 and Brand Cellar *