Acronis announced Acronis True Image 2021
Acronis, a global leader in cyber protection, recently announced Acronis True Image 2021 on 20th August 2020. This new release version is an integration of advanced cybersecurity capabilities with unmatched personal backup to create the first complete personal cyber protection solution for home users, prosumers, and small businesses around the world.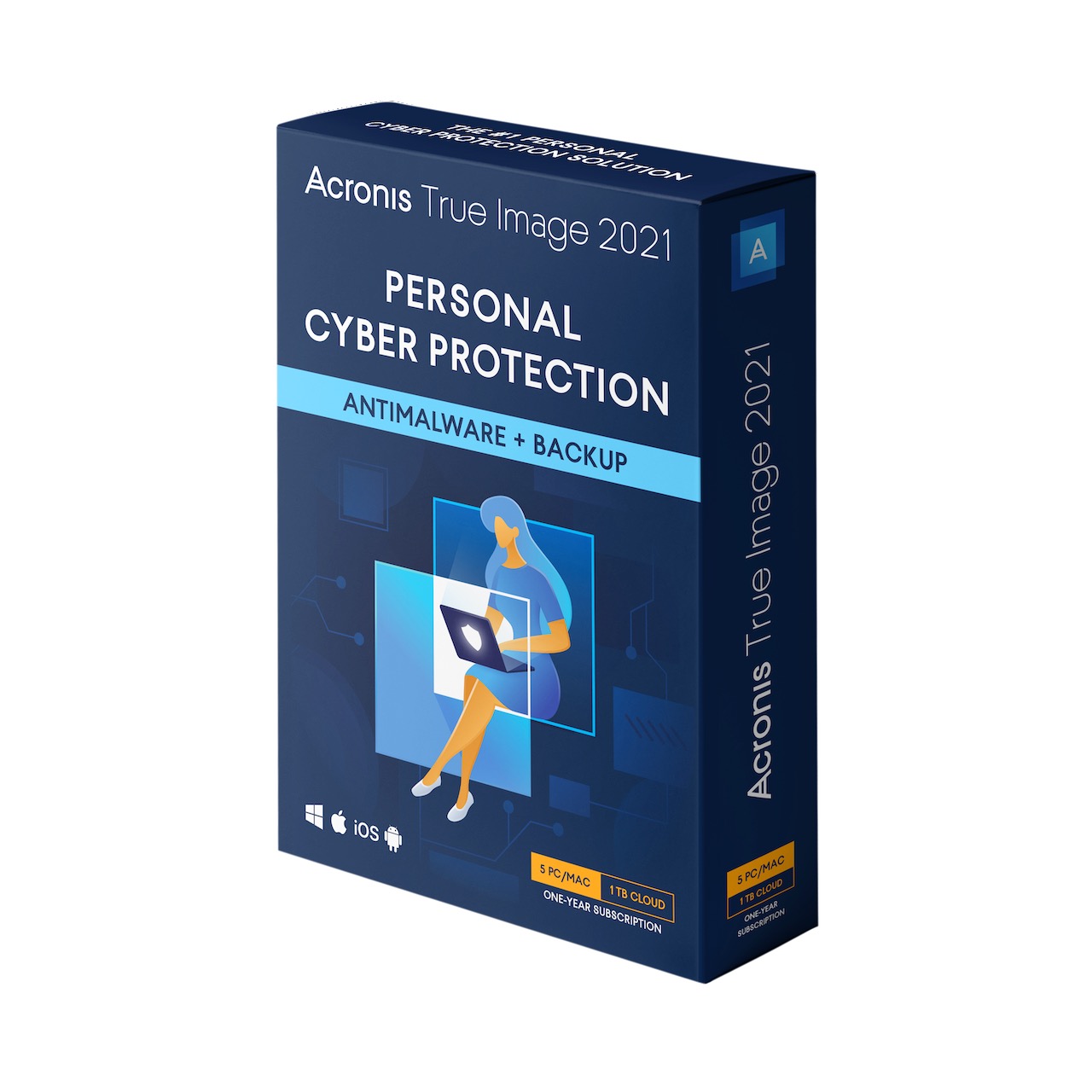 The global pandemic Covid-19 has not only caused massive impacts to the world economy, it has also made the world and businesses change how they work, connect and communicate, with working from home (WFH) being the normal and our future of work would be a hybrid work environment. However, this global pandemic has also taught us (both business and employees) that we were not well prepared on remote work or WFH. Securing home machines has never been more important, yet a recent Acronis survey found nearly half (47%) of remote workers never received clear guidance on working from home.
"As more people work or attend classes from home, the FBI documents a 400% increase in cyberattacks because hackers know home systems are not usually as well-defended as an office," said Serguei "SB" Beloussov, founder and CEO of Acronis. "Backup without cybersecurity is an incomplete option in that situation, as is cybersecurity without backup. Acronis True Image 2021 delivers the easy, efficient, and secure cyber protection needed today."
Fast changing times in Technology – Standalone backup and cybersecurity are obsolete
With the number of everyday technology gadgets we have today, from smartphones, tablets to laptops and desktop computers, and the amount of interaction, communication and transfer of information and data across personal and work environments, the amount of big data is very valuable. No matter whether you are a business organisation or an individual person, you can be a target for cybercriminals for attack and hacking for your data. Cybercriminals are constantly evolving their attacks to reach that data, which is why security research firms such as AV-Test report more than 350,000 new malware threats every day.
A rise and adoption of cloud storage solutions in recent years providing us additional storage space and solutions, storing our backup files and backup software, they are now the target of cybercriminals, not just for hacking and stealing our data, they are often the targets of these new attacks to prevent recovery, backup alone no longer provides suitable protection for users. Similarly, conventional cybersecurity solutions do not provide the data protection and recovery capabilities users need.
Relying on multiple products that were not designed to work together creates security gaps, is more complex to manage, and is more costly. With a single, integrated solution, Acronis True Image 2021 users can proactively stop any malware attack and then quickly restore affected files. The single, intuitive interface reduces the complexity of managing their security and backups.
Integration delivers superior cyber protection
For the last few years, Acronis True Image has been the only personal backup solution with a built-in antiransomware that stops attacks in real-time, while automatically restoring any affected files.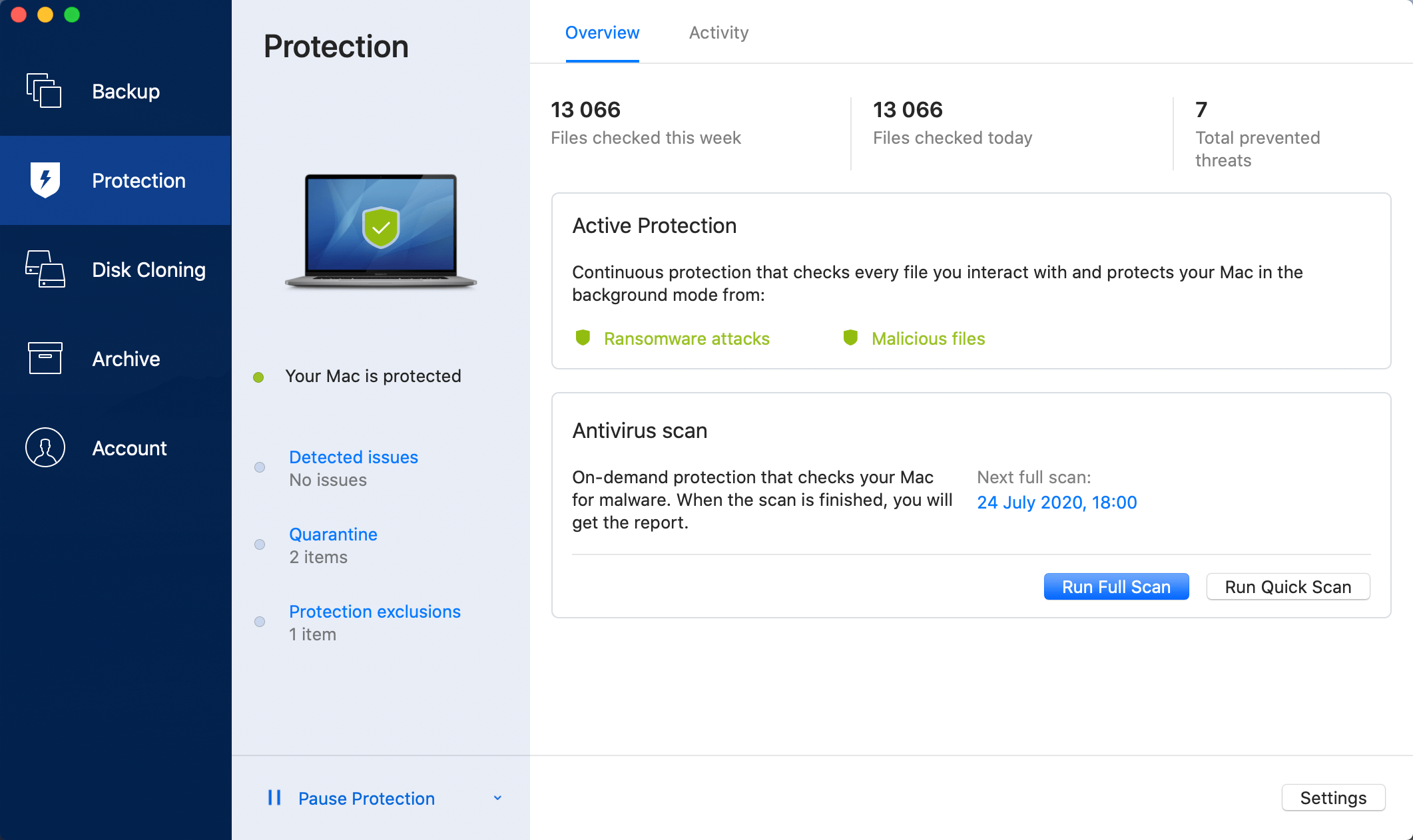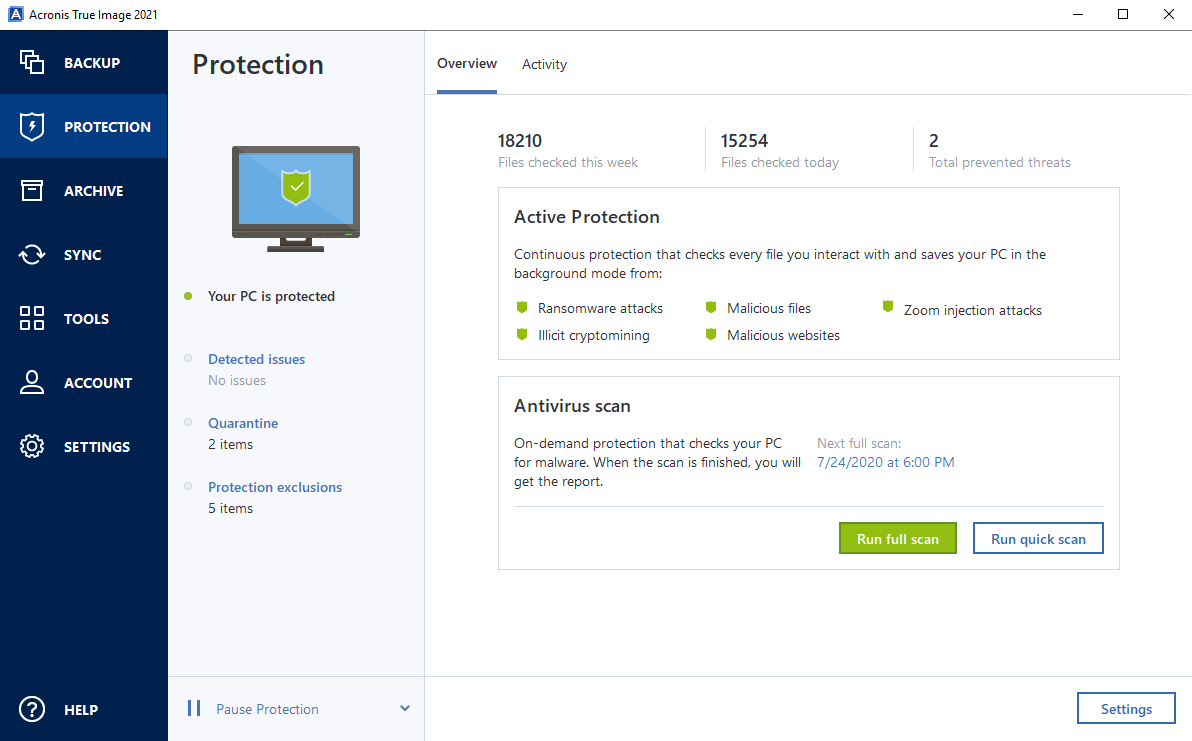 With the launch of Acronis True Image 2021, those capabilities are expanded with the addition of the company's advanced antimalware technology, which is currently deployed in Acronis Cyber Protect Cloud. This next-gen, full-stack antimalware has been shown by independent security labs such as Virus Bulletin and AV-Test to return a 100% detection rate with zero false-positives.
As a result, home users gain advanced capabilities with Acronis True Image 2021, including:
Real-time protection, driven by AI-enhanced behavioral heuristics, which stops all malware – including zero-day attacks by never-before-seen threats

On-demand antivirus scans of the full system or quick scans of at-risk files, either of which can be scheduled in advance or run instantly

Web filtering that automatically blocks Windows users from accessing malicious websites that harbor malware, disinformation, scams, and phishing attacks

Videoconference protection prevent hackers and malware injection attacks from exploiting popular apps like Zoom, Cisco Webex, and Microsoft Teams

Comprehensive detection, with both behavioral analysis and signature-based analysis engines
These advanced antimalware capabilities are included with Advanced and Premium licenses, and offered as a three-month trial with Standard and Essential licenses.
Acronis True Image 2021 gives individuals and small businesses access to the same protection technologies relied on by global companies and top teams in the world's most high-pressure professional sports.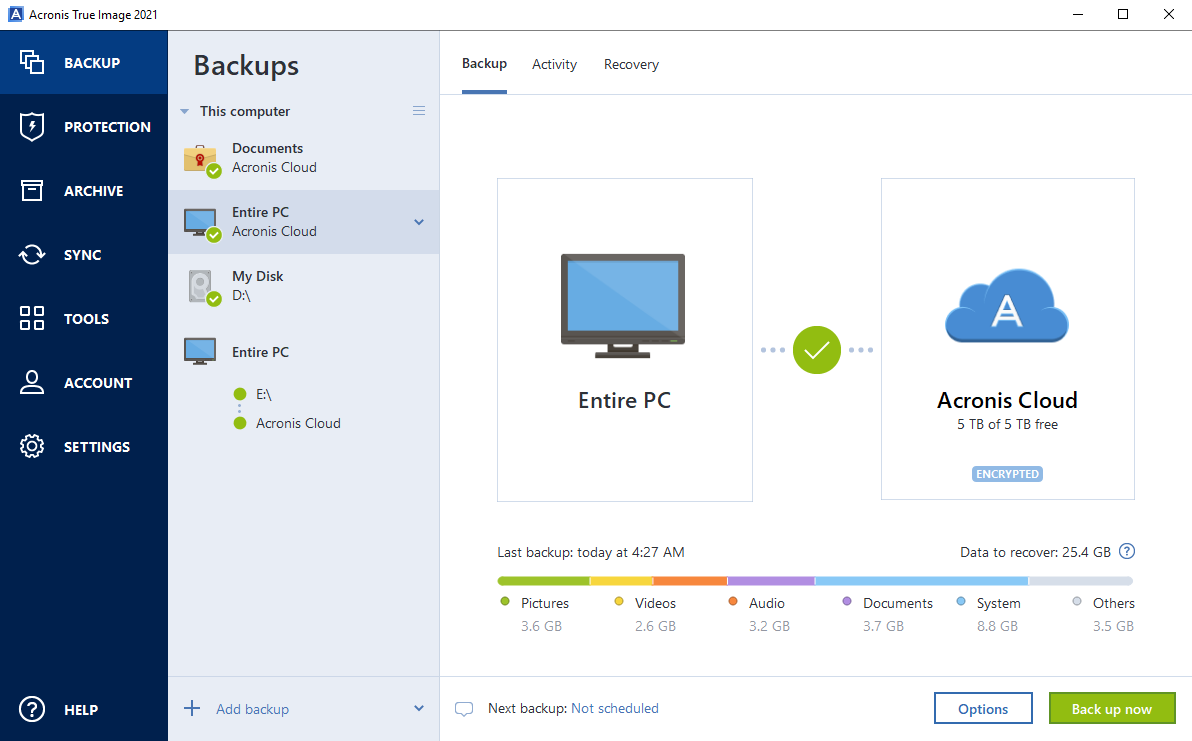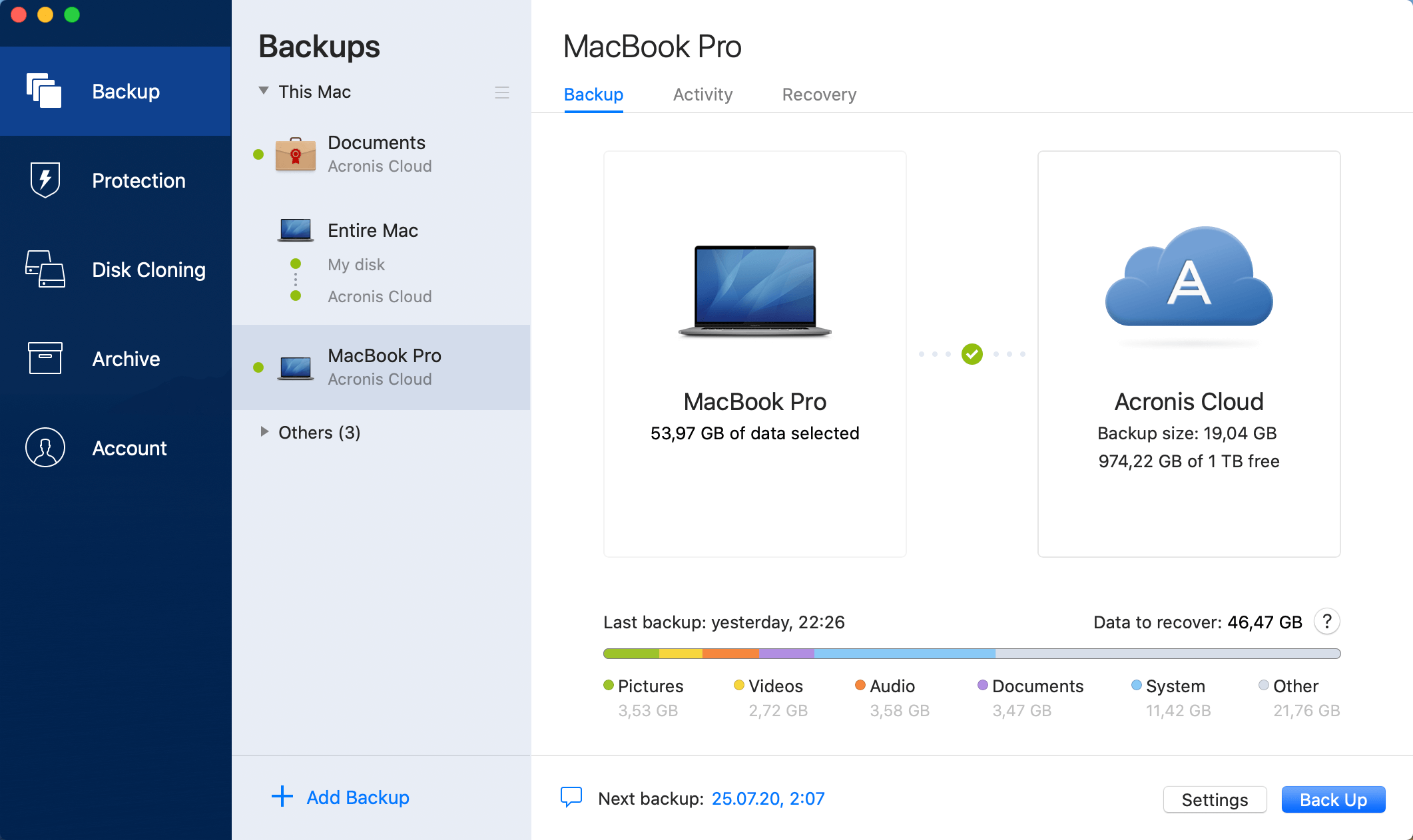 "Cyber protection is a top priority for Rahal Letterman Lanigan Racing," explains Bobby Rahal, co-owner of Rahal Letterman Lanigan Racing. "When our races were on pause, Acronis continued to provide protection for our team working remotely. Now, with Acronis True Image, everyone can safeguard their personal data against the worst-case scenario."
Future of Work, Hybrid Working Environment and Cyber Protection
The importance of (personal and business) cybersecurity and cyber protection are getting more significant, crucial and important as the society is advancing towards a more technological, digitally and gadgets connected world today and in the very near future. With the acceleration of Covid-19 pandemic impacts and changes to how we work and live, a new future of work is upon us, a hybrid working environment, working from home, in an office and/or even remote working might/would be the new future workplace in the very near future.
Therefore, having the Acronis True Image 2021, a holistic cyber protection and cybersecurity solution, would be the ideal solution, companion and protection for you, for your new hybrid future of work environment, giving you an ease of mind in a fast moving and evolving technologically connected world today.
Pricing and availability
Four versions of Acronis True Image are available: Standard, Essential, Advanced and Premium. One-computer licenses starting at SG$82 for Standard and SG$68 for Essential. Special launch prices for Advanced and Premium licenses (starting at SG$96 and SG$137, respectively) are available until November 2020, at which time the full MSRP will be in effect (starting at SG$123 and SG$171, respectively).
* Information and pictures courtesy of Acronis *