Ascend with All-New Omnidesk Ascent
Omnidesk Singapore recently introduced the launch of their latest model in standing desk technology – the Omnidesk Ascent. Whether it's for your office or home office usage, you can now ascend with all-new Omnidesk Ascent. This latest standing desk technology model features a wide range of new and improved function, it's the latest evolution of standing desks created by Omnidesk.
Standing desks have slowly entered into the office design layout over the years, allowing employees to have the option to change and adjust their working habits, patterns and workflow accordingly to how they deem fit. With this current ongoing global pandemic, a hybrid future of work is upon us, entering into a mix of working in office and working from home. Having a standing desk at home allows you to change your working habits, patterns and workflow accordingly too. We can stand up and work, as well as sitting down on an office chair with the standing desk technology.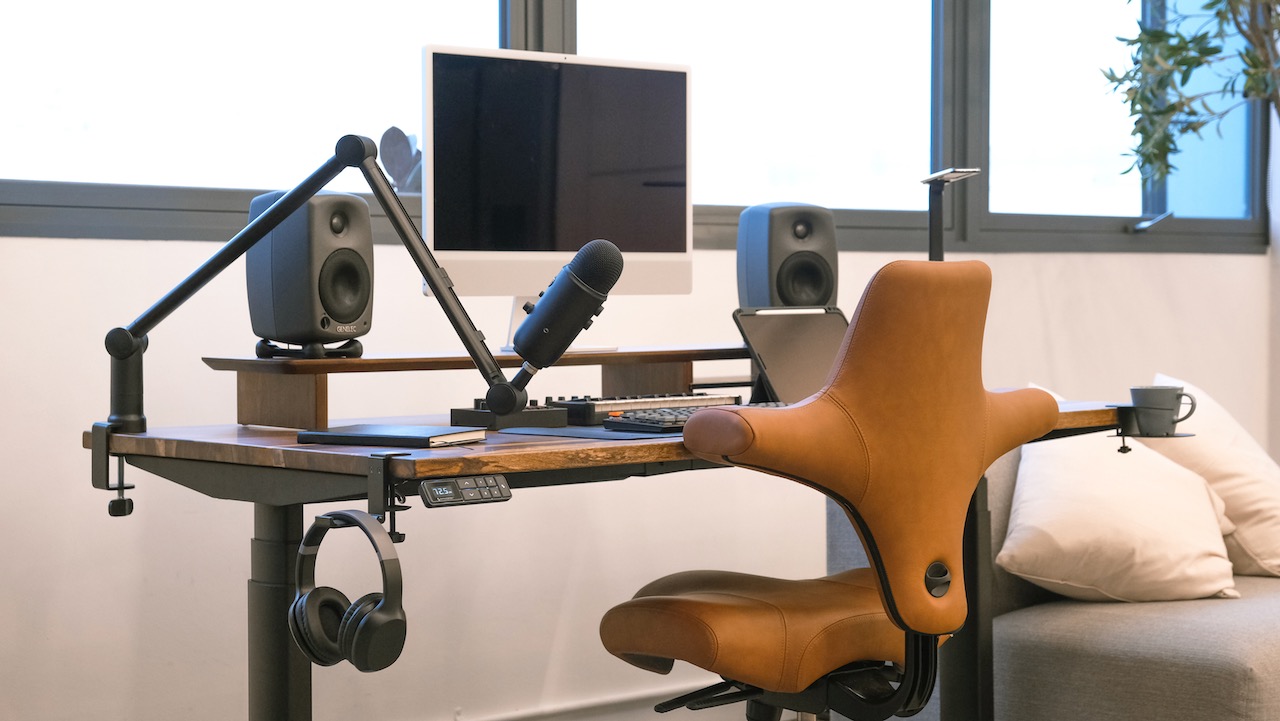 "With the launch of the Omnidesk Ascent, we hope to inspire the evolution of what our brand stands for," said Mr. Benjamin Huang, Managing Director, Omnidesk." The Omnidesk Ascent reimagines functionality and the way consumers will interact with their standing desk, and with the culmination of a plethora of features after three years of intense research and development, this next step in our journey sets the standard within the industry."
Bringing your Omnidesk to Life
There are a few major features that make this new Omnidesk Ascent stands out. The first major feature is the introduction of a companion app, Omnidesk Life. This app allow users to adopt via their mobile devices to control their standing desk, from the comfort of their own hands. This is an unique integrated app that adds an additional layer of functionality and convenience for consumers, allowing them to sync their app to their standing desk, which allows them to:
Adjust the height of the desk remotely
Track the time you spend sitting or standing at the desk
Customise the aesthetics of the control system
Save up to 9 memory profiles for easy pre-programmed switching
Timed reminders to stand/sit
Fine tune the functions of the desk
This new feature came about from a long-time request from Omnidesk fans, it was built from the ground up to cater to the launch of the Omnidesk Ascent. This app can be used anywhere that your desk is located, whether it's at home or at the office. A first of its kind proprietary integrated mobile app helps to enhance consumers' Omnidesk experience, bringing their journey with the Omnidesk Ascent to life.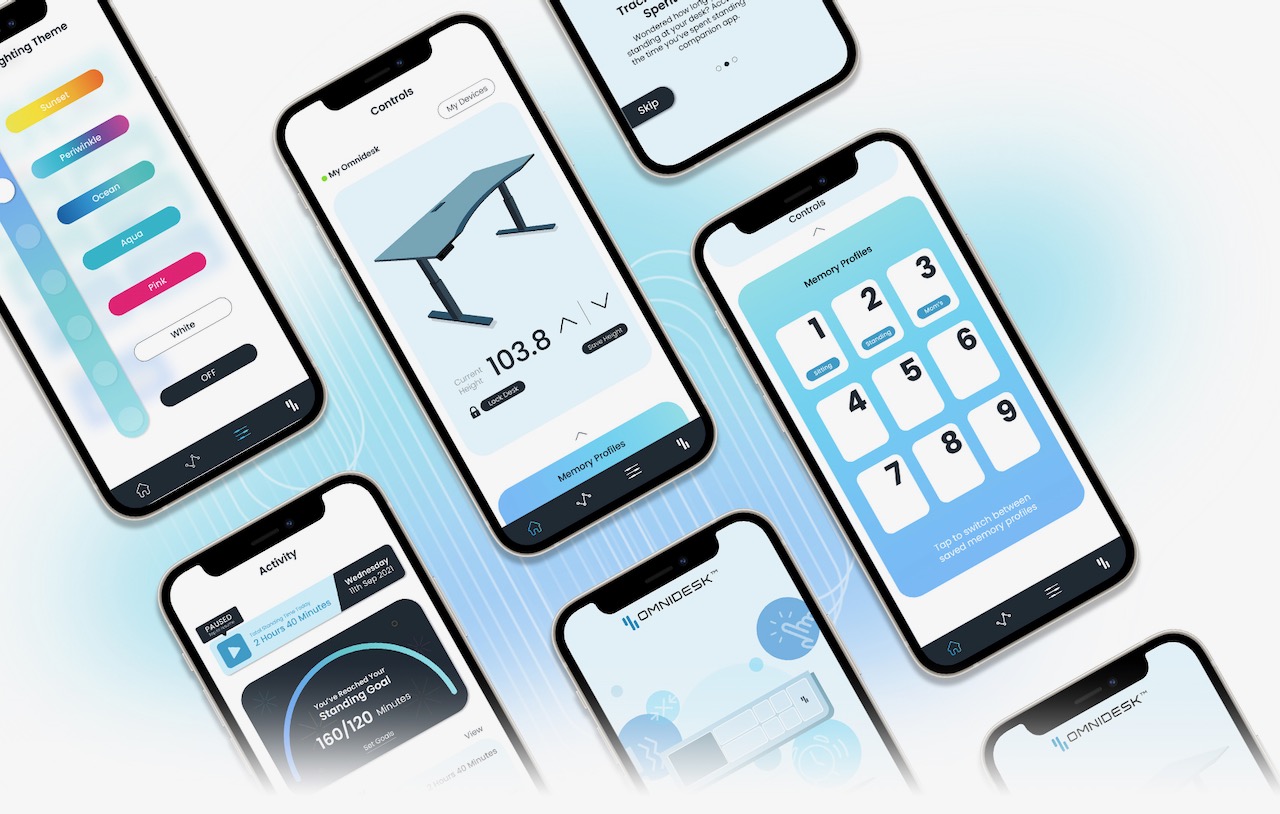 Control with Style
The second major feature of this new Omnidesk Ascent is a brand-new proprietary controller, you can't miss it on the side of the standing desk. This has been completely reimagined to provide pleasing aesthetics without losing higher added functionality. There are six different colour options, from a rolling RGB colours to single colour variants (Sunset, Periwinkle, Ocean, Aqua, Pink, White), the Ascent's controller also features enlarged buttons for ease of use and improved tactility. This brand-new proprietary controller syncs with the Omnidesk Life app, adding an additional dimension to the users everyday use experience, allowing them the freedom and flexibility to control their desk whether they are physically there or not.
This controller also features a 5V charging port and high-res OLED screen with a unique silhouette, providing customers with a beautiful and extremely function-able control system to ensure that all their standing desk requirements are met.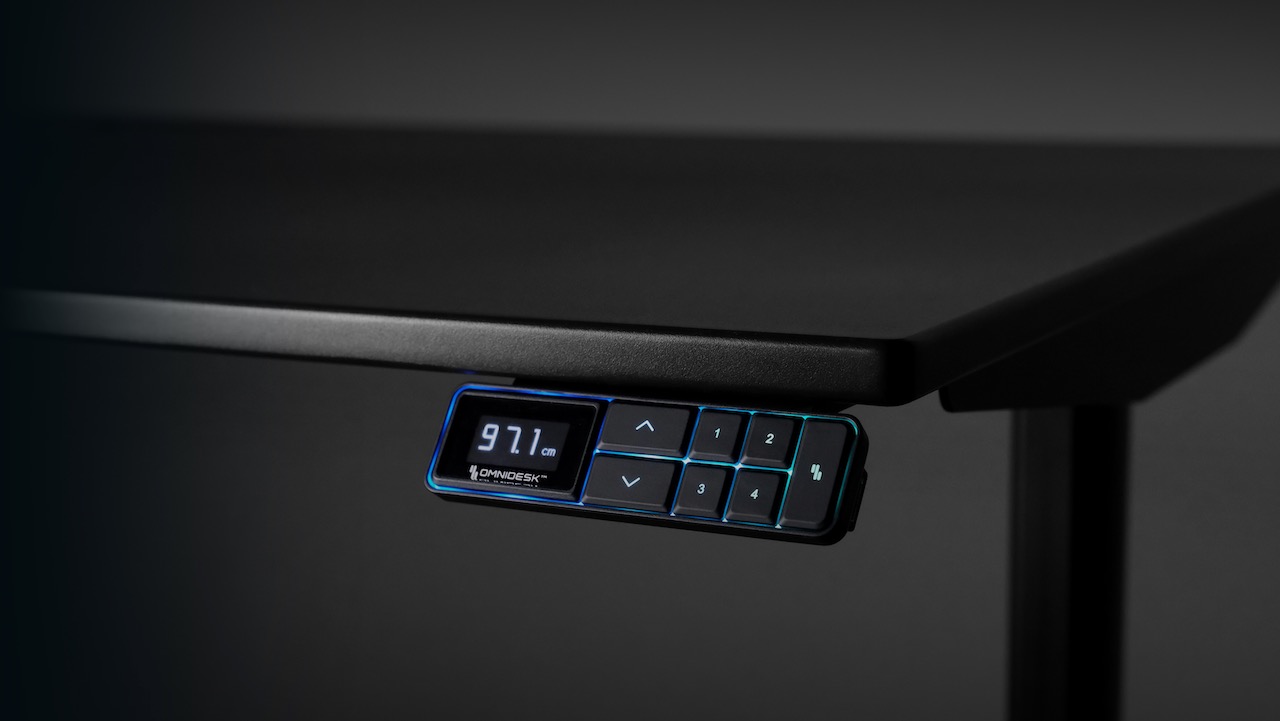 Ascent, Assemble!
There is a major revamp in the Omnidesk Ascent's construction, assembling and putting the desk together has never been easier. They have lesser parts to assemble and a more streamlined assembly process, the time needed to put the Omnidesk Ascent together has been reduced to 5 minutes. This makes it very quick and easy to set it up, allowing you to experience your new workspace much quicker.
There is no compromise on sturdiness and stability, it's now less daunting to most consumers for them to assemble the Omnidesk Ascent, allowing them to simply put the standing desk together by themselves, regardless of their technical inclination. By building this standing desk on your own, it could grant you a sense of satisfaction. However, for those still inclined to have the standing desk set-up with some help, Omnidesk is still offering an improved white glove on-site assembly for each Omnidesk Ascent purchase.
All About That Base
The overall integrity and structure are the most crucial component of any desk, and despite its easier self-assembly and construction, the Omnidesk Ascent doesn't compromise on the overall structural integrity of the desk. By redesigning the leg structure in a column like design(think Roman architectural columns),the new crafted columns are put together using forged steel construction, resulting in a heavier duty support base that is much more resistant to buckling.
The rounded surface area also provides more stability by evening itself out along the base, which also gives it a sleeker and more modern look and feel, resulting in a simplistic design that is stronger than any of its predecessors.
Speedy Ascension
The Omnidesk Ascent also boasts the fastest elevation speed in the market – lifting up to 130kgs at 60m/s. This allows for a quicker transition between standing and sitting for the consumer. With this speed enhancement of the desk, users will be more inclined to use the functionality of the standing desk with minimal interruption in terms of how long it takes for the desk to ascend or descend.
Keeping it Neat and Tidy
Having cables and wires dangling across the desk are messy, it might irk you or leave you dissatisfied with the overall aesthetics of your workstation. The Omnidesk Ascent also comes with a Magnetic Cable Tray which is adjustable, allowing consumers to easily access the tray without having to deal with poor cable management, and increased flexibility in the choices of cable management.
It's a Guarantee 
This new Omnidesk Ascent is an absolute powerhouse of a standing desk, it comes with a ten-year warranty*, which is indicative of the level of trust Omnidesk has in the quality of their offerings.
Additional Features
This new Omnidesk Ascent comes perfectly compatible with all existing Omnidesk accessories and offerings – from castors to mounted organisers, this eco-system of add-ons and products were created for the sole purpose of providing consumers with enhanced and additional options to creating their ideal workstation.
With the launch of the Omnidesk Ascent, Omnidesk is also excited to introduce The Omnidesk Zen, a cable management bar that includes a range of cable management accessories as well. The Omnidesk Zen is very easy to use, given its width and ease of access, with all the additional accessories needed to create a perfect workstation that's both functional and aesthetically pleasing.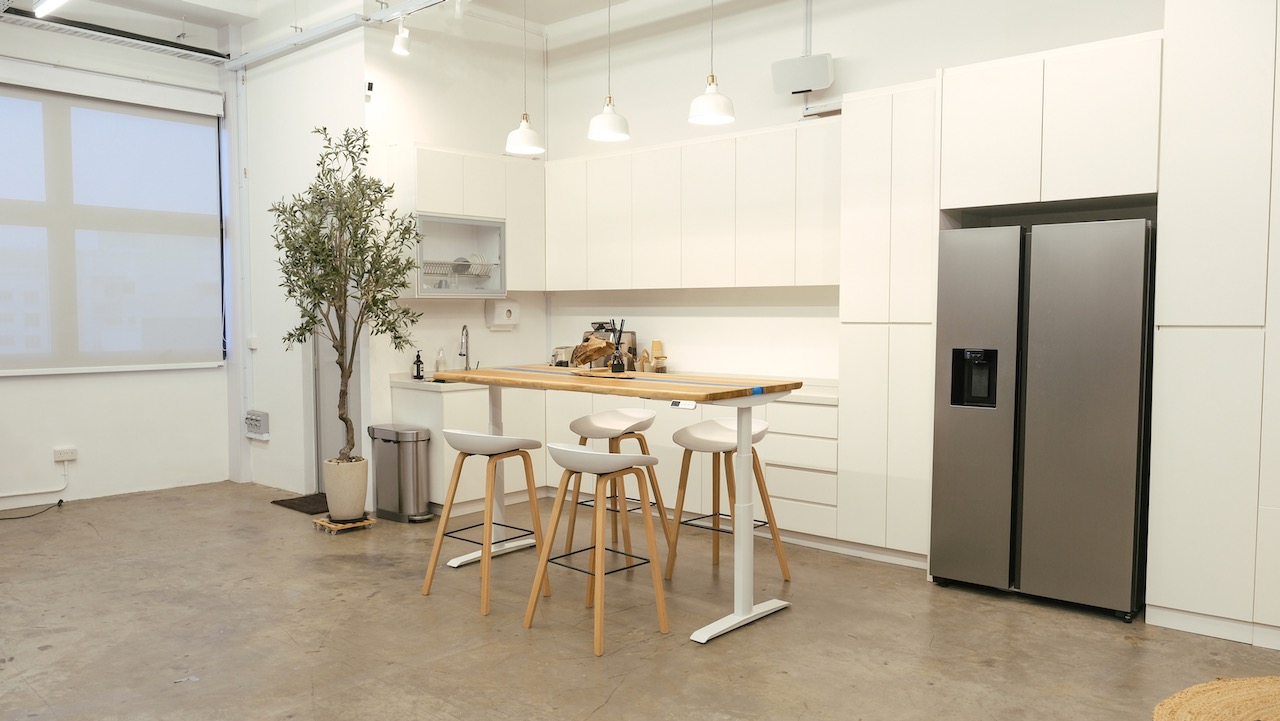 Pricing and Availability
You will be able to begin pre-ordering the Omnidesk Ascent from 10th November 2021. As part of an early bird launch promotion, the Omnidesk Ascent will be retailing at $850* (U.P. $1,298) for those that pre-order before the 6th December 2021.
The price of the Omnidesk will retail at $950 after the 6th December 2021.
Consumers will also be excited to know that the Omnidesk Ascent Wildwood will also be available for pre-order. As part of an early bird launch promotion, it will also be retailing at $1,149 (U.P. $1,647) for those that pre-order before 6th December 2021.
The price of the Omnidesk Ascent Wildwood will retail at $1,249 after the 6th December 2021.
All the desks will be available in 48″, 60″ and 72″ respectively.
For more information on the Omnidesk Ascent, please visit https://ascent.theomnidesk.com
* Terms and Conditions Apply.
Omnidesk Ascent Product Specifications
MaxHeight

125cm(128cmwithfeet)

MinHeight

60cm(63.7cmwithfeet)

TableLength

122cm,152cm,183cm(48",60",72")

TableWidth

76cm(30")

Speed

60mm/s

LoadCapacity

MaxLoad:130kg

RecommendedLoad:100kg

Weight(Frame+Motor)

37.5kg

FrameColour

Black,White
** Information and pictures courtesy of Omnidesk Singapore and GLOO **