Canon expands Business Inkjet line-up with MAXIFY GX5070
Canon expands Business Inkjet line-up with MAXIFY GX5070, their new single-function printer catering to both small workspaces and home offices. This new and improved business printer now comes with a new refillable ink tank, lower colour printing costs with higher printing speed, as well as improvements in paper handling and networking capabilities to give offices and businesses a boost in productivity.
The MAXIFY GX5070 is a very compact single-function printer, small in size yet it's ideal for a small office, home office or small workspace needs, in a new future hybrid future of work and living. For those who doesn't need too many functions for their home office, small office printer or they are facing small workspace constraints, you can consider this single-function MAXIFY GX5070 compact printer.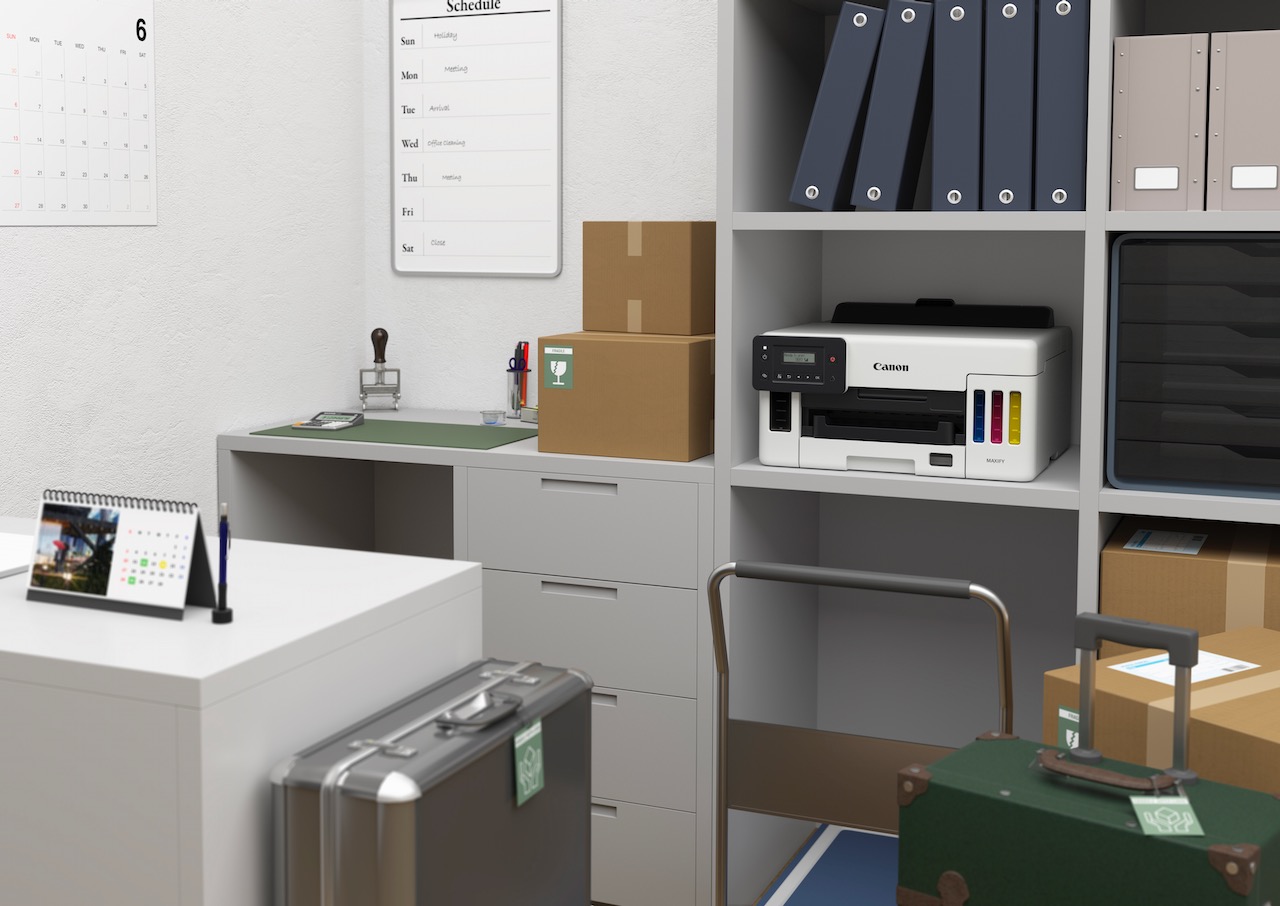 Edwin Teoh, Head of Marketing, Singapore Operations, Canon Singapore, said, "The addition of GX5070 to our MAXIFY Ink Efficient GX Series lineup is a part of our ongoing efforts to ensure that small businesses get the support they need to create high-quality colour prints at cost-effective prices. With restrictions lifting, businesses are expected to recover, and hybrid work arrangements are quickly becoming the norm. This means that small businesses will require printers, like the MAXIFY GX5070, that can keep up with agile business strategies."
High Page Yields, Low Total Cost of Ownership and Media Versatility
The MAXIFY GX5070 uses large ink tanks and high-volume ink bottles that help to keep business printing cost low. A full set of ink delivers up to 14,000 pages in colour or 6,000 pages in grayscale from a black ink bottle. For businesses that need to print more without sacrificing print quality, they can use the economy mode, that helps to save even more with 21,000 and 9,000 pages in colour and grayscale, respectively.
The MAXIFY GX5070 printer has media versatility, offering printing compatibility with a wide range of media. They have the ability to print on a variety of textures and print surfaces, reducing the need for businesses to buy different printers when they want to switch between envelopes, labels, glossy paper and banner paper up to 1.2m long.
Water Resistant Prints Resist Smudging
The MAXIFY GX5070 printer uses pigment inks, delivering water resistant (1) prints on plain paper, lending a laser print-like quality not found in conventional inkjet printers. Text, colour bars and charts will resist smudging when in contact with highlighter pens, while rain-splashes and accidental water spills can dry out without colour bleeding to printed content.
More Efficiency and Productivity for Businesses 
The MAXIFY GX5070 is capable of auto 2-sided printing and offers fast print speeds for high volume printing, combined with a paper feeding capacity of up-to 350 sheets, meaning less time spent refilling paper.
The printer comes with a user-replaceable maintenance cartridge that is commercially available. This makes it less likely that the printer will need to be sent in for servicing, resulting in less printing downtime.
Compact, Space-saving Footprint
Home offices and small business owners can make good use of limited space with this compact printer that can be placed on a retail store counter or reception desk, or on a shelf to save space. Beyond the small footprint of the MAXIFY GX5070, the ink bottle refills also take up less storage space than standard cartridge refills.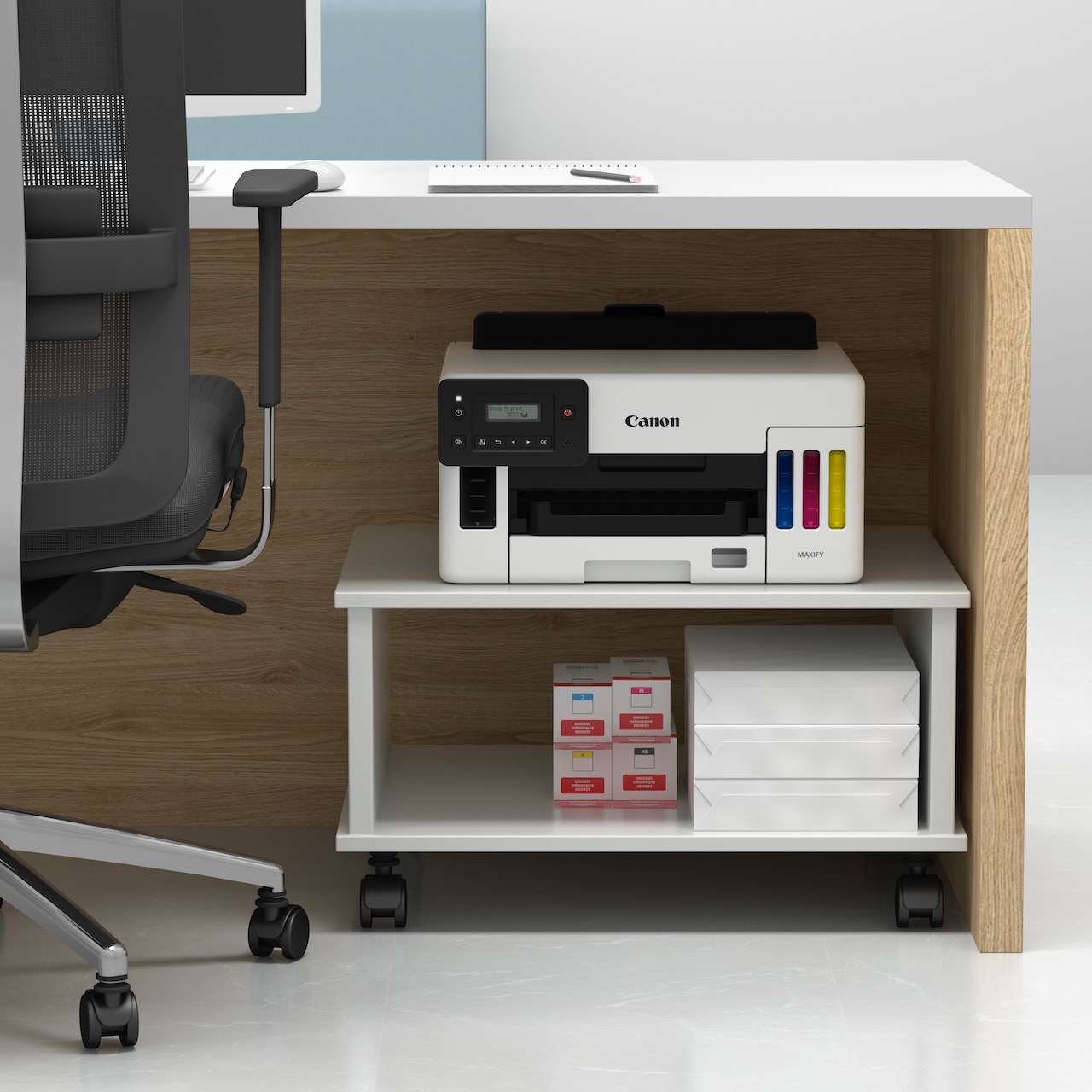 Stay Connected and Protected All the Time
The MAXIFY GX5070 is built with modern businesses and home offices in mind, flexible enough to be placed anywhere in the office as they come with not just wired network interfaces, but also wireless (2) connectivity. Advanced security features ensure the protection of sensitive documents and a secure connection to the printer and wireless network with WPA- Enterprise. Users can setup and operate the printers using the free Canon PRINT Inkjet/ SELPHY mobile app, as well as print from the cloud.
Pricing and Availability
The Canon MAXIFY GX5070 is now available at Canon authorised dealers at a retail price of $599.
Product Specifications 
MAXIFY Ink Efficient GX5070 Ink Tank Printer for High Volume Printing
Product Dimensions (W x D x H)

Approx. 399 x 416 x 238 mm

Document ISO Print Speed

Approx. 24.0 ipm (B&W) / 15.5 ipm (colour)

Key Features

Print only

Print up to 9,000/21,000 pages (B&W/Colour)

Load up to 350 sheets of plain paper

Auto duplex printing

Supports printing of various media sizes as well as textures and print surfaces

Lower energy consumption

Supports wireless and mobile printing

2-Line LCD display

User replaceable ink maintenance cartridge
Notes:
(1) Based on testing performed in accordance with ISO1179:2000 information and documentation standard – Permanence and durability of writing, printing and copying on paper. This feature is not guaranteed in all cases.
(2) Wireless printing requires a working network with wireless 802.11 b/g/n capability. Wireless performance may vary based on terrain and distance between the printer and wireless network clients.
* Information and pictures courtesy of Canon Singapore and GLOO *