Casio brings 3 Motorsports together – EDIFICE x Initial D x MF Ghost
Motorsports and Casio fans alert! If you are a big fan of Casio EDIFICE, Initial D and MF Ghost, I have some big news that I would like to share with you! Casio brings 3 Motorsports together – EDIFICE x Initial D x MF Ghost! A motorsports timepiece to accompany you on your adrenaline drive!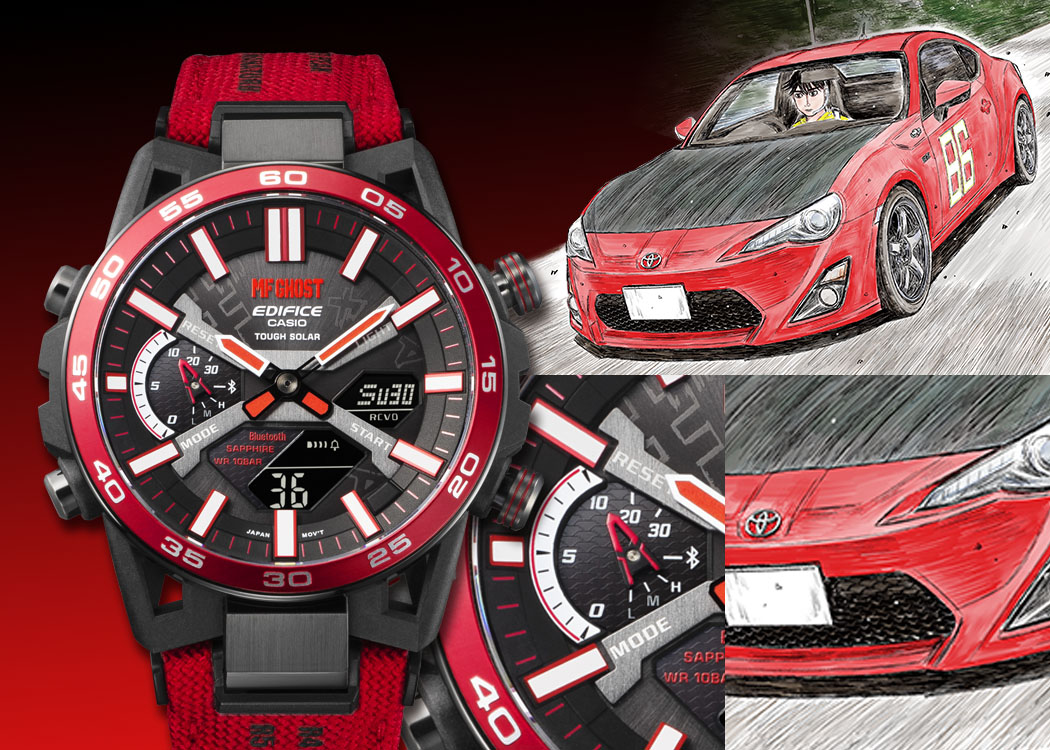 G-SHOCK, an internationally renowned watch brand that has been constantly testing new limits in timekeeping toughness since 1982, presents a new timepiece, the EDIFICE Initial D & MF Ghost collaboration model that pays tribute to the world of high-speed and high-adrenaline street racing. This collaboration model transforms features from two classic Japanese manga about street racing – Initial D and MF Ghost – onto EDIFICE model ECB-2000MFG for a first-of-its-kind 3 way collaboration.
Initial D
Initial D is a street racing manga series written and illustrated by Shuichi Shigeno. It was serialized in Kodansha's Young Magazine from 1995 to 2013 and has sold over 56 million copies worldwide. It tells the story of Takumi Fujiwara, the son of a tofu maker, who drives a TOYOTA AE86 and is fascinated by the pleasure of public road racing that challenges mountain passes. This fast- paced public road racing tale has captured the imagination of Japan and the world over.
MF Ghost
MF Ghost is a car manga series also by Shuichi Shigeno about public road racing. The series has been serialized in the Young Magazine since 2017, and a TV animation version is scheduled for 2023. Set in the year 202X, the story tells the tale of public road car racing in a Japan where self-driving cars have become the norm.
The High-Adrenaline World of Street Racing
The EDIFICE Initial D & MF GHOST collaboration model is designed and engineered to reflect the worldview of Initial D and MF GHOST.
Its red and black design is done in a motif of the TOYOTA GT86 driven by Kanata Rivington, the main character of the MF GHOST series. The Japanese characters "????" are engraved on the dial and stamped into the inside surface of the band. These characters represent the sound of a scream, which commonly appears in both the Initial D and MF GHOST series. "??????" (Fujiwara Tofu Shop), which is the name of the shop that owns the TOYOTA AE86 driven by Initial D main character Takumi Fujiwara, is also stamped into the inside surface of the band. This means that features of both manga series can be found everywhere on this watch.
Additionally, the names of the courses that appear in the MF Ghost series are also printed on the outer surface of the Cordura band. The title logo of the series is engraved on the back cover of the watch.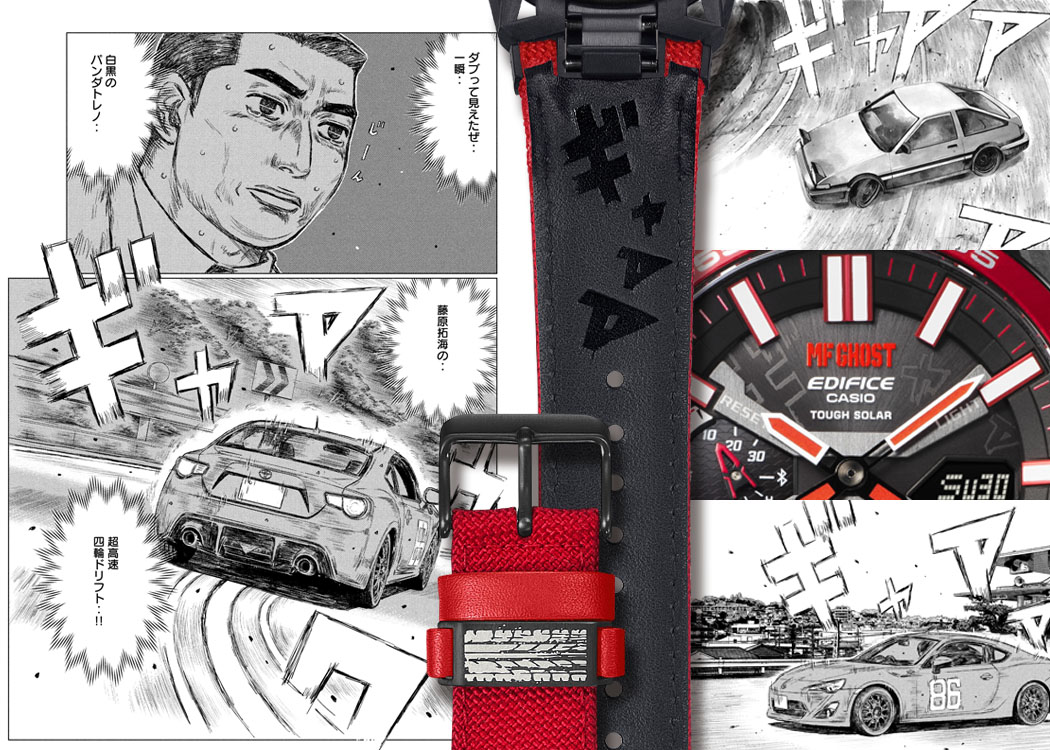 Smartwatch features
The watch comes with Smartphone Link that wirelessly links with a host of Bluetooth enabled devices. At the simple download of an app on your phone, you can access auto time adjustment, simple watch-setting, approximately 300 World Time cities and even activate a Phone Finder feature. It also boasts a Tough Solar Power feature that recharges itself on solar energy for longer battery life.
All models come with the complete technical specifications of the G-SHOCK seal of shock resistance, 200m water resistance, hourly time signals, countdown timer and hand shift feature.
Pricing and Availability
The ECB-2000MFG watch is priced at $629 and will be available for purchase on https://www.casio.com/sg/ and at EDIFICE retail stores on 7th December 2022.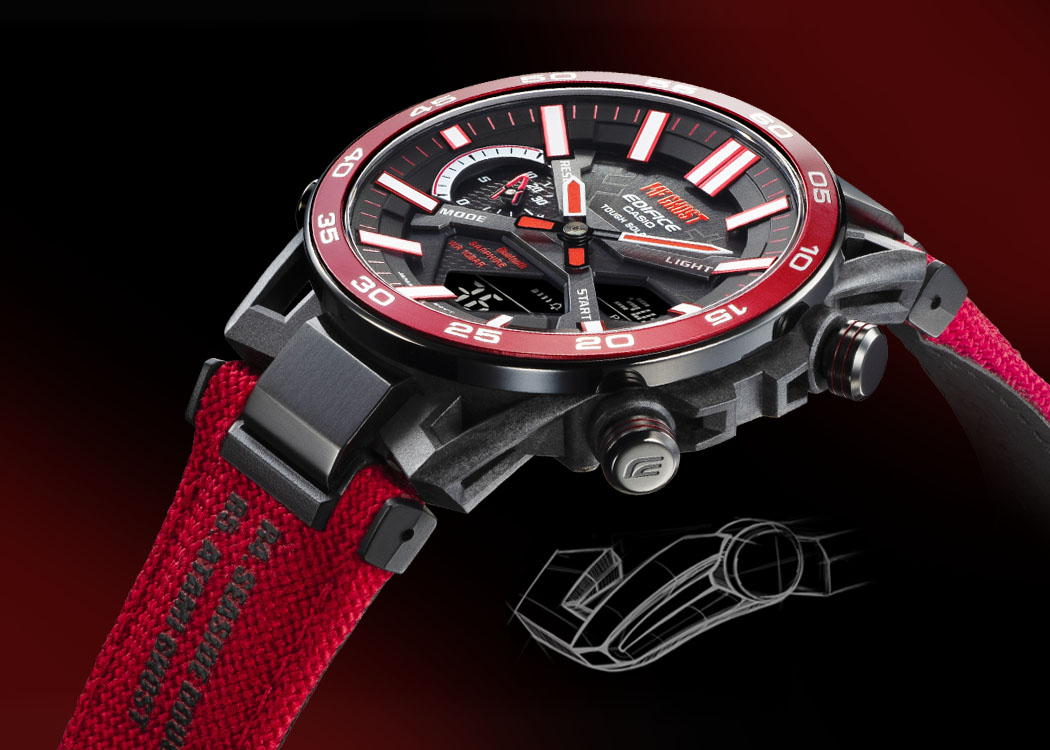 Technical Specifications
ECB-2000MFG
Construction

Solar Powered

Water Resistance

200 meters

Communication Specifications

Bluetooth

®

low energy

World Time

38 time zones (38 cities + coordinated universal time), Home city/World time city swapping, auto summer-time (DST) switching

Stopwatch

1/100-second stopwatch

Measuring capacity: 00'00'00-59:59'99" for the first 60 minutes

Measuring unit: 1/100 second for the first 60 minutes

Measuring modes: Elapsed time, lap time, split time

Countdown Timer

Measuring unit: 1 second

Countdown range: 60 minutes

Countdown start time setting range: 1 second to 60 minutes (1-minute increments)

Alarm

5 Daily alarms

Mobile Link Features


(Wireless linking with Bluetooth® devices)

Auto time adjustment
Simple watch setting
Approximately 300 world time cities
Stopwatch data transferTime & place
Phone finder

Other Functions

Full auto-calendar (to year 2099); Battery level indicator; Power saving; Hand-shift feature, Double LED Light; 12/24-hour format; Button operation tone on/off; Progress beeper on/off; Day display; Regular timekeeping

Power Source

Tough Solar power system (solar-charging system)

Continuous Operation

About 7 months after full charge, using all functions but without solar charging

About 18 months with the power-saving function ON after full charge

Accuracy at Normal Temperature

±15 seconds per month

Size of Case

51 × 47.8 × 11.4 mm

Total Weight

Approx. 65g
* Information and pictures courtesy of Casio and Brand Cellar *