Dell Technologies APJ podcast 'Future Extraordinaire'
Dell Technologies has recently launched the Dell Technologies APJ podcast 'Future Extraordinaire', a podcast on exploring technology and inspirational stories. This series aims to discover new perspectives and seek insights from business and technology leaders and influencers. There will be deep dives into the latest and coolest technologies, industry trends and their impact on the Asia Pacific region.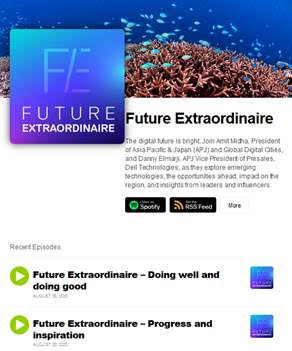 Dell Technologies APJ podcast 'Future Extraordinaire' is co-hosted by Amit Midha, President of Asia Pacific & Japan (APJ) and Global Digital Cities, and Danny Elmarji, APJ Vice President of Presales, Dell Technologies. 
The first two episodes are out, you can listen to their podcasts from the selection of podcast platforms available, for me it would be Spotify since I currently have a Spotify account. The first episode is an introduction to Amit and Danny, and shares the inspiration for the podcast. The second episode invites renowned environmentalist and Chief Citizen of Citizens of the Great Barrier Reef, Andy Ridley, to discuss technology as a force for good and why companies need to play their part in conserving nature besides doing well.
The applications and impacts of technology on our society, work and personal life are huge, wide and diverse. From a personal perspective writing and publishing my technology topics and interests articles over a decade ago (since 2008 and still counting), I started off with consumer technology (B2C) products, followed by enterprise technology (B2B) a few years back, along with social media and digital marketing areas and covering technology startups.
How much more is technology going to impact our daily working and leisure life? What would be the impacts and changes to our working and leisure life in a post global pandemic Covid-19 world look like? How would technology help in the changes and adoption of how we consume and use technology and our world of gadgets and devices in the near future and beyond? The topics on discussions, exploring the future of technology, future of work, trends, impacts and changes on technology would be interesting and diverse on the Dell Technologies APJ podcast 'Future Extraordinaire'.
Do tune in and listen to Dell Technologies APJ podcast 'Future Extraordinaire', share it with your loved ones, family, relatives, colleagues and friends. Pass-It-On and Pay-It-Forward, Sharing is Caring!
* Information and picture courtesy of Dell Technologies and burson cohn & wolfe *