G-SHOCK x Rubik's Cube Limited Edition Collaborative Timepiece
G-SHOCK x Rubik's Cube recently announced the launch of a limited edition collaborative timepiece, the GAE-2100RC-1A. This limited edition collaborative timepiece is based on the best-selling GA-2100 model. Just like the Rubik's Cube® inspiration, a facelift is just a turn away, with each watch featuring an interchangeable bezel and tool.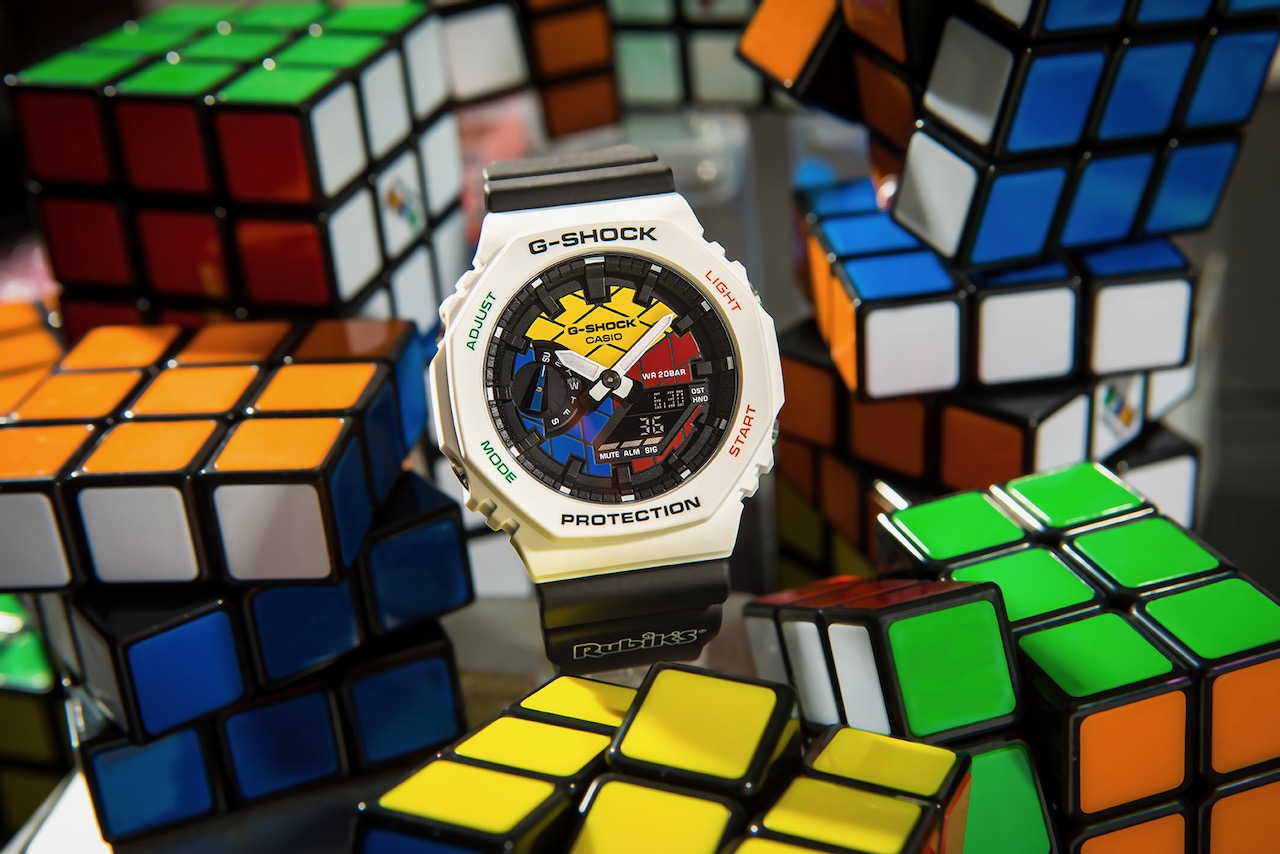 The GAE-2100RC-1A features the latest carbon core guard technology in a slimmer, more refined case that gives homage to the much-loved retro look with its unique octagonal bezel, framing an analog-digital display. Despite its deceptively compact design, this watch is as durable and tough as any G-SHOCK watch. The GAE-2100RC-1A is 200-meter water resistance and shock resistance.
The Rubik's Cube® was invented in 1974 by Ern? Rubik, it has become one of the best-selling toys in history, with 450+ million cubes sold to date. Global icons such as Harry Styles, Ryan Gosling to Justin Bieber and Will Smith, favour the hugely popular puzzle.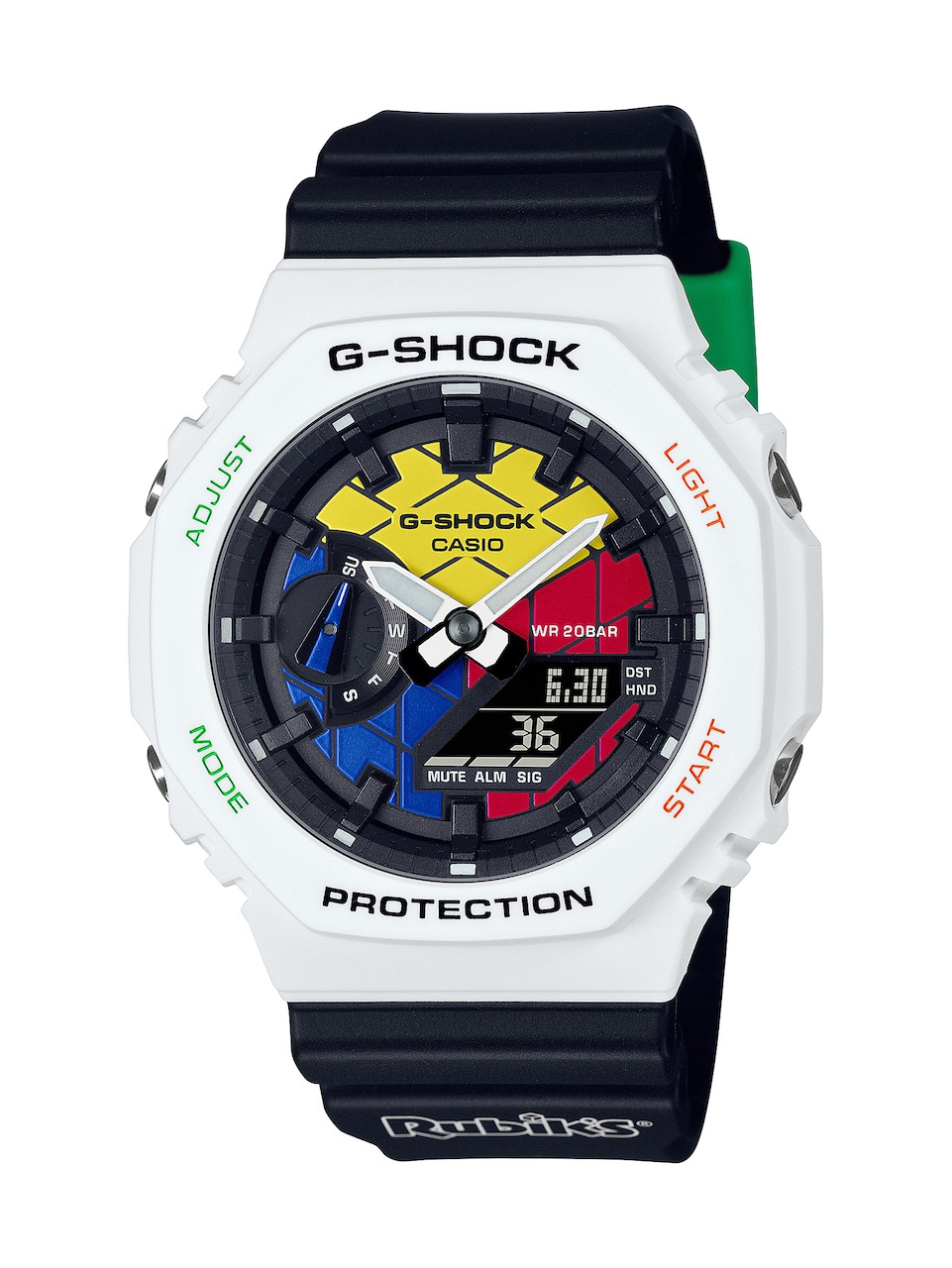 On this G-SHOCK x Rubik's Cube Limited Edition Collaborative Timepiece, Casio commented, "There are a lot of synergies between G-SHOCK's approach to building watches and Rubik's iconic Cube. A tough eye-catching exterior with deeper complexities and a shared 'Never Give Up' philosophy make this a very natural partnership."
Pricing and Availability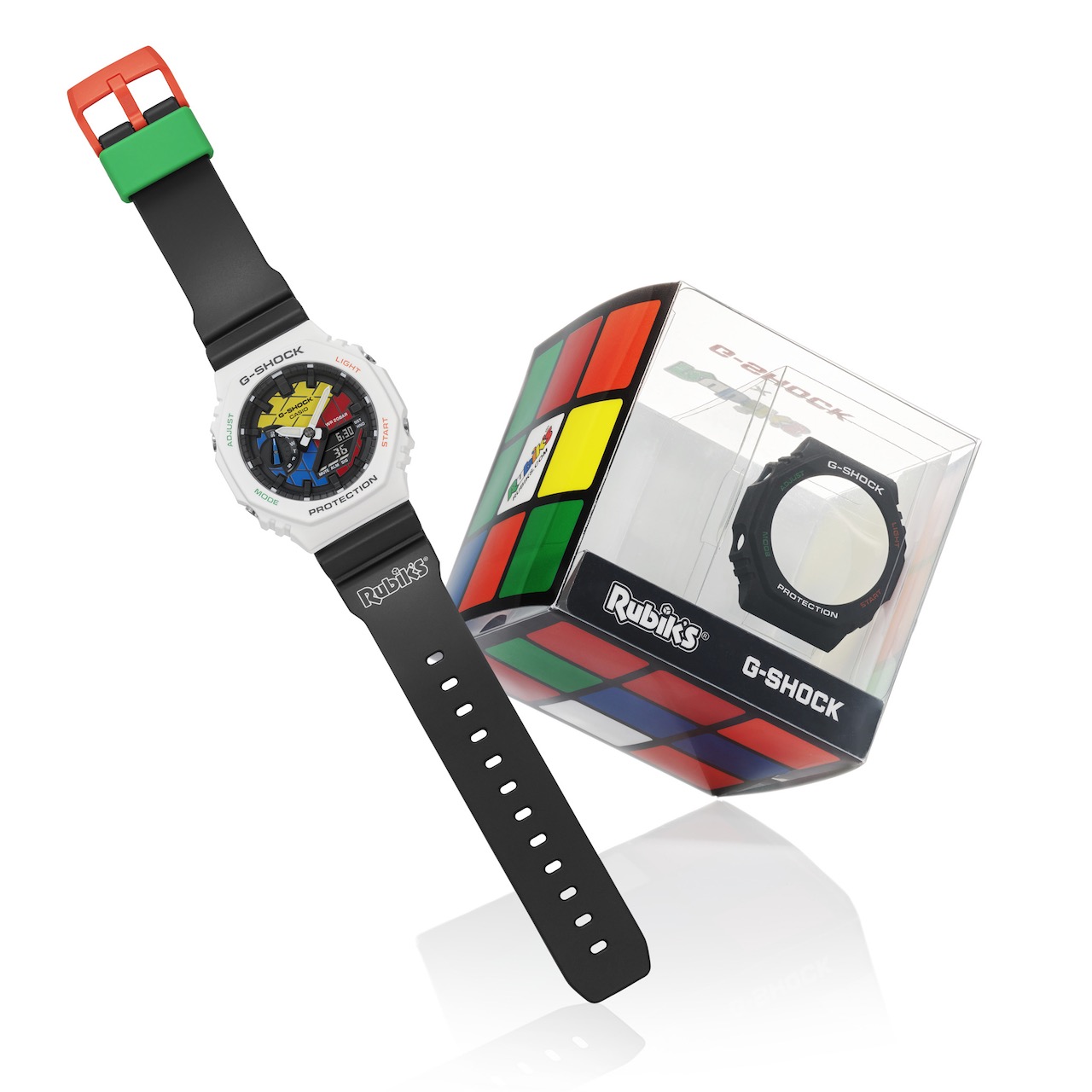 For more information on G-SHOCK GAE-2100RC-1A, please visit G-SHOCK website.
Technical Specifications
GAE-2100RC
Construction

Shock-resistant

Water Resistance

200 meters

World time

31 time zones (48 cities + coordinated universal time), daylight saving on/off

Stopwatch

1/100 second; Measuring capacity: 00'00″00~59'59″99 (for the first 60 minutes)

1:00'00~23:59'59 (after 60 minutes)

Measuring unit:1/100 second (for the first 60 minutes)

1 second (after 60 minutes)

Measuring modes: Elapsed time, split time, 1st-2nd place times

Countdown Timer

1 second; Countdown range: 24 hours

Countdown start time setting range: 1 second to 24 hours

(1-second increments, 1-minute increments and 1-hour increments)

Alarm

5 daily alarms, Hourly time signal

Other Functions

Double LED Light: LED light for the face (Super illuminator, selectable illumination duration (1.5 seconds or 3 seconds), afterglow), LED backlight for the digital display (Super illuminator, selectable illumination duration (1.5 seconds or 3 seconds), afterglow); Hand shift feature (Hands move out of the way to provide an unobstructed view of digital display contents); 12/24-hour format; Button operation tone on/off

Accuracy at Normal Temperature

±15 seconds per month

Battery Life

Approx. 3 years on SR726W x 2

Size of Case

48.5 × 45.4 × 11.8 mm

Total Weight

Approx.52g
* Information and pictures courtesy of G-SHOCK and Brand Cellar *