mc.2 x OSIM Promotion (until 31 July 2020)
Singapore's largest smart blinds fashion gallery, mc.2, is offering a special mc.2 x OSIM Promotion for their clients. I have visited mc.2 gallery previously in 2019 when they expanded their retail outlet. If you are looking at home renovation ideas and have been planning to get a smart blind for your home, you have to check out mc.2 and their collection of smart blinds fashion gallery.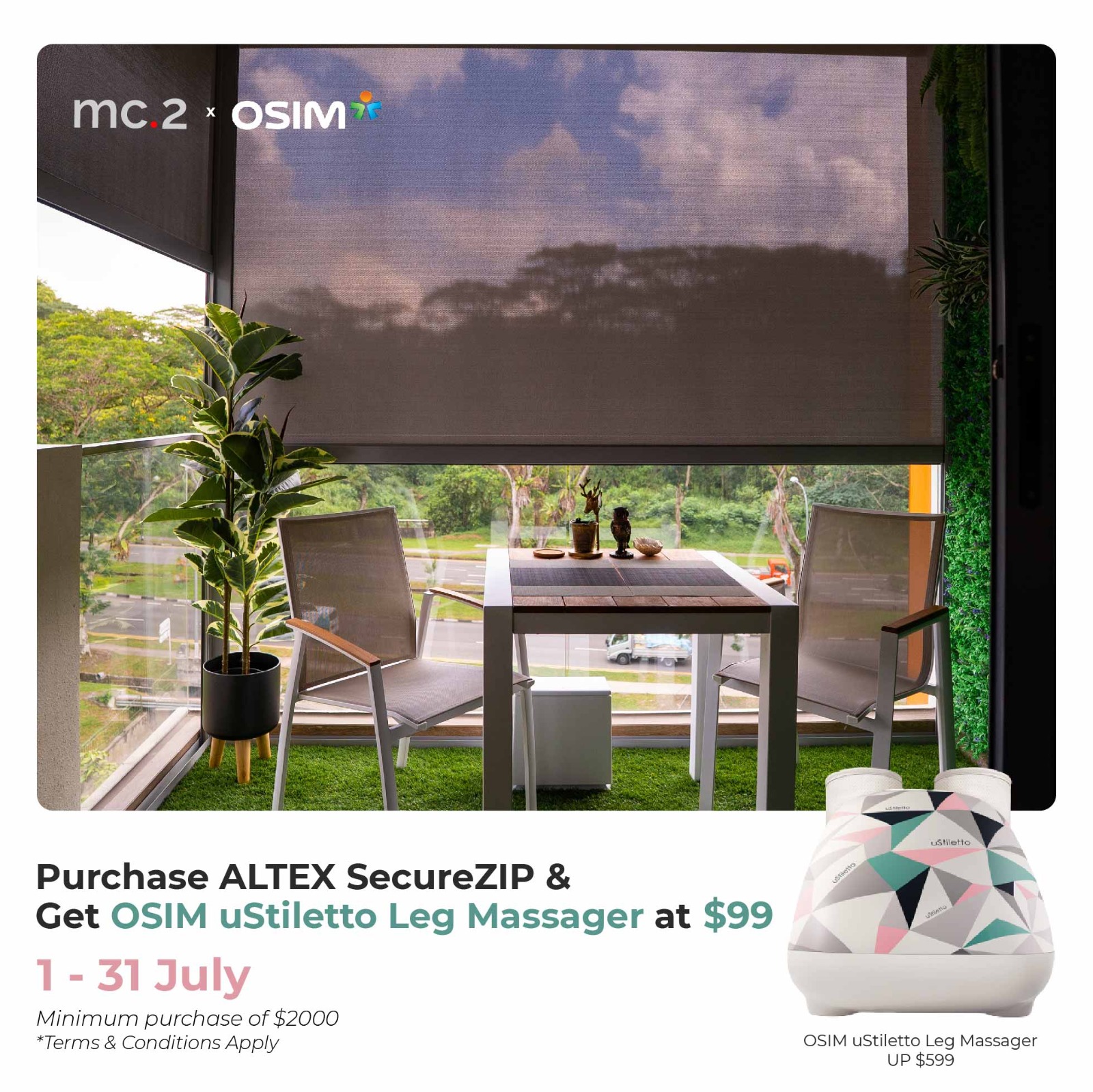 If you are looking to get a Zip Blind that not only blocks out the sun, rain, haze, debris and insects but also keeps in the aircon in your balcony, mc.2's ALTEX™ SecureZIP is the perfect solution for them! The ALTEX™ SecureZIP is one of the trusted secured zip blinds system that uses high quality fiberglass fabric from Helioscreen, Serge Gerrari, Copaco, Mermet and PHIFER. The ALTEX™ SecureZIP solution is also powered by France SOMFY motor.
From now to 31 July 2020, customers can get an OSIM uStiletto Leg Massager for just a stunning $99 (UP: $599) with the purchase of ALTEX SecureZIP! The OSIM uStiletto Leg Massager has a combination of gentle and comfortable massage techniques that help to sooth any discomfort in legs. It is the perfect choice for users new to a leg massage experience!
Promotion ends on 31 July 2020.
About mc.2 
Operating Hour:
Weekdays – 11am – 7pm
Weekends – 10am – 5pm
Contact Number: +65 6634 7333
Address: 33 Ubi Ave 3, #01-28/29 Vertex, Singapore 408868
Website: www.mc2.com.sg
Facebook: https://www.facebook.com/mc2singapore
Instagram: https://www.instagram.com/official.mc2/
* Information and picture courtesy of Brand Cellar *