MOGUL.sg launches interactive 3D map for property search in Singapore
Looking for a property in Singapore? Do you have the maps to take a look at the property location and surroundings in a 3D view when you are doing your initial research? Now you can do it with MOGUL.sg! Homegrown property search portal MOGUL.sg launches interactive 3D map for property search in Singapore, they have upgraded its 2D map of Singapore at www.mogul.sg into a full 3D version where the location and relative heights of all completed buildings – over 160,000 of them are shown on the map.
For prospective property buyers in Singapore, as well as those working in the property development/sales industry, this interactive 3D map for property search in Singapore by MOGUL.sg would definitely be very handy and useful in your property related searches.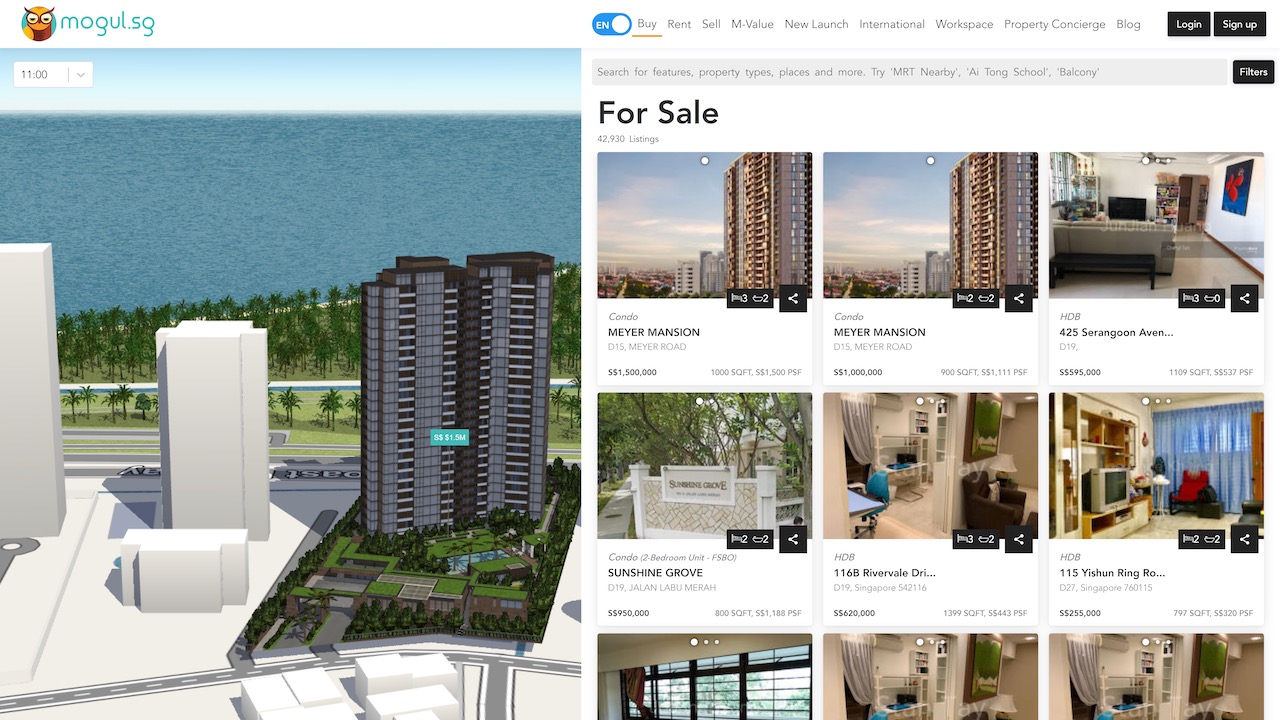 With the aid of a 3D map, prospective home buyers are able to view the surroundings of their intended property purchase. They can see what amenities are close by, they can also check whether the property has a clear unblocked view of the sea and even on the exact direction of the sun at various times of the day.
MOGUL.sg is working with French digital mapping company F4 who developed one of the leading property portals in France. The F4 group was originally a video games developer who used their game engine technology to build unique 3D maps that makes use of vector graphics instead of the typical raster graphics. MOGUL.sg's 3D map of Singapore makes use of vector graphics, making it the first of its kind in Singapore and in the region.
Vector graphics are scalable, which means data are presented in a more granular form instead of aggregated and the file-sizes are small, enabling quick loading and smooth scrolling of the 3D map for users. For reference, Maps such as Google Maps which super imposes satellite images onto a 2D map is an example of a raster, non-vector map.
Gerald Sim, CEO, and founder of MOGUL.sg said: "We are quite literally putting Singapore onto the world map for developing one of the most advanced 3D maps in the world for a property portal."
The virtual showroom as the new norm
MOGUL.sg is also working with real estate developers to place building models of new projects onto the 3D map, letting home buyers view realistic models of the construction-in-progress developments and their surroundings. This is a boon for real estate developers and prospective home buyers alike.
During this pandemic, real estate developers must manage viewing restrictions at the show flat in accordance with safe distancing measures. If home buyers want to visit a showroom, they need to book an appointment. With the introduction of Mogul.sg 3D map, real estate developers can continue to reach out to the target local or foreign buyers while safe distancing measures are still in place and inbound, abiding by the rule of curtailed outbound travel.
At launch there are already several private and public under-construction developments on the map, including Meyer Mansion, Clavon and Midtown Bay. MOGUL.sg also added four blocks of upcoming HDB flats at Tengah Gardens.
"Revenue from property listings have been affected by the pandemic. This 3D map not only offers benefits to home buyers but also a new revenue stream for our company that makes a lot of sense especially during this period where travel is restricted and showroom capacity is limited," added Mr. Sim.
Post-pandemic
Moving into the new norm post-pandemic, real estate agents would be adopting virtual showrooms to increase productivity via multiple virtual viewings per day. Agents will now be able to showcase multiple projects via the virtual showflat in a single seating then move towards making the final decision at the physical showflat.
* Information and picture courtesy of MOGUL.sg and GLOO *