Singtel CNY – The Hunt For The Lucky Tiger
Singtel launched its annual Chinese New Year (CNY) short film, titled "The Hunt For The Lucky Tiger", celebrating the festive season's spirit of bonding with family and community. This short film is the third instalment in Singtel's festive film series featuring two rival families that have endeared themselves to Singaporeans after their silly and funny yet meaningful altercations in the previous two films – "His Grandfather's Road" and "My Grandmother's House."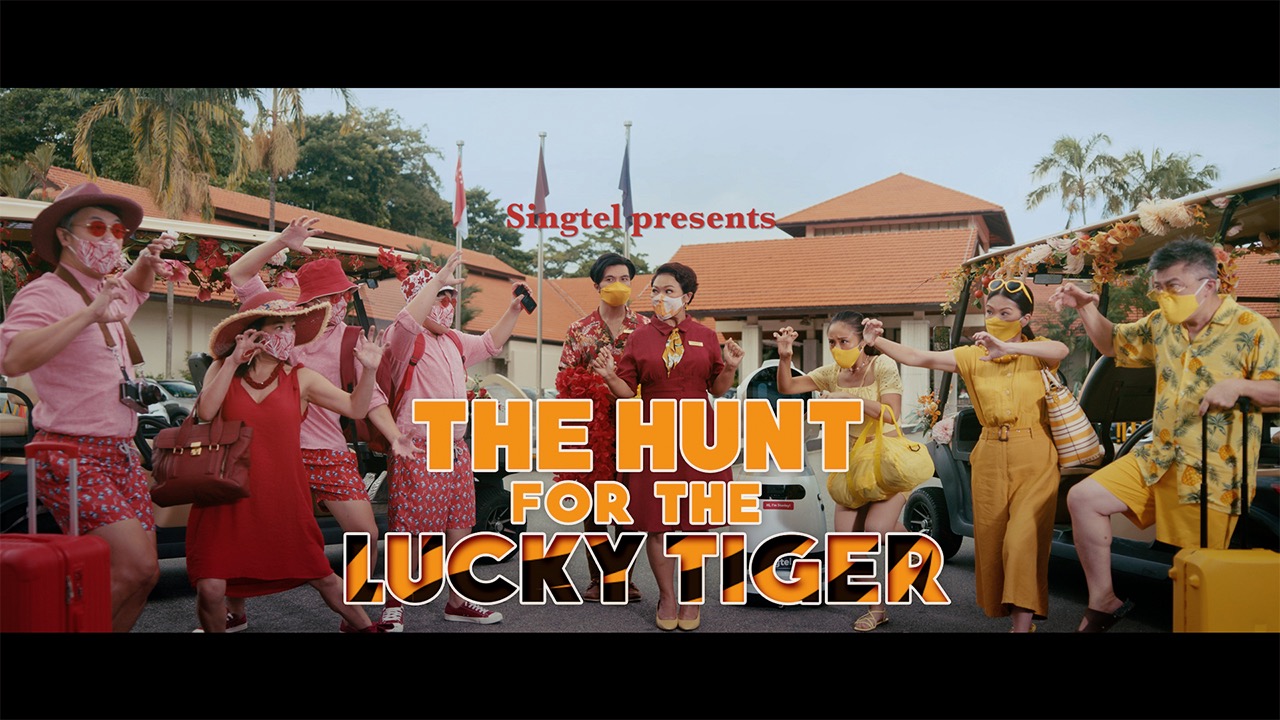 The Hunt For The Lucky Tiger
The Hunt For The Lucky Tiger is set against the backdrop of the pandemic, in this year's film, the Ang and Huang families opt to go for for a staycation during the CNY break instead of traveling overseas. Kismet leads them to choose the same hotel on the beautiful and now 5G-powered island of Sentosa, sparking fresh contention and comedic rivalry between the families when they run into each other upon arrival. They also sign up for the same treasure hunt, the main action in the film, as part of their staycation itinerary.
During the hunt, the families pit their wits and skills against each other in search of the elusive Lucky Tiger brought to life via augmented reality. They go head-to-head in an immersive, remote-controlled car race powered by the high speeds of Singtel's 5G network. The race is a hotly contested affair with both nominated drivers showing deft skill in controlling their cars enabled only by lag-free next-generation connectivity.
The story takes a dramatic turn when Ah Boy, the youngest son from the Ang family, goes missing midway through the search for the tiger avatar in the lush forest trails on the island. The families rally to comfort a panicky Wendy (Ah Boy's mother played by Pam Oei), setting aside petty squabbles to find him. Mr Ang even goes as far as to call for a search and rescue drone from Garuda Robotics to locate his son. Seamlessly over 5G, he captures the drone footage and movements via live video streaming on his mobile device.
How does the story end and turn out for the Ang and Huang families? Are the two families able to reconcile? How about the treasure hunt? Catch "The Hunt For The Lucky Tiger" and discover it for yourself!
Lian Pek, Vice President for Group Strategic Communications and Brand, Singtel, said, "Chinese New Year exemplifies the importance of family, friends and relationships, closely reflecting Singtel's spirit of celebrating connections. As we rejoice with loved ones during this festive period, it is a timely reminder to treasure the relationships we have made, especially in light of recent global events that have tested these bonds."
Lian added, "As we move into a new year, the film is also a look to the future, showcasing 5G technology that Singapore can capitalise on to underpin economic recovery and our journey into the digital economy. As a leader in 5G innovation, we're offering audiences a glimpse of tomorrow, from augmented reality enhanced entertainment to drone applications powered by hyper connectivity. 5G has the unbridled potential to redefine experiences and operations across multiple verticals and we hope to empower the broader community by harnessing the benefits of this next-generation technology."
Singtel 5G Showcase
The film serves as a showcase for 5G use cases, such as Garuda Robotics' autonomous drone systems which are currently undergoing trials at the 5G@Sentosa testbed, a public-private sector collaboration led by the Government Technology Agency (GovTech), the Sentosa Development Corporation (SDC), and Singtel. By enabling agencies to trial use cases that improve operational effectiveness and deliver citizen-centric services, the testbed aims to catalyse large-scale public sector adoption of 5G and develop Singapore's 5G eco-system ahead of nationwide 5G rollout in 2025. Singtel plays a key role in supporting the initiative with its purpose-built network and edge cloud infrastructure allowing for 5G application rollout on a mass scale. Singtel has achieved 75% coverage and its 5G network has been named Singapore's fastest by Ookla® the second time running (1).
Through creative use of local humour and relatable scenarios around the festive season, "The Hunt For The Lucky Tiger" showcases Singtel's branded story-telling strategy and brand values of family, community, diversity and inclusivity. Previous year's Chinese New Year short films have been well received by audiences, with "His Grandfather's Road" named the top ad video on the Asia-Pacific YouTube Ads Leaderboard for Singapore in February 2020, and "My Grandmother's House" emerging first in the 2021 Lunar New Year YouTube Ads Leaderboard.
Do share "The Hunt For The Lucky Tiger" CNY short film by Singtel with your family, loved ones, relatives and friend, let's spread and share CNY festive spirit and celebrations! Wishing all a Happy Chinese New Year 2022 in advance and a roaring Chinese Lunar New Year 2022!
Notes:
(1) Based on analysis by Ookla®of Speedtest Intelligence® data from Q3 to Q4 2021.
* Information and picture courtesy of Singtel *