Shopee 4.4 Mega Shopping Day
Coming soon on 4.4, it's Shopee 4.4 Mega Shopping Day! Shopee, the leading e-commerce platform in Southeast Asia and Taiwan is stepping up their efforts to delivery value and variety to users all year round with its inaugural 4.4 Mega Shopping Day. This would be the region's first mega shopping festival of year 2021, building on the popularity of Shopee's year-end events.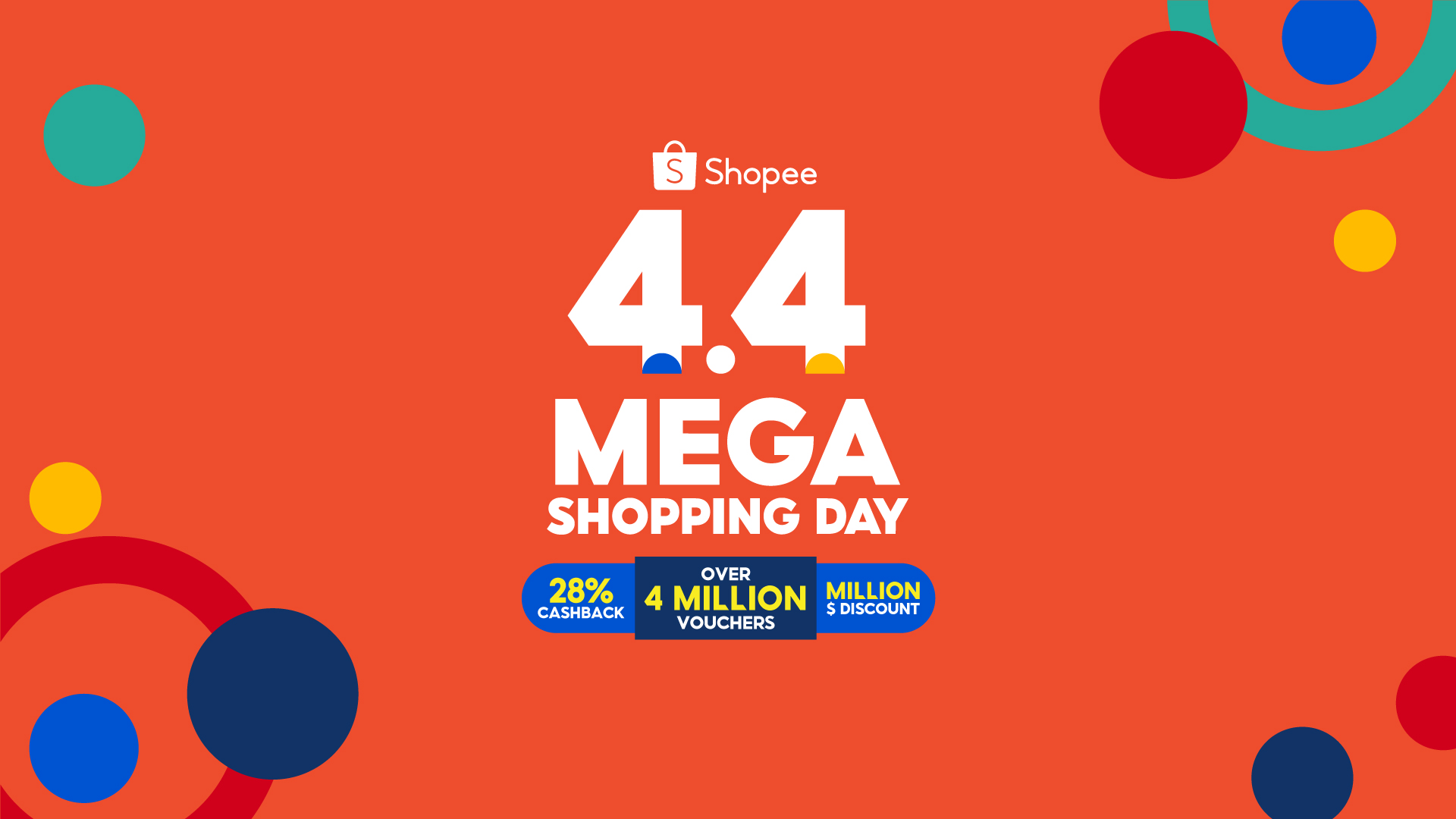 Late night shopping is getting more popular and getting more interest especially during shopping festivals. The finale of 4.4 Mega Shopping Day on 4th April will feature a 2-hour Midnight Mega Sale with unbeatable deals on thousands of products. Leading up to 4.4 Mega Shopping Day, users can open and tune into the Shopee app every day till 4th April for special in-app entertainment, as well as bigger and better deals from the largest array of sellers and brands.
Globally acclaimed K-Pop girl group, Mamamoo, is Shopee's regional 4.4 Mega Celebrity! The award-winning group best-known for their legendary vocals, will be presenting their top hits exclusively on Shopee Live, on 4 April. Shopee users can also stand a chance to win exclusive Mamamoo autographed albums by entering giveaways on Shopee Singapore's Twitter and Instagram pages.
Zhou Junjie, Chief Commercial Officer, Shopee said, "The Shopee 4.4 Mega Shopping Day is another first for Shopee and the industry, as we bring the excitement of the year-end shopping festivals earlier into the year. Building on the success of our 9.9 Super Shopping Day, which we pioneered in 2016, we aim to bring our users even more joy and value throughout the year. We are also thrilled to have Mamamoo join us to deliver a spectacular performance on Shopee Live as part of our 4.4 celebrations, so that our shoppers can enjoy the best deals, best entertainment and best rewards."
Bigger deals and better rewards at 4.4 Mega Shopping Day
4.4 Mega Shopping Day will feature massive deals across a wide assortment of products, with the biggest selection of brands and sellers across the region. Shopee will also introduce new ways for users to enjoy more savings as they spend:
Midnight Mega Sale: On 4 April from 12AM to 2AM, users in all markets can shop the Midnight Mega Sale. In Singapore, users will be able to enjoy unbeatable limited-time deals of up to 80% off on thousands of products only during the Midnight Rush Hour. Sale from 12AM to 1AM, and the 1AM Rush Hour from 1AM to 2AM.

Enhanced Loyalty Programs

: Shopee is also giving users more ways to earn rewards and save at 4.4 Mega Shopping Day and beyond. Users can now earn special vouchers and rewards via the new in-app loyalty programme Shopee Loyalty every month.
First Premium Brands Festival to elevate the shopping experience
In line with 4.4 Mega Shopping Day, Shopee will also launch its first Shopee Premium Brands Festival at the same time to cater to a growing community of premium beauty shoppers. It will offer the biggest deals from leading premium brands on Shopee Premium, including K-beauty favourite Sulwhasoo, who will be holding their regional Super Brand Day with special deals, gift boxes, and brand samples.
In addition, premium Japanese beauty brand Shiseido will be officially launching on Shopee, offering irresistible deals including the Ultimune Duo available exclusively on Shopee, Vital Perfection Lifting and Firming beauty sets and more. There will also be gifts with purchase and top spender prizes to be won.
The festival will happen from 31 March to 4 April in Singapore. Throughout the festival, users can enjoy close to 1 week of exclusives from premium brands such as Elizabeth Arden and MCM, including back-to-back "Brand of the Day" promotions featuring new premium brands, at Shopee's first-ever midnight premium gift push.
Highlights of 4.4 Mega Shopping Day in Singapore
In Singapore, users can look forward to 2 weeks of non-stop promotions at 4.4 Mega Shopping Day, from 22 March to 4 April. Highlights include:
Four million vouchers

to be released, 28% cashback, and Million Dollar Discount deals
Daily themed days from 22 March to 3 April, as well as the Mega Flash Sale Weekend from 27 to 28 March: Users can enjoy

hourly mega flash deals at up to 80% off

from 12AM onwards and upsized midnight brands sales from 12AM-2AM featuring best-selling brands like Lenovo, Kinohimitsu, Adidas and more

Up to 90% off brands

from Shopee Mall including Xiaomi, Dyson, Samsung, Paula's Choice, Adidas, and more
4.4 Mega Shopping Day will also be packed with bigger and better shopping experiences for all users powered by enhanced in-app features including Shopee Live and Shopee Prizes:
Co-streaming on Shopee Live: Shopee is creating new ways for users to interact first-hand with their favourite brands, sellers, and hosts with its new co-streaming feature on Shopee Live. Now, brands and sellers can invite viewers, fans, and even celebrities to stream at the same time on Shopee Live, offering a new layer of real-time engagement.

Upsized rewards on Shopee Prizes: Shopee's in-app games, including hot favourites like Shopee Spin & Win and Shopee Shake, will offer users more rewards and Shopee Coins across 4.4 Mega Shopping Day. Users can play and win up to 100,000 worth of Shopee Coins, prizes, and vouchers.

4.4 Mega Live Shows: Shopee will be bringing non-stop entertainment during 4.4 Mega Shopping Day with four livestreams. Users can tune in to win more than $8,000 worth of prizes, giveaways and exclusive Shopee Live deals. Starting with the 4.4 Mega Auction at 12PM on 4 April, users can bid for their favourite products from $4.40. At 9PM, users can tune in to catch the 4.4 Mega Price Drop Fiesta and grab Shopee's bestsellers at exclusive Shopee Live prices.
Zhou closed, "4.4 Mega Shopping Day is packed with an exciting range of promotions and entertainment specially designed for Shopee users. I look forward to an amazing first 4.4 Mega Shopping Day as we celebrate another milestone with everyone in the region."
For more information about Shopee 4.4 Mega Shopping Day, visit https://shopee.sg/m/4-4.
Remember to Pay-It-Forward and Pass-It-On! Sharing is Caring! Share Shopee 4.4 Mega Shopping Day news and information with your family, loved ones, relatives and friends! Happy Mega Shopping Day on 4.4 with Shopee!
* Information and picture courtesy of Shopee and AKA Asia *