5G mobile networks are already here in Singapore, if you have a 5G ready smartphone, you would be able to utilise 5G networks in various parts of Singapore. With my Apple iPhone 12 and on Singtel 5G networks, I am able to use 5G download speeds when it's available. Singtel is expanding and adding 5G networks around Singapore, Singtel is the first to deploy 5G coverage indoors in Singapore.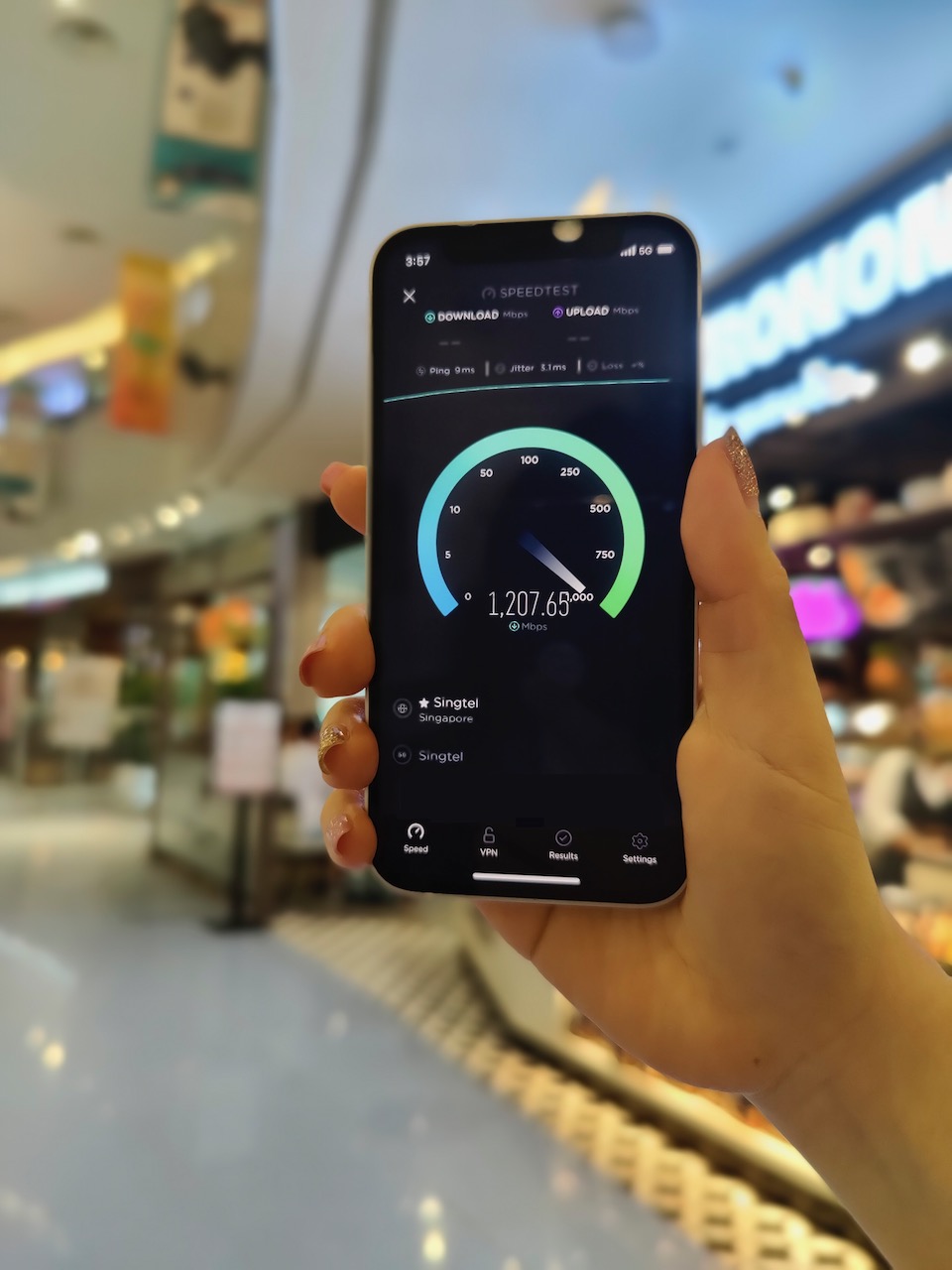 Singtel expanded their 5G network coverage, bringing 5G indoors at VivoCity, the largest shopping mall in Singapore. It's running on 3.5GHz spectrum and advanced small cell radio dot technology, Singtel's 5G network offers customers ultra-fast speeds of up to 1.2Gbps and a consistent and seamless 5G experience whether they are indoors or outdoors at VivoCity. Singtel is going to bring 5G to more customers in more high-traffic areas, they will extend its in-building 5G coverage to popular malls such as Ngee Ann City and Bugis Junction over the next few months.
Ms Gan Siok Hoon, Singtel's Managing Director, Sales & Marketing, Consumer Singapore, said, "Our customers already enjoy our blazing fast 5G speeds across the island as we continue to rapidly roll out 5G. We are pleased to deliver our 5G speed advantage indoors at VivoCity, just as more people are going out with their friends and family. Singtel 5G provides reliable connectivity and a consistent high-speed experience, making a real difference for our customers whether they are surfing, streaming videos or gaming while on the go."
5G networks has exceptionally fast speeds and quick response times, 5G is able to catalyse digital transformation in the retail industry. As 5G becomes more commonplace, they will be power use cases such as immersive augmented reality (AR) and virtual reality (VR) shopping experiences, real-time insights and personalised recommendations based on advanced analytics and smart inventory using IoT solutions.
Singtel has committed to bring 5G mainstream and give everyone in Singapore a taste of 5G speeds. They also unveiled its first indoor 5G experience zone which is located at its exclusive retail store on level 2 of VivoCity. Anyone with a smartphone can visit the store to experience 5G-powered WiFi and stream exclusive 4K content from Love Nature.
Singtel operates Singapore's fastest 5G network, delivering 5G speeds of up to 1.2Gbps via 3.5GHz and 2100Mhz frequencies. To boost its deployment of super-fast 5G, Singtel recently switched on 28 GHz mmWave 5G in prime locations and has also steadily enhanced its 5G coverage across the island to include key residential hubs such as Clementi, Punggol and more, since the launch of its 5G network last September.
All consumers in Singapore can sample ultra-fast 5G speeds by visiting Singtel's 5G experience zones at its multimedia kiosks, UNBOXED Lite on Orchard Road and its exclusive retail store at VivoCity. More 5G experience zones will be launched across the island in the coming months. Consumers can visit singtel.com/5G to find out more about Singtel 5G.
* Information and picture courtesy of Singtel *