G-SHOCK announced new Iridescent series
G-SHOCK announced the new design series, the Iridescent series. This is the first G-SHOCK series to feature the rainbow vapour deposition process on the watch face. The process on the watch face creates various shades of colour as it reflects light, expressing an image of the mid-summer dusk. Each model reflects light in its unique way, giving this series a distinctive look.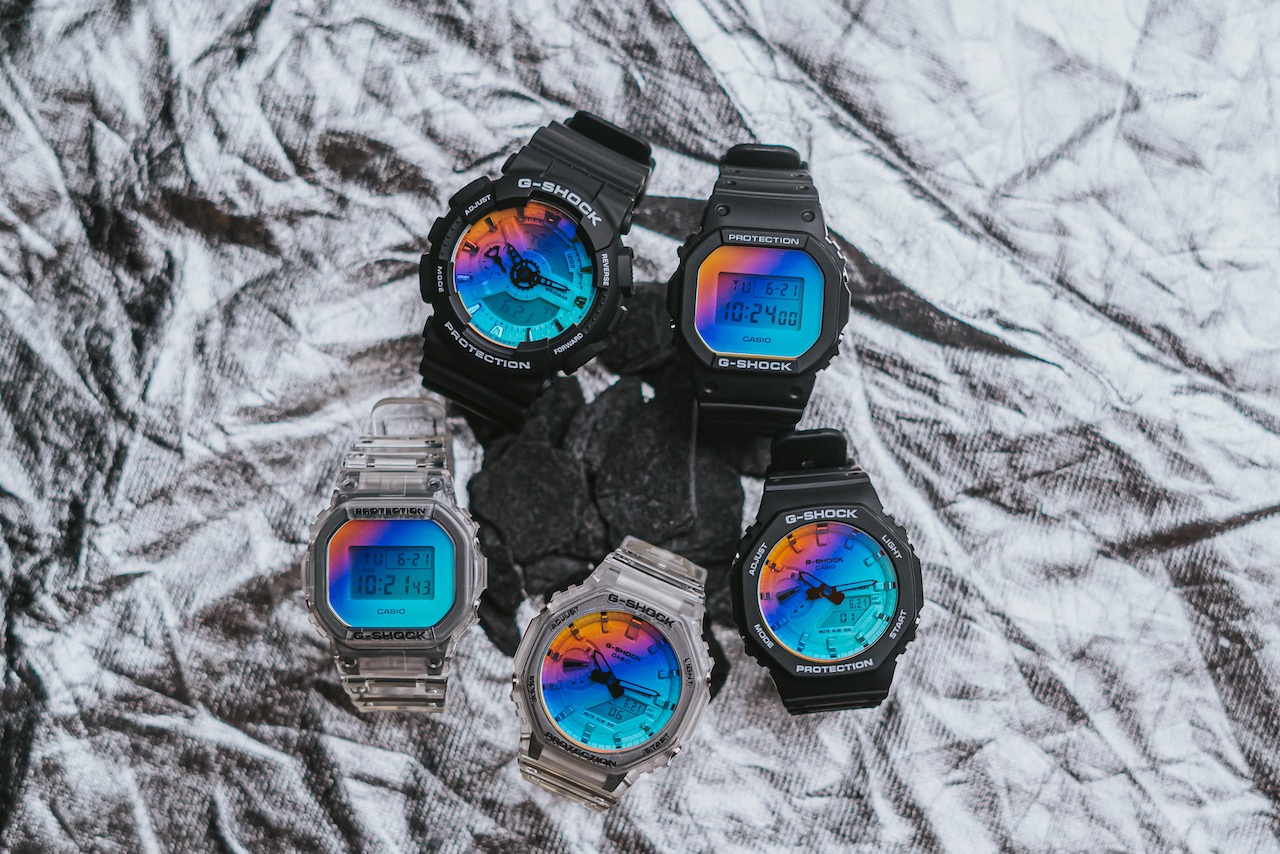 The Iridescent series has three base models: the standard square case DW-5600, the octagon bezel GA-2100, and the large size case GA-110. There are two colourways: black and transparent colour.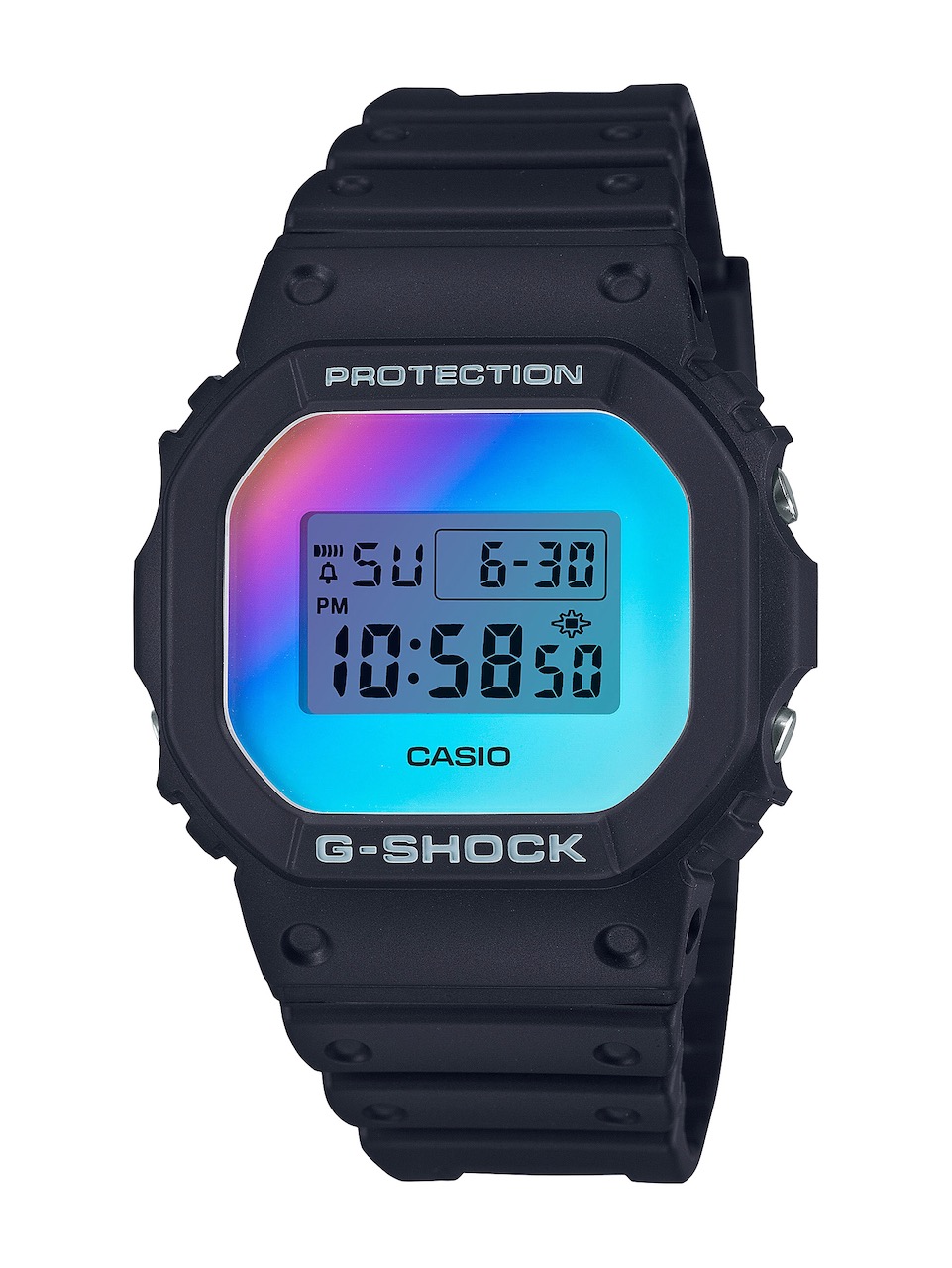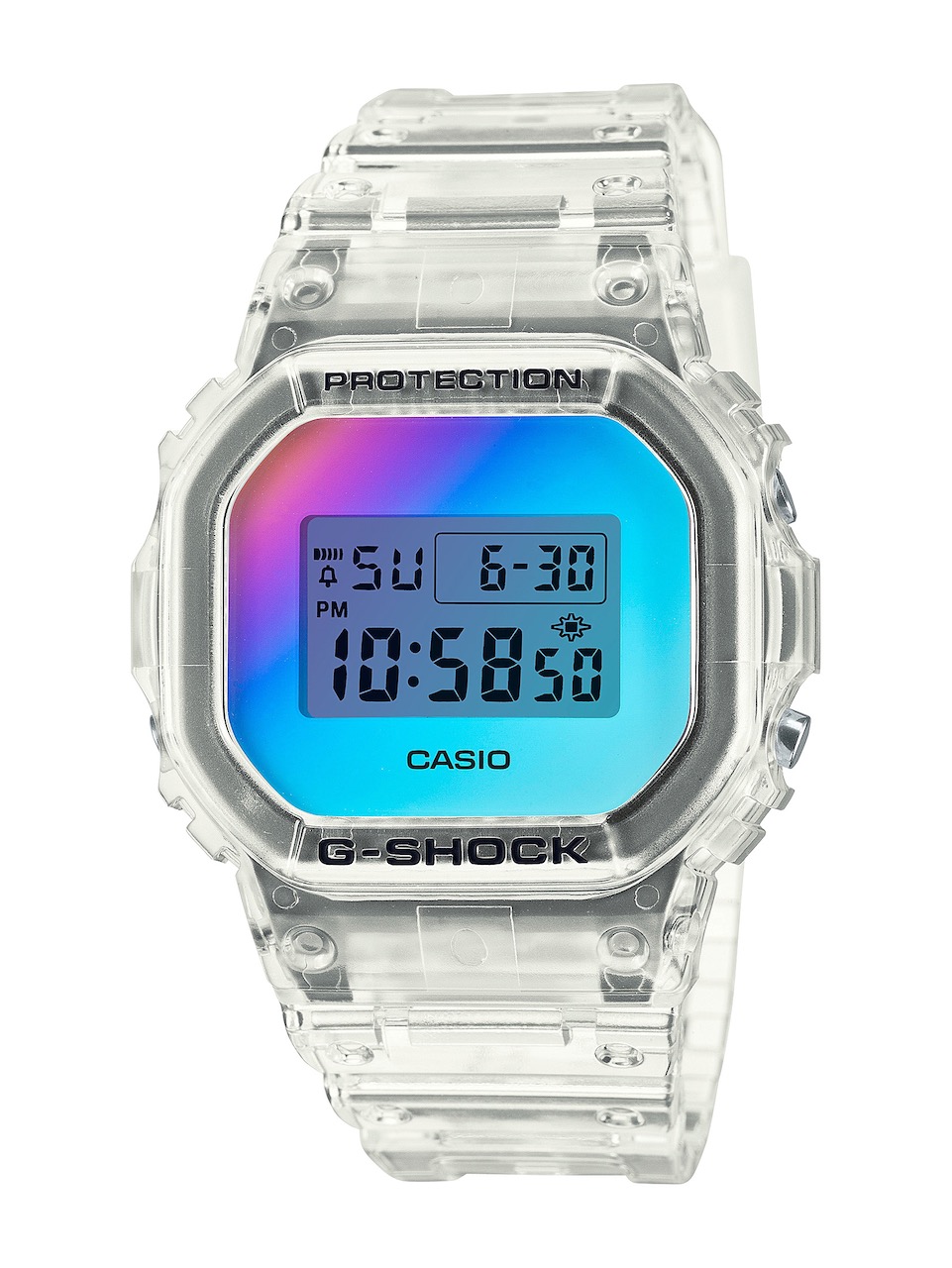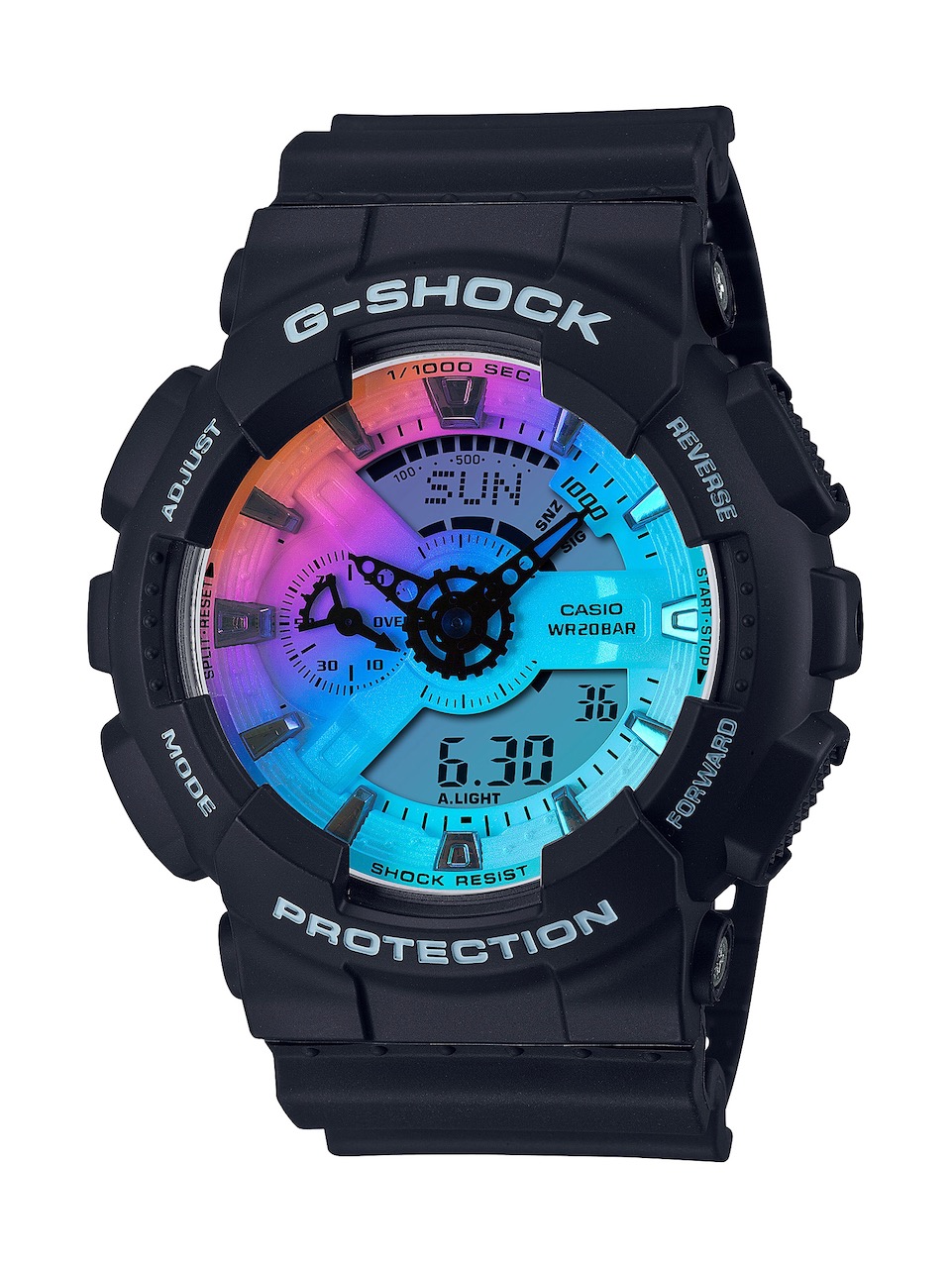 As for the functions of this Iridescent series, all five watches are equipped with lights for digital displays and faces that give a clear view in dark places. For the GA-2100SR, GA-2100SRS, and GA-110SR watches, they can set a world time from 48 cities. All five watches are shock resistance and water (200m) resistance. These watches include a stopwatch and countdown timer function.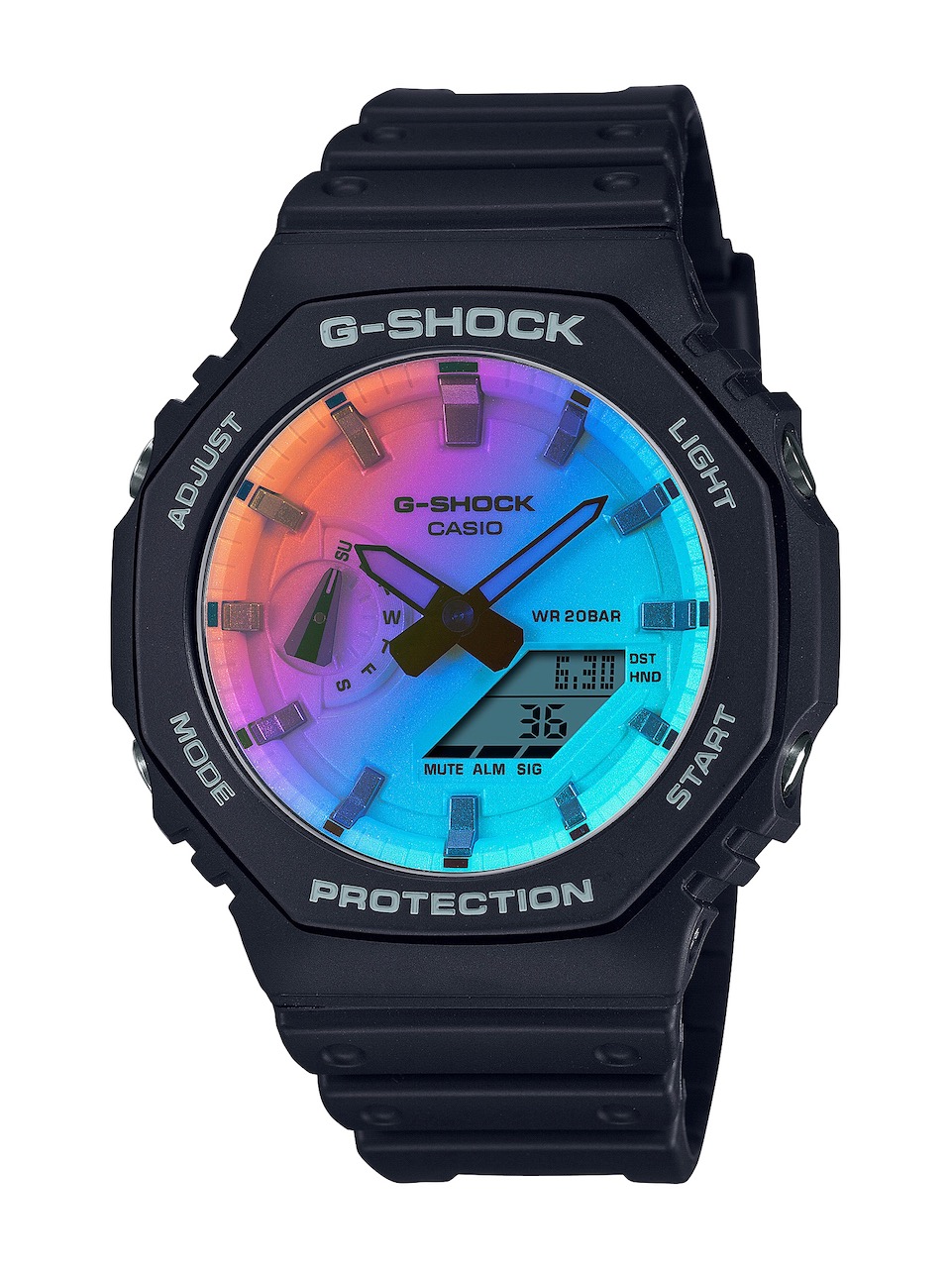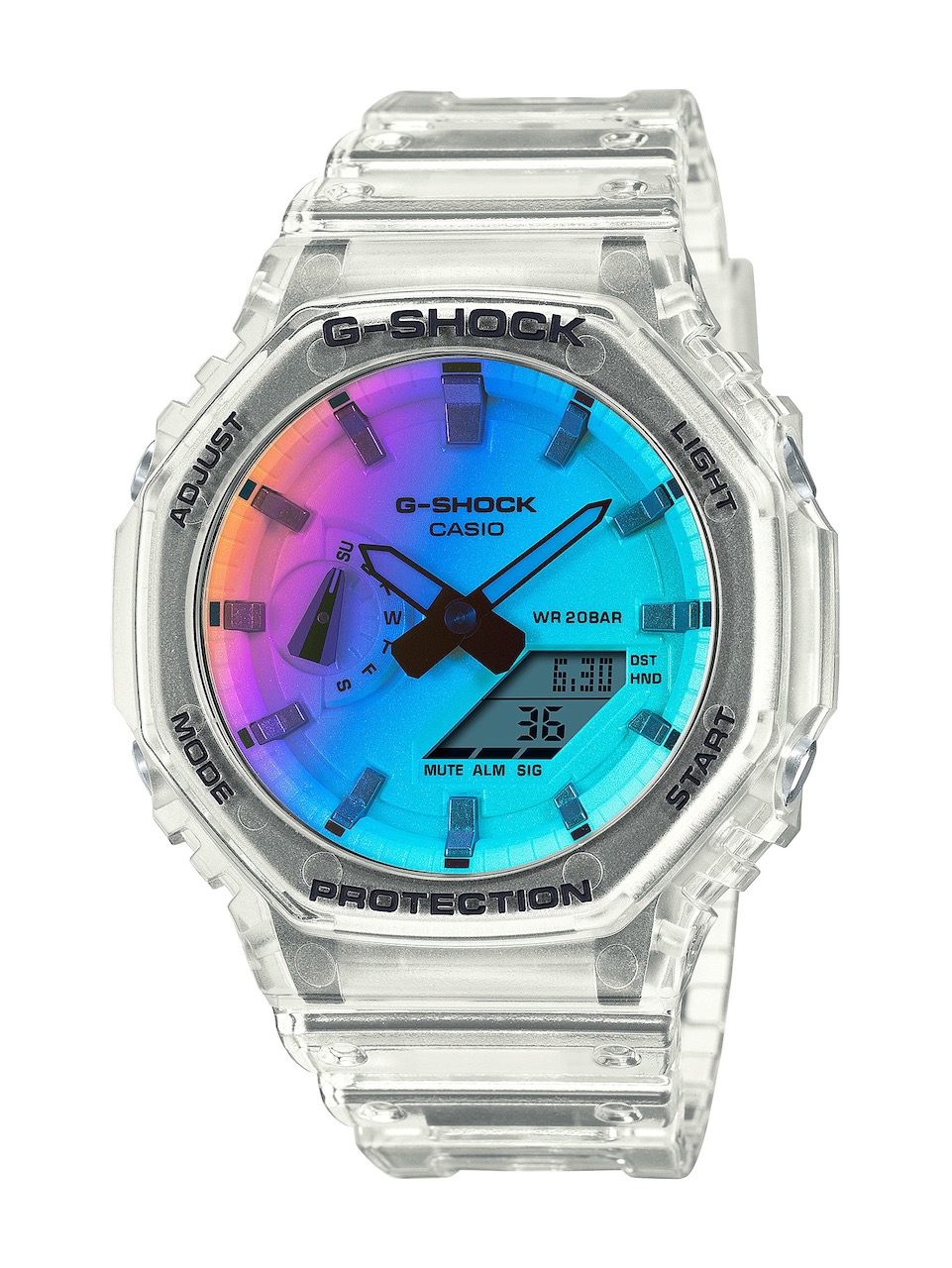 Pricing and Availability
This Iridescent series will be available at at https://gshock.casio.com/sg/ and in all G-SHOCK stores in July.
Technical Specifications
DW-5600SR & DW-5600SRS
Construction

Shock-resistant

Water Resistance

200 meters

Stopwatch

1/100 second

Measuring capacity:

00'00″00~59'59″99 (for the first 60 minutes)

1:00'00~23:59'59 (after 60 minutes)

Measuring unit:

1/100 second (for the first 60 minutes)

1 second (after 60 minutes)

Measuring modes: Elapsed time, split time, 1st-2nd place times

Countdown Timer

1 second

Countdown range: 24 hours

Countdown start time setting range: 1 second to 24 hours

(1-second increments, 1-minute increments and 1-hour increments) 

Other: Auto-repeat

Alarm

Multi-function alarms, Hourly time signal

Other Functions

Electro-luminescent backlight Afterglow; Flash alert: Flashes with buzzer that sounds for alarms, hourly time signal; Full auto-calendar; 12/24-hour format

Accuracy at Normal Temperature

±15 seconds per month

Battery Life

Approx. 2 years on CR2016

Size of Case

48.9 × 42.8 × 13.4 mm

Total Weight

Approx.53g
GA-2100SR & GA-2100SRS
Construction

Shock-resistant

Water Resistance

200 meters

World time

31 time zones (48 cities + coordinated universal time), daylight saving time on/off

Stopwatch

1/100 second

Measuring capacity: 00'00″00~59'59″99 (for the first 60 minutes)

1:00'00~23:59'59 (after 60 minutes)

Measuring unit:1/100 second (for the first 60 minutes)

1 second (after 60 minutes)

Measuring modes: Elapsed time, split time, 1st-2nd place times

Countdown Timer

1 second

Countdown range: 24 hours

Countdown start time setting range: 1 second to 24 hours

(1-second increments, 1-minute increments and 1-hour increments)

Alarm

5 daily alarms, Hourly time signal

Other Functions

Double LED Light: LED light for the face (Super illuminator, selectable illumination duration (1.5 seconds or 3 seconds), afterglow), LED backlight for the digital display (Super illuminator, selectable illumination duration (1.5 seconds or 3 seconds), afterglow); Hand shift feature (Hands move out of the way to provide an unobstructed view of digital display contents); Full auto-calendar; 12/24-hour format; Button operation tone on/off

Accuracy at Normal Temperature

±15 seconds per month

Battery Life

Approx. 3 years on SR726W x 2

Size of Case

48.5 × 45.4 × 11.8 mm

Total Weight

Approx.51g
GA-110SR
Construction

Shock-resistant, Magnetic-resistant

Water Resistance

200 meters

World Time

29 time zones (48 cities + coordinated universal time), daylight saving on/off,

Home city/World time city swapping

Stopwatch

1/1000 second

Measuring capacity: 99:59'59.999"

Measuring modes: Elapsed time, lap time, split time

Others: Speed (0 to 1998 units/hour), Distance input (0.0 to 99.9)

Countdown Timer

1 second

Countdown range: 24 hours

Countdown start time setting range: 1 minute to 24 hours (1-minute increments and 1-hour increments)

Other: Auto-repeat

Alarm

5 daily alarms (with 1 snooze alarm), Hourly time signal

Other Functions

LED light: Auto light switch, selectable illumination duration (1.5 seconds or 3 seconds), afterglow; Full auto-calendar; 12/24-hour format; Button operation tone on/off

Accuracy at Normal Temperature

±15 seconds per month

Battery Life

Approx. 2 years on CR1220

Size of Case

55.0 × 51.2 × 16.9 mm

Total Weight

Approx.72g
* Information and pictures courtesy of G-SHOCK and Brand Cellar *