LG showcased latest total Air Care Solutions at LG Air Solutions Event
LG Electronics (LG) showcased latest total Air Care Solutions at LG Air Solutions Event recently in Singapore, unveiling its latest air conditioners and air purifiers. At the LG Air Solutions Event, the newly launched climate-friendly R32 refrigerant for air conditioners and the LG PuriCare™ AeroTower™ Air Purifying Fan were highlighted and showcased to emphasise the importance of clean air and healthy homes. Combining the new LG total air care solutions together, LG latest innovations provide fresh air for homeowners looking to upgrade their appliances (or buying new home appliances for your new home).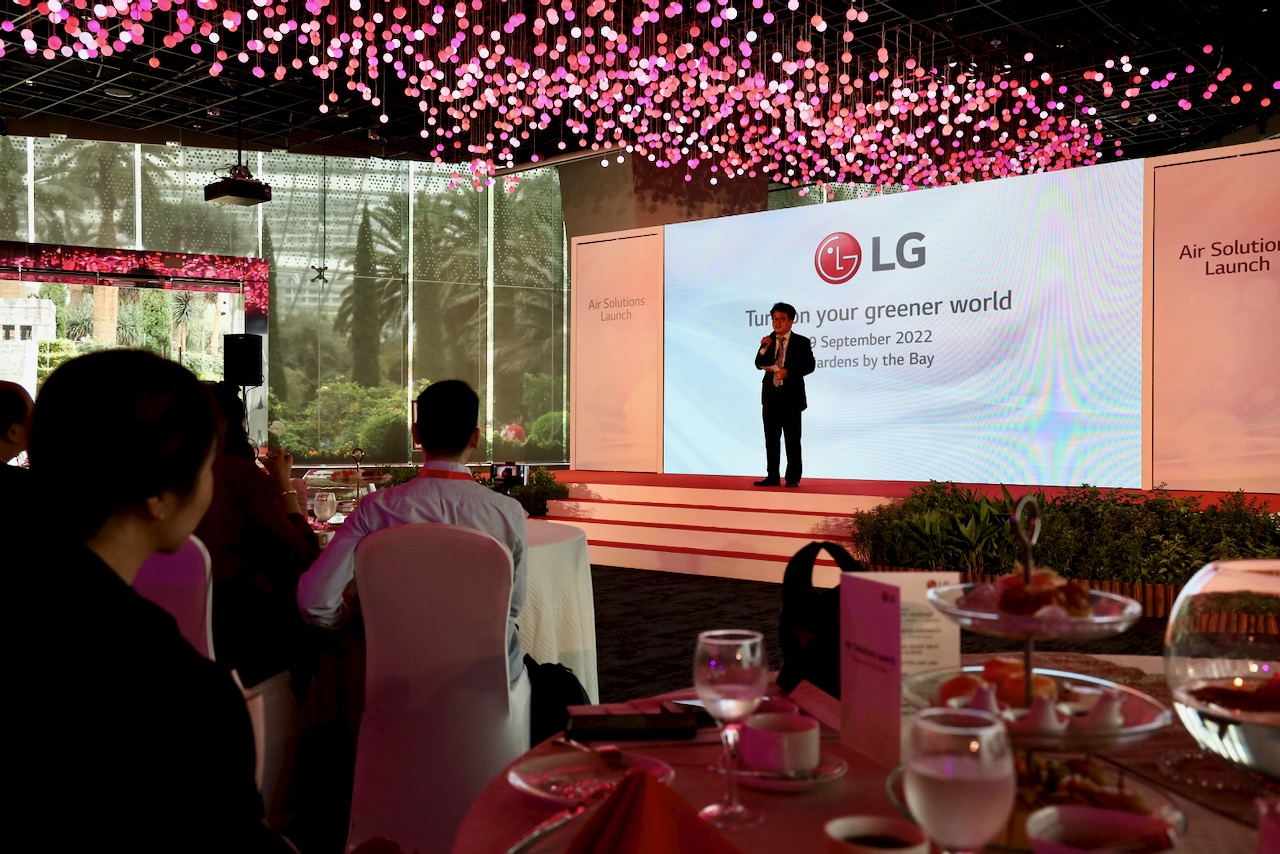 Mr Gerald Chun, Managing Director, LG Electronics Singapore, said, "As one of the global leaders in air solutions, LG has been diversifying efforts to introduce forward-looking products that deliver clean air to users at their comfort and convenience. Striving to make life better for all, we are focusing on developing sustainable innovations that protect the earth and cater to the evolving consumers' needs for a healthier and better life at home."
The LG R32 Refrigerant: The Environmentally, Friendly Refrigerant 
Are you planning to upgrade your air-conditioner at your home? Are you searching for environmentally friendly air-conditioner for your new home that you are moving into? If you are looking for a new air-conditioner, check out the LG R32 refrigerant.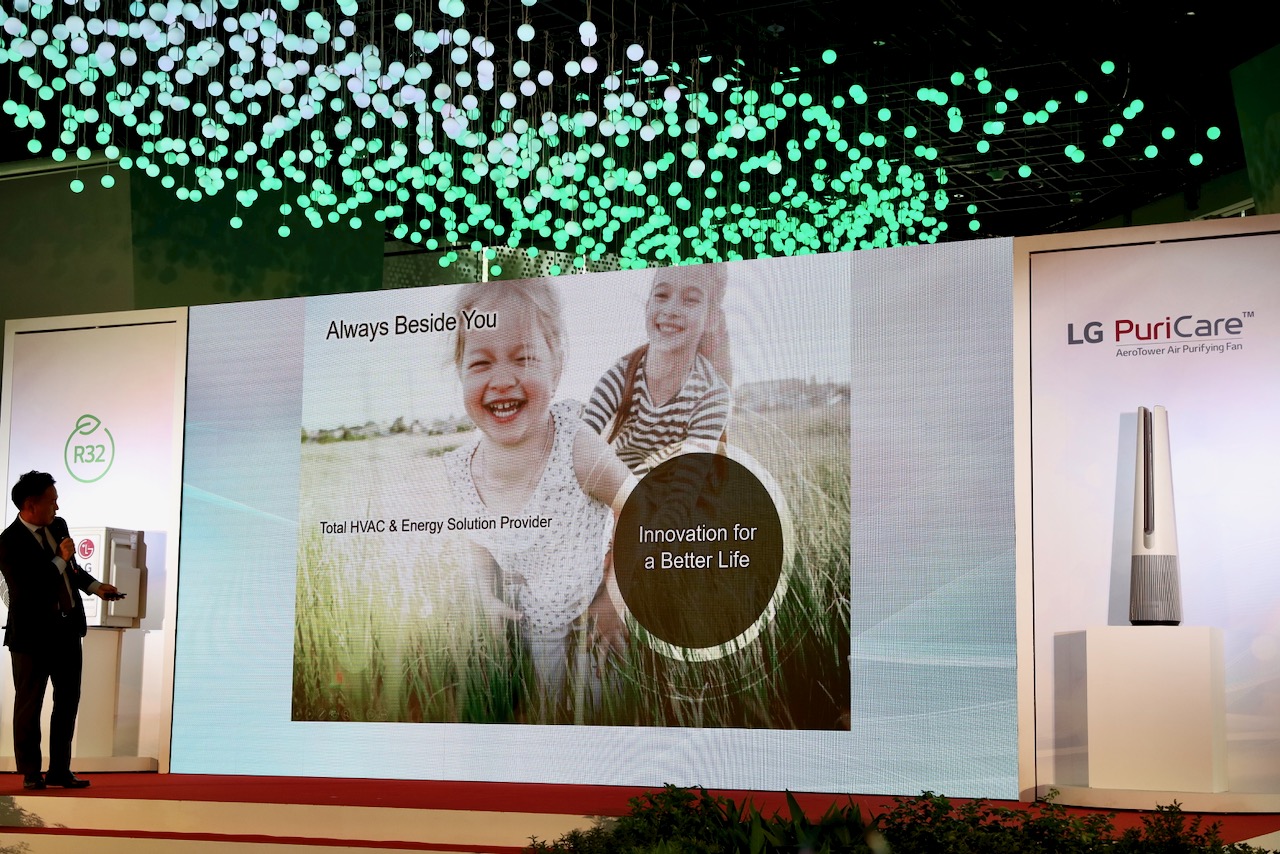 Taking ecological responsibility to the next level, LG announced the R32 refrigerant, they have adopted the industry's next-generation R32 refrigerant for its single and multi-split air conditioners in commercial and residential settings. This energy-efficient R32 refrigerant is combined with LG air conditioners' intelligent features and innovative product design to deliver cool air in a greener way.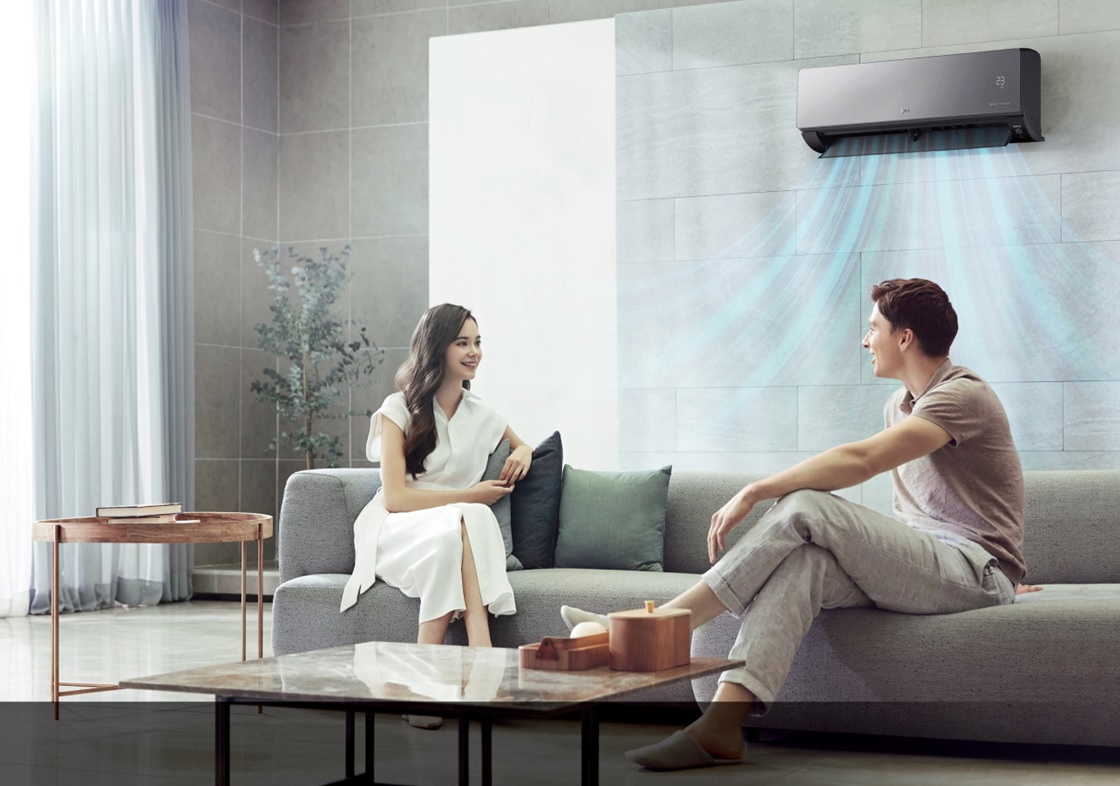 With zero ozone depletion potential and significantly lower global warming potential (GWP) compared to the mainstream R410A refrigerant (1), the R32 refrigerant is widely known to be more environmentally friendly for Mother Nature. The R32 conveys heat efficiently and offers a higher cooling capacity, so less energy is required to cool indoor spaces – this highlights the industry's gold standard in heat transfer. Users can then reduce their carbon footprint and enjoy more significant savings on electricity costs. The R32, a single-component refrigerant, can also be easily recycled or reused, minimising the environmental impact of HVAC equipment, making it the refrigerant of choice for many businesses like LG today.
Unique to its multi-split residential air conditioners line-up, LG also developed the peak current control technology to manage energy consumption efficiently. Users can set a maximum consumption level to limit the total power used. An internal test result shows that usage patterns at 1.9kW and 1.7kW compared to the maximum power consumption of 2.5kW will help to save 24 per cent and 32 per cent energy, respectively (2).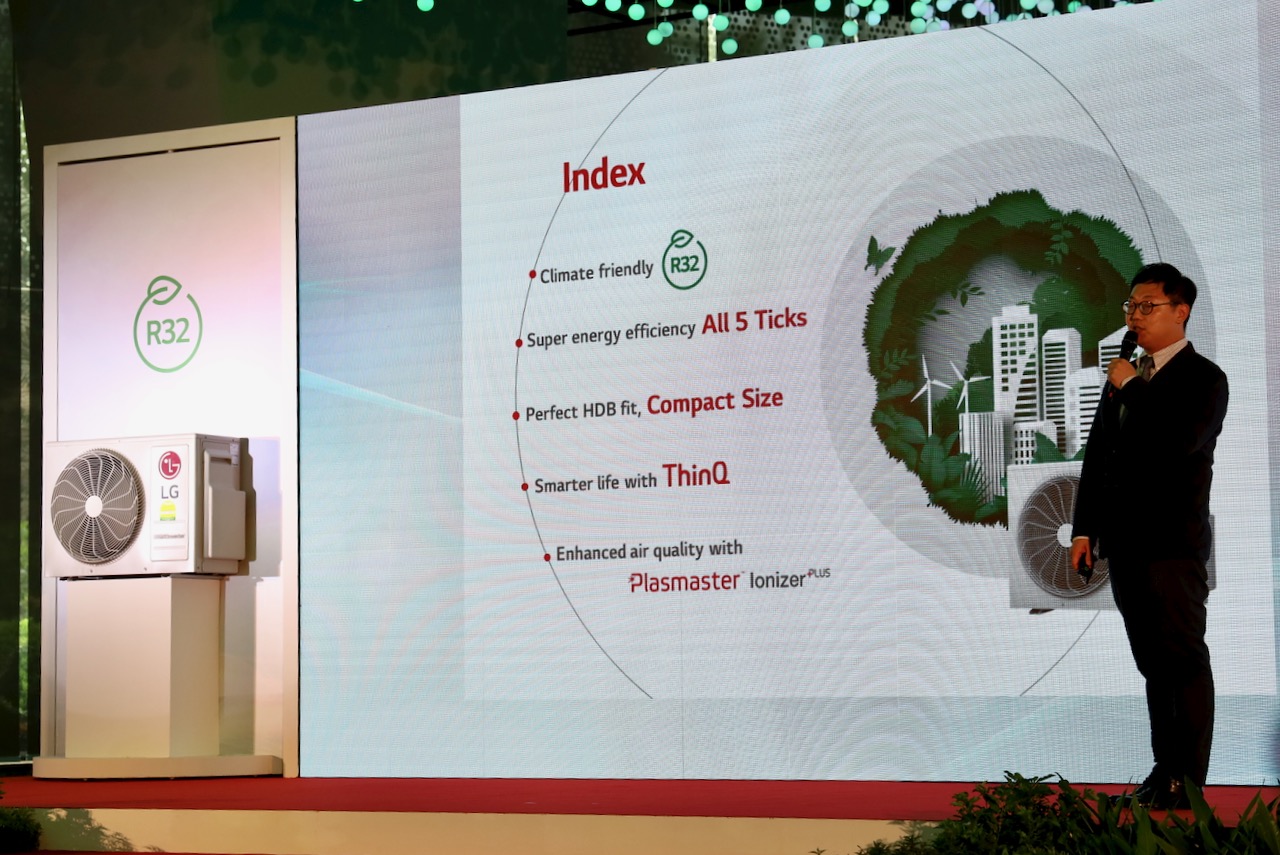 With an excellent 5-tick rating on Singapore's Energy Guide (3), LG's Multi-Split Smart Inverter Air-Conditioner has a coefficient of performance (COP) that surpasses regulatory expectations (4). The Dual Inverter Compressor is also structured to operate with low vibration and less noise, resulting in optimised airflow that cools the room quickly and ensures greater energy efficiency.
The compact size of the outdoor unit makes it easy to install, perfect for those with HDBs looking to upgrade their air-cooling systems. To help users make an informed decision when choosing new air conditioners, LG's air conditioners that use the R32 refrigerant will be identified with a Climate-Friendly label.
LG PuriCare™ AeroTower™ Air Purifying Fan lets you Enjoy Clean, Cool Air
The new LG PuriCare™ AeroTower™ Air Purifying Fan is a perfect combination of an air purifier and fan, it's aesthetically cool looking with a well-thought out design. They have an adjustable, three-way airflow modes that deliver fresh and clean air to every corner of the house.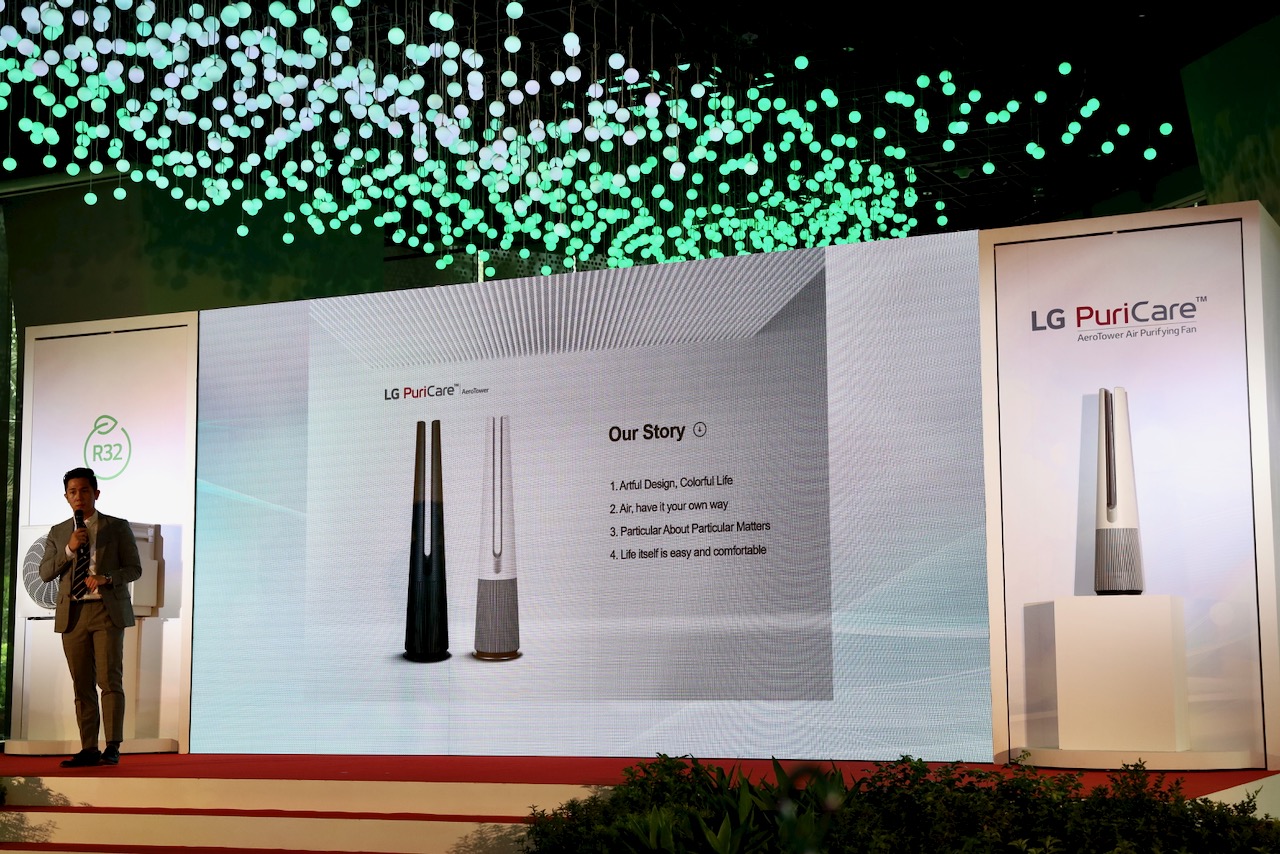 The LG AeroTower™ graces any home with its sleek design that blends seamlessly into the interior. Employing a 3-step filtration system – comprising the Pre-Filter, 360-degree HEPA filter and Deodorisation Filter, the LG AeroTower™ effectively removes allergens, fine dust (5), odours and harmful gases (6) in the air, improving indoor air quality significantly. In addition, the air purifying fan is equipped with LG UVnano™ technology to remove up to 99.9% of bacteria (7) on the fan blades, ensuring that clean air is delivered to every corner of the house.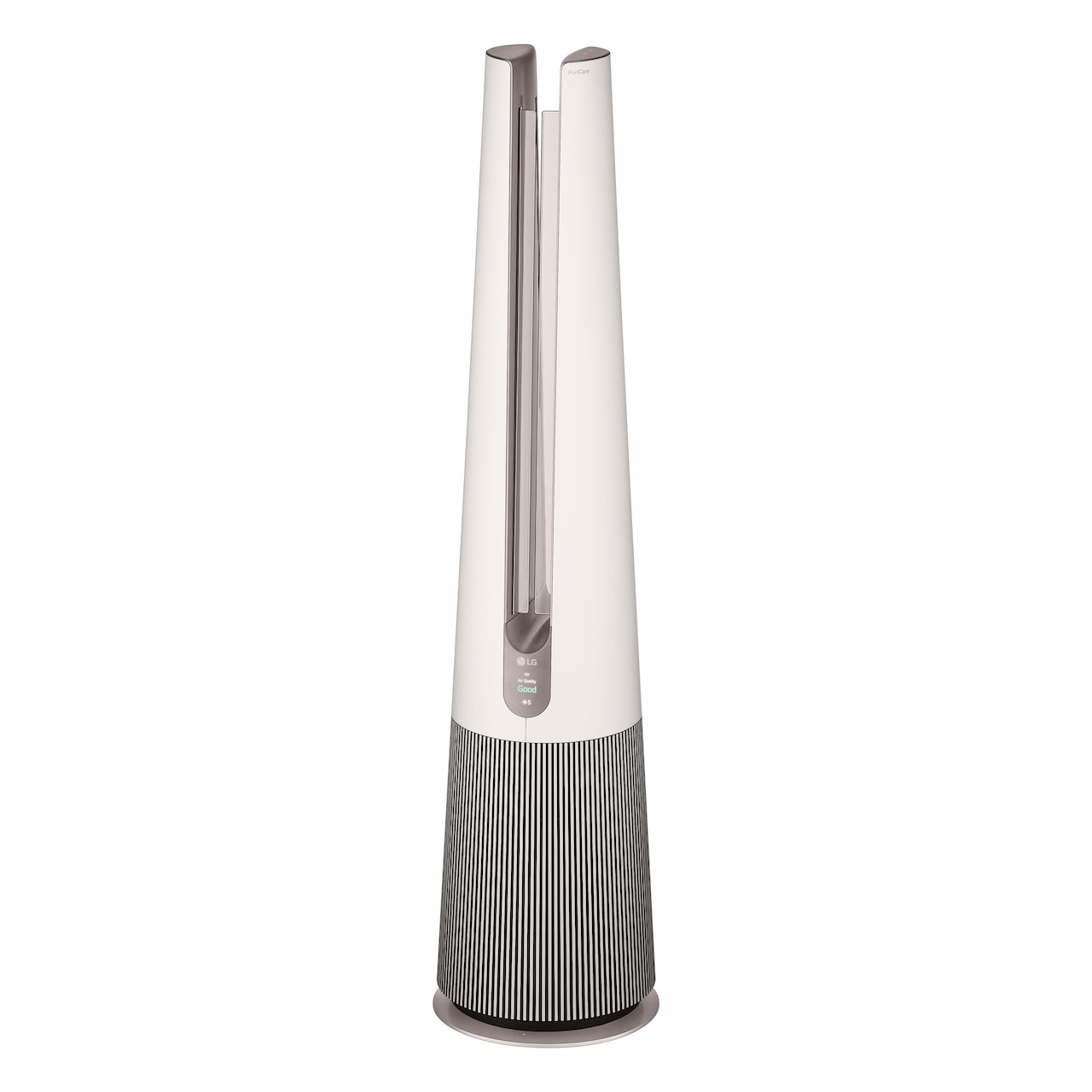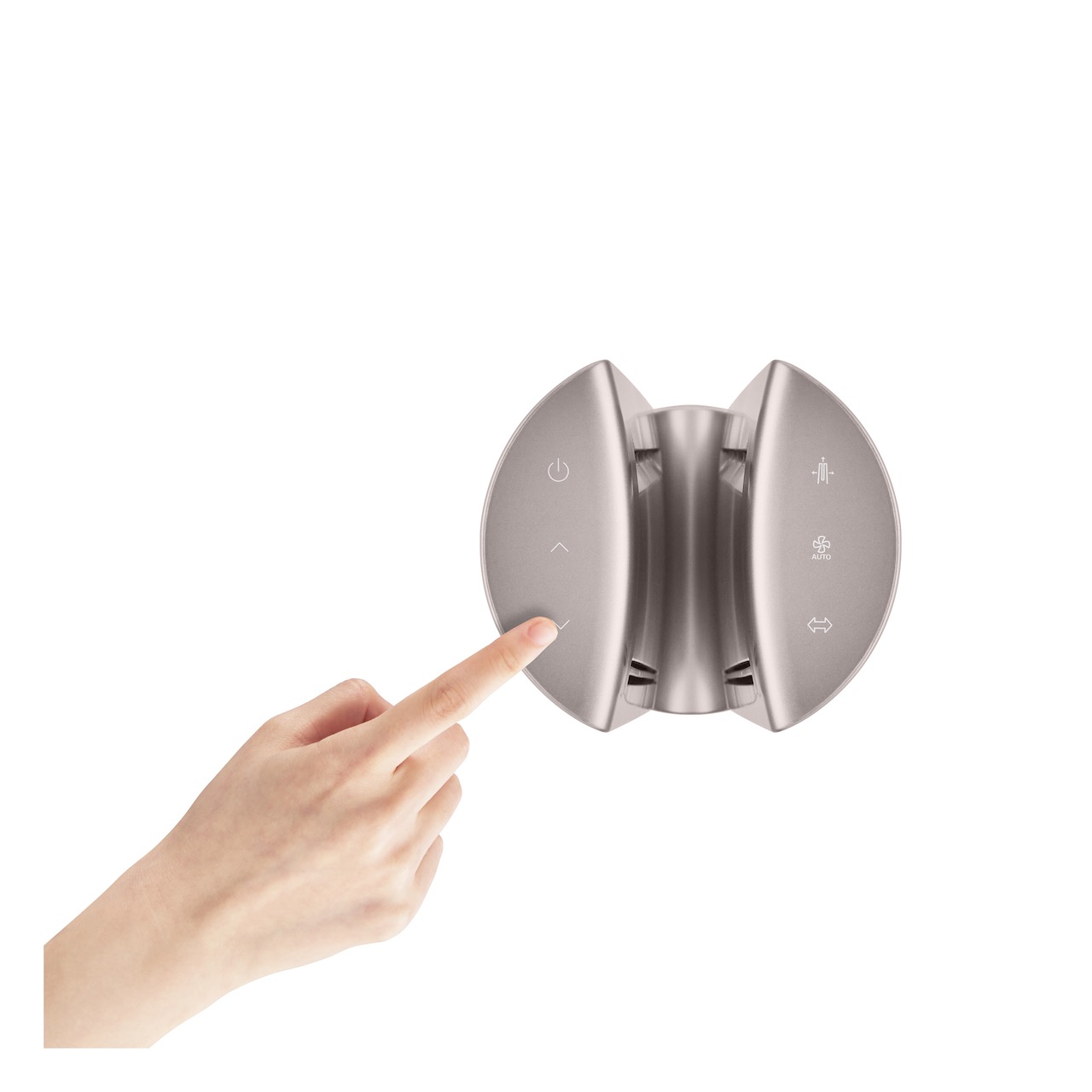 Control Usage Remotely with the LG ThinQ™ App
The LG ThinQ™ app provides next-level convenience for users to remotely control and manage their LG products. The LG ThinQ™ app allows users to switch on/off the device and adjust temperature settings to avoid energy wastage. It also provides updates on indoor air quality and notifications to replace air purifier's filters.
For More Information and Availability on LG Total Air Solutions
If you like to know more about LG Total Air Solutions for your home, for your office or for your commercial or housing project development, please visit https://www.lg.com/sg/air-solutions 
LG air conditioners with R32 refrigerants and AeroTower™ Air Purifying Fan are available at LG official brand stores – KrisShop, Lazada and Shopee, and authorised retailers.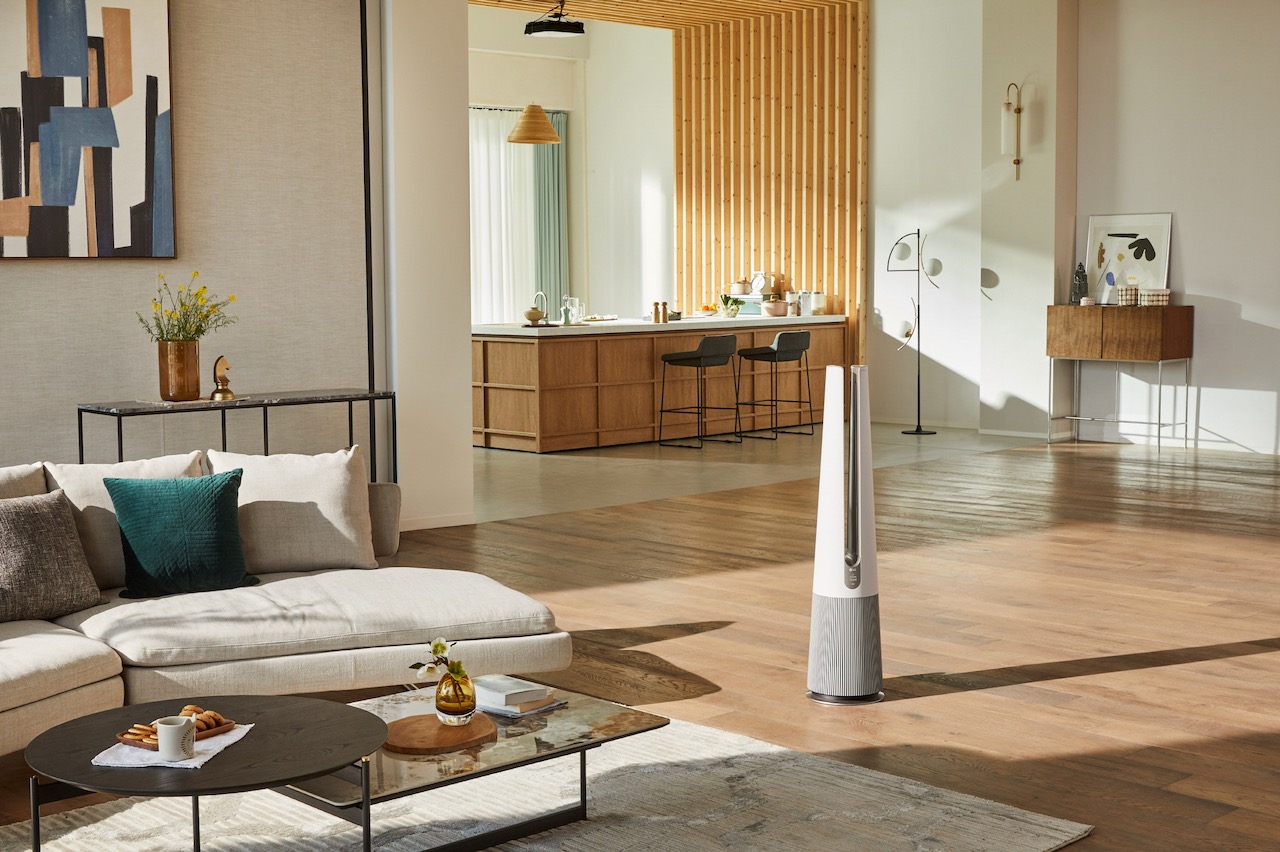 Notes:
(1) R410A: Ozone Depletion Potential of 0, Global Warming Potential of 2,088. R32: Ozone Depletion Potential of 0, Global Warming Potential of 675.
(2) LG internal test results on 7kW model. Cooling: Indoor Ambient Temp. 27°CDB / 19°CWB, Outdoor Ambient Temp. 35°CDB / 24°CWB
(3) Model Z3UQ18GFA0 – Energy Rating: 5 ticks, Annual Energy Consumption: 1956kWh, Annual Energy Cost: S$528, Cooling Capacity: 5.21kW
Model Z3UQ26GFA0 – Energy Rating: 5 ticks, Annual Energy Consumption: 2389Wh, Annual Energy Cost: S$645, Cooling Capacity: 6.46kW
Model Z4UQ28GFA0– Energy Rating: 5 ticks, Annual Energy Consumption: 2786Wh, Annual Energy Cost: S$752, Cooling Capacity: 7.51kW
(4) For more information, please refer to https://www.nea.gov.sg/our-services/climate-change-energy-efficiency/energy-efficiency/household-sector/tick-rating
(5) Tested by SGS IBR Laboratories in November, 2021 with DOE radial-pleat filter element using test method in compliance with IEST RP CC001.6 (2016) HEPA and ULPA Filters. Results may vary depending on the actual usage environment.
(6) Tested by Korea Air Cleaning Association in April, 2021 using test model FS061PWHA, test method in compliance with SPS-KACA 002-0132 indoor air purifier. Results may vary depending on the actual usage environment.
(7) Tested by TÜV Rheinland using test model FS061PWHA measuring a bacteria solution (Staphylococcus aureus, Staphylococcus epidermidis, Klebsiella pneumoniae) on the blower fan blade at speed Level 1 for an hour exposed to LG UVnano UV-C LED test method in compliance with ISO22196:2011. Results may vary depending on the actual usage environment.
* Information courtesy of LG Electronics Singapore and APRW *