Wu Yue Tian a.k.a MAYDAY, is one of Asia's best rock band (if not the best). I have been a great admirer of their powerful and meaningful songs they write and sing, especially their hokkien songs and love songs, love singing them even though my voice cannot make it.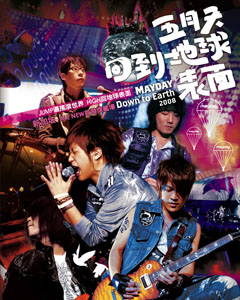 I had never been to a concert before and this was my first concert and it was my favourite Chinese rock band !!!! Initially, my friend Jack Lan was busy with his events preparation and wasn't able to come with me to this concert, I asked around and managed to invite my friend Yellow Pretty Truth to attend the concert with me, who is also a first timer !
Wu Yue Tian is an awesome band, unique and powerful, always engaging their crowds with their high energy and interaction. When Wu Yue Tian started performing, they lived up to their reputation, belting out their older songs in the first half before their hit songs in the second half. During the performance, Ashin, Monster, Stone, Masa and Guan You were moving up and down the sidewalk platforms, mingling with the fans and sining along with them !!! There was also a mini stage in the middle of the concert hall whereby Wu Yue Tian gathered around the area, as they wanted to be closer to the fans behind !!!
The songs Wu Yue Tian wrote and sung, a lot of them, strikes a chord inside me, and I feel all the Wu Yue Tian supporters would also feel the same way too….. Their love songs, encouragement songs, great songs such as
Wen Rou
Tian Shi
Jian Chiang
Sheng Ming You Yi Zhong Jue Dui
Wu Yue Tian were so hyped up and the whole fans were singing LOVE ing …. with everybody standing up, singing and forming the letters L , O, V & E …… The beauty of their songs, the energy and friendship of Wu Yue Tian with the fans …… they really rock and my maiden concert will always be a wonderful memory for me.
Recently, things wasn't easy for me, however, the songs by Wu Yue Tian, had spurred me on to believe in myself and continue fighting on !
Special thanks to Yellow Pretty Truth for attending the concert with me !