Audio House 8.8 72 Hours Super Sale
It's a long weekend in Singapore starting from 8th August to 10th August 2020, as we are celebrating Singapore's 55th Birthday on Sunday 9th August 2020. As we celebrate Singapore's 55th Birthday from the comfort of your home, watching the Morning Parade at Padang, Anthem Moment, Roar of Unity, followed by An Evening Show at Home and beautiful fireworks, you can also enjoy a fun long weekend holiday shopping with Audio House 8.8 72 Hours Super Sale! Visit Audio House at their showroom or shop online at Audiohouse.com.sg!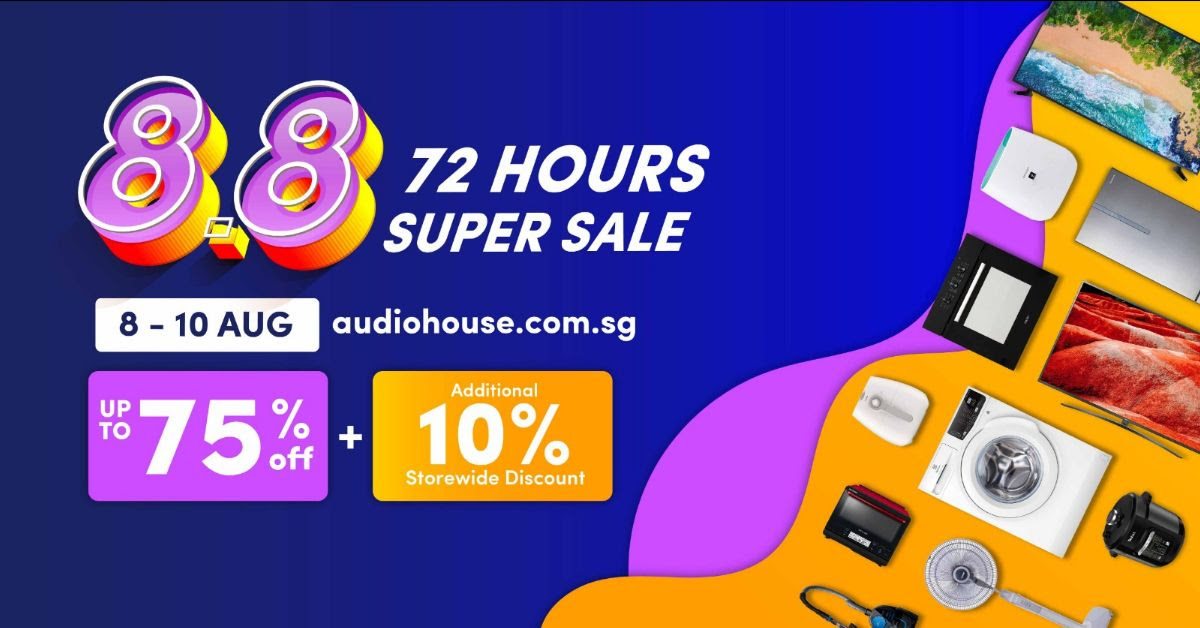 Audio House is offering the hottest electronics deals for over 3,500 electronics at up to 75% OFF! On top of that, there will be additional 10% storewide discount + customers can get additional $20 cashback* with every $100 spent on all participating brands and models!
Simply follow the steps below to redeem the 10% storewide discount:
1. Visit Audio House store @ 72 Bendemeer Road, Luzerne Building, Singapore 339941 or Audiohouse.com.sg
2. Register as new member at https://audiohouse.com.sg/register.php
3. Enter promo code [AH10] under "My Cart" to redeem the promotion
4. Place order
*Time sales item are not entitled to cashback. 
Do take note of the time sales deals! The time sales deals will be categorised into three different time slots: 0000 – 0759, 0800 – 1559 and 1600 – 2359 from 8 Aug to 10 Aug 2020 (Saturday to Monday). Each time slot will last for eight hours only so customers are advised to act fast before the deals expired!
Check out the brochures for Audio House 8.8 72 Hours Super Sale
8th August 2020
9th August 2020
10th August 2020
Happy 55th Birthday to Singapore! Happy Audio House 8.8. 72 Hours Super Sale during this long weekend! Pass It On and Pay It Forward this Audio House 8.8. 72 Hours Super Sale with your loved ones, family, relatives and friends! Sharing is Caring!
* Information and pictures courtesy of Audio House and Brand Cellar *