On Boxing Day 2008, the 26th August 2008, it was a day of mix work and play. Went back to the office to follow up on one of my outstanding cases, after lunch, quickly went into Bugis Junction to get my gift exchange for Kelvin & Jenny's Boxing Day gathering at their home in Simei.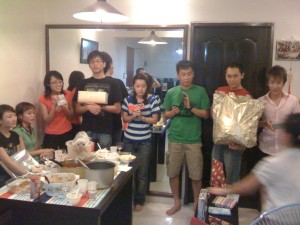 Went with Kelvin Koh from office to their home, it was great fun of eating, laughing, chatting and drinking merrily and letting our hair down, celebrating the festive season of Christmas. Soon we had our gift exchange and I had some nice gifts of blessings from there, a mixture of blessings gifts.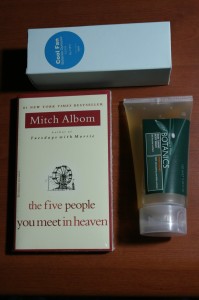 – Body Wash
– Hand Fan
– "The Five People You Meet In Heaven" by Mitch Albom
It's a blessing to receive the gifts, regardless of how big/small the gift is, it is the thoughts, sharing, friendship and blessings of the Christmas Festive Season.
Went over to Amos & Adelina home in Holland Village area for my 2nd Boxing Day gathering, the crowd there were a mixture of different friends of the lovely couple, saw my friend, Nic Ong, that I haven't met for some time since he left the place that I knew him initially, small world after all, photographers knew photographers.
I would like to thank the lovely couple, Amos & Adelina, for the hospitality and gathering, indeed, it was an honour to be invited there ! Left with a different gift from them, a candy and a blessing words exchange from one of their guests there ……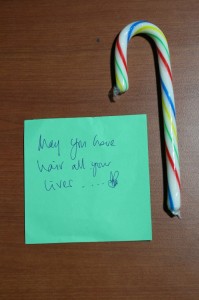 This was the blessing written, "May You Have Hair All Your Lives ……."
Hmmmm ………. What an eventful day of Boxing Day Gatherings and Blessings !!