Hwee Seng Warehouse Sale 13th to 15th April 2018
Music, audiophiles and technology enthusiasts alert! There is an upcoming warehouse sale by Hwee Seng Electronics, taking place from 13th to 15th April 2018. Some of the major brands that you can find at the Hwee Seng warehouse sale are Beats, Jamo, Paradigm and Onkyo! Remember to share this warehouse sale news to family, relatives, loved ones and friends!
Let me share more information on the Hwee Seng warehouse sale taking place this weekend below!
Hwee Seng, one of the longest-serving audio electronics distributor in Singapore, will be hosting its largest warehouse sale where audio lovers can find top brand headphones, sound systems, accessories and branded appliances, at up to 90% off.
From 13 – 15 April 2018, 11am to 7pm daily, audio lovers can expect to find the cheapest audio product deals available in the market, all selling below cost price for only 3 days!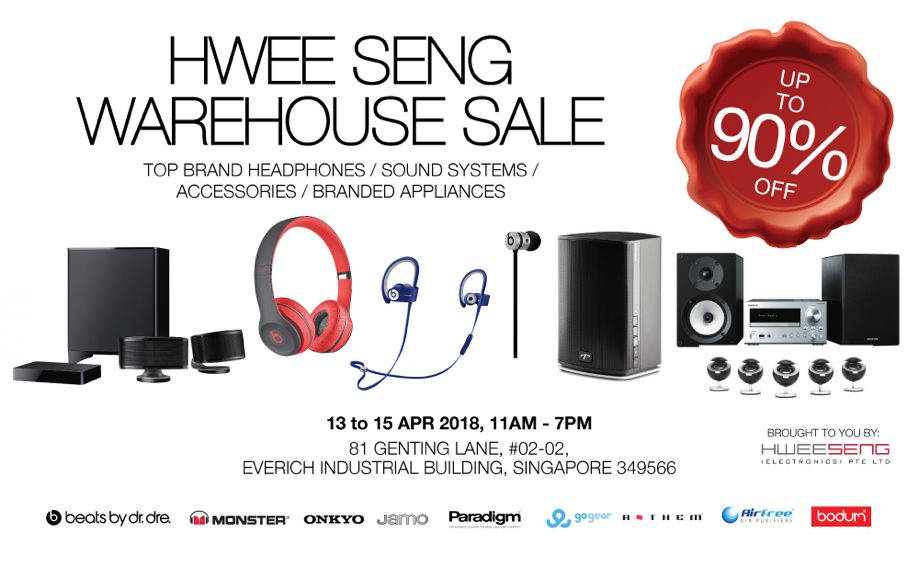 At the sale, customers can grab super cheap branded headphones, home audio systems and home appliances from international brands namely Anthem, Airfree Air Purifier, Beats, Bodum, Go Gear, Jamo, Monster, Onkyo and Paradigm. Prices start from as low as $6!
Expect to find these amazing deals at Hwee Seng warehouse sale:
Beats Studio 2.0 wireless at $99, U.P. $518
Jamo S25 Home Cinema System at $99, U.P. $1,299
Paradigm PW 600 Stereo Speaker at $299, U.P. $1,199
Onkyo CS-N755 Mini System at $599, U.P. $1,129
and more!
Products will be sold on first come first served basis. All customers are advised to come down early to avoid disappointment.
Period of sale: 13 Apr to 15 Apr 2018 (Friday to Sunday)
Venue: Hwee Seng Office
(81 Genting Lane #02-02, Everich Industrial Building, S349566)
Opening hours: 11am – 7pm
Simply visit Hwee Seng's Facebook page to find out more about the promotion: https://www.facebook.com/hweesengelectronics/
* Information and picture courtesy of Hwee Seng Electronics and Brand Cellar *