LG recently announced a new model to their premium flagship smartphone family, the LG V20. I attended their launch event in Singapore and had a short hands (probably 30mins) on with the LG V20 smartphone. I would share some thoughts from my short 30mins hands on experiences with the LG V20 smartphone –
A good balance between a fun lifestyle smartphone with pretty good camera capabilities/features
Wide angle lens capability
Good audio experience packed inside with B&O Play features and a pair of B&O Play earphones
High quality screen (QHD IPS Quantum Display)
Sleek, beautiful and sophisticated build quality
If the opportunity allows, I would request for a review unit when they are available for the Singapore market in November 2016 and share with my readers here on my experiences with the LG V20.
Let me share with you more information and details of the LG V20 from the press release information –
LG Electronics (LG) unveiled the V20, the latest in its V series of smartphones, delivering the highest multimedia capabilities available in a mobile device. The V20 boasts new features including Hi-Fi Quad DAC, HD Audio Recorder, Steady Record 2.0 and front and rear wide-angle lens cameras to deliver best-in-class performance. It is also the world's first smartphone to come preloaded with Android 7.0 Nougat OS and the new Google In Apps phone search function.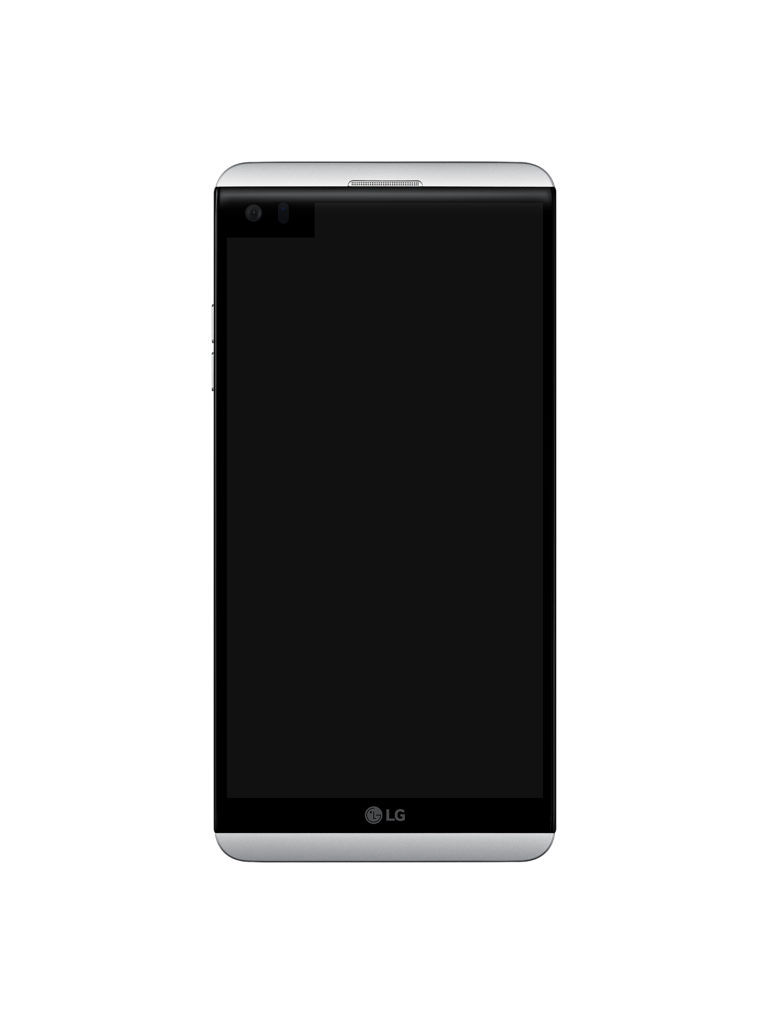 The LG V series is a premium flagship smartphone line designed to provide users with the best video and audio experience. LG looked at the customers of the V10 and examined what they wanted and needed and determined that the V20 is geared towards the prosumers — discerning users who want convenient access to cutting-edge features.
A Sonorous Audio Experience by B&O PLAY
Hi-Fi Quad DAC
The V20 is the world's first smartphone to feature a 32-bit Hi-Fi Quad DAC, powered by ESS Technology, designers of high-performance audio products. Powered by ESS SABRE ES9218, the Quad DAC in the V20 delivers clearer sound by minimizing distortion and ambient noise by up to 50 percent. With 75-stage fine volume and L/R balance controls as well as support for lossless music formats including FLAC, DSD, AIFF and ALAC, the V20 delivers high-quality sound to any pair of earphones.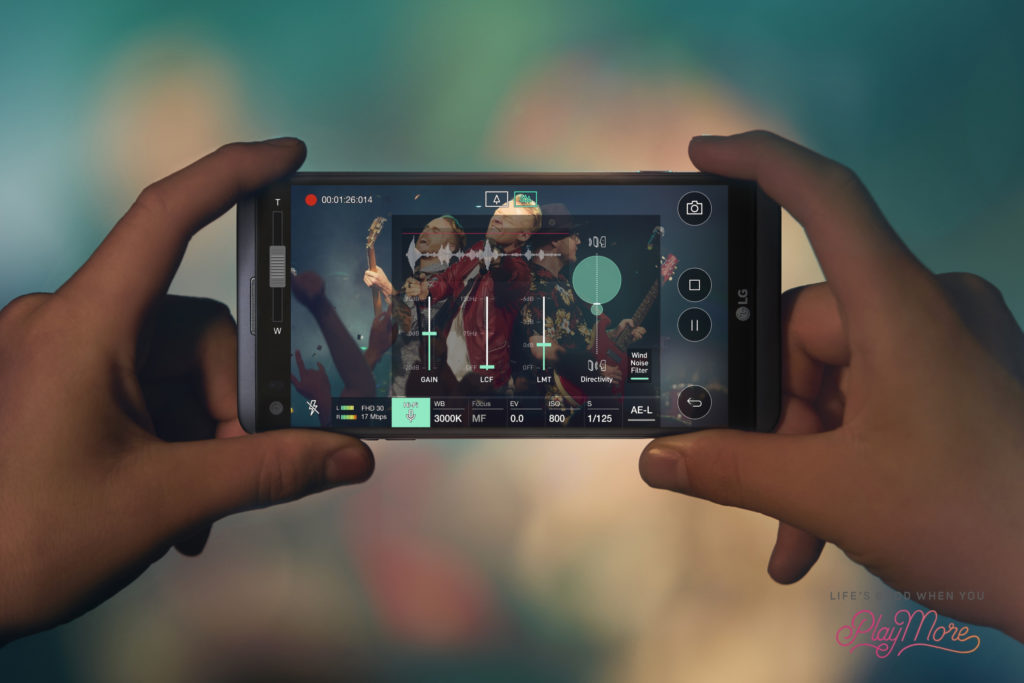 HD Audio Recorder
The HD Audio Recorder represents the next level of sound recording. This feature lets users capture studio quality audio with a wider dynamic frequency range using three high AOP microphones to record incredible sound that surpass audio recordings on conventional smartphones. With Studio Mode, users can manually control sound with easy-to-use keys similar to ones found in video cameras and use Music Recorded to create high quality audio suitable for auditions by recording singing voices over existing music.
In an effort to further enhance audio functions and design; LG continues its collaboration with B&O PLAY. The result in the LG V20 is a natural, balanced sound, reflecting B&O PLAY's acoustic engineering philosophy. LG V20 will come bundled with a special pair of B&O PLAY earphones worth $198. With the bundled B&O PLAY earphones, you can start enjoying the ultimate audio experience right away.
Delivering Share-worthy, Crisp, Clear Videos
Steady Record 2.0
The LG V20, powered by the Qualcomm® Snapdragon™ 820 processor with X12 LTE, introduces Steady Record 2.0, leveraging Qualcomm Technologies' electronic image stabilization (EIS) 3.0 to record sharper video footage while neutralizing shaky images. The gyro-based EIS improves sync accuracy between the image and the gyro by reducing sync latency to only 50 milliseconds. EIS is complemented by digital image stabilization (DIS) which further improves video quality in post-processing by adjusting objects across frames and minimizing distortion caused by rolling shutter for smoother action.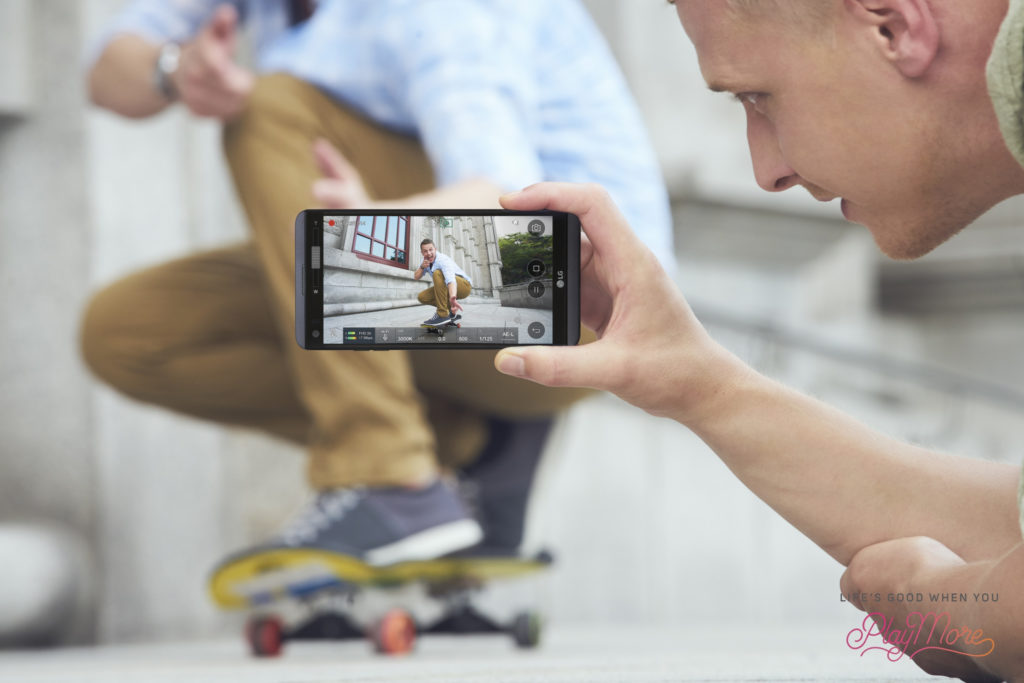 Hi-Fi Video Recording
LG V20 owners can record Hi-Fi videos and manually control the settings for perfect audio quality using options such as Low Cut Filter (LCF) that removes unwanted background noise and Limiter (LMT) that sets recording distance. The LCF reduces background noise while the LMT zeroes in on voices the user wants to record. The V20 also captures audio using 24-bit / 48 kHz Linear Pulse Code Modulation (LPCM), the same format used in professional video equipment. 
Capture It All and More
Front/Rear Wide Angle Lens
The wide angle capabilities of the front and rear cameras allow consumers to capture more background without having to physically step back to widen the shot. The 5MP front camera with a 120-degree lens expands the wefie experience so that more friends can be included in the frame.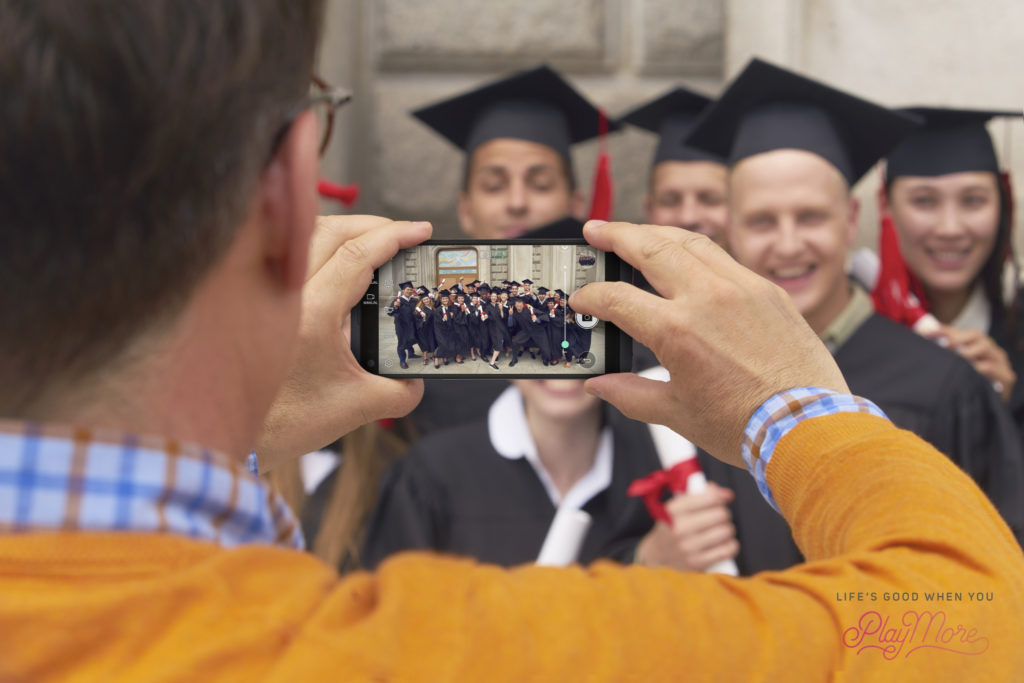 The dual-lens rear camera comprises of a 16MP with 75-degree large aperture standard angle lens, and a 8MP with 135-degree lens, the widest available in any smartphone. The wide angle feature makes it perfect for taking pictures in front of a gorgeous vista or inside a gigantic stadium.
Auto Shot
The Auto Shot Function on the front camera produces perfect selfies with its face detection feature, which triggers the shot when the subject is ready and smiling. There is no need to press the shutter button, which usually increases camera shake and the likelihood of a blurred shot.
Hybrid Auto Focus
The V20's Hybrid Auto Focus (HAF) ensures a sharp picture every time. A fast and stable auto focus is delivered in any environment by integrating three AF mechanisms – Laser Detection AF, Phase Detection AF and Contrast AF – for both videos and photos. The V20 determines if LDAF or PDAF is best for a particular shot and then refines the focus with Contrast AF. Users can take full advantage of the V20 when capturing sharp images of friends or family in action, in any lighting conditions. 
Gives You More of What You Love
Second Screen
The popular Second Screen feature that was first introduced on the V10 has improved in visibility. With double the brightness and 50 percent larger font size compared to the V10, the smaller display located above the main display allows users to easily view notifications and alerts in outdoor situations at a glance.
Now with the Expandable Notifications feature, users can tap a button on the Second Screen to enlarge notifications in order to check long messages at a glance and quickly send a reply or share information.
LG UX 5.0+
The LG V20 comes with the mobile user interface LG UX 5.0+ to make it easier to use the multimedia functions tailored to customer needs. The LG UX 5.0+ is an upgraded version of the LG UX 5.0 first introduced on the LG G5. It is also the world's first smartphone interface to run on Android 7.0 Nougat.
The LG V20 also features Multi-window to display two apps at once in a split screen allowing users to drag text, images, and files from one app to another. The combination of these advancements together with the 5.7-inch main IPS Quantum Display offers the best in multitasking capabilities.1
In Apps
The LG V20 is the world's first phone to showcase Google's In Apps. The new search mode featured in the Google app, helps users find content not only from built-in apps including contacts, emails, text messages and photos, but also from user-installed apps. It also enables users to discover recently accessed apps, people to get in touch with, messages to read or activity across apps without having to type a query. 
Premium Design for A Sophisticated Look
Premium Materials
To achieve both a sophisticated look and solid durability, LG uses lightweight aluminum, together with a new silicon-based material. AL6013 metal, found in aircraft, sailboats and mountain bikes, was selected to cover the back of the phone due to its sturdy but light properties. the top and bottom of the phone are made by Silicone Polycarbonate (Si-PC).
"The LG V20 is designed to offer customers a more dynamic experience by building on the most popular video and audio features of the V series," said Mr. David Yoh, Mobile Communications Business Director of LG Electronics Singapore. "With the LG V20, we are giving our customers more of everything they love and less of anything they don't need to set a new standard for premium smartphones."
Available from November 5, 2016, in Silver and Titan, the LG V20 will retail for S$998 at all M1, Singtel, StarHub and authorized LG Mobile retailers. Each purchase comes with a mobile casing premium pack worth $88 while stocks last.
For more information, please visit http://www.lg.com/sg/mobile-phones/lg-V20.
Key Specifications:
Chipset: Qualcomm® Snapdragon™ 820 Processor
Display: Main 5.7-inch QHD IPS Quantum Display (2560 x 1440 / 513ppi) / Secondary IPS Quantum Display (160 x 1040 / 513ppi)
Memory: 4GB LPDDR4 RAM / 64GB UFS ROM / microSD (up to 2TB)
Camera: Front 5MP with F1.9 Aperture (Wide Angle) / Rear 16MP with F1.8 Aperture OIS (Standard Angle) and 8MP with F2.4 Aperture (Wide Angle)
Battery: 3200mAh (removable)
Operating System: Android 7.0 Nougat
Size: 159.7 x 78.1 x 7.6mm
Network: LTE-A 3 Band CA
Connectivity: X12 LTE (up to 450 Mbps LTE Category 9 with 3x Carrier Aggregation) / Wi-Fi (802.11 a, b, g, n, ac) / USB Type-C / Bluetooth 4.2 BLE / NFC
Colors: Titan / Silver
Others: Hi-Fi Video Recording / Steady Record 2.0 / HD Audio Recorder / Studio Mode / High AOP Mic / Second Screen / 32-bit Hi-Fi Quad DAC / In Apps / B&O Collaboration / Finger Print Scanner / Qualcomm® Quick Charge™ 3.0
* Information and pictures courtesy of LG Electronics Singapore and Brand Cellar *