My first wireless router was the Linksys WRT54G and I simply love the capabilities and reliability of the WRT54G. The Linksys WRT54G served me well when I was still on DSL broadband before my home moved towards the Fibre Broadband and my Linksys WRT54G had to "retire" due to the differences in hardware given by the internet service provider. Today, I am sharing with you a great news if you are a fan of the Linksys WRT54G like me, Linksys WRT presents the Next Generation Router that will revolutionises wireless networking!
Linksys® announced at the Consumer Electronics Show in Las Vegas, that it is bringing back the heritage of the best-selling router of all time – the Linksys WRT54G but updated and modernized it with the most leading edge available Wireless-AC technology on the market. The new Linksys WRT1900AC Dual Band Wi-Fi Router is inspired by the original WRT54G iconic blue/black stackable form factor but with a modernized spin as well as more powerful hardware such as a dual-core 1.2 GHz processor, four removable antennas (instead of the standard three) and eSata and USB 2.0/3.0 connectivity ports. The new WRT1900AC ships with Linksys Smart Wi-Fi set-up and management tools and will be the first Linksys router to include the Network Map feature. Linksys has also been working with the OpenWRT community to make an open source firmware downloadable when product is available.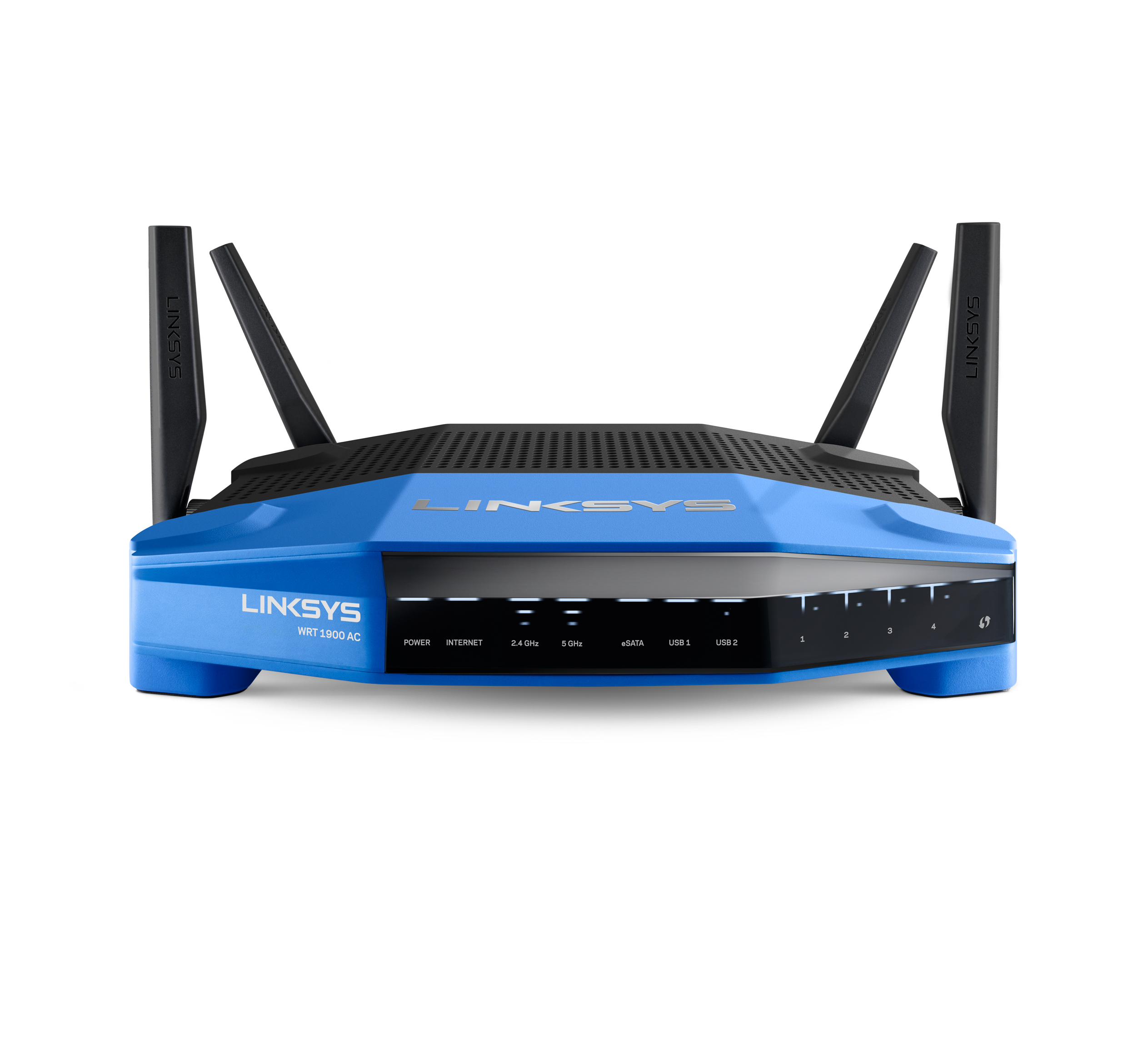 "Our new Linksys WRT1900AC Wireless Router will be the most powerful router in its class on the market.  We have spared no technology expense to make this router a prosumer's dream," said Mike Chen, vice president product management for Linksys.  "The launch of the new WRT router is not only a celebration for the Linksys brand but for our customers too. We have brought back the WRT because our customers have asked for a router that had the reliability, functionality and open source capabilities with today's AC wireless technology. The WRT1900AC is the result of all these requests."
The new WRT provides the most robust specifications of any currently available router on the market and will be the world's first open source compatible router with a dual-core 1.2 Ghz processor, 4 customized and removable antennas, 128MB flash memory and an eSATA port.
World Class Performance Comes Down to the Sum of its Parts:
Open Source Support
1x Gigabit WAN port
4x Gigabit LAN ports
1x USB 3.0 port
1x eSATA/USB 2.0 port
1.2GHz dual-core ARM-based processor
128MB Flash
256MB DDR3 RAM
2.4GHz and 5GHz simultaneous dual-band
64/128-bit WEP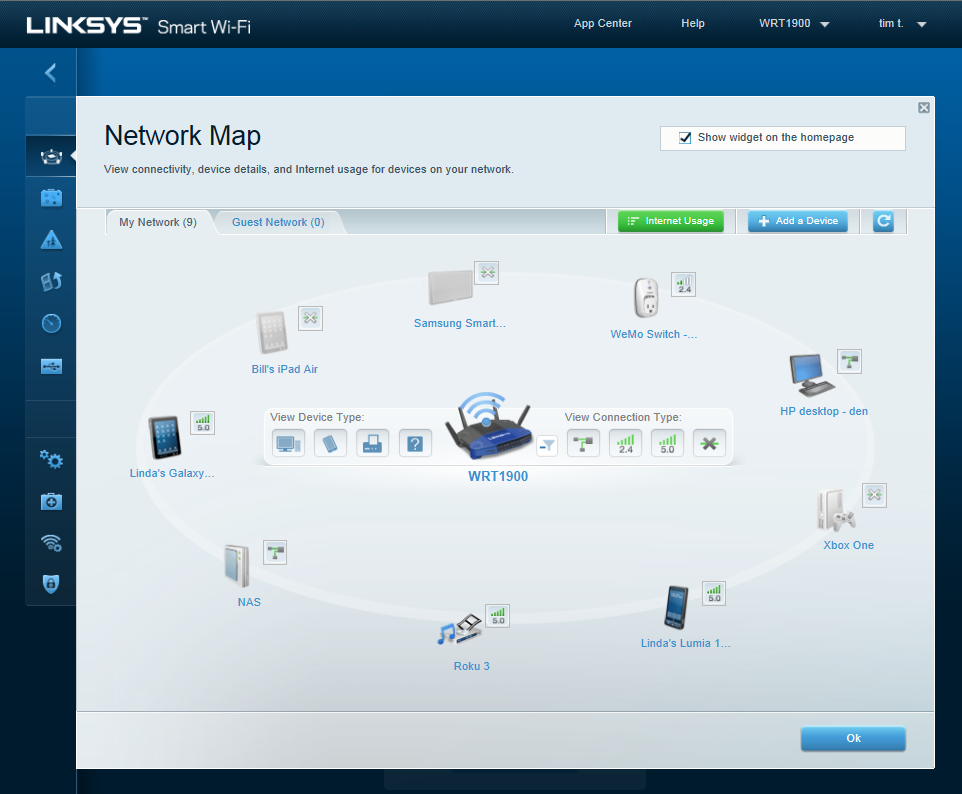 Performance Perfected
The Linksys Wireless AC 1900 Dual-Band Router is capable of speeds of up to 1.3Gbps* on the 5 GHz band and up to 600 Mbps* on the 2.4 GHz band.
The combination of all the above features and functionality together enabled us to build a robust router that could perform without lag or buffering for the dozens of wireless products families have on their networks today including laptops, tablets, smart phones, gaming consoles, media centers, hard drives, TVs, computers, printers and the dozens of connected devices still coming to market.
Open Source/Linux
Open Source is a vehicle for other communities, such as DD-WRT, Open WRT, and Tomato, to create their own custom versions of open source firmware for the product. OpenWRT developers will be provided hardware and SDKs/APIs to begin creating custom firmware for the WRT1900AC.
An OpenWRT custom firmware for WRT1900AC is planned to be available for download online at availability in the spring 2014.
Antenna Diversity for increased coverage
Like all AC1900 routers, data is transmitted on three spatial streams.  The four removable, customized and adjustable antennas on the WRT1900AC router provide antenna diversity by enabling the router to use the three best signals out of the four antennas to transmit and receive data. The antenna diversity technology helps provide greater range and coverage compared to a 3-antenna system, so all your connected devices can achieve the best performance wherever they are located. 
Smart Wi-Fi
Included with our Linksys EA-Series routers and now the WRT1900AC router, Smart Wi-Fi is a setup and management software tool that gives users access to their connected devices from a browser or mobile app so they can easily manage their home network and optimize their online experiences. Users can access their home network remotely on their iOS or Android smart phone or tablet to check the connection status of their devices, give a guest access to the Internet, or block a child from accessing social networking sites.
Linksys is also announcing a new Smart Wi-Fi feature called Network Map on the new WRT1900AC router.  Network Map is a visual topology map that shows all the devices that are connected to the network.  Users can simple manage each device by clicking on its icon and change parental control settings, select wireless bands, filter by device type, or even remove devices from the network, plus more.  Network Map provides a simple more graphical way to monitor and manage a home network.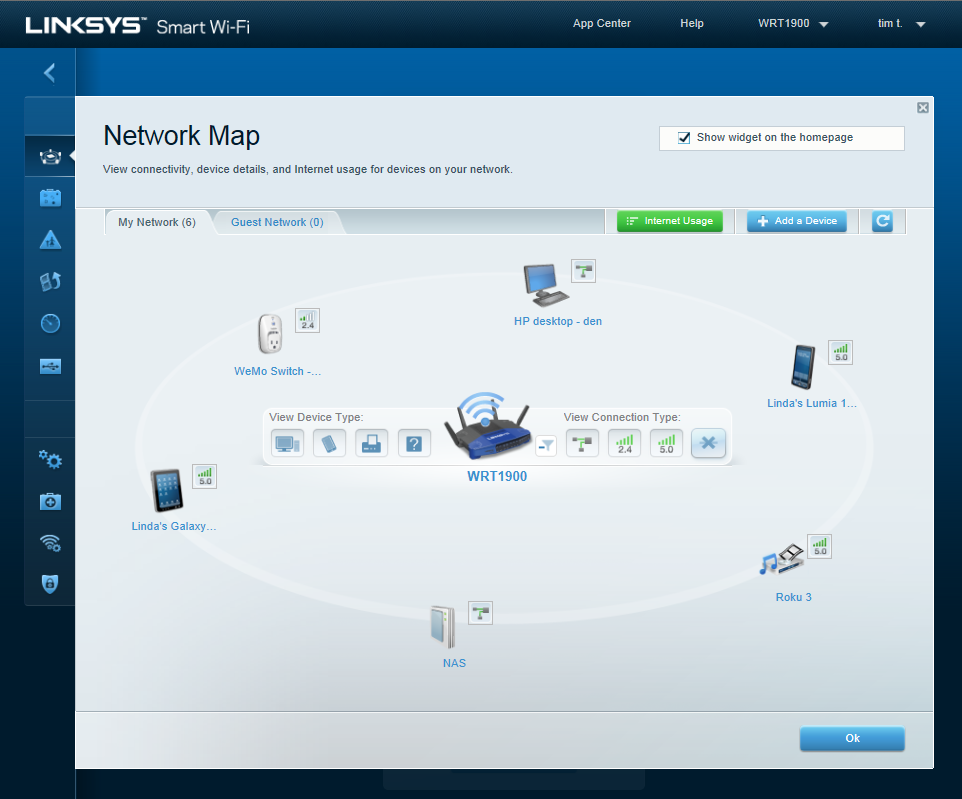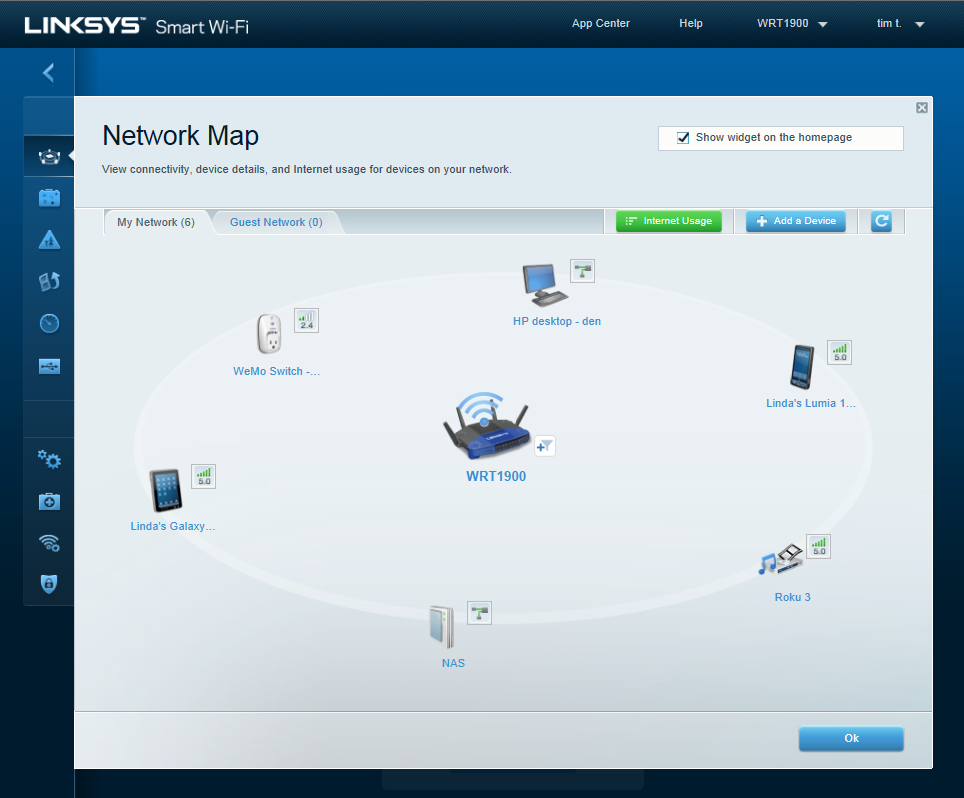 Award Honoree:
The Linksys WRT1900AC Dual Band Wi-Fi router has also been named as an International CES Innovations 2014 Design and Engineering Awards Honoree in the Home Networking product category. The Awards are judged by a preeminent panel of independent industrial designers, engineers and members of the media to honor outstanding design and engineering in cutting edge consumer electronics products.
The Linksys WRT1900AC Router will be on display at the Linksys/Belkin booth, South Hall 3 #30451, from January 7-10, 2013.
Pricing and Availability
The new Linksys WRT1900AC Dual-Band Wireless-AC Router is planned for availability this spring at all leading IT stores. Local pricing will be confirmed at a later date.
* Information, details and photograph Courtesy of Linksys Singapore and Cohn-Wolfe XPR *