Panasonic announced Panasonic Toughbook™ CF-20
Panasonic recently announced the Panasonic Toughbook™ CF-20, the world's fully rugged detachable tablet. This tablet is very suitable for those working in rugged, outdoors and heavy industries whereby you would need rugged and well protected devices for your work purposes.
I had an opportunity to check out the capabilities of the Panasonic Toughbook™ CF-LX3, therefore I had some knowledge about the capabilities and quality of the Panasonic Toughbook family series. I currently do not work in any industry that requires a fully rugged detachable tablet. However, if you are working in an industry that are rugged, outdoors and heavy types, do take a look at the Panasonic Toughbook™ CF-20!
Let me share with you more information and pictures of the Panasonic Toughbook™ CF-20 from the press release information –
"The Panasonic Toughbook™ CF-20 is designed to be the perfect work companion in almost any environment, from inside the police car to a rainforest. Its ability to function as both a notebook and tablet offers users a highly versatile experience without giving up the ruggedness needed to withstand the toughest business conditions," said Yasuhide Fukunaga, General Manager of Toughbook™ Solution Team, ASEAN. "The introduction of the Toughbook™ CF-20 reaffirms our commitment to deliver innovative technology that solves the needs of today's increasingly mobile workforce."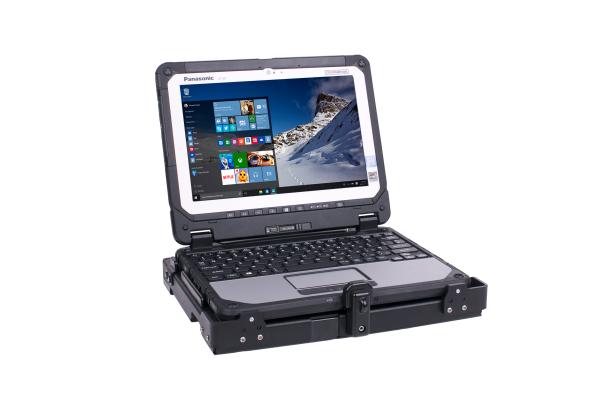 Ultimate versatility
The Panasonic Toughbook™ CF-20 can operate as a regular notebook, in presentation mode, or as a tablet when detached. Using the in-built handle, the device can also operate in handle mode hanging on a wall, or on the arm, or whilst being carried. Finally, vehicle mode allows full functionality use of the device when on the move.
Its comprehensive range of industry ports and customisable options also provide users maximum flexibility when using the device.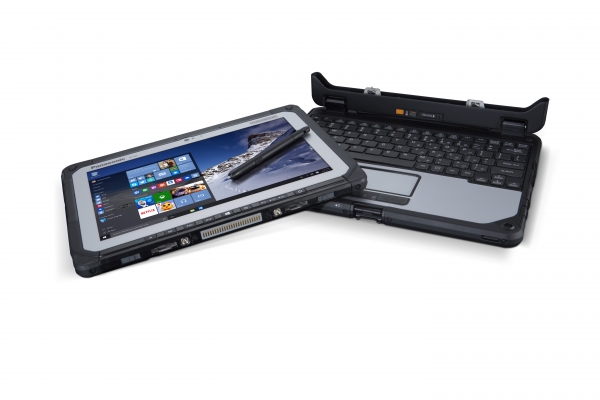 Crystal clarity
Designed for outdoor use from bright sunlight to heavy rain, the Panasonic Toughbook™ CF-20 has a 10.1″, 10-finger capacitive multi-touch WUXGA screen (1920 x 1200 pixels), suitable for workers who need to operate touchscreens with gloves. The device uses the latest IPS Panel technology, which provides enhanced brightness levels of up to 800cd/m² for tablet users working outdoors. In addition, the IP55 Digitizer pen (optional) provides users with better touchscreen accuracy for writing or drawing, even in the roughest of weather conditions.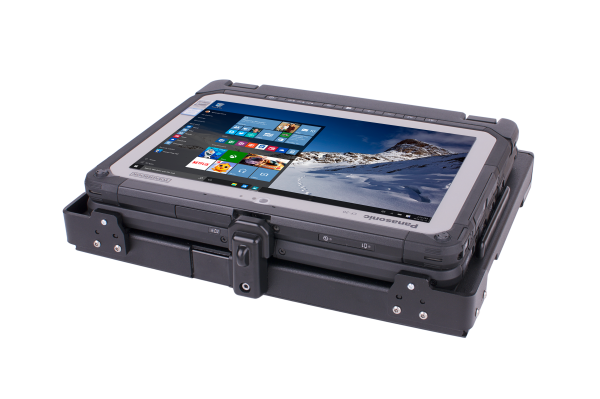 Primed to perform
The Panasonic Toughbook™ CF-20 is powered by the latest technology to ensure top-notch performance for the length of its life. It is equipped with Intel® Core™ m5-6Y57 vPro™ processor technology (4MB cache, 1.1GHz up to 2.8 GHz with Intel® Turbo Boost Technology) with a fan-less design, Intel® HD Graphics 515, 8GB RAM, 256GB SSD, and full Windows 10 Pro operating system. Coupled with its hot swap capabilities which allow batteries to be switched out even while in use, the Panasonic Toughbook™ CF-20 is built to last.
To ensure mobile workers are always connected, the Panasonic Toughbook™ CF-20 is equipped with a 2MP webcam with stereo microphones, and an 8MP documentation rear camera. There is a 4G LTE option for connection to the office and workforce management systems, and also an option for the latest U-Blox 8 GPS for precise navigation. 
Supporting ecosystem
The Panasonic Toughbook™ CF- 20 has a full array of support peripherals available at launch to maximise a mobile worker's productivity both on the road, and in the office.
The device's slim, purpose-built vehicle dock comes with antenna pass-through for the strongest communications signal whilst in the vehicle, while its full port replication provides users with the full functionality of the device when docked. The tablet is removable when the keyboard base is in the dock, and can also be locked in storage mode when in convertible mode to allow for job routing and access to the GPS functionality.
The sleek Desktop Port Replicator allows the Panasonic Toughbook™ CF-20 to be used as a high performance desktop device. The four bay battery charger allows simultaneous charging of multiple batteries, making it an ideal solution for large organisations where downtime can be costly.
Rugged yet user-friendly
The Panasonic Toughbook™ CF-20 draws upon its heritage for ruggedness with a magnesium and IP65 and MIL-STD 810G rated design, making it ideal for all outdoor usage. This latest generation of Toughbook™ is more mobile than ever – weighing just 1.76kg in notebook mode, or 950g as a detachable tablet, well below the 2kg industry standard for a device of this kind.
With its integrated handle, the device is easily portable and stable to use. Its 16 percent larger keys (compared to the previous generation) also makes data input easy.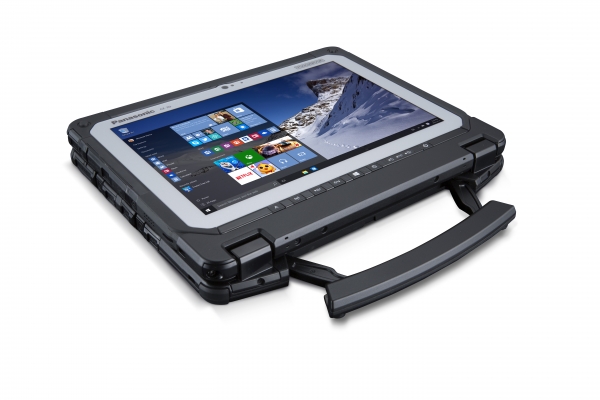 Pricing and availability
The Panasonic Toughbook™ CF-20 notebook comes with a standard 3 year warranty and is now available from US$3,699.
*Information and pictures courtesy of Panasonic Systems Solution Asia Pacific*