Panasonic, an industry leader in reliable and innovative mobile computers since 1996, today launched the world's lightest* 14'' business rugged notebook, the Panasonic Toughbook CF-LX3, targeted at mobile business professionals. With up to 14 hours of battery life**, Windows 8.1 Pro, Intel® Core ™ i5 vPro ™ processor, built in optical drive, and weighing just 1.29kg, the Toughbook CF-LX3 combines premium performance with a light, durable, and ultra-sleek design.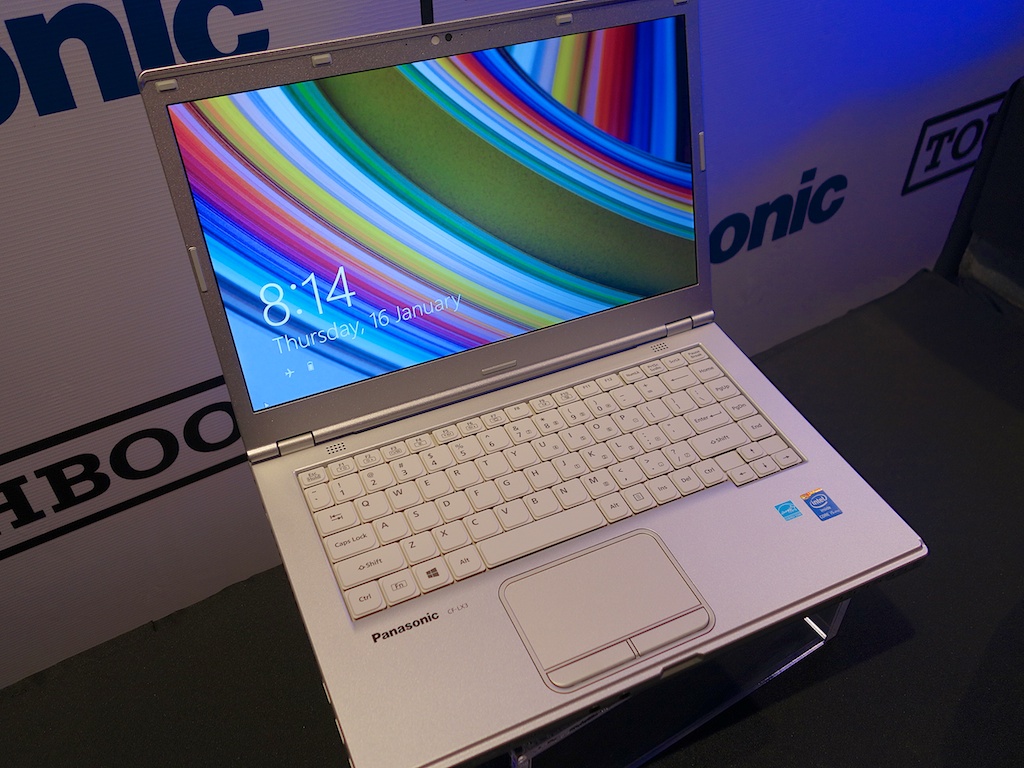 Mobility, Functionality, Portability
By 2015, the world's mobile worker population is expected to represent up to 37.2% of the total workforce with Asia Pacific (excluding Japan) seeing the largest increase in the total of mobile workers. Bringing together the latest computing technologies in a light-weight, shock-resistant body, the Toughbook CF-LX3 provides the optimal combination of functionality with portability.
"Panasonic Toughbook continues to push the boundaries of what a laptop can and cannot do as we strive to develop the best products to meet our customer's business needs," said Mr. Satoshi Mizobata, Director of Toughbook Asia Pacific Group. "The Toughbook CF-LX3 is designed to be the ultimate companion for the mobile executive, bringing together enterprise-level technologies, lightweight features, and an extremely long battery life to deliver real business results."
Business Benefits for the Mobile Workforce
The Toughbook CF-LX3 was designed with the purpose of improving productivity and efficiency in a host of highly mobile professional environments such as insurance, sales, and frequent flyers, where the probability of accidental knocks and drops are high.
The Toughbook CF-LX3 has been drop-tested in operation mode from a height of up to 76cm, and able to withstand up to 100kgf of pressure, delivering better and longer life cycle management resulting in a lower total cost of ownership and increased return on investments through time and resource savings.
Everyday Mobile Computing
Featuring the new 4th generation Intel® Core™ i5 vPro™ processor, the Toughbook CF-LX3 that has the power to deal with today's data-intensive modern applications. The high performing, low power consuming processor provides the Toughbook CF-LX3 up to 14 hours** of battery life with hot swappable function for all day mobile computing. Coupled with best-in-class storage options (4GB SGRAM and 250GB storage), the Toughbook CF-LX3 is the perfect solution for everyday mobile business computing where speed, battery life, and business capabilities are essential.
"With nearly 20 years of experience in the rugged mobile computing space, we believe the Toughbook CF-LX3 is the product of our commitment to developing innovative devices capable of delivering consistent outstanding performance for our business users," said Mr. Mizobata.
Toughbook CF-LX3: Key Features
Processor: New 4th generation Intel® Core ™ i5 vPro ™ processor
Operating System: Windows 8.1 Pro 64-bit with Windows 7 Professional downgrade option available
Screen: 14'' HD+, 1600 x 900
Storage: 250GB
WLAN: 802.11abgn
DVD Optical Drive: Optional
Japanese Keyboard: Optional
Weight: 1.43kg (6 cell battery) / 1.29kg (3 cell battery)
Battery Life: Approx. 14 hours (6 cell battery) / Approx. 7 hours (3 cell battery)
Dimensions: 333mm x 225.6mm x 24.5mm
Drop Resistant: Up to 76cm
The Toughbook CF-LX3 also has three USB ports (USB 2.0 x 1; USB 3.0 x 2) for fast transfer speeds, a HDMI port for easy high-definition output, a 1080p webcam and built-in microphone, WLAN A/B/G/N and Bluetooth 4.0.
Pricing and Availability
The Toughbook CF-LX3 will be available in Singapore immediately. All Toughbook ™ notebooks can be purchased through authorized Panasonic resellers. For further information, please visit www.panasonictoughbook.asia
All products in the Toughbook ™ family come standard with the industry's most comprehensive 3-year warranty.
* World's lightest business rugged 14-inch tablet as of August 28, 2013
** Using the 6 cell battery
* Information Courtesy of Panasonic Systems Asia Pacific and Ogilvy Public Relations Worldwide *