The journey to 5G has already begun, with Singtel and Ericsson leading the way in Singapore and Southeast Asia, being the first to showcase 5G technology. I was at the Singtel and Ericsson joint demonstration event recently, witnessing the potential and capabilities of the upcoming 5G technology and mobile networks.
The Internet of Things (IoT) is gearing up towards a higher level on all fronts, with 5G being an integral part of IoT technology and growth in the local, regional and international context. In recent months, I started to learn more about IoT even though I had been an avid consumer, user and practitioner of technology products and services over the years through my photography, social media sharing, using smartphones, tablets and laptops. Here are some of my earlier articles relating to IoT – Internet of Things, AXON Platform by GreenWave Systems at CommunicAsia 2016 and The Next Wave and Trends (From Canon EXPO 2016 Shanghai).
Our current network is 4G/LTE and it's pretty fast for me to use it when I am on the move, maybe except in places where there are huge crowds and everybody wants to share something on their social media channels thus the 4G/LTE network gets jammed up and slows down. With this upcoming 5G technology and networks, it's going to a lot faster! The arrival of 5G is not too far away, just a few years away from 2020. This is going to impact how we users consume mobile data, digital content and digital lifestyle.
On a personal, B2C, leisure and consumer level, for those who spend time on their mobile devices (smartphones or tablets) watching videos, entertainment, dramas, playing online games etc, I reckon you would love 5G network when it is finally here. On a commercial, B2B level, 5G has some potential big impacts on how businesses would be changed and operated differently. At the Singtel and Ericsson event, I had a glimpse into these 2 areas on the impacts of the upcoming 5G.
How is Singtel and Ericsson leading the way with 5G ? Let me share the news with you from the press release information below –
Singtel and Ericsson (NASDAQ:ERIC) have joined forces in Singapore to bring 5G innovation to Southeast Asia for the first time with a live demonstration of the potential of 5G.
The "Making 5G Innovation A Reality" demonstration features Ericsson's 5G Radio Prototypes to showcase some of the ground-breaking capabilities offered by the new technology, achieving a peak throughput of 27.5Gbps and latency as low as 2ms. Singtel and Ericsson also demonstrated the world's first end-to-end (from the time the video is captured at the server end to the time it is displayed at the device) low latency live video streaming over 5G.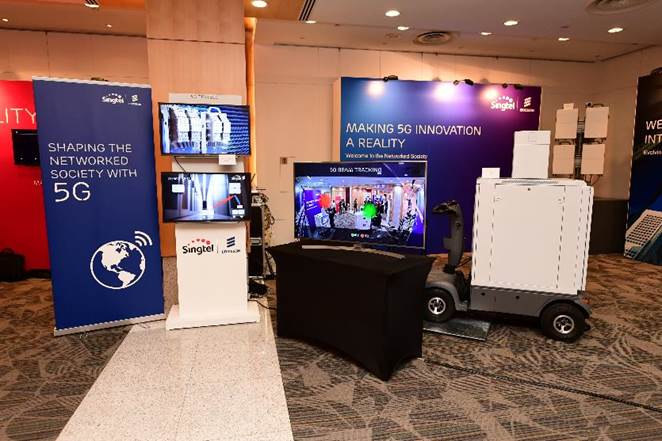 This milestone is a result of the 5G memorandum of understanding signed by Ericsson and Singtel last year, which involved evaluating and testing technologies that are strong candidates for future 5G standardisation.
Singtel and Ericsson are leading the way for 4G and 5G in Singapore, in support of Singapore's Smart Nation vision and the anticipated four-fold growth1 in connected devices. As 5G offers greater throughput and lower latency, it will bring more use cases to Internet of Things (IoT), enabling massive connectivity and allowing new applications for consumers and enterprises such as smart vehicles and transport architecture, remote healthcare and new levels of human-IoT interaction.
Mr Tay Soo Meng, Group Chief Technology Officer, Singtel, says, "We strive to upgrade our networks with cutting-edge enhancements, constantly offering our customers all the possibilities that technology brings. Singapore is at the forefront of the most connected cities in the world and now we want to take it to the next level. 5G is very important to the Singtel Group as it will support advanced communication needs. To ensure the Group continues our technology leadership in the mobile communications domain, we are exploring, studying and trialling pre-5G technologies with Ericsson."
Dr Magnus Ewerbring, Chief Technology Officer, Ericsson APAC says, "5G will enable the full potential of Ericsson's vision of the Networked Society and 5G performance will benefit consumers, business users and entire industries in Singapore. Together with Singtel we have launched many world-first and nation-first achievements with the 4G network since 2011 and we will be together at the forefront of 5G as well."
The aim is for 5G networks to be highly efficient, faster, support more users, more devices, more services, and new use cases without a corresponding impact on cost or carbon footprint. 5G will revolutionise five key industries including TV and media, manufacturing, healthcare, telecommunications, transportation and infrastructure.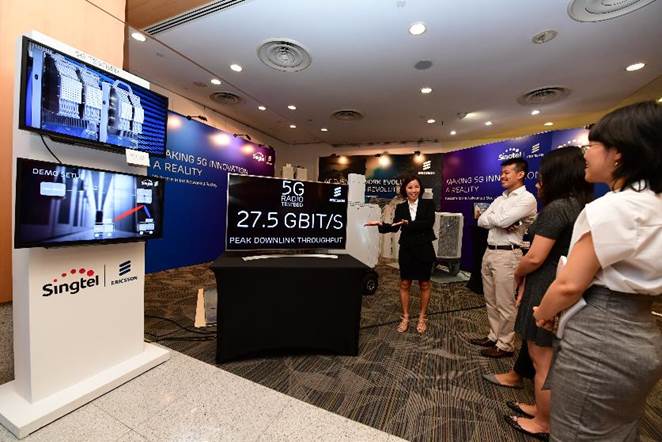 Singtel is progressing well on its 5G journey, deploying key pre-5G technologies such as LTE-Advanced (Carrier aggregation, 256QAM) on its live network and taking the next step to LTE Advanced Pro (LAA, NB-IoT). These radio technology upgrades deliver superior connectivity, characterised by faster and more consistent speeds, to its customers.
With 5G expected to be standardised and commercially available by 2020, Ericsson's 5G Radio Prototypes enable operators, ecosystem partners, academics and analysts to test 5G capabilities live.
Some key capabilities include multipoint connectivity with distributed multiple input, multiple output (MIMO) and 5G-LTE dual connectivity, to ensure a smooth evolution to 5G and rapid adoption of new 5G-based services.
The Ericsson 5G Radio Prototype has demonstrated not only record-breaking throughput, but also the tight interworking between network layers, frequency bands, and technology standards that will be critical to ensuring seamless connectivity for billions of connected devices, machines and things, supporting consumer, business and industrial applications.
*Information and pictures courtesy of Singtel Corporate Communications*
* I would like to thank Singtel for the invitation to the Singtel and Ericsson "Making 5G Innovation A Reality" demonstration event. *