Toyota, a very well known and reliable automotive brand in the world and among the family of Toyota cars is the the Corolla Altis series. I had a affinity with the Toyota cars, owning my 1st car while I am a university undergraduate in Australia, it was an old car, the 1982 Toyota Celica. I loved it, it was a sports car with a rich racing history! Our current family sedan is a Toyota Vios E, it is a reliable and trustworthy car for the family use.
The Corolla Altis is a well known Toyota model, I drove it before a few times when I had the opportunity. It's pretty spacious and comfortable too! With the celebration of the 50th Anniversary of the Toyota Corolla, there is something special coming to you here in Singapore – a limited edition 50th year edition.
Let me share with you more information and details of the Toyota Corolla 50th Anniversary edition from the press release information below –
Borneo Motors Singapore today marked the 50th Anniversary of the Toyota Corolla Altis with the unveiling of a limited 50th year edition Anniversary variant. For the month of September, the dealership has planned a series of engagement and promotional activities to mark the anniversary and pay homage to the legacy set by all 11 generations of this humble yet extraordinary vision-leading car. Since its launch, the model has rolled out more than 40 million cars globally.
The Toyota Corolla Altis is testament to Toyota's pursuit of continuous improvement. Launched in 1966, the (then) Toyota Corolla was conceptualised to be a car for everyone, bringing together the essence of Toyota's technology. Being a car that featured many firsts for the automobile industry at the time, the Corolla debuted brilliantly as a model that would draw a clear line between it and other family cars of the time. The Corolla introduced numerous new features and equipment comparable to those found in higher grade models. As a result, the Corolla steadily captured the hearts of the public and achieved a solid No. 1 position in domestic sales — a mere 3 years after it was launched.
Now in its 11th generation, it has been designed and engineered with the goal of bringing happiness and well-being to the people. Toyota Corolla has constantly lead the category since 1966 by offering technologies, services and value that are always better. With the limited edition model, the legend has redefined itself to give the Corolla customers confidence, enjoyment and excitement like never before.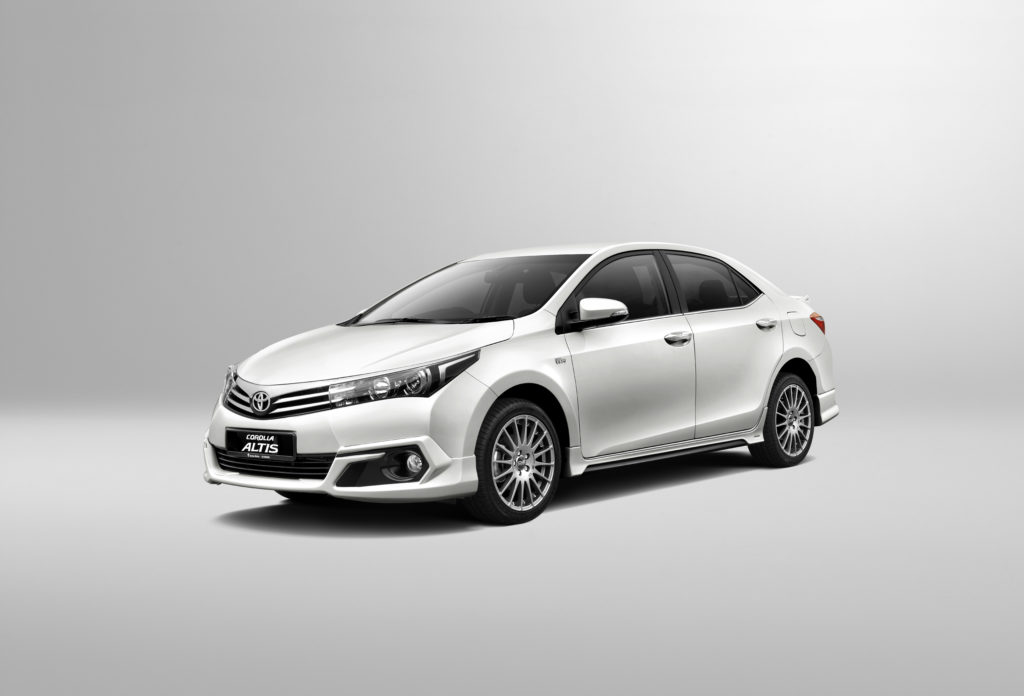 "The Corolla Altis has been the longest and most successful vehicles in our range, and the very first model made available via Borneo Motors almost 50 years back. The Corolla has grown and evolved as much as Borneo Motors has, always improving and going the extra mile to stay ahead of our competitors," said Ms Adelene Tan, Commercial Director, Toyota Sales & Marketing.
In light of its anniversary, only 50 units of the special edition model will be made available for sale from 8 September 2016 onwards at Toyota World. The anniversary model comes in White Pearl CS colour with an exclusive Front and Rear bumper, Side skirt and Trunk Spoiler design, Muffler and 17 inch OZ Superturismo GT alloy rims, adding an updated "royal" aesthetic befitting this legend. The limited edition will be complimented with a personalised delivery kit which includes a 1:63 scale gold plated 50th Anniversary edition die cast Corolla Altis model, 2 sets of keys with a 50th Anniversary edition pouch and a production plate engraved with the owner's name.
The new variant also includes dramatically amplified elements built with the concept of creating Confidence, Enjoyment, Excitement and Assurance for the Corolla Altis customers. The key features of the Corolla Altis – Elegance model included in the limited 50th year edition Anniversary variant are as follows:
Confidence:
LED headlamps provide excellent visibility under all conditions, while the daytime-running lights add safety and a unique look
17-Inch Alloy Rims are precision-machined and bold in design, they complement the muscular looks and character of the Corolla Altis
Side Profile of the model comes with improved aerodynamics, asymmetrical bodyline and sculpted panels that imbue the Corolla Altis with an athletic stance
Modern Interior remains a key focus that is highlighted through the soft dashboard panel to the striking cyber carbon accents to ensure the interior makes every journey both enjoyable and exciting
Wing Mirrors are stylishly designed and feature built-in signal indicators for increased visibility to other motorists
A unique t-shaped motif grille design and a boldly sculpted spoiler highlight the new front design of the model
Enjoyment:
A nanoe™ generator air-conditioning system cleans the air as it cools, suppressing allergens and odour
Smart Start & Entry can be experienced with the smart keyless ignition system
Auto Rain Sensing Wipers, intelligent inbuilt sensors detect rainfall and turn on the wipers automatically. This feature also adjusts wiper speed according to weather conditions.
Electrochromic mirror has been specially designed for night driving. The mirror automatically dims itself to cut off the glare from the high beams of rear traffic
Split-Folding Rear Seats are built with a 60:40 ratio that can be folded down to accommodate long and bulky items easily in the boot
Electric Boot Release provides access to the spacious 470-litre boot
Excitement:
Acoustic Glass is the 3-layered glass that helps lower NVH (noise, vibration and harshness) levels for a quieter peaceful drive
1.6L Dual VVT-I Engine gives a max output of 121bhp and 154Nm of torque and achieves fuel efficiency at 6.5?/100km
7-Speed Super CVT-i delivers smoother acceleration and superior efficiency as it adapts to driving style. It also allows sequential shifting for a more spirited drive
Aero Stabilising Fins are positioned at the wing mirrors, rear lamps and lower rear spoiler, these help reduce drag at highway speeds
Lightweight Suspension help in compact and weight-saving, front and rear suspensions have been optimised for best balance of ride comfort and handling
ECO Monitor provides real-time updates to ensure economic and environmental friendly drive
Assurance:
SRS dual Airbags help give better protection from head injuries in the event of a collision
Pedestrian Protection is made from impact-absorbing materials, the front bumper minimises knee injuries in the event of a collision
Pretensioner and Force Limiter work in tandem with the seatbelts and react intuitively to ensure safety of the driver and passengers
The improved Anti-lock Braking System (ABS) and Electronic Brake Distribution (EBD) ensure better and effective braking and control Brake Assist aids to reduce stopping distance dramatically and generates more braking force
Child Restraint System complies with international safety standards, the ISO-Fix mounting points can secure up to two child seats at the rear
Toyota fans can look forward to exciting contests on Toyota Singapore social media platforms like Instagram and Facebook, as well as an interactive Corolla Altis 50th Anniversary showroom space outlining the Journey of a Legend.
Throughout the month the DriveHappy with Toyota Facebook page (brought to you by Borneo Motors Singapore) will share more on the journey of the Corolla Altis through the years (#YesterdaysDriveHappy). Corolla drivers will be encouraged to share their memorable stories and pictures with their cars. More details about the Corolla Altis and its 11-generation heritage will be shared on the Toyota Singapore website.
* Information and picture courtesy of Borneo Motors (Singapore) Pte Ltd and Cohn & Wolfe Singapore *