WD®, a Western Digital company and world leader in digital storage solutions, today announced the launch of its e-commerce store, WD Store, in Singapore. WD offers a full range of storage solutions that enable customers to store, share and protect their digital lives. The WD Store offers customers another purchase outlet option where they can conveniently purchase their favorite WD storage solutions and home entertainment products online while benefiting from creative product bundles, exclusive accessories and customizations. The Singapore WD Store is located at www.wdstore.com.sg.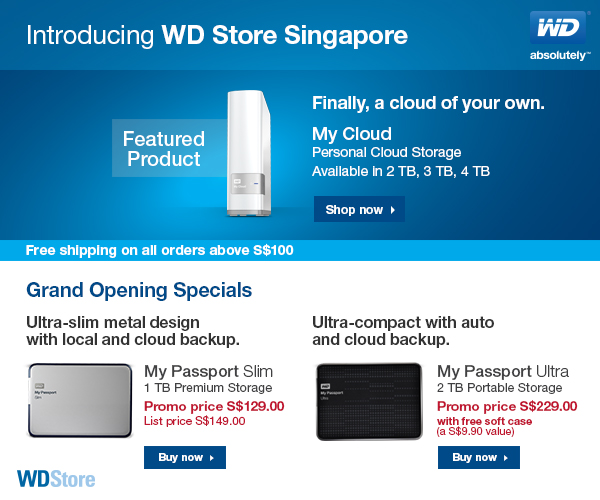 Widest range of products and accessories
WD Store offers a wide range of products and accessories for WD products, some of which may not be available within retail stores such as carrying cases and replacement accessories like cables and power supplies.
Flexible payment options
WD Store offers a variety of convenient payment options for purchasing WD products online, including all credit cards, direct debit and PayPal.
Shop with confidence
Customer transactions and payments on WD Store are secure and protected by state-of-art encryption powered by VeriSign. WD employs industry-recognized security technology to protect customers' shopping experiences and information.
Easy and convenient
WD Store makes it easy and convenient for customers to shop 24/7, 365 days of the year. Compare specifications, prices and latest deals. Products are delivered to customers' doorsteps in a timely manner. Free Standard shipping is offered on purchases over S$100.
Returns Policy
The WD Store offers customers a return and exchange policy to support customers in Singapore. Details of Store Returns Policy are available on WD Store website under Help Center.
* Information Courtesy of WD Singapore and Ogilvy Public Relations *