ASUS CES 2022 – The Incredible Unfolds
ASUS CES 2022 – The Incredible Unfolds. At the recent CES 2022, ASUS announced a number of new products for Year 2022, for the leisure and gaming market to the commercial/business market, there is something for everyone by ASUS from ASUS CES 2022 – The Incredible Unfolds. There are three major announcements by ASUS during CES 2022, let's enter into the world of ASUS CES 2022 and see what are the new incredible products that unfolds for us.
For the gamers and eSports community, you would definitely be interested in ASUS ROG gaming laptops and new TUF gaming laptop series. For the business owners/users, check out the commercial line-up by ASUS.
Republic of Gamers Announces a Cutting-Edge Arsenal of Gaming Laptops at CES 2022
Republic of Gamers (ROG) recently announced new gaming products at CES 2022 ROG: The Rise of Gamers launch event. ROG is at the forefront of technology, introducing exciting new gaming products for an age where gaming is no longer a fringe hobby. In 2022, ROG is ready to hit the ground running with a new operating system, brand new CPUs from CPUs from Intel® and AMD, GPUs from AMD and NVIDIA®, as well as an all-new form factor.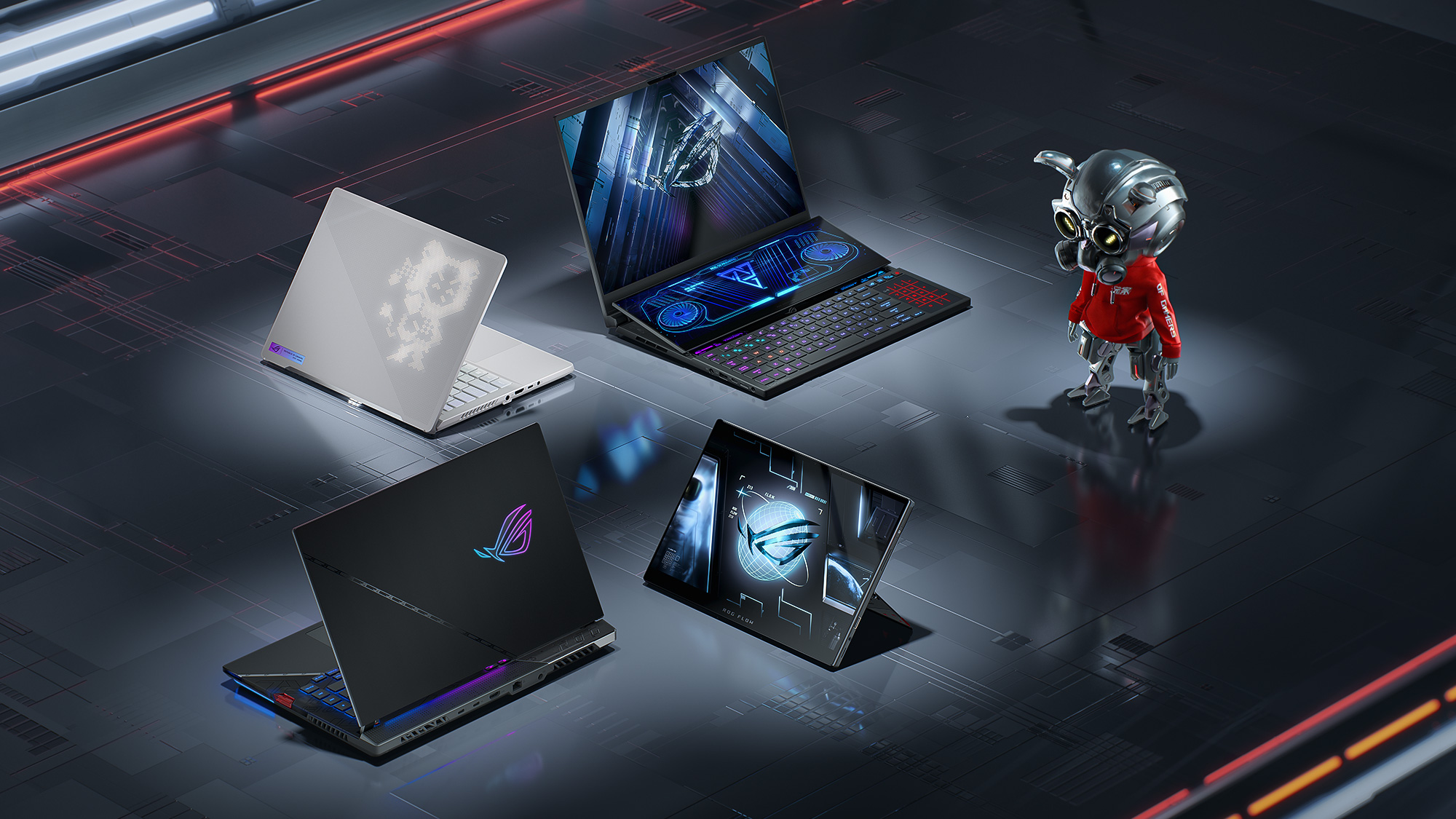 Take note of the brand new Flow Z13 gaming tablet, bringing a new level of portability and versatility to PC gaming. The Zephyrus Duo 16, Zephyrus G14 and Strix series have updated form factors, improving on a set of already world-renowned products.
There are also new accessories in the Archer series of gear bags and a new update to the ROG Citadel XV digital experience, where all the new products are available for the gamers to explore.
For the GPU geeks, the NVIDIA GeForce RTX™ laptops are based on the revolutionary Ampere architecture, with 2nd generation RT Cores for ray tracing and 3rd generation Tensor Cores for DLSS and AI.
The new GeForce RTX 3080 Ti Laptop GPU brings the flagship 80 Ti class of GPUs to laptops for the first time. Featuring 16 GB of the fastest GDDR6 memory ever shipped in a laptop, the RTX 3080 Ti delivers higher performance than the desktop TITAN RTX. The new GeForce RTX 3070 Ti is up to 70% faster than RTX 2070 SUPER laptops and can deliver 100 frames per second at 1440p resolution.
Additionally, the new 4th generation of Max-Q Technologies, with CPU Optimizer, Rapid Core Scaling, and Battery Boost 2.0, further enhance efficiency, performance, and battery life.
New TUF Gaming Laptop Series at CES 2022
AT CES 2022, ASUS announced new TUF Gaming laptops that are preloaded with Windows 11 and powered by Intel® and AMD. The TUF Gaming family is built on the core principle of providing gamers with fantastic performance without breaking the bank, and the 2022 lineup continues that tradition by offering high-end hardware and a chassis design that's more refined than previous generations.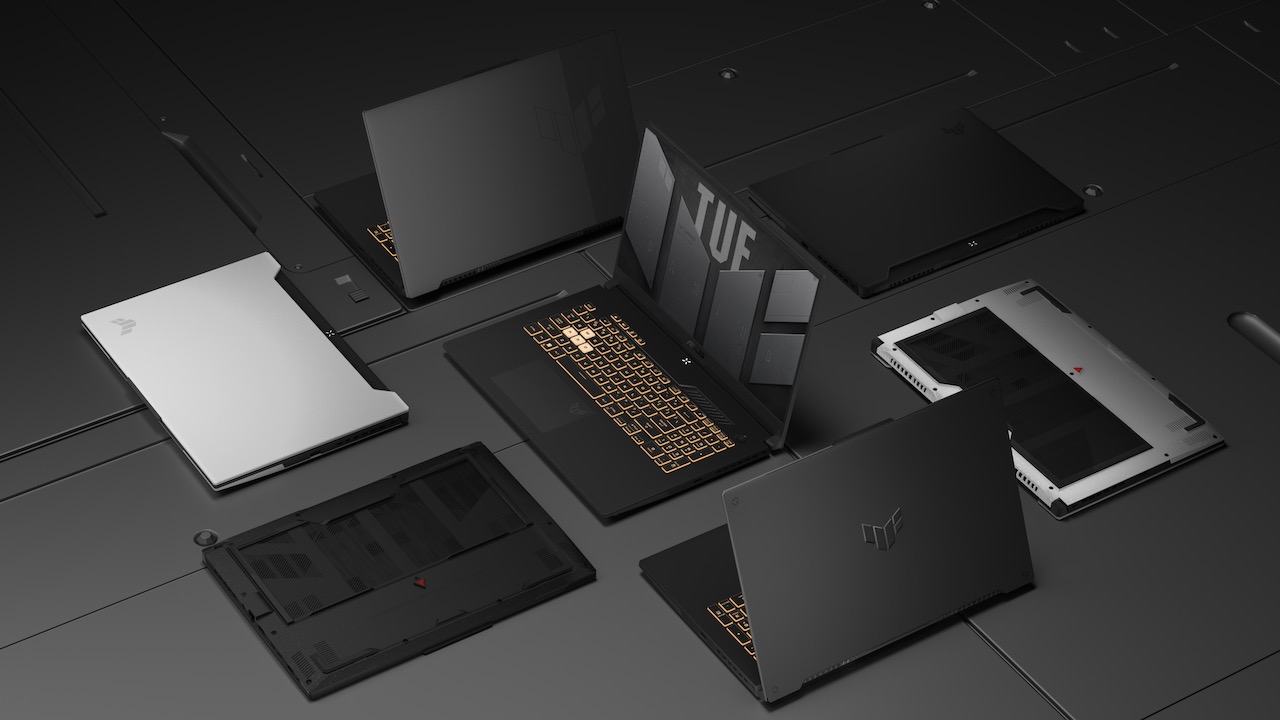 The entire TUF Gaming family has been refreshed for 2022 with all new designs and processors. The lineup also includes a new MUX switch, unlocking even more GPU performance for gamers. The TUF DASH also makes a return for 2022 ? as a thin and light machine with power that belies its footprint.
Comprehensive Commercial Lineup at CES 2022
At CES 2022, ASUS announced its comprehensive lineup of commercial solutions designed for both enterprise and education markets, with five key models on display at CES® 2022 – including ExpertBook B5, B5 Flip and B3 Detachable, ExpertCenter D700 series and ASUS Chromebook Flip CX5.
Key Points from ASUS comprehensive commercial line-up at CES 2022
ASUS ExpertBook B5 series: Thin, lightweight business laptops powered by up to Intel® Core™ i7 processors, available in both clamshell and flip forms
ASUS ExpertBook B3 Detachable: Powerful 2-in-1 portable for uninterrupted remote learning or working, with complementary magnetic stand and keyboard
ASUS ExpertCenter D7 series: Powerful business desktops that deliver professional performance for business, in a wide variety of form factors
ASUS Chromebook Flip CX5: Fast and streamlined with 12th Gen Intel Core i7, 16:10 display, WiFi 6E, long battery life and Google security and updates
Pricing and Availability
More details about the local pricing, availability and configurations of the above ASUS CES 2022 announcements will be announced later.
* Information and pictures courtesy of ASUS *