Canon Refreshes Three New Consumer Inkjet Printers
Canon refreshes three new consumer inkjet printers, with the announcement on the further expansion of its MAXIFY GX and PIXMA G series printers lineups with refillable ink tank printers. Canon aims to help people in small and home offices maximise productivity, with the new consumer inkjet printers offering a higher yield with faster and cost-effective print solutions.
Edwin Teoh, Head of Marketing, Singapore Operations, Canon Singapore, said, "We are excited to meet the needs of SMEs, as well as Small and Home offices with value-added printing capabilities to boost business productivity. With the all-pigment ink configuration and improved economy mode, users can enjoy quality prints at lower costs."
Canon MAXIFY GX3070
MAXIFY GX3070 gives you Faster, High-Quality Prints Un-Compromised by Water Spills 
MAXIFY GX3070 refillable ink tank printer is made for small and home offices amidst new hybrid working arrangements. Low-cost printing and water-resistant (1) printouts combined with a refillable ink tank system makes the printer an ideal choice for users to achieve maximum productivity gains.
The all-pigment ink formulation works wonders for colour reproduction and replicates a laser print-like quality. Lines do not smudge with the use of highlighter pens, and even accidental water spills do not affect the sharpness and colour intensity of rendered graphics, making them highly durable for client presentations and sharing during business meetings.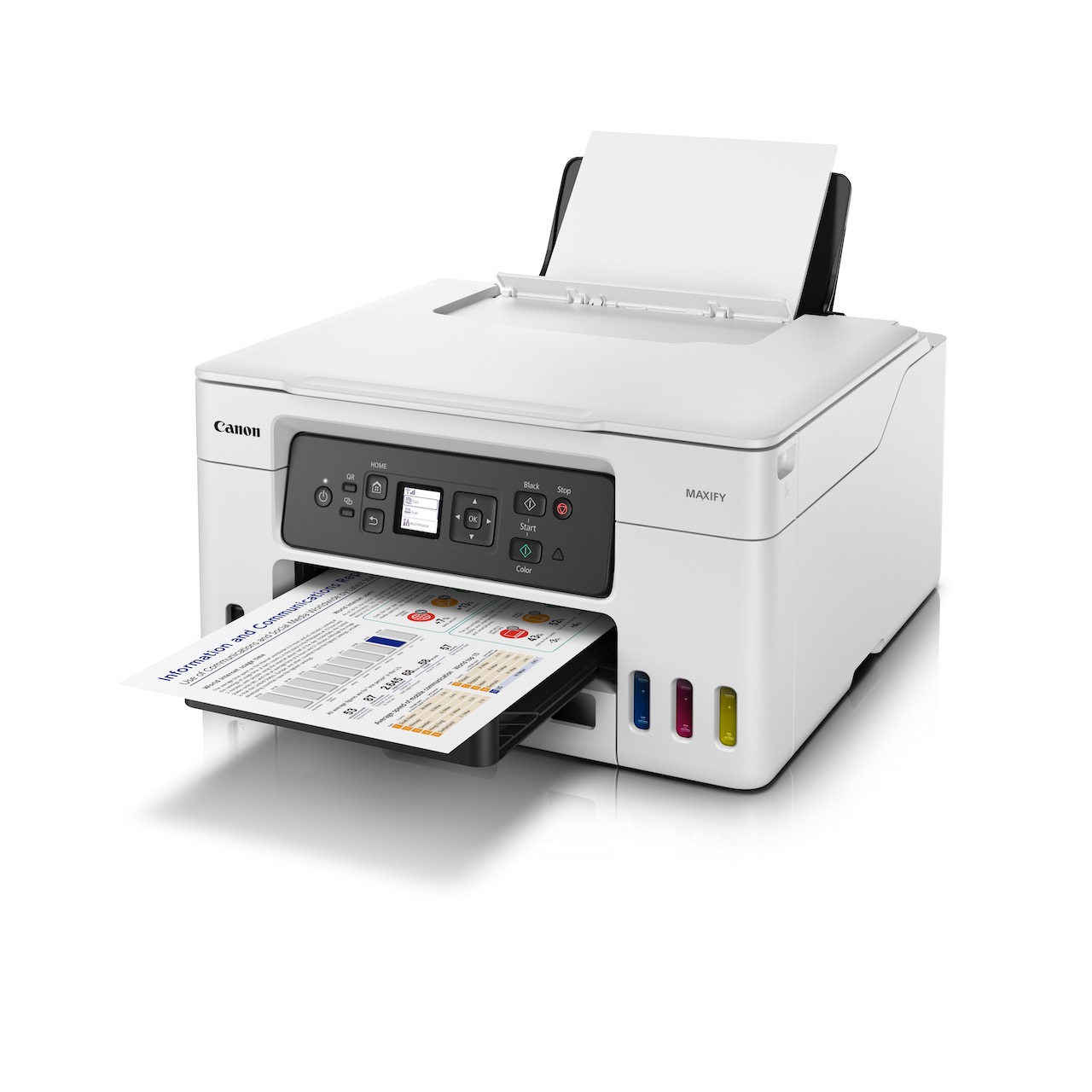 Printing Capabilities and Cost Savings
The MAXIFY GX3070 is also capable of auto duplex (automatic 2-sided) printing and offers fast print speeds that will satisfy users who print more than the occasional single-sheet invoice or business document.
The MAXIFY GX3070 is compatible with the high-yield GI-76 series inks, with a full-colour ink set capable of delivering 6,000 (3) greyscale documents, and 14,000 (3) in colour. More savings can be enjoyed with the Economy Mode print setting turned on, increasing yield up to 9,000 (3) and 21,000 (3) pages in greyscale and colour respectively.
With a user-replaceable maintenance cartridge design, trips to service centres can be minimised, so users can continue to print with minimal downtime
Advanced Security Features 
Advanced security features ensure protection of sensitive documents and secure connection to the printer and wireless (4) network with support for WPA-Enterprise security. The MAXIFY GX3070 also features an Ethernet port for wired network infrastructure set-ups. With more businesses adopting smart devices for work, the free Canon PRINT Inkjet/SELPHY Mobile app available on the Apple Appstore and Google Play support printing, scanning operations, as well as control of device settings, along with the setting up and operation of cloud services.
PIXMA Ink Efficient G4770 and G3770 All-In-One
Cost-effective Solution for High Volume Printing 
Easy ink refilling and huge ink reservoirs underpin the key benefits of the series, enabling smooth operation for home and small offices, by minimising the occurrence of ink running out in the middle of printing.
An improved Economy mode enables the new G series to produce even more printouts from a single set of ink, yielding up to 7,600 pages (3) for monochrome documents and 8,100 pages (3) for colour documents. With such high yields, users can cast worries about running out of ink aside and focus on the tasks at hand.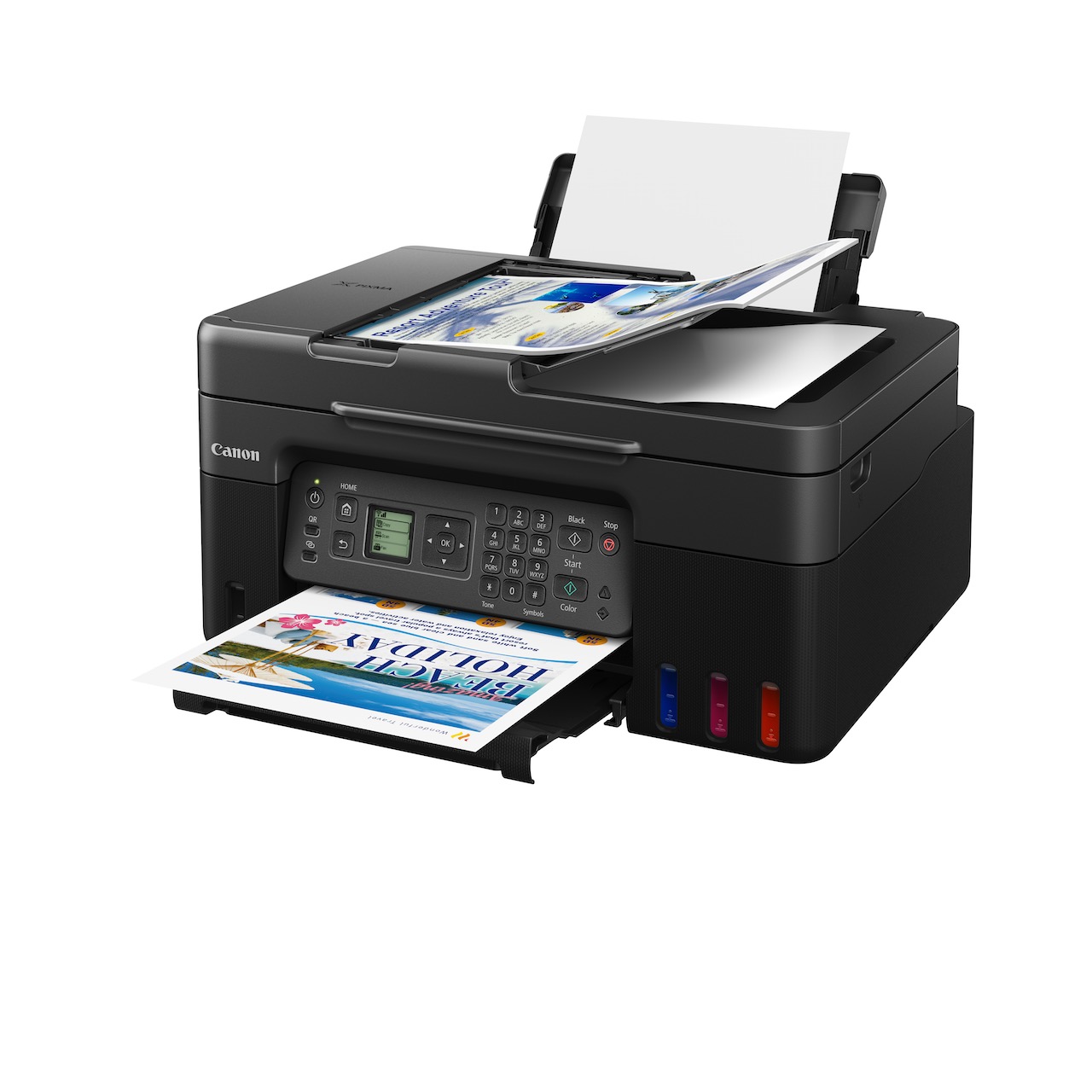 Multi-function Workhorse Printer
The PIXMA G4770 is a print, scan, copy and fax workhorse with a capable 20-sheet automatic document feeder (2) design. The printer is ideal for families who find scanning documents with mobile phone apps inadequate, or home offices with multi-page documents to digitise.
The PIXMA G3770 works as a great alternative if the automatic document feeder is not required. Both printers support wireless mobile printing and scanning, using smartphones or tablets on a local network or the cloud. Users can easily check printer status, configure settings and navigate menu options via the convenient 1.35-inch LCD screen. With the colour options of red, white and black, the PIXMA G3770 will fit in seamlessly with any modern home or office interior.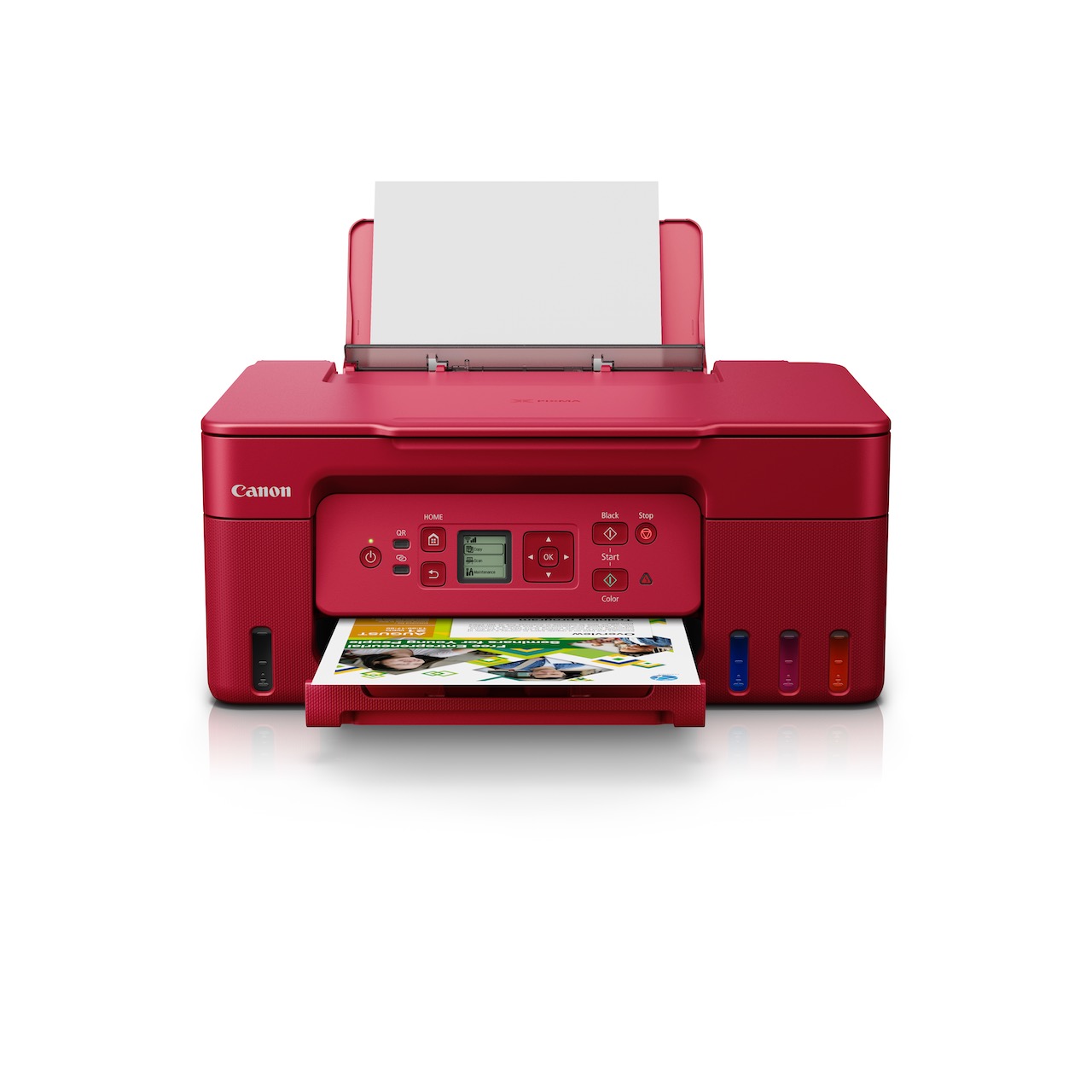 Apps and Connectivity 
With the intuitive Canon PRINT Inkjet/SELPHY app, users can set up the printer wirelessly and enjoy a smooth and seamless connection. They can print, copy and scan effortlessly from mobile devices, check printer status and ink levels, and connect to the cloud for more flexible control.
The Easy-PhotoPrint Editor app makes printing simple and is perfect for business or personal use. With ready-to-use templates, photo layouts, postcards, collages, calendars, photo IDs and even business cards can be created in minutes. The app is available for iOS, Android OS, Windows and macOS.
The Easy-Layout Editor app for Windows OS platform supports editing and content-layout for documents, web pages, and many other file types. The Collation Print feature puts files with different file formats together, before sending them as a single document for printing. Users can also choose the free layout to arrange and print the content.
Pricing and Availability 
The new Canon consumer inkjet printers are now available at Canon authorised dealers, at the following recommended retail prices.
| | |
| --- | --- |
| Model | Recommended Retail Price |
| MAXIFY GX3070 | $649 |
| PIXMA G4770 | $389 |
| PIXMA G3770 | $349 |
Notes:
(1) Based on testing performed in accordance with ISO1179:2000 information and documentation standard – Permanence and durability of writing, printing and copying on paper. This feature is not guaranteed in all cases.

(2)

Only applicable to PIXMA G4770
(3) Inkjet printer page yield is based on the consumption data from the succeeding ink bottles but not the included ink bottles. Colour document page yield is the estimated value based on Canon individual test method using the ISO/IEC 24712 colour chart and continuous printing simulation with the replacement after initial setup.

(4)

Wireless printing requires a working network with wireless 802.11 b/g/n capability. Wireless performance may vary based on terrain and distance between the printer and wireless network clients.
* Information and pictures courtesy of Canon Singapore and Gloo *