It's December 2019, the last month for this year. As we enter into the Christmas festive season, this is the time for festive Christmas celebrations with our family and loved ones, spend quality time strengthening bonds and connections with family and loved ones. While you are planning to spend quality time at home with your family and loved ones, let me share with you LG Christmas Gift Guide 2019, a curated selection of technology gadgets, home appliances and home entertainment, to accompany your family and loved ones during this Christmas festive period.
As you start to plan your Christmas shopping with LG, there is an ongoing LG Red Fair taking place from November 2019 to February 2020, just nice not only for Christmas shopping, you can also prepare ahead for New Year 2020 and Chinese New Year 2020 shopping too!
The Living Space to Gather Around
Our living room is probably going to be a place of family gathering and fun during this festive season. A perfect place to gather, rest, relax and bond together as a family, relatives and friends.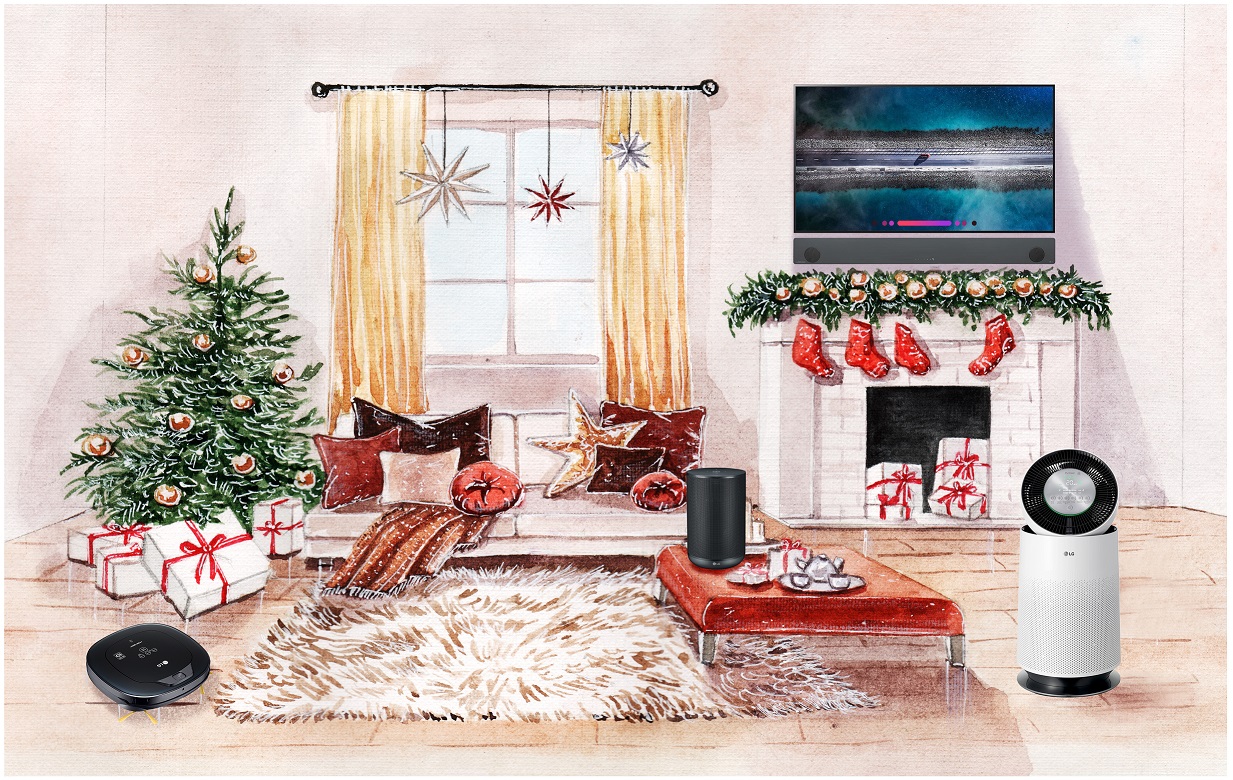 LG OLED TV E9: Outstanding Picture Quality That Will Wow Everyone
With its timeless glass design, the LG OLED TV E9 is easily the centerpiece of the living room. Get cozy with friends and family and enjoy a movie marathon in the comfort of your own home.
LG SL10YG Sound Bar: An Immersive Audio Experience
For a complete cinematic experience, pair the OLED TV E9 with LG's high-end sound bar SL10YG, which supports both Dolby Atmos® and DTS:X. Thanks to these two technologies, you can enjoy breathtakingly realistic surround sound that seems to come from multiple directions and depths.
LG PuriCare™: 360-degree Flow of Clean Air
Keep your indoor air fresh and hygienic for your guests with the LG PuriCareTM Air Purifier (AS60GDWV0), which is capable of 360-degree absorption and discharge.
LG HOM-BOT: Housecleaning Now Automated
Tidying up and preparing the house for incoming guests, or cleaning up after? Let the LG HOM-BOT (model VR66900TWA) be your helpful companion. It features a slide-in mop for a 2-in-1 cleaning solution.
LG WK7: The Voice Command Station for Your Smart-home Ecosystem
To control all the smart solutions, you will need a central interface. Enter the LG XBOOM AI ThinQ WK7, both a speaker and a personal assistant.
The Kitchen Where the Magic Happens
During the Christmas festive season, you can't run away from a good feast, enjoying them with your family and loved ones at the dining table. Therefore, the kitchen is another key part of your home, where all the food preparation and cooking takes place.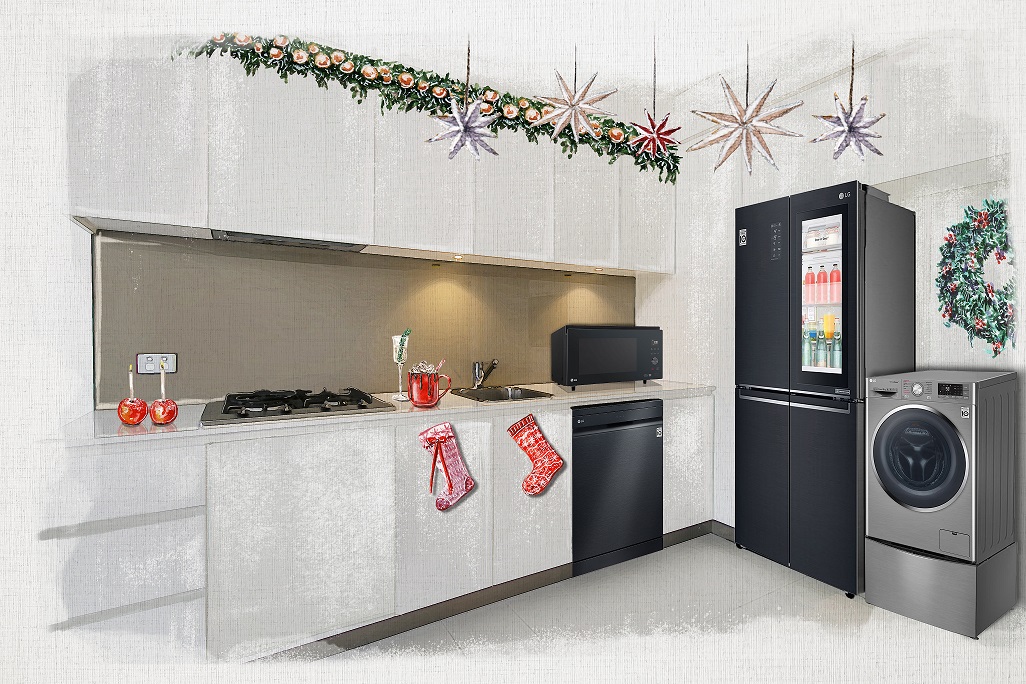 LG Slim French Door Refrigerator with InstaView Door-in-Door™: A Beautiful Display of Your Chilled Items
The LG Slim French Door refrigerator (GF-Q4919MT) is designed to be a space-saving solution. It is slimmer than conventional refrigerators, at just 835 millimeters wide, allowing it to fit comfortably in most kitchen settings. With the InstaView Door-in-Door™ feature, you can simply knock twice on the stylish glass panel for the interior to illuminate.
LG NeoChef™ Microwave Oven: Your Secret Recipe for Kitchen Success
Cooking a Christmas meal can be a stressful affair. With LG NeoChef™ Microwave Oven, you can achieve greater success in the kitchen. Thanks to LG's unique Smart Inverter technology, the NeoChef™ is able to prepare a wider variety of dishes with better results, using its linear power control between 300 to 1,100 watts to evenly cook food all the way through.
LG QuadWash™ Dishwasher: Gentle Washing on Tableware and Glassware 
After-dinner cleanup is no longer a laborious task thanks to the LG QuadWash™ dishwasher, which utilizes four spray arms instead of the usual two in most dishwashers.
LG TWINWash®: Wash Two Different Loads of Laundry Simultaneously
After a fun gathering, let the LG TWINWash washing machine take care of everything that needs cleaning and caring for. Washing two loads of laundry at once is possible with the TWINWash.
The Wardrobe Space to Pamper Yourself
In your own room, your own personal space that you would like to spruce up nice, cosy and beautiful.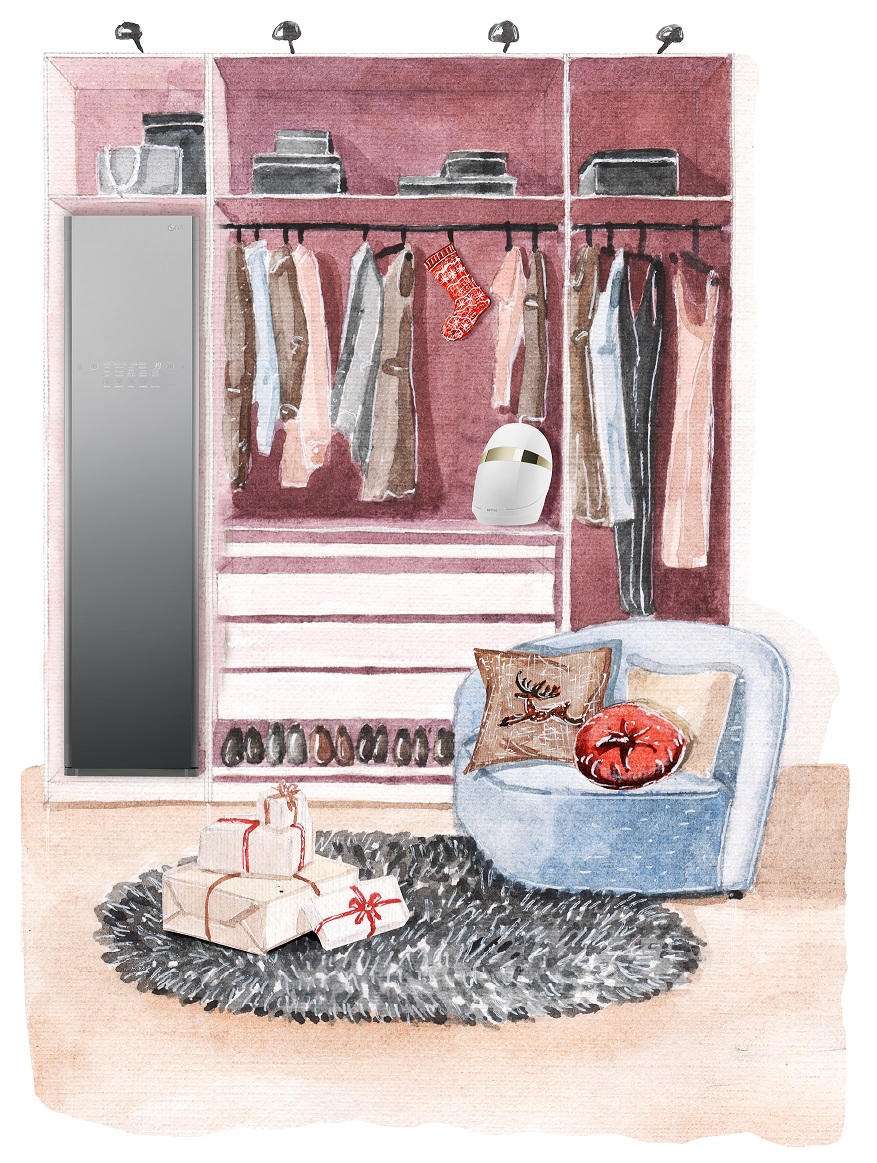 LG Styler with Mirrored Finish: Effortless Outfit Prepping
With the LG Styler, you can easily ensure your multiple outfits are ready for those #outfitoftheday Instagram-worthy shots! Equipped with TrueSteam™ technology, the LG Styler utilizes steam, coupled with a Moving Hanger which slides side to side, to reduce wrinkles and remove odors on fabrics.
LG Pra.L Derma LED Mask: Put Your Best Face Forward this Christmas with Tech Beauty At Home
Achieve glowing skin that will surely be the envy of your friends with the LG Pra.L Derma LED Mask.
The Study for a Well-deserved Respite
The room used for your study or work, doesn't have to be boring, you can also spruce it up like your living room and bedroom into a modern digital study/studio, with the following technology gadgets recommendations below.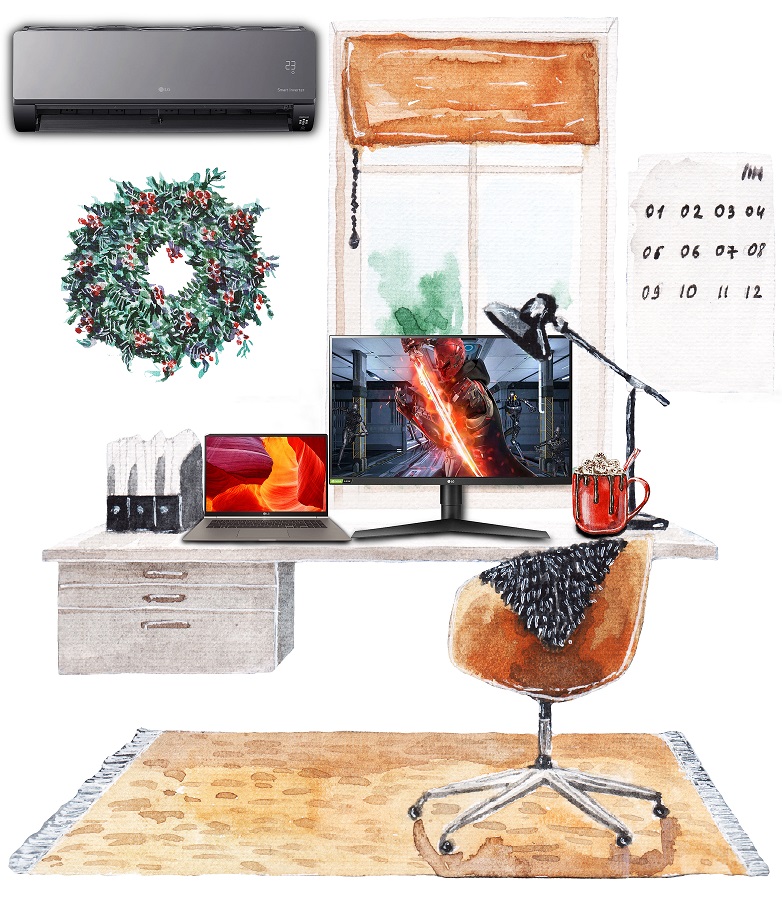 LG ArtCool Plus Air Conditioner: Comfort at the Touch of a Button
After a fun night out, come home to your sanctuary, with the temperature already set to your preference. This is possible with the Wi-Fi-enabled ArtCool Plus Air Conditioner!
LG gram 17: Get More Done with The gram
Boasting a large 17-inch screen, the LG gram 17 is the perfect laptop for the multitasker. With its large screen real estate of 2560 x 1600 resolution, you can launch two different software programs side by side — edit photo or video montages of your holiday celebrations while keeping in touch with your overseas friends via chat messengers.
27GL850 UltraGear™ Monitor: The Monitor That Is a Gamer's and Movie Lover's Dream Come True
No gaming setup is complete without the 27GL850 UltraGearTM monitor. It features fast 144Hz refresh rate, high screen resolutions (2560 x 1440) for incredibly vibrant, flicker-free images.
Wishing you all a Merry Christmas shopping with LG! For more information on LG Red Fair deals, please visit: www.lg.com/sg/promotions
* Information and pictures courtesy of LG Electronics Singapore and Brand Cellar *