First-ever Singtel 5G-enabled livestream of indie rock concert from underground MRT cabin
Singtel announced on 22nd February 2023 that they will be giving consumers, the first-ever Singtel 5G-enabled livestream of indie rock concert from underground MRT cabin. Consumers in Singapore were given the opportunity for the first time ever, to experience a 5G-enabled musical performance, live-streamed from an MRT cabin underground on the North-South line. This was held on the 23rd February 2023, featuring local band, Sobs, performing some of their most popular indie rock songs that will be transmitted over Singtel's social media platforms from 17m underground via Singapore's most powerful 5G network.
The event is part of a larger six-week campaign involving content across various MRT lines and Singtel's social media channels to drive awareness of Singtel 5G's capabilities and benefits to consumers from how they communicate, work, and play with technology.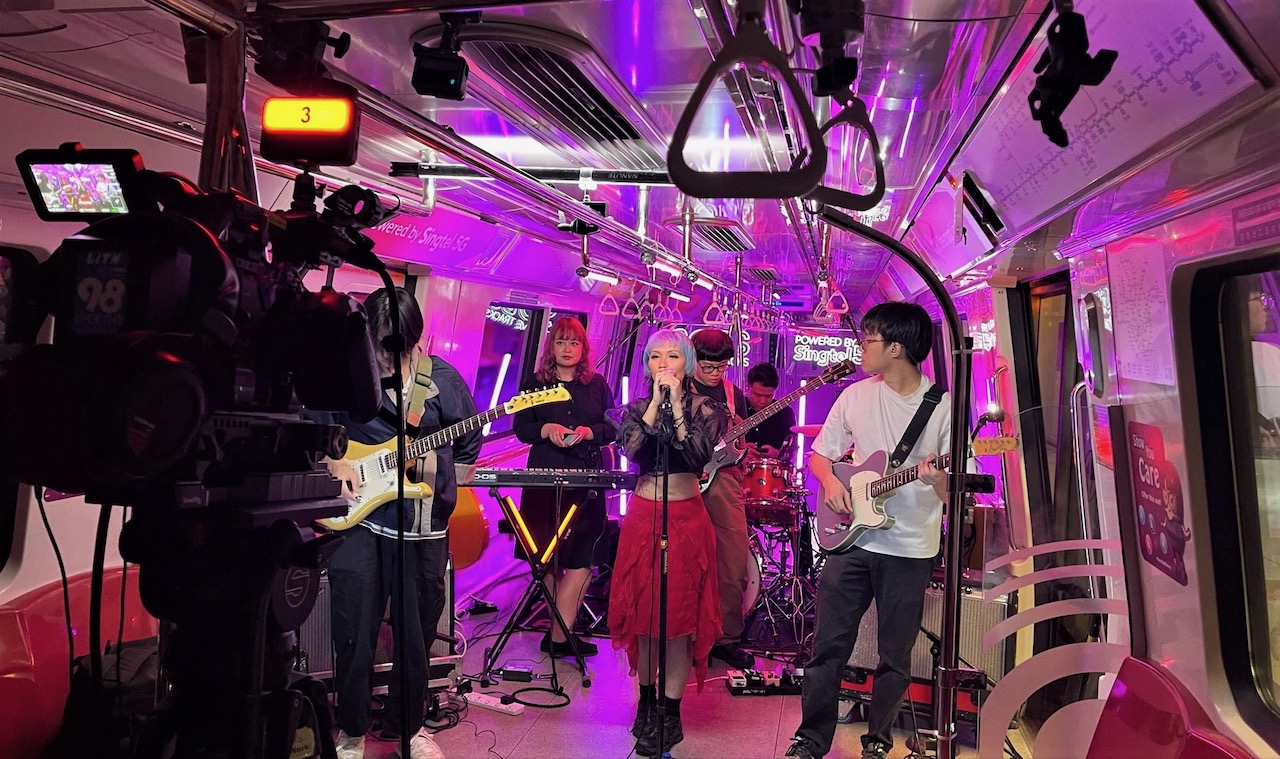 "As the only telco to reach nationwide and underground coverage across the most travelled main MRT lines, we are excited to have commuters experience Singapore's most powerful and fastest 5G network first-hand. By ensuring high-quality and uninterrupted connectivity on trains or at stations, consumers are in for an exceptional digital experience. With the Singtel 5G network's ultra-fast and low latency capabilities, consumers can upload and download content, watch live video streams, or play games in high definition while on the move. This showcase is part of ongoing demonstrations of our 5G capabilities since attaining 5G standalone (SA) nationwide coverage last July," said Ms Diana Chen, Managing Director, Customer Value of Singtel.
Singtel 5G SA network coverage in Singapore
Singtel has the widest 5G SA network coverage, comprising more than 1,300 outdoor locations and over 500 in-building, as well as underground sites. Singtel is also the first and only network provider with the most extensive 5G coverage on Singapore's MRT lines, offering full 5G coverage on the North-South Line (NSL), the East-West Line (EWL), and the North-East Line (NEL) that runs entirely underground.
Singtel won the Ookla's Speed test Awards for Singapore's Fastest 5G Mobile Network 2022, its third consecutive win, topping the charts among all local telcos with a Speed Score of 327.47, median download speeds of 394.58 Mbps, and median upload speeds of 35.78 Mbps. Singtel was also awarded six Open Signal wins in September 2022, including the fastest 5G download speed in South-East Asia and Oceania and Global Leader in 5G for gaming experiences.
Singtel 5G-first use cases
In the past year, Singtel has showcased many 5G-first use cases – from the livestream of Mediacorp's "Let's Celebrate 2023" countdown party to the Singapore MotorCross Beach Race in Sentosa – both held outdoors. It has also applied network slicing to its digital app marketplace, CAST, so customers could enjoy their favourite sporting events, such as the FIFA World Cup Qatar 2022 and Formula One lag-free via the ultra-fast 5G network.
Enjoy uninterrupted 5G experiences on the move
A key feature of the Singtel 5G campaign, which started on 16 February is the concert by Sobs that will be livestreamed via Singtel's social media platforms – YouTube, Facebook, and Instagram from 3.30pm to 4pm on 23 February 2023. Beyond the livestreamed performance, Singtel will be capturing commuters' attention with examples of the benefits of 5G covering the train platform screen doors at Raffles Place and Clementi MRT stations and in-train windows. Designed in its signature vibrant, red-coloured theme, the use cases feature activities like gaming, video calls, and streaming of dramas and movies that commuters would typically be engaged in, accompanied by bite-sized witty copy.
Videos expounding the advantages of Singtel 5G will also be posted on its YouTube and Facebook pages. This campaign will run till the end of March 2023.
If you like to discover and know more about Singtel 5G for Consumers, please visit this link!
* Information and picture courtesy of Singtel *