G-SHOCK recently announced the local campaign "a lifestyle campaign" featuring GM-2100 & GM-S2100. For all Casio and G-SHOCK watch lovers out there, here are some tips for you to style G-SHOCK watches on social media, website or at the shopfront.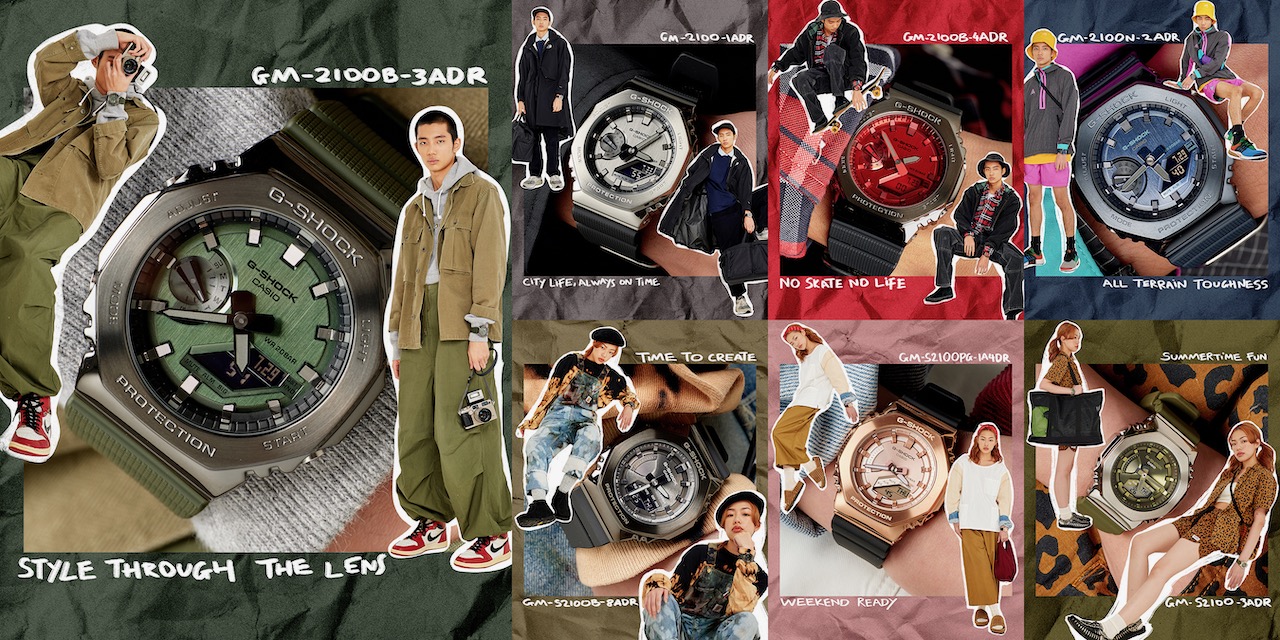 "a lifestyle campaign" Theme
G-SHOCK presents the GM-2100 Style File – a visual style kaleidoscope featuring the new GM-2100 and GM-S2100. The distinct and stylish line of shock-resistant watches are your new daily essentials for a day out in the city, any outdoor activities, and whenever you are hitting the streets to explore your creativity. Style it up or wear it casually, there are no limits to coordinating your own fashion fits with these watches.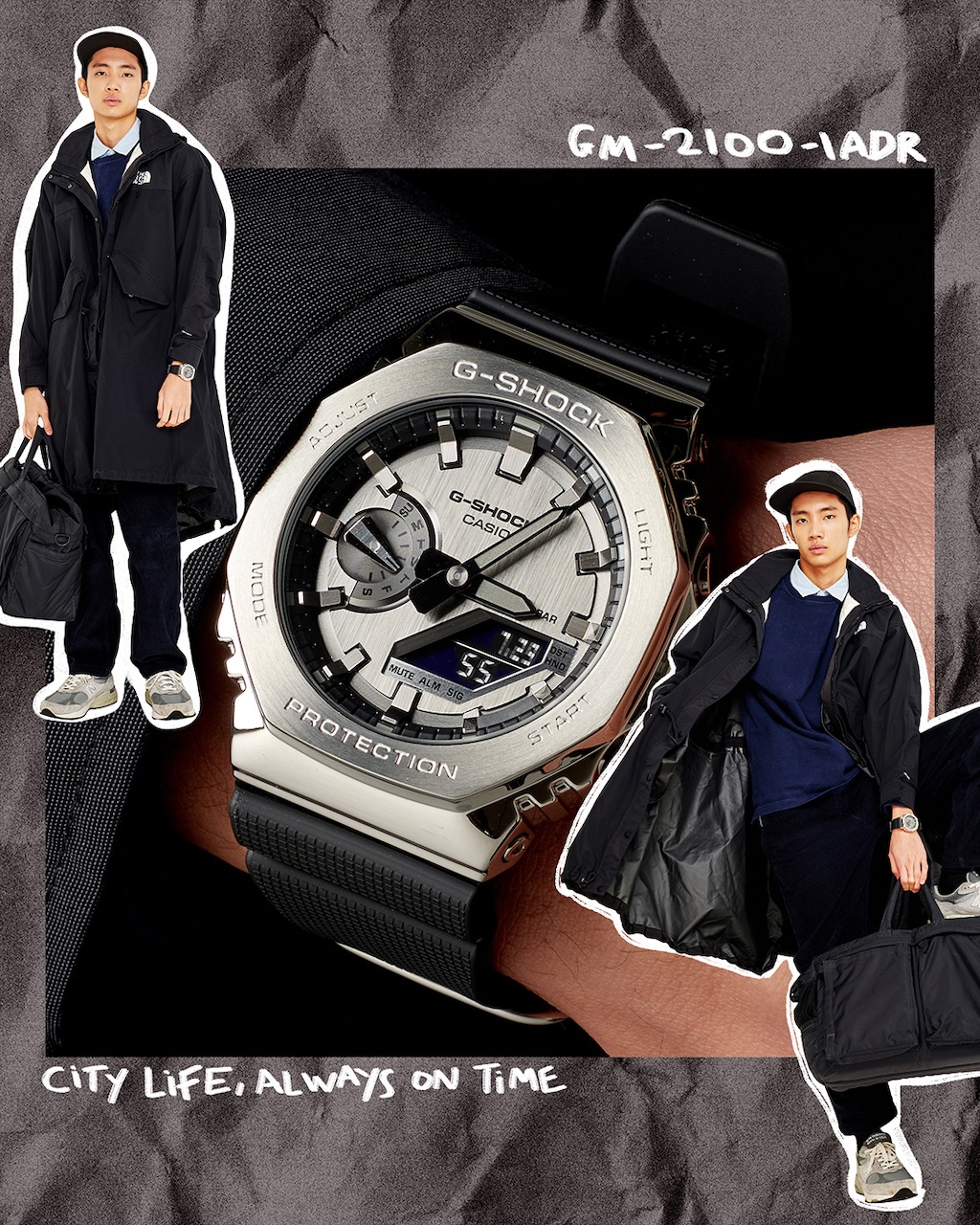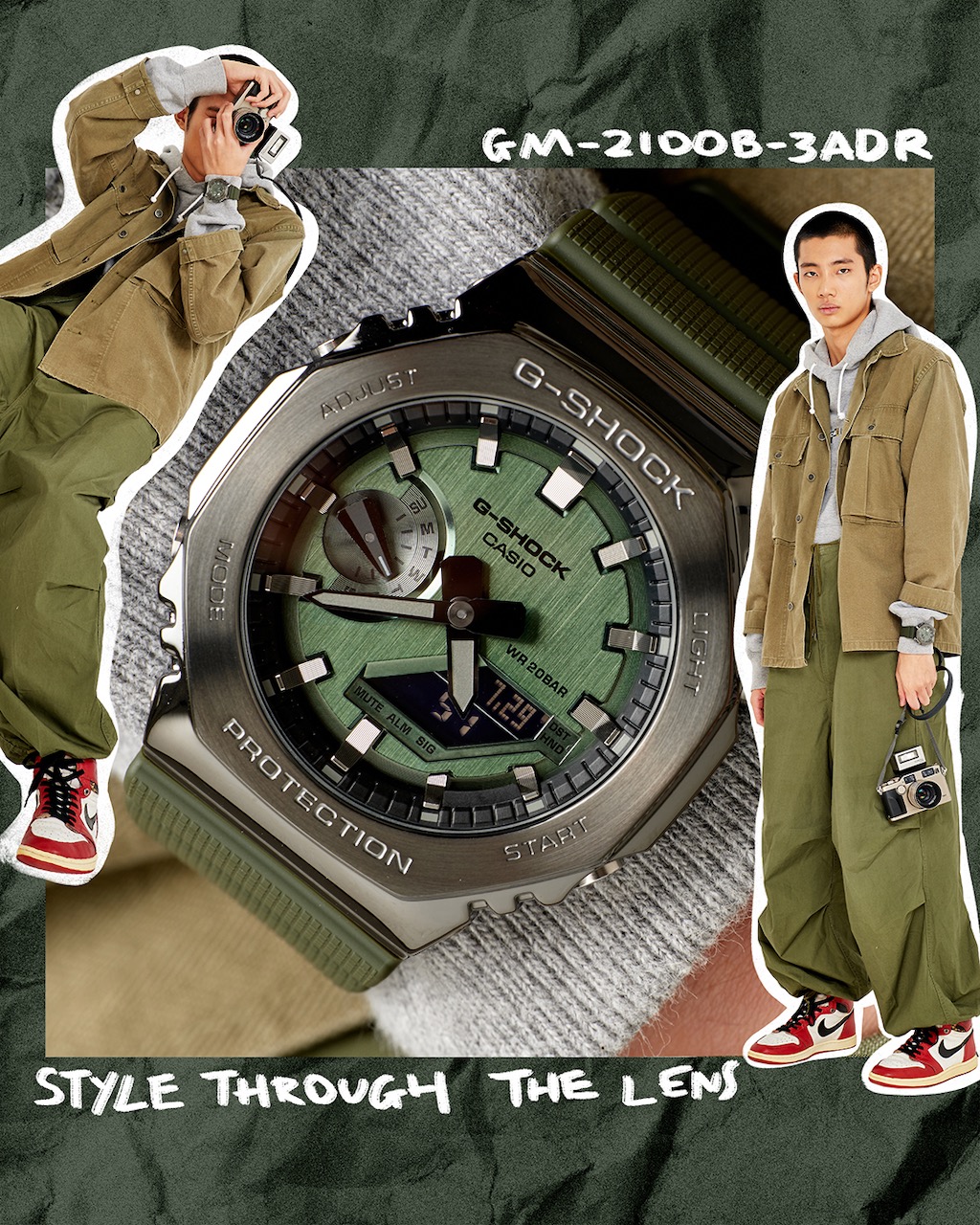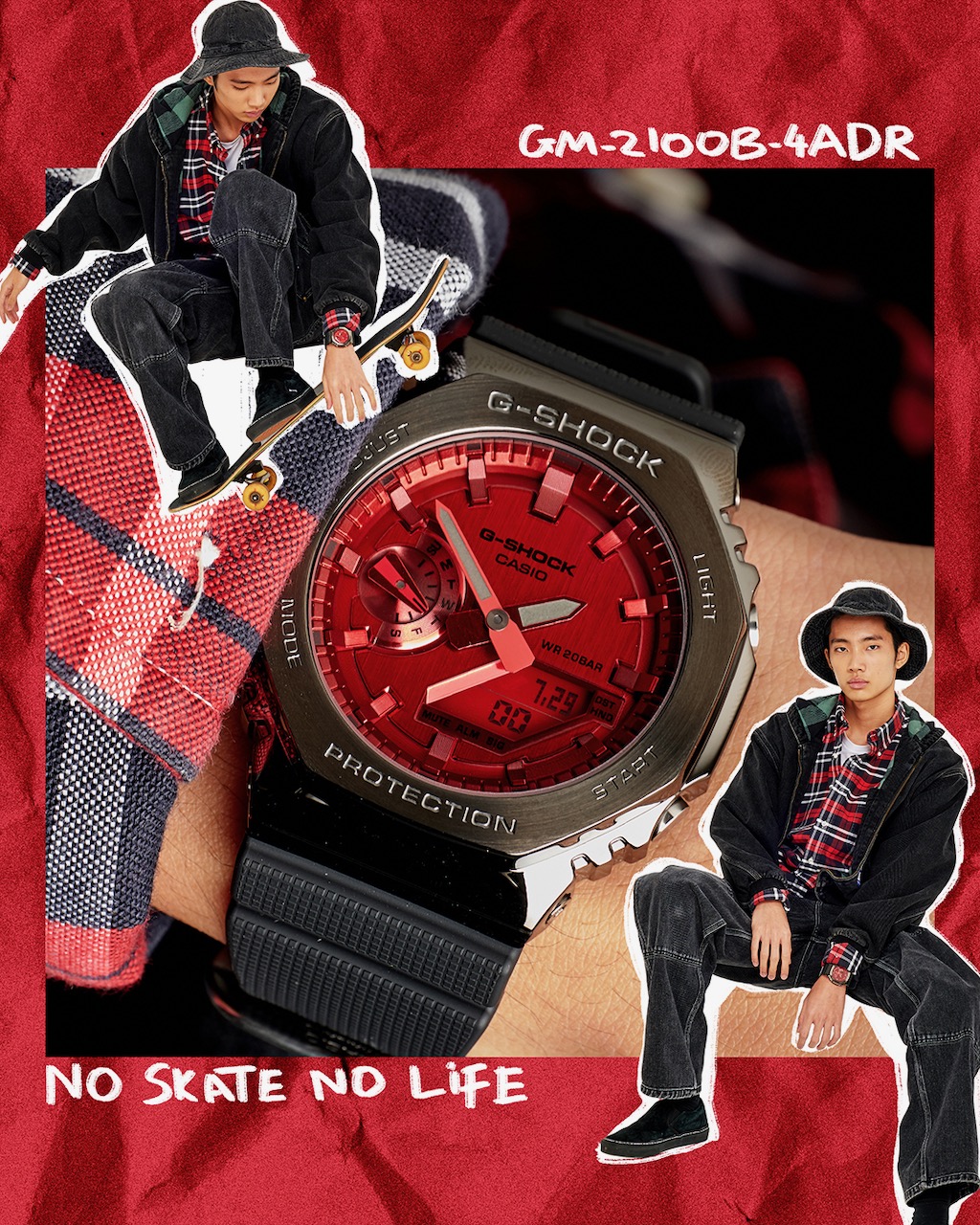 The G-SHOCK GM-2100 and GM-S2100 watches are based on the GA-2100, which is popular for its octagonal shape and streamlined design, but now incorporates a metal bezel for an even more stylish look. A round hairline finish is applied to the top surface of the bezel and a mirror polish to the sides, giving it a beautiful metallic gleam. These watches highlight the power and beauty of metal in a simple design that coordinates easily with a wide range of fashions.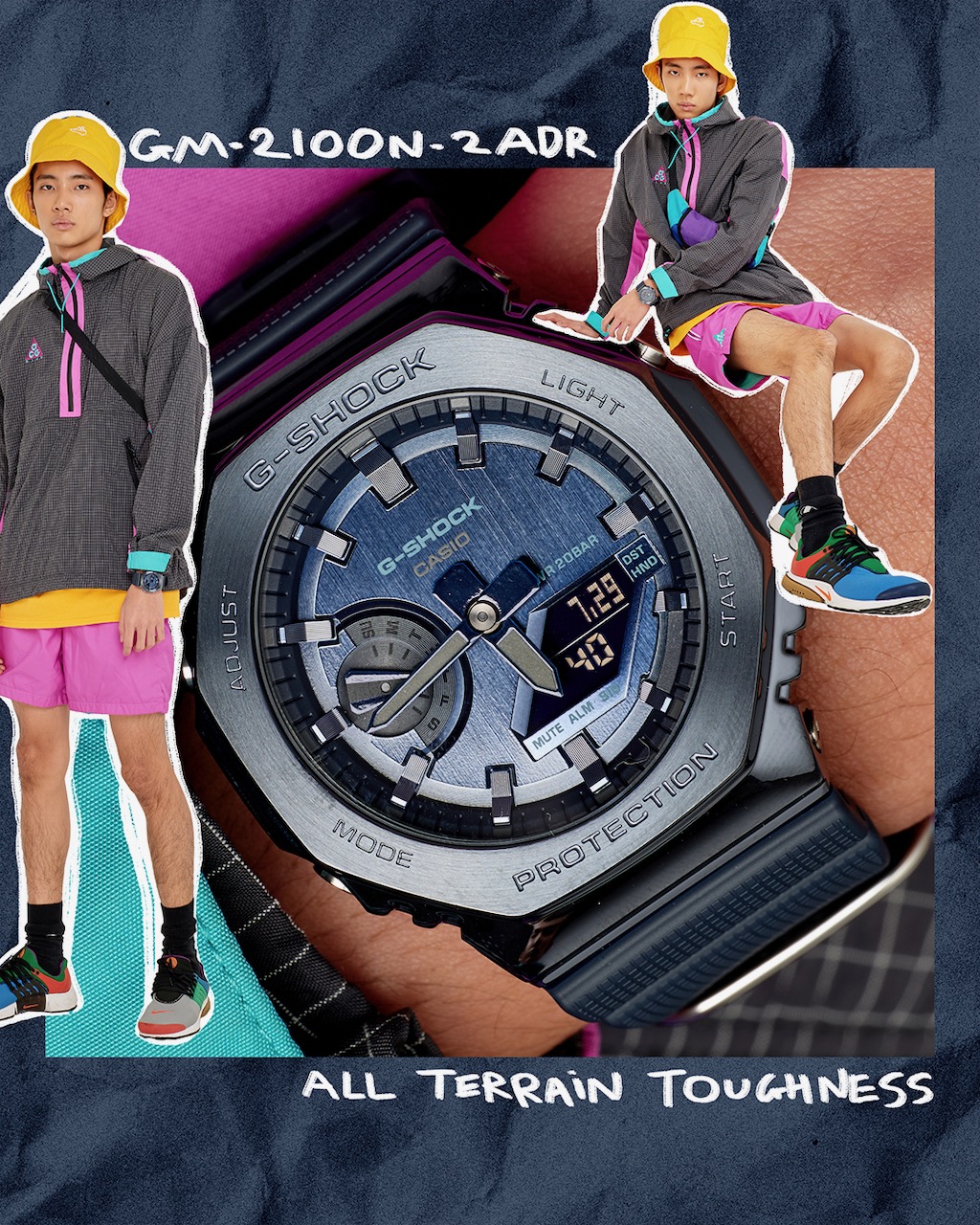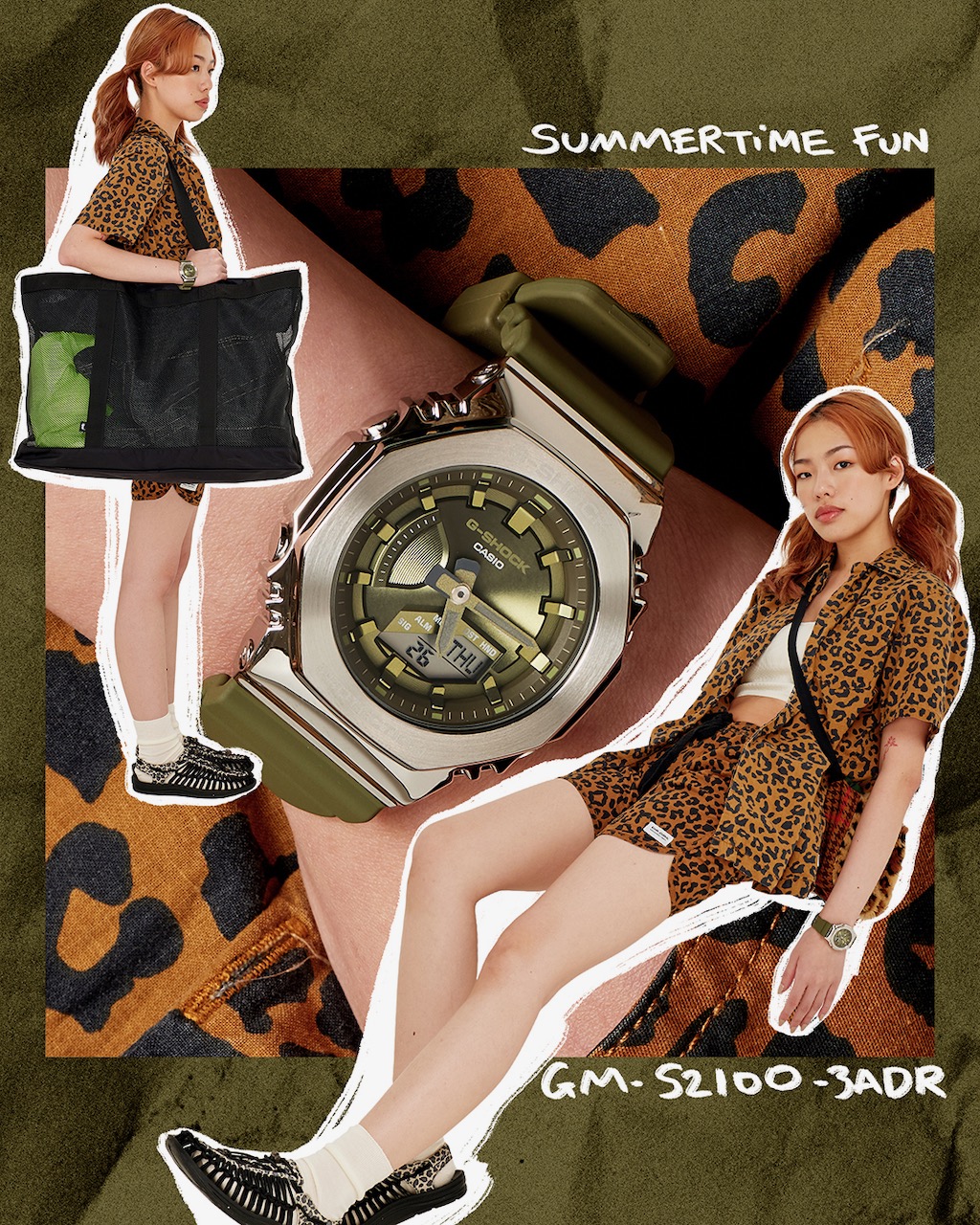 Functionality wise, the GM-2100 and GM-S2100 watches are equipped with world time which allows you to select time from 48 cities and a double LED light for the face and for the digital display which gives a clear view in dark places.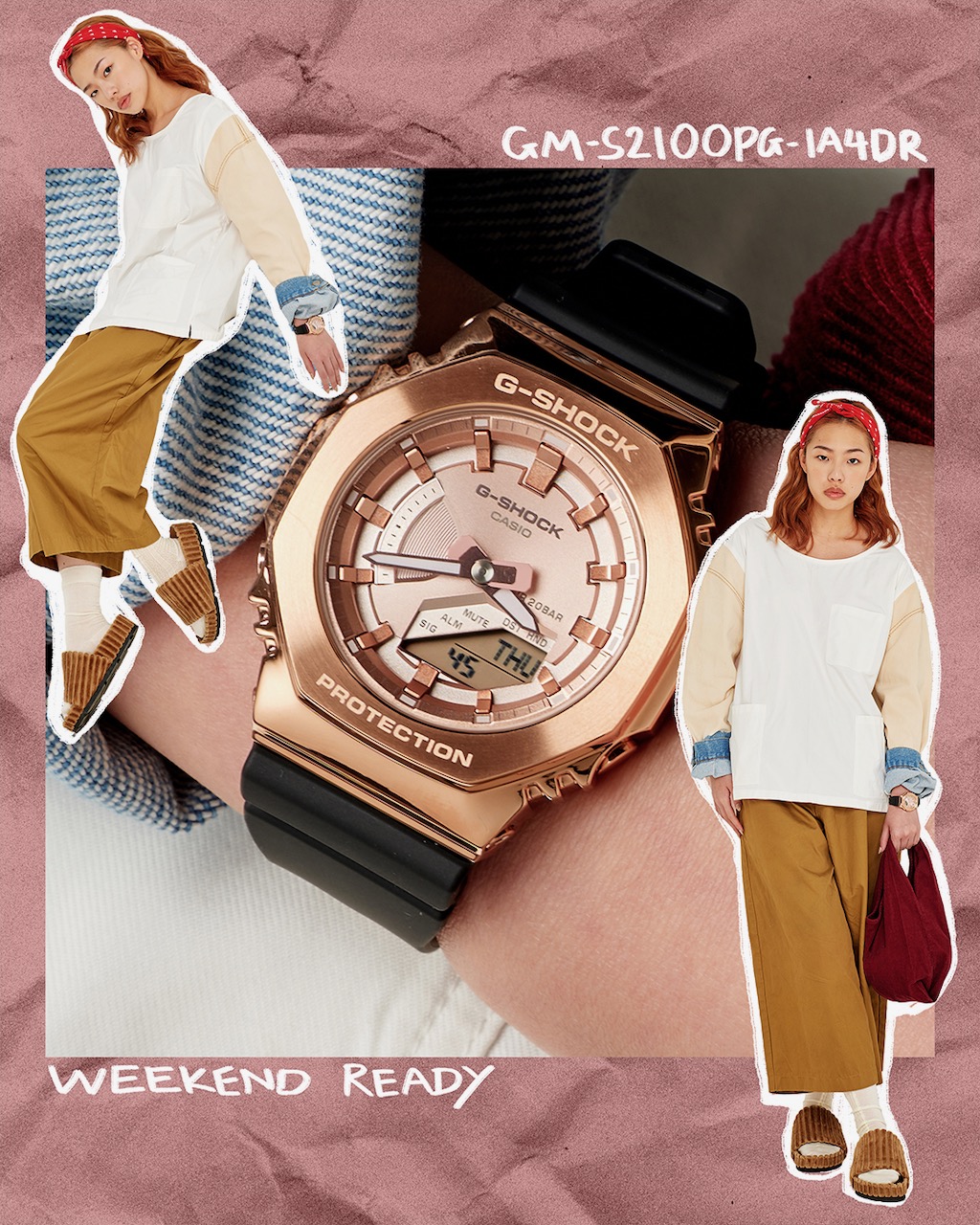 Pricing and Availability
The G-SHOCK GM-2100 and GM-S2100 will be available at https://gshock.casio.com/sg/ and all G-SHOCK Stores.
Specifications
GM-2100
| | |
| --- | --- |
| Construction | Shock-resistant |
| Water Resistance | 200 meters |
| World Time | 48 cities (31 time zones, daylight saving on/off) and Coordinated Universal Time (UTC) |
| Stopwatch | 1/100 second (00'00″00 to 59'59″99) / 1 second (1:00'00" to 23:59'59"); measuring capacity: 23:59'59.99″; measuring modes: elapsed time, split time, 1st-2nd place times |
| Countdown Timer | Measuring unit: 1 second; countdown range: 24 hours; countdown start time setting range: 1 second to 24 hours; 1-second accuracy |
| Alarm | 5 daily alarms; hourly time signal |
| Other Functions | Full auto-calendar; 12/24-hour format; button operation tone on/off; hand shift feature; double LED light (Super Illuminator, afterglow with selectable illumination duration: 1.5 or 3 seconds) |
| Accuracy at Normal Temperature | ±15 seconds per month |
| Battery Life | Approx. 3 years on SR726W × 2 |
| Size of Case | 49.3 × 44.4 × 11.8 mm |
| Total Weight | Approx. 72g |
GM-S2100
Construction

Shock-resistant

Water Resistance

200 meters

World Time

48 cities (31 time zones, daylight saving on/off) and Coordinated Universal Time (UTC)

Stopwatch

1/100 second

Measuring capacity: 00'00"00~59'59"99 (for the first 60 minutes)

1:00'00~23:59'59 (after 60 minutes); Measuring unit: 1/100 second (for the first 60 minutes); 1 second (after 60 minutes)

Measuring modes: Elapsed time, split time

Countdown Timer

Measuring unit: 1 second; Countdown range: 24 hours

Countdown start time setting range: 1 minute to 24 hours (1-minute increments and 1-hour increments)

Alarm

5 daily alarms; hourly time signal

Other Functions

Full auto-calendar; 12/24-hour format; button operation tone on/off; hand shift feature; double LED light (Super Illuminator, afterglow with selectable illumination duration: 1.5 or 3 seconds)

Accuracy at Normal Temperature

±15 seconds per month

Battery Life

Approx. 3 years on CR1025

Size of Case

45.9 × 40.4 × 11.0 mm

Total Weight

Approx. 55g
* Information and pictures courtesy of Casio and Brand Cellar *