G-SHOCK announced New Limited Edition MR-G Hana-Basara
G-SHOCK recently announced the release of a new limited edition for MR-G watch, it's the Hana-Basara, commemorating the MR-G 25th Anniversary. Fans of Casio/G-SHOCK, this limited edition watch would definitely interest you, not just the design and aesthetic, the story behind the Basara status too!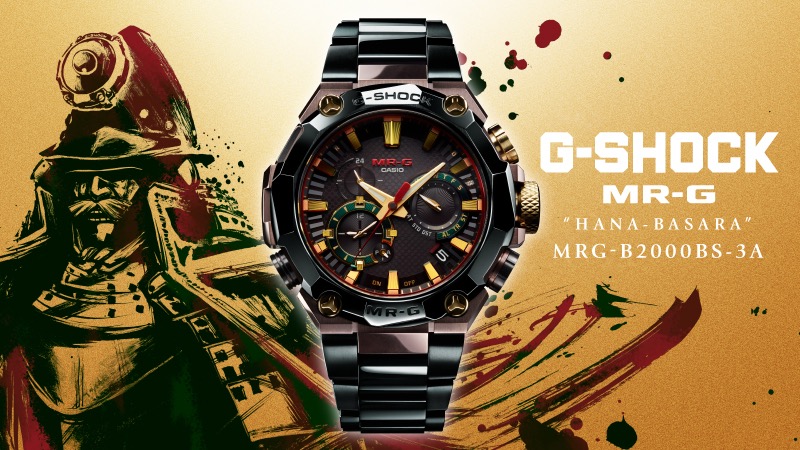 Basara signifies as aesthetic sense of favouring a chic, ornate look liberated from the status quo. Back when Japan was still divided up into competing domains, Samurai commanders who had unshakeable will and challenged conventional thinking were called Basara commanders. This name recognised not only their physical prowess, but also their keen aesthetic sensibilities. They valued "Hana", brilliance in their armour and helmet and sought innovative techniques and creative designs to express their individuality.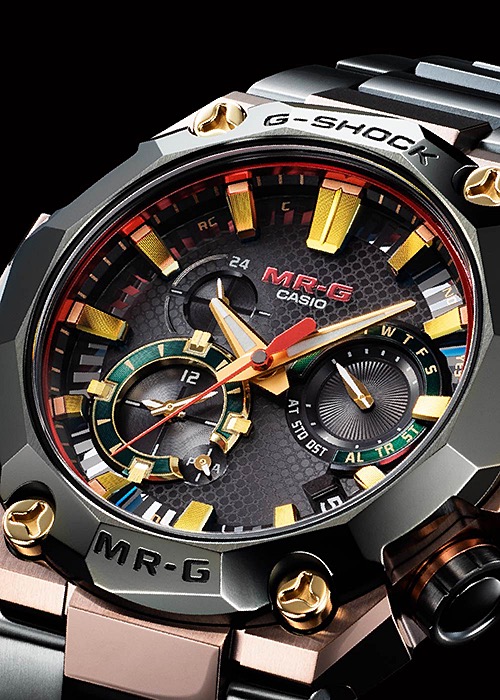 This model has features in color, finish and material. The bezel and band are applied with a traditional Japanese Kurogane-iro (literally iron-color) DLC coating, which gives this model its main colouring. The Kurogane is a dark blue green colour produced when armour and swords were heated during their forging. Brown ion plating (IP) is used for the case as well, while red around the face and green around the inset dials produce a calm colour combination inspired by the elegance and beauty of ancient Japanese armour.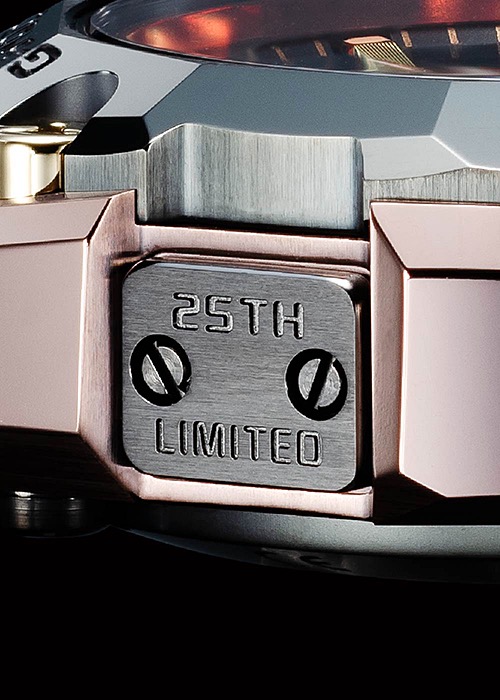 This watch bezel is produced by COBARION™ which is 4 times harder than pure titanium, is finished by Kazuhito Komatsu, who is a cutting and polishing artisan famous for Hana Shinjyu (faceted pearls).  Facet cutting combines several small surfaces to maximise the transparency of a gemstone. Cutting metal with this method requires a very high level of skill. Maximum production per day was limited to just a few pieces.
As for the case and band, they are made of DAT55G titanium alloy, which is three times harder than pure titanium. This combines with the COBARION™ bezel to provide outstanding hardness for the entire watch.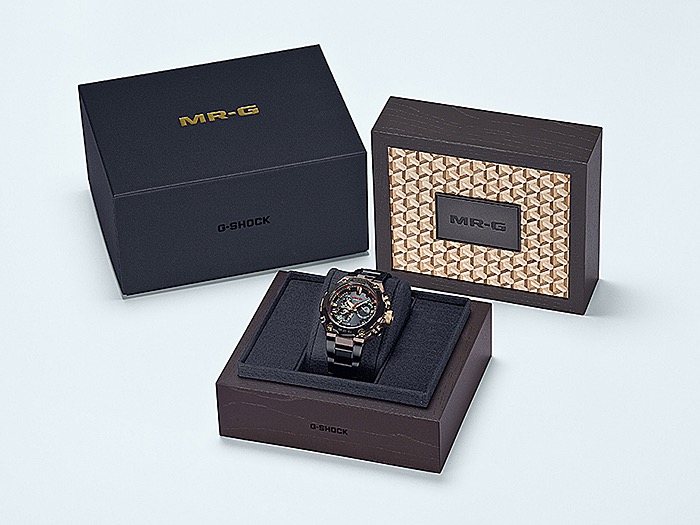 The MRG-B2000 features an auto time signal reception which gives you easier time adjustment and smartphone link by Bluetooth® to allow you to use the Application MR-G Connected. Also, this watch is solar powered.
Pricing and Availability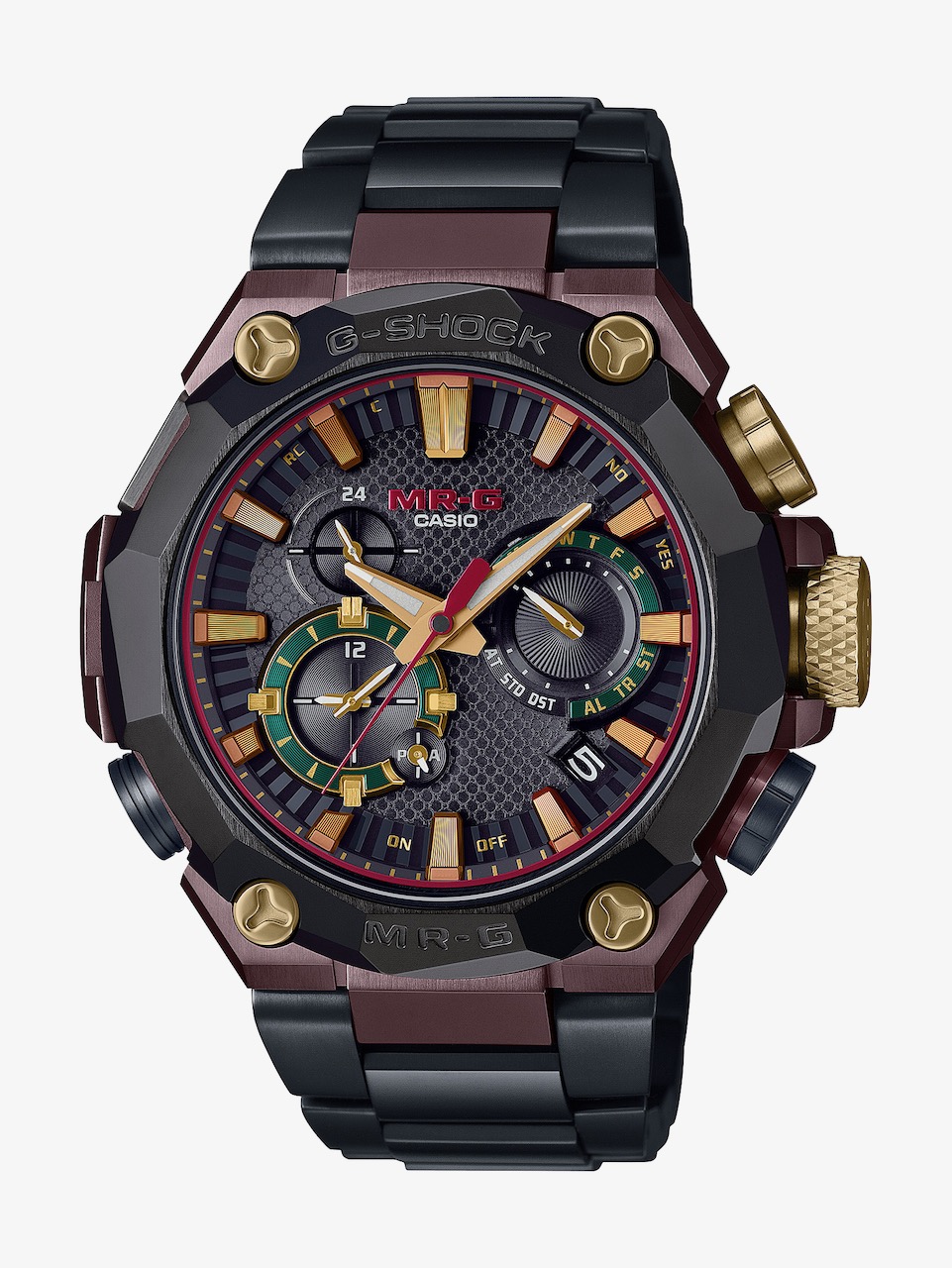 The G-SHOCK Limited Edition MR-G Hana-Basara watch will be available at G-SHOCK MBS Premium and ION store from 23 July 2021.
Technical Specifications
MRG-B2000
Construction

Shock-resistant

Water Resistance

200 meters

Radio Frequency

77.5 kHz (DCF77: Germany); 60 kHz (MSF: UK); 60 kHz (WWVB: USA); 40 kHz (JJY: Fukushima, Japan) / 60 kHz (JJY: Kyushu, Japan); 68.5 kHz (BPC: China)

Radio Wave Reception

Automatic reception up to six times a day (except for use in China: up to five times a day)

Solar Powered

Tough Solar

World Time

27 time zones, Home city time swapping, auto summer time (DST) switching

Stopwatch

1 second; Measuring capacity: 23:59'59

Measuring mode: Elapsed time

Countdown Timer

1 second; Countdown range: 24 hours; Countdown start time setting range: 1 minute to 24 hours (1-minute increments)

Smartphone Link

Wireless linking using Bluetooth®

Alarm

Daily alarms

Other Functions

Magnetic resistant; LED light (Super Illuminator) with afterglow; Auto hand home position correction; Hand shift feature (Hands move out of the way to provide an unobstructed view of sub dial); Power Saving (hands stop to save power when the watch is left in the dark); Full auto-calendar (to year 2099); Date display; Day indicator

Accuracy at Normal Temperature

±15 seconds per month (with no signal calibration and mobile link

function)

Battery Life

5 months on rechargeable battery (operation period with normal use without exposure to light after charge)

26 months on rechargeable battery (operation period when stored in total darkness with the power save function on after full charge)

Size of Case

54.7 × 49.8 × 16.9 mm

Total Weight

MRG-B2000BS:163g

   
* Information and pictures courtesy of Casio and Brand Cellar *