G-SHOCK announced new Mystic Forest series
G-SHOCK recently announced the new Mystic Forest series of watches to their line-up. This series is based on 2 base models and they come in 2 colours. The base models are the iconic GA-2100 with an octagonal shape and slim design, while the GA-2200 comes with a sporty design. The colourways are green and brown created by the resin of the different colours for a unique mixed texture. These Mystic Forest watches are able to match street fashions or even casual fashion styles.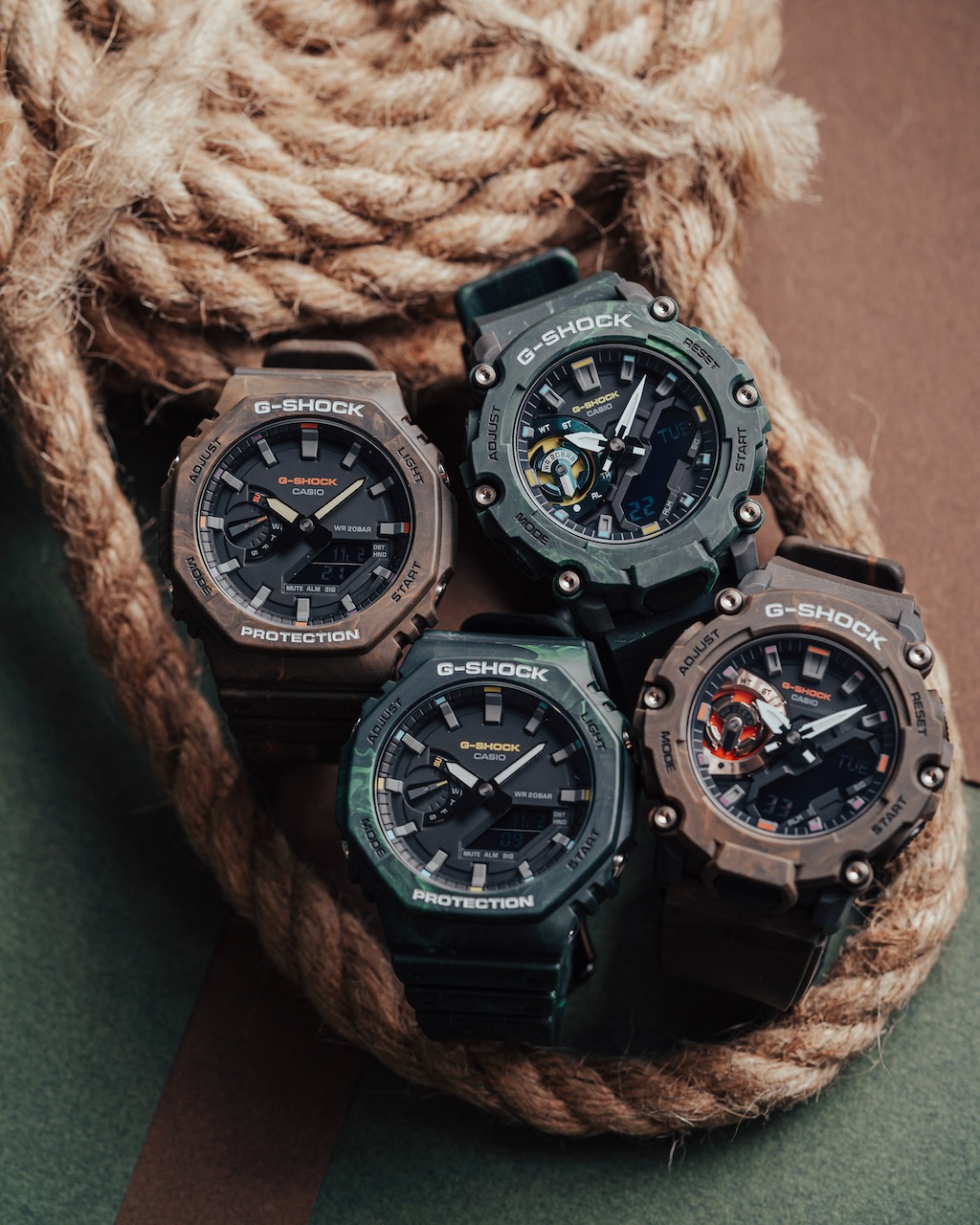 On the functions of these watches, the Mystic Forest models can set world time and have double LED light for the face and digital display that helps you read in dark places. They are also shock-resistant, 200m water-resistant, and they are equipped with a stopwatch and countdown timer.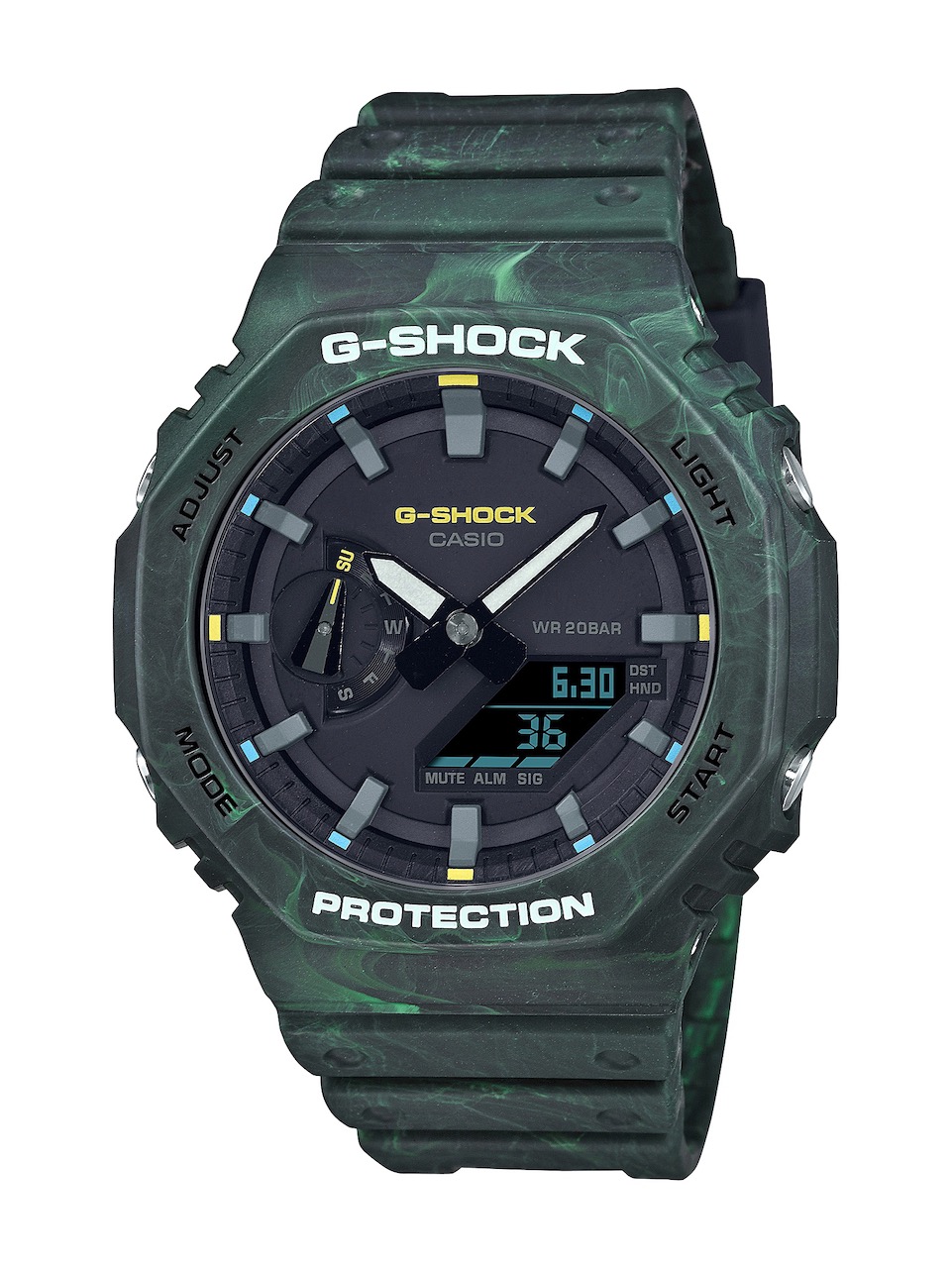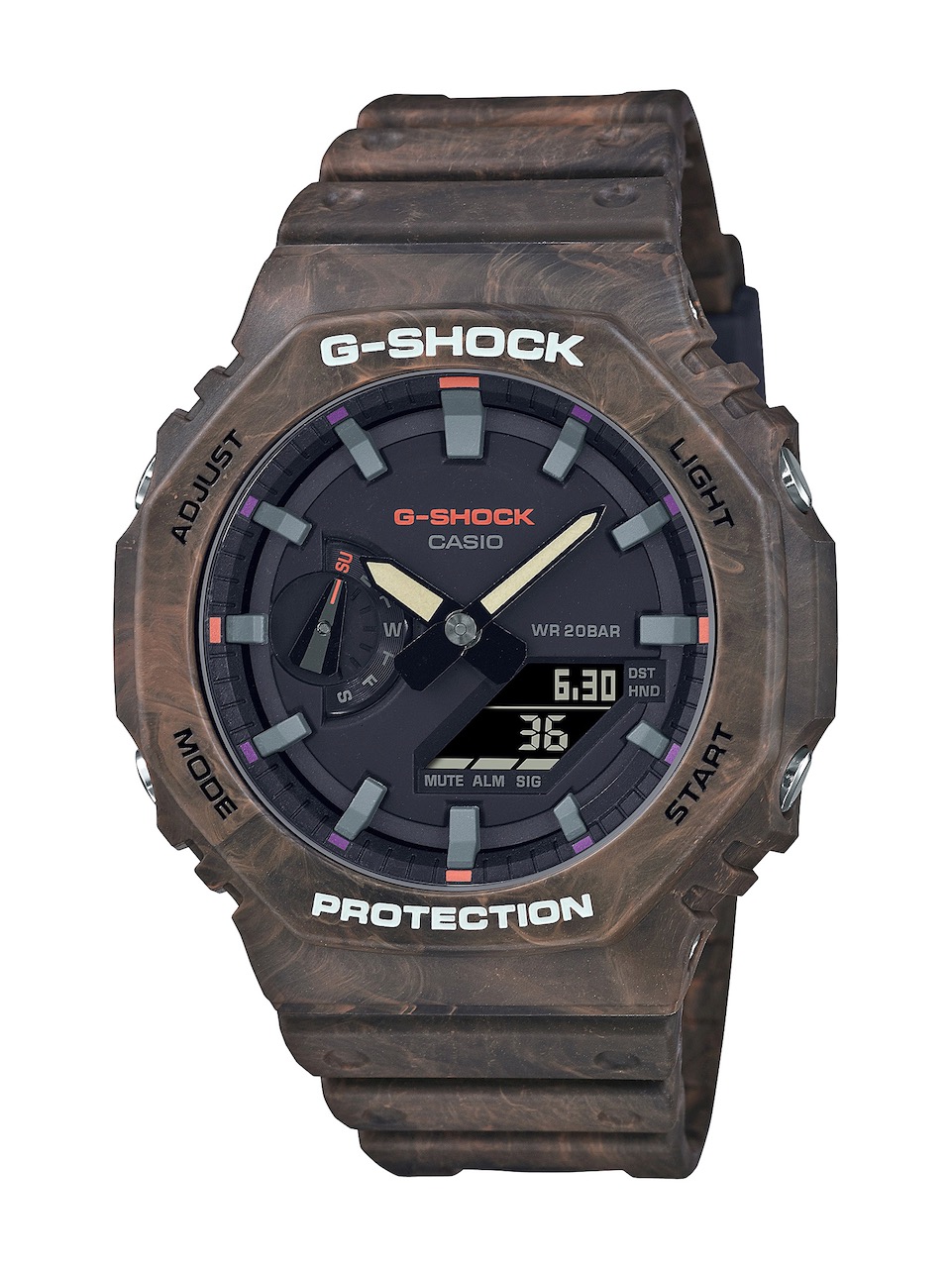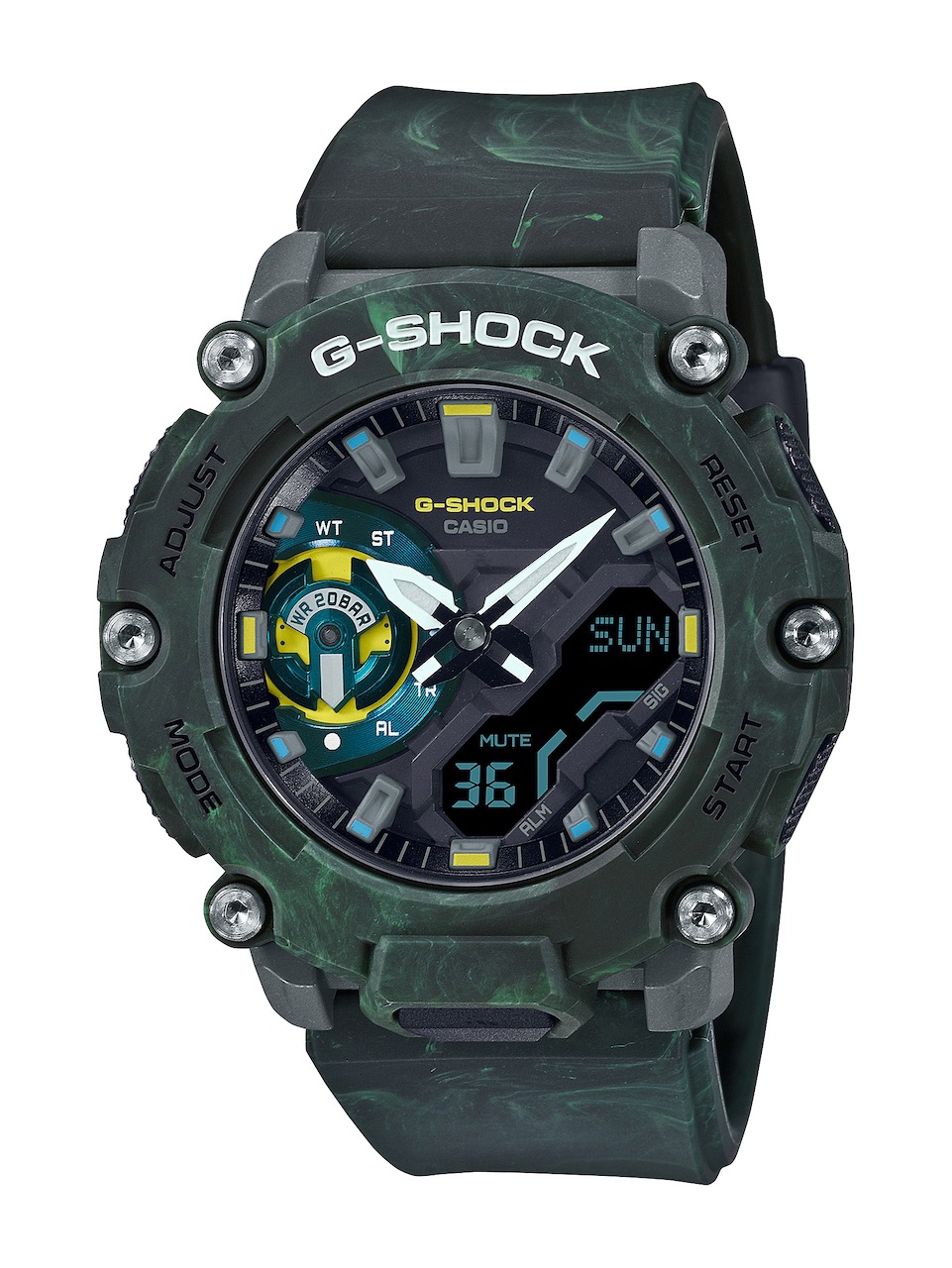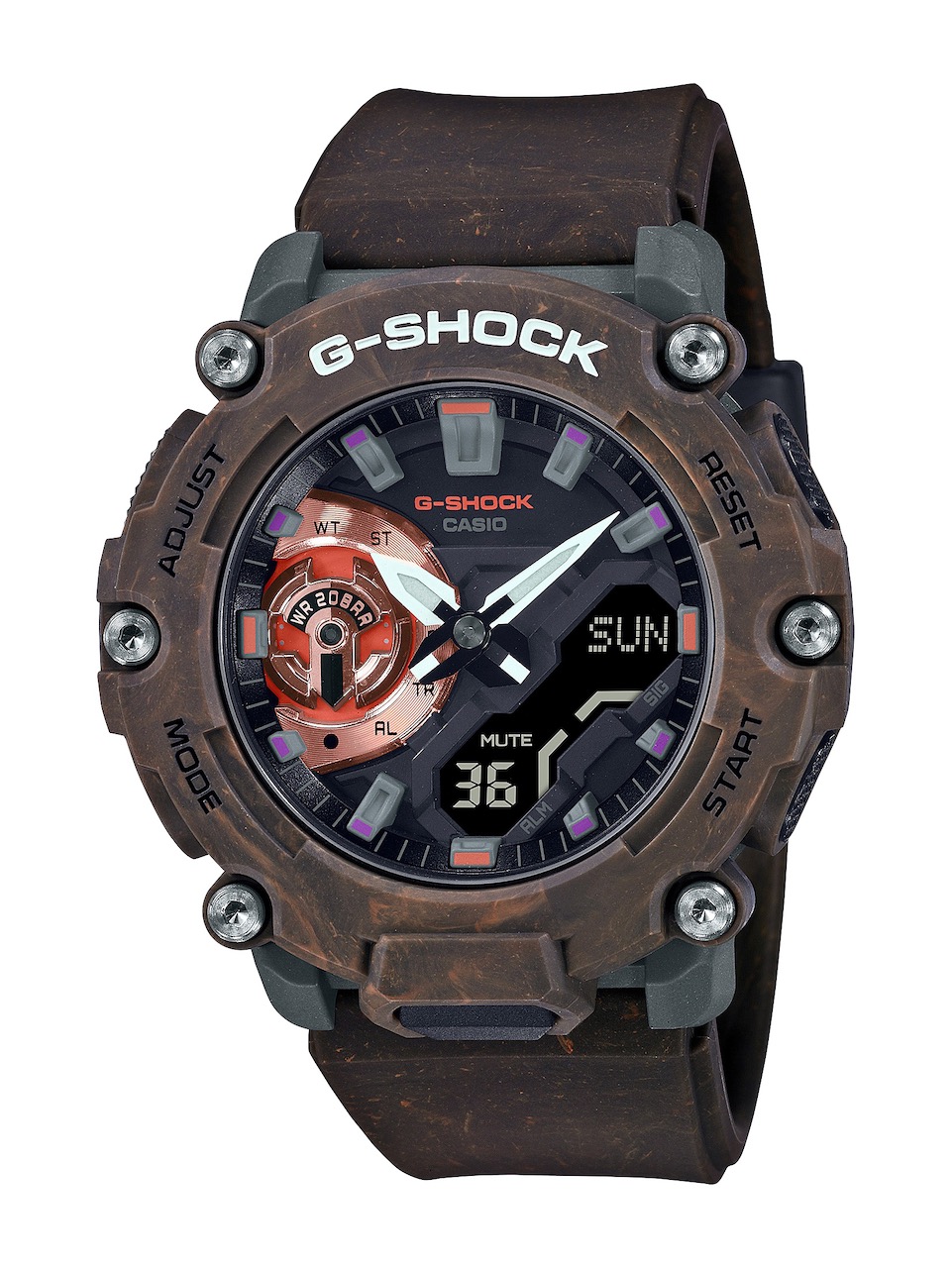 Pricing and Availability
The GA-2100FR will be available on available on https://gshock.casio.com/sg/ and at all G-SHOCK stores from 10 December 2021.
The GA-2200MFR is estimated to launch in January 2022.
For more information on the GA-2100FR-5ADR, please visit here.
For more information on the GA-2100FR-3ADR, please visit here.
Information, Updates and Social Media
If you like to be updated with the latest information on Casio and G-SHOCK watches, you can sign up for CASIO ID at https://gshock.casio.com/sg/ 
If you own a G-SHOCK watch, you can tag them at @gshock_sg and use the hashtags #gshocksg on social!
Technical Specifications
GA-2100FR
Construction

Shock-resistant

Water Resistance

200 meters

World time

31 time zones (48 cities + coordinated universal time), daylight saving time on/off

Stopwatch

1/100 second; Measuring capacity: 00'00″00~59'59″99 (for the first 60 minutes)

1:00'00~23:59'59 (after 60 minutes)

Measuring unit:1/100 second (for the first 60 minutes)

1 second (after 60 minutes)

Measuring modes: Elapsed time, split time, 1st-2nd place times

Countdown Timer

1 second; Countdown range: 24 hours

Countdown start time setting range: 1 second to 24 hours

(1-second increments, 1-minute increments and 1-hour increments)

Alarm

5 daily alarms, Hourly time signal

Other Functions

Double LED Light:LED light for the face (Super illuminator, selectable illumination duration(1.5 seconds or 3 seconds),afterglow), LED backlight for the digital display (Super illuminator, selectable illumination duration(1.5 seconds or 3 seconds),afterglow); Hand shift feature (Hands move out of the way to provide an unobstructed view of digital display contents); 12/24-hour format; Button operation tone on/off

Accuracy at Normal Temperature

±15 seconds per month

Battery Life

Approx. 3 years on SR726W x 2

Size of Case

48.5 × 45.4 × 11.8 mm

Total Weight

Approx.51g
GA-2200MFR
Construction

Shock-resistant

Water Resistance

200 meters

World time

31 time zones (48 cities + coordinated universal time), daylight saving time on/off

Stopwatch

1/100 second; Measuring capacity: 00'00″00~59'59″99 (for the first 60 minutes)

1:00'00~23:59'59 (after 60 minutes)

Measuring unit:1/100 second (for the first 60 minutes)

1 second (after 60 minutes)

Measuring modes: Elapsed time, split time, 1st-2nd place times

Countdown Timer

1 second; Countdown range: 24 hours

Countdown start time setting range: 1 second to 24 hours

(1-second increments, 1-minute increments and 1-hour increments)

Alarm

5 daily alarms, Hourly time signal

Other Functions

Double LED Light: LED light for the face (Super illuminator, selectable illumination duration(1.5 seconds or 3 seconds),afterglow), LED backlight for the digital display (Super illuminator, selectable illumination duration(1.5 seconds or 3 seconds),afterglow); Hand shift feature (Hands move out of the way to provide an unobstructed view of digital display contents); 12/24-hour format; Button operation tone on/off

Accuracy at Normal Temperature

±15 seconds per month

Battery Life

Approx. 3 years on SR726W x 2

Size of Case

50.8 × 47.1 × 13.1 mm

Total Weight

Approx.57g
* Information and pictures courtesy of Casio and Brand Cellar *