G-SHOCK introduces new Blue Paisley series
G-SHOCK introduces new Blue Paisley series, a new design with the iconic paisley pattern on bandanas and other fashion items printed on the dials, and the bezel and bands are are in black. For watch lovers who love blue colour as well as paisley patterns, these watches are the ones to look at! These watches are perfect to pair with casual and street styles, for those more into fashion and pairing with their watches!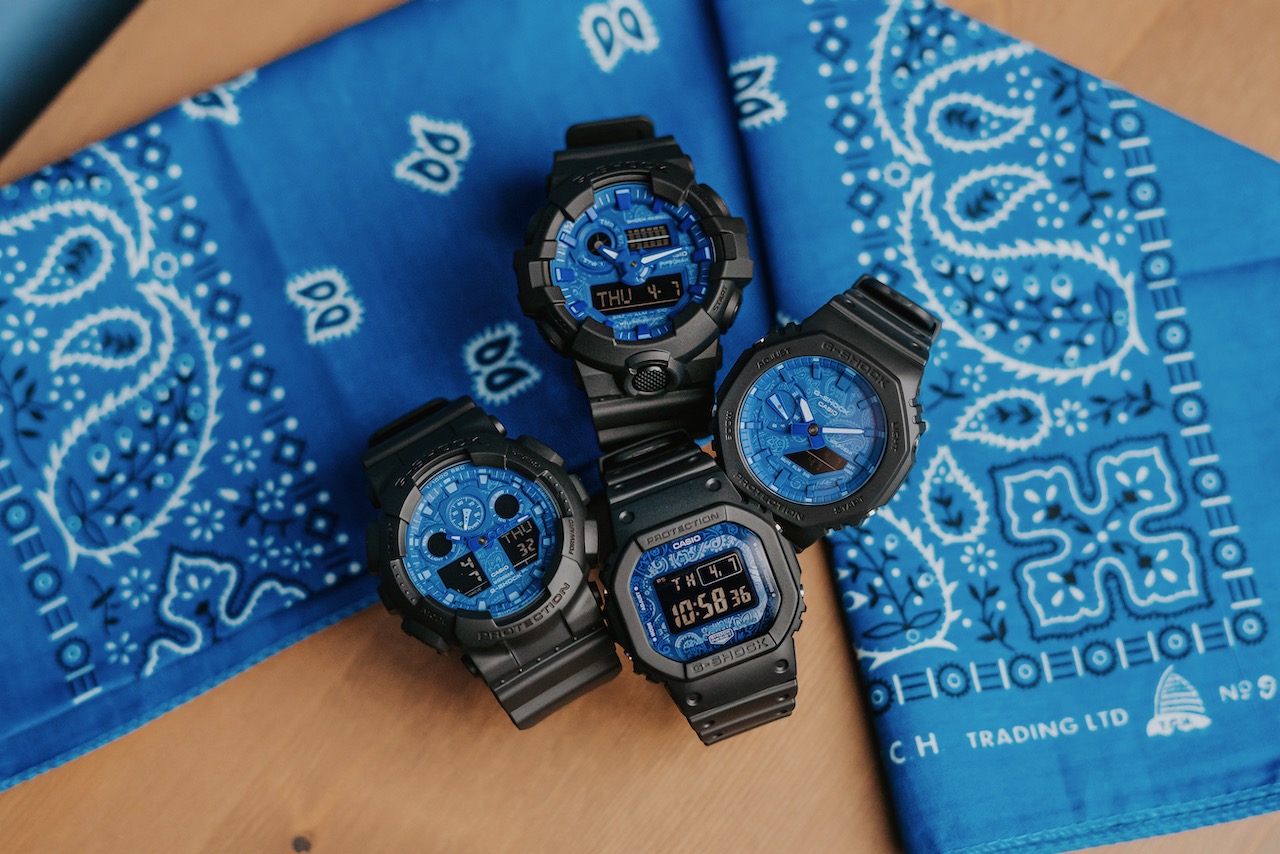 The new Blue Paisley series comes in five base models, the square-case radio-controlled solar digital GW-B5600, the big-case GA-700 and GA-100, and the octagon bezel GA-2100.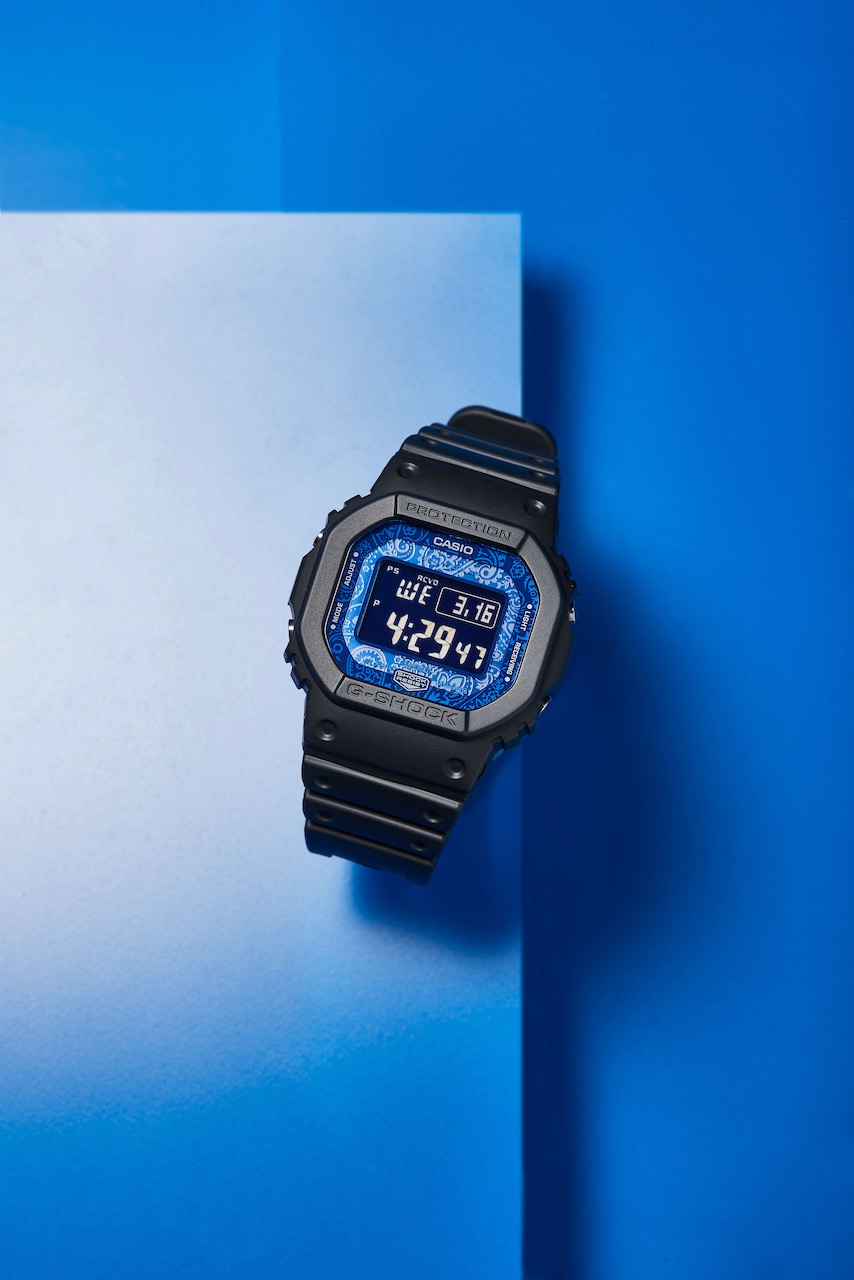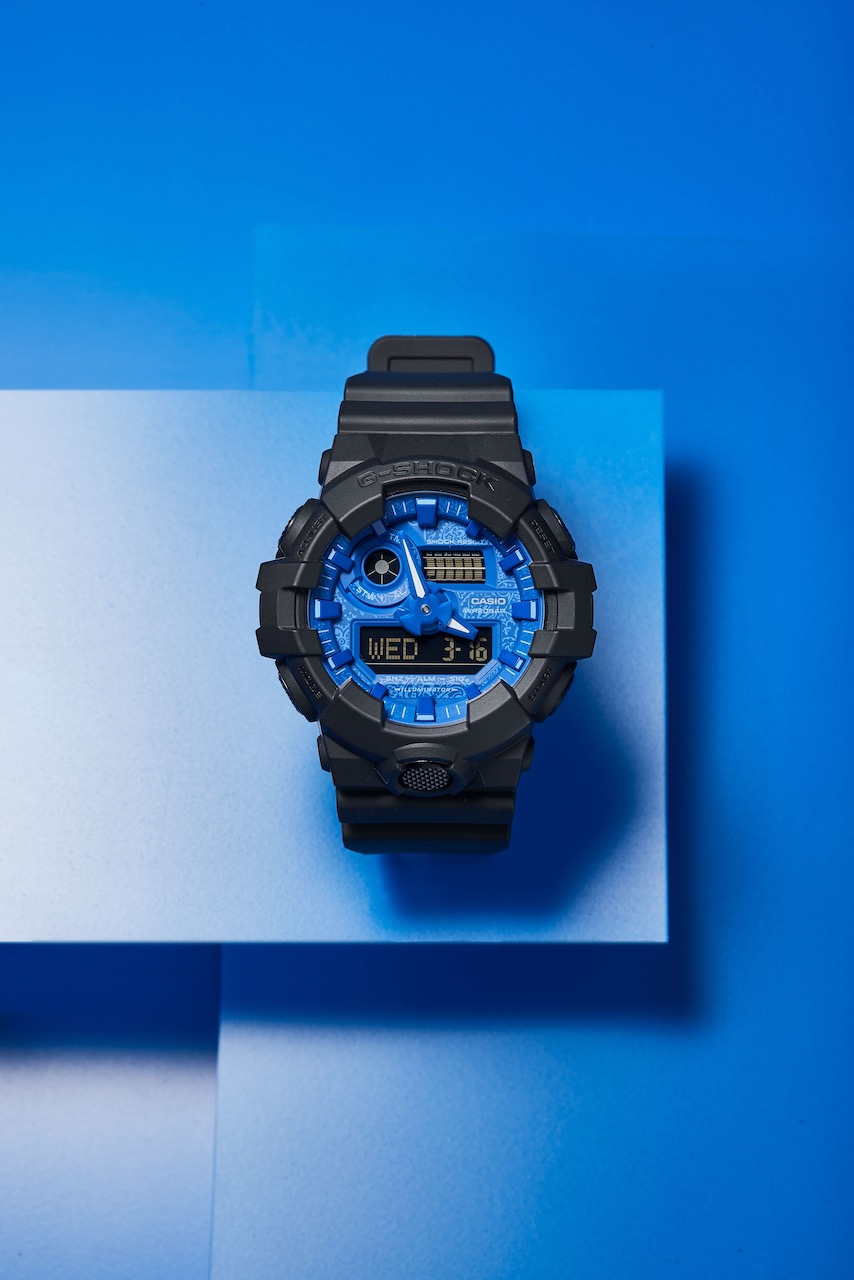 All four watches can set world time and have LED lights that maintain watch readability in the dark. Of course, they are shock-resistant and 200m water-resistant. The GW-B5600BP has Bluetooth connectivity that gives you easy setting through G-SHOCK Connected app, and it is solar powered.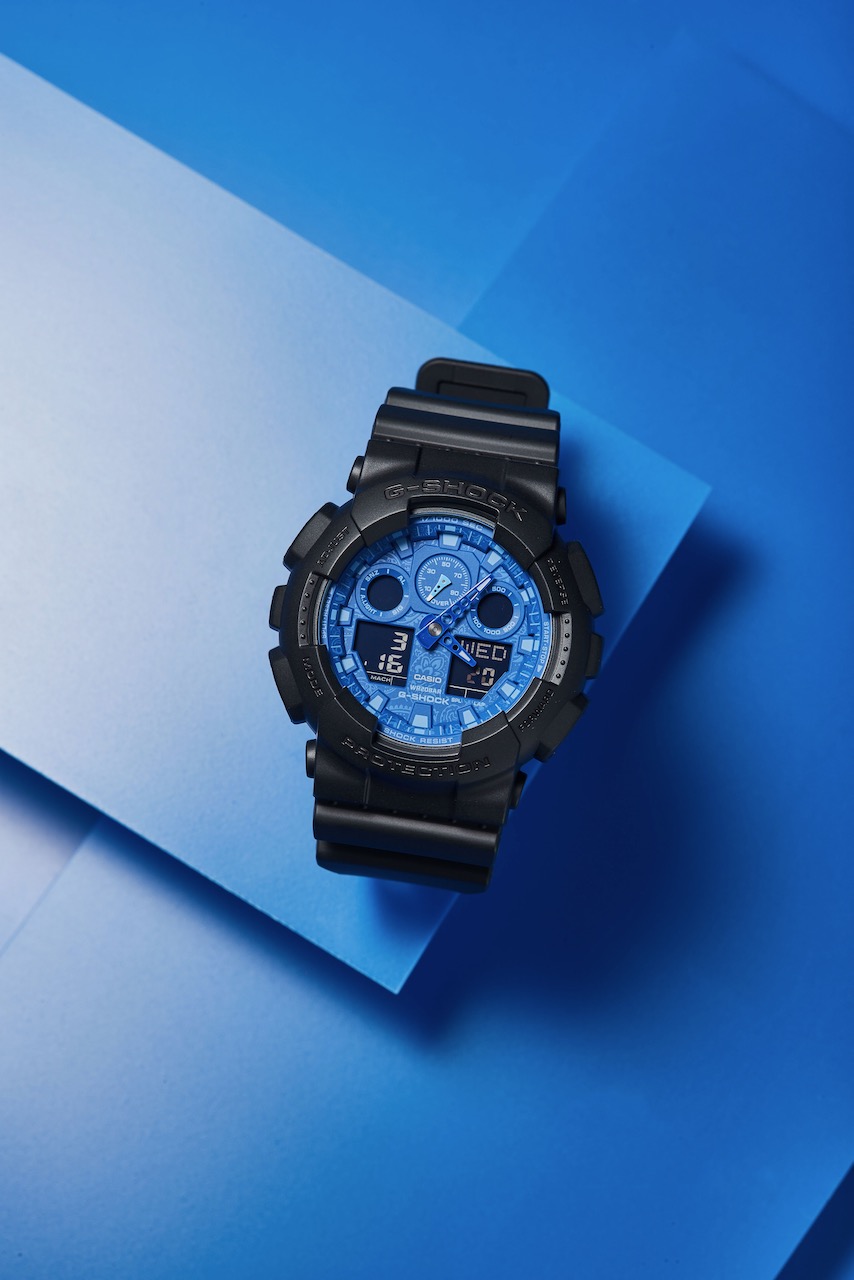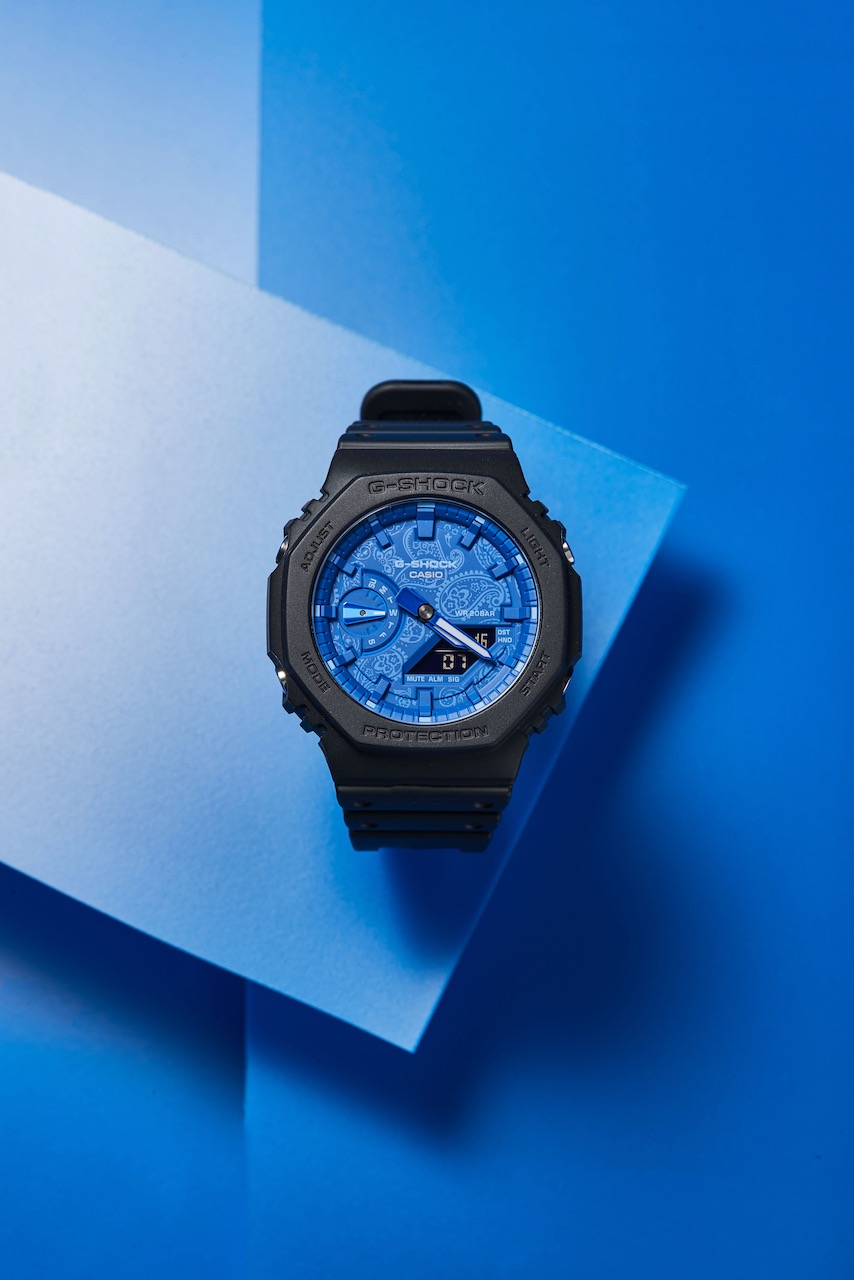 Pricing and Availability
The Blue Paisley series will be available at https://gshock.casio.com/sg/ and in all G-SHOCK stores from 29th April 2022.
For more information on the G-SHOCK Blue Paisley series, check it out here.
Technical Specifications
GW-B5600BP
Construction

Shock-resistant

Water Resistance

200 meters

Mobile Link

Wireless linking using Bluetooth®

Radio Frequency

77.5 kHz (DCF77: Germany); 60 kHz (MSF: UK); 60 kHz (WWVB: USA); 40 kHz (JJY: Fukushima, Japan) / 60 kHz (JJY: Kyushu, Japan); 68.5 kHz (BPC: China)

Radio Wave Reception

Automatic reception up to six times a day (except for use in China: up to five times a day); manual reception

World Time

39 time zones (39 cities + coordinated universal time), daylight saving on/off, Home city/World time city swapping, auto summer time (DST) switching

Stopwatch

1/100 second

Measuring capacity:

00'00″00~59'59″99 (for the first 60 minutes)

1:00'00~23:59'59 (after 60 minutes)

Measuring unit:

1/100 second (for the first 60 minutes)

1 second (after 60 minutes)

Measuring modes: Elapsed time, split time, 1st-2nd place times

Countdown Timer

1 second; Countdown range: 24 hours

Countdown start time setting range: 1 minute to 24 hours (1-minute increments and 1-hour increments)

Alarm

5 daily alarms (with 1 snooze alarm), Hourly time signal

Other Functions

LED backlight (Super illuminator): Full auto LED light, selectable illumination duration (2 seconds or 4 seconds),

afterglow); Low battery alert; Power Saving (display goes blank to save power when the watch is left in the

dark); Full auto-calendar (to year 2099); 12/24-hour format; Button operation tone on/off; Date/month display swapping; Day display (days of the week selectable in six languages)

Accuracy at Normal Temperature

±15 seconds per month (with no mobile link function)

Power Source

Tough Solar power system (solar-charging system)

Continuous Operation

10 months on rechargeable battery (operation period with normal use without exposure to light after charge)

22 months on rechargeable battery (operation period when stored in total darkness with the power save function on after full charge)

Size of Case

48.9 × 42.8 × 13.4 mm

Total Weight

Approx.53g
GA-700BP
Construction

Shock-resistant

Water Resistance

200 meters

World Time

31 time zones (48 cities + coordinated universal time), daylight saving on/off, Home city/World time city swapping

Stopwatch

1/100 second; Measuring capacity: 23:59'59.99"

Measuring modes: Elapsed time, split time, 1st-2nd place times

Others: target time alarm, direct timing start from the timekeeping mode

Countdown Timer

1/10 second; Countdown range: 60 minutes

Countdown start time setting range: 1 to 60 minutes (1-minute increments)

Alarm

5 daily alarms (with 1 snooze alarm), Hourly time signal

Other Functions

LED light (Super illuminator): Selectable illumination duration (1.5 seconds or 3 seconds), afterglow; Hand shift feature; Full auto-calendar (to year 2099); 12/24-hour format;

Button operation tone on/off

Accuracy at Normal Temperature

±15 seconds per month

Battery Life

Approx. 5 years on CR2016

Size of Case

57.5 x 53.4 x 18.5

Total Weight

Approx.69g
GA-100BP
Construction

Shock-resistant, Magnetic-resistant

Water Resistance

200 meters

World Time

29 time zones (48 cities + coordinated universal time), daylight saving on/off,

Home city/World time city swapping

Stopwatch

1/1000 second

Measuring capacity: 99:59'59.999"

Measuring modes: Elapsed time, lap time, split time

Others: Speed (0 to 1998 units/hour), Distance input (0.0 to 99.9)

Mach indicator (speed exceeding 1225 units/hour)

Countdown Timer

1 second; Countdown range: 60 minutes

Countdown range: 24 hours

Countdown start time setting range: 1 minute to 24 hours (1-minute increments and 1-hour increments)

Other: Auto-repeat

Alarm

5 daily alarms (with 1 snooze alarm), Hourly time signal

Other Functions

LED light: Auto light switch, selectable illumination duration (1.5 seconds or 3 seconds),afterglow; Full auto-calendar (to year 2099); 12/24-hour format

Accuracy at Normal Temperature

±15 seconds per month (with no mobile link function)

Battery Life

2 years on CR1220

Size of Case

55.0 × 41.2 × 16.9 mm

Total Weight

Approx.72g
GA-2100BP
Construction

Shock-resistant

Water Resistance

200 meters

World time

31 time zones (48 cities + coordinated universal time), daylight saving time on/off

Stopwatch

1/100 second; Measuring capacity: 00'00″00~59'59″99 (for the first 60 minutes)

1:00'00~23:59'59 (after 60 minutes)

Measuring unit:1/100 second (for the first 60 minutes)

1 second (after 60 minutes)

Measuring modes: Elapsed time, split time, 1st-2nd place times

Countdown Timer

1 second; Countdown range: 24 hours

Countdown start time setting range: 1 second to 24 hours

(1-second increments, 1-minute increments and 1-hour increments)

Alarm

5 daily alarms, Hourly time signal

Other Functions

Double LED Light: LED light for the face (Super illuminator, selectable illumination duration (1.5 seconds or 3 seconds), afterglow), LED backlight for the digital display (Super illuminator, selectable illumination duration (1.5 seconds or 3 seconds), afterglow); Hand shift feature; Full auto-calendar; 12/24-hour format; Button operation tone on/off

Accuracy at Normal Temperature

±15 seconds per month

Battery Life

Approx. 3 years on SR726W x 2

Size of Case

48.6 × 45.5 × 11.8 mm

Total Weight

Approx.51g
* Information and pictures courtesy of G-SHOCK and Brand Cellar *