LG Electronics (LG) has entered into the world of portable entertainment with the introduction of LG StandbyME Go (model 27LX5) in Singapore. This new LG portable entertainment device was first unveiled at IFA 2023 in Berlin, it's a revolutionary lifestyle screen that builds upon the success of the original StanbyME, offering a seamless blend of portability, versatility and style that sets to redefine on-the-go entertainment.
The LG StanbyME Go combines a stunning 27-inch touch display with a powerful 20W 4-channel speaker system integrated into a stylish and robust carrying case, a lifestyle companion that adapts to every entertainment need.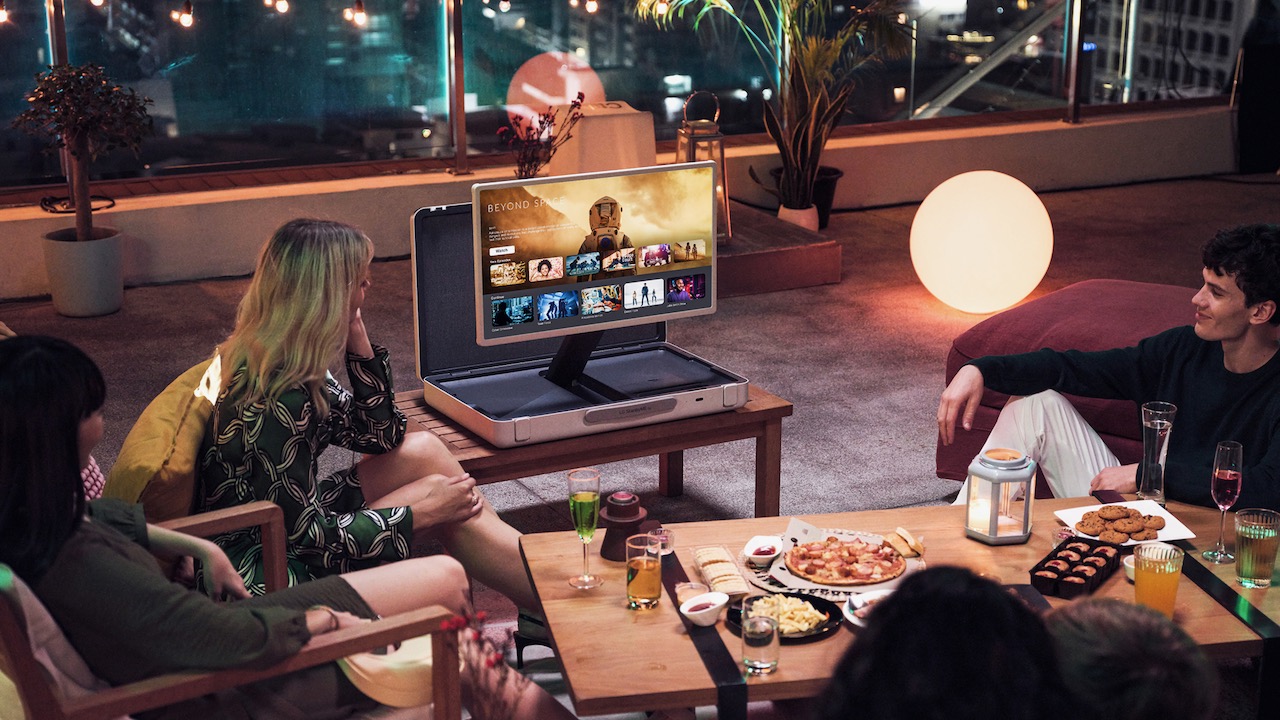 Entertainment Tailored to Any Environment 
One of the standout features of the LG StanbyME GO is the ability to adapt to any environment, making this portable on-the-go entertainment by LG, the perfect addition for both indoor and outdoor activities alike. From gaming and watching movies to indulging in various forms of entertainment, this innovative entertainment device ensures an immersive experience anywhere. The LG StanbyME GO has an integrated battery that gives up to 3 hours (1) of uninterrupted use, freeing users from lugging an external power source around. Additionally, the carrying case offers convenient storage for the product's streamlined remote control and power cable, ensuring that all essentials are within reach for a hassle-free entertainment experience.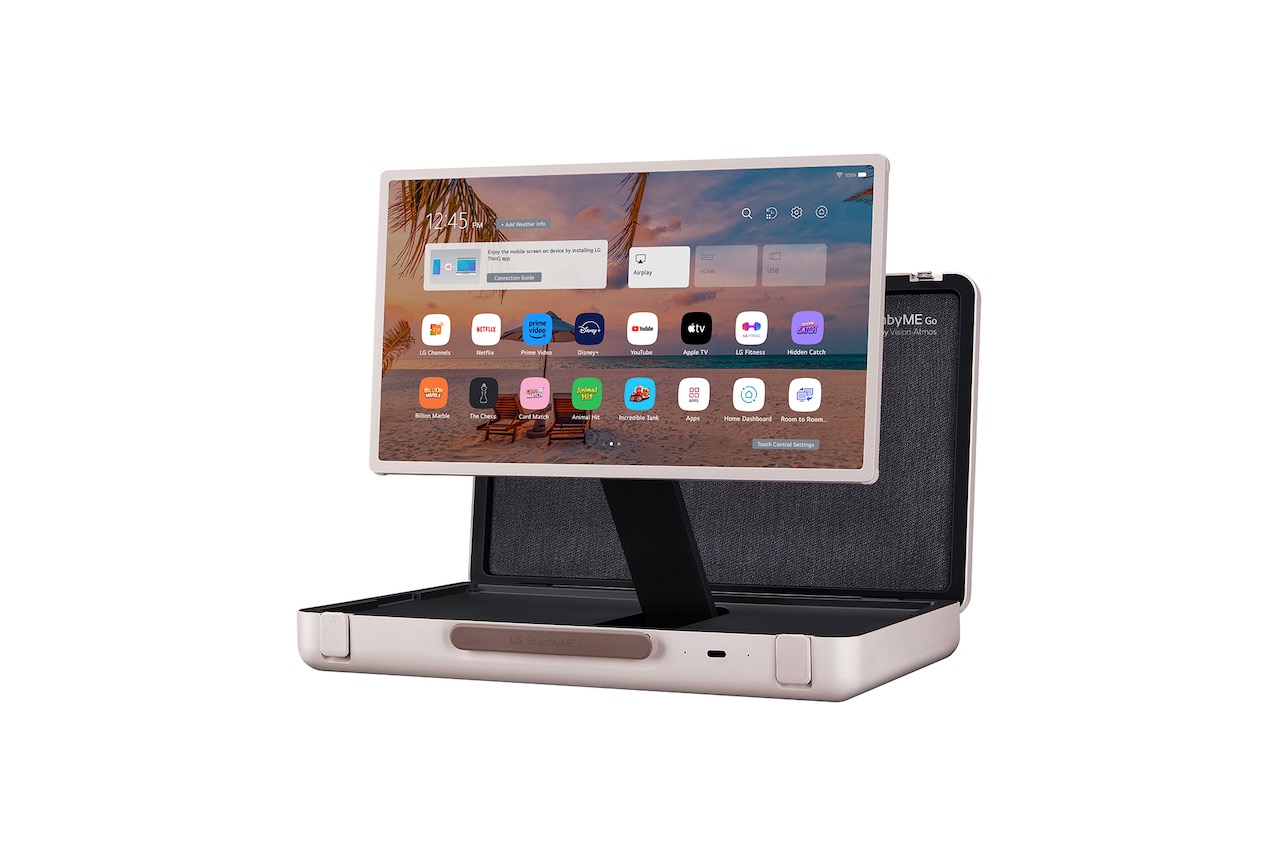 The LG StanbyME Go boasts a vibrant FHD 1080p display, ensuring crystal-clear visuals for an immersive entertainment experience. Bringing movies, games and multimedia content to life with vivid colours and sharp details, what sets the device apart is its intuitive touch screen (2) functionality, allowing users to interact effortlessly with their content. The device also automatically activates the screen when the case is open and powers down when closed, enhancing convenience and power efficiency. Powered by the advanced ?7 AI Processor Gen5 and featuring Resolution Upscaler, Dolby Vision®, and HDR10 technologies, the LG StanbyME Go delivers lifelike images that captivate the viewer's imagination.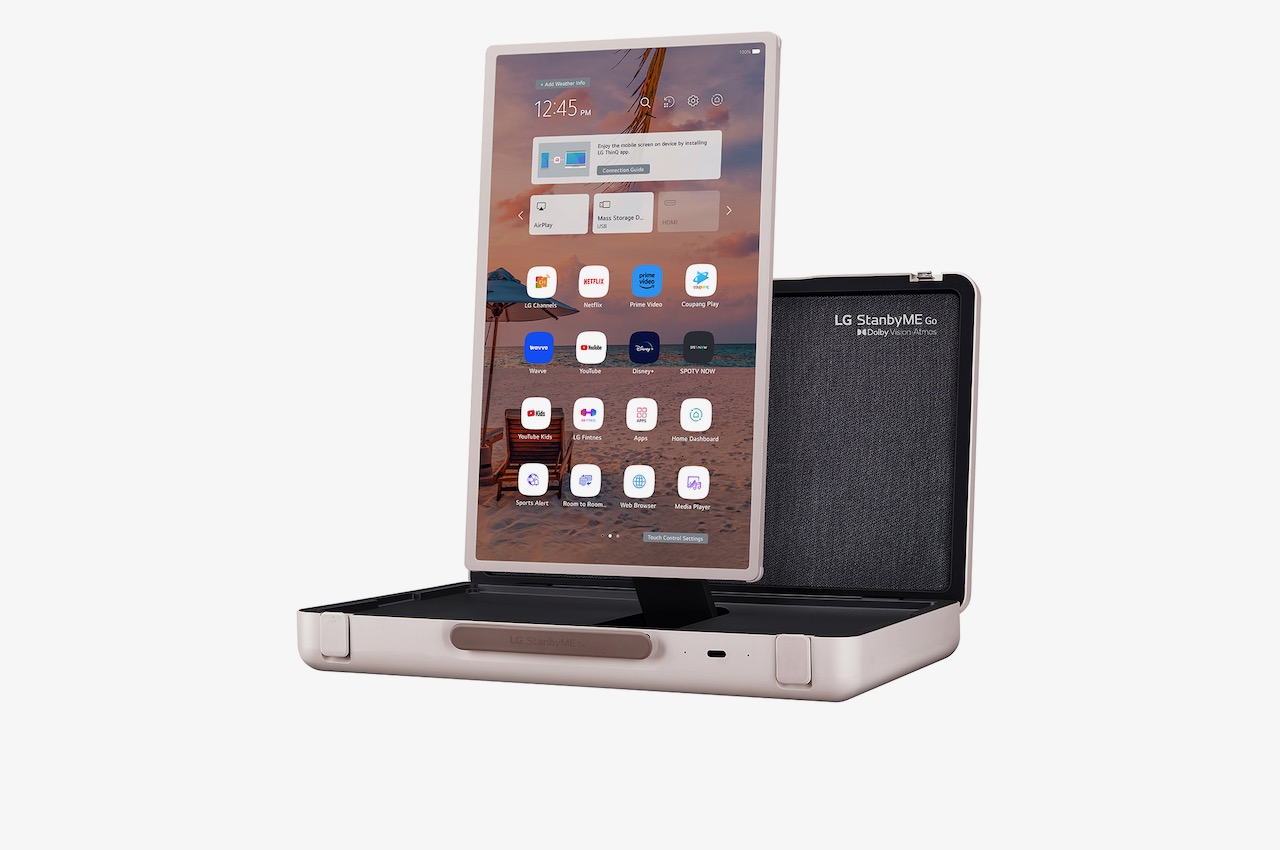 Flexibility with Cutting-Edge Hardware
Another key feature of the LG StanbyME GO is flexibility. Users can effortlessly personalise the screen orientation for optimal viewing angles, smoothly transitioning between landscape and portrait orientations with a 90-degree rotation. This innovative entertainment device also offers height adjustment of up to 18cm, along with the engaging table mode.
In table mode, the LG StanbyME GO's screen lays flat within the lower section of the case, providing the perfect platform for digital board games or immersing in nostalgic listening experience with the virtual record player.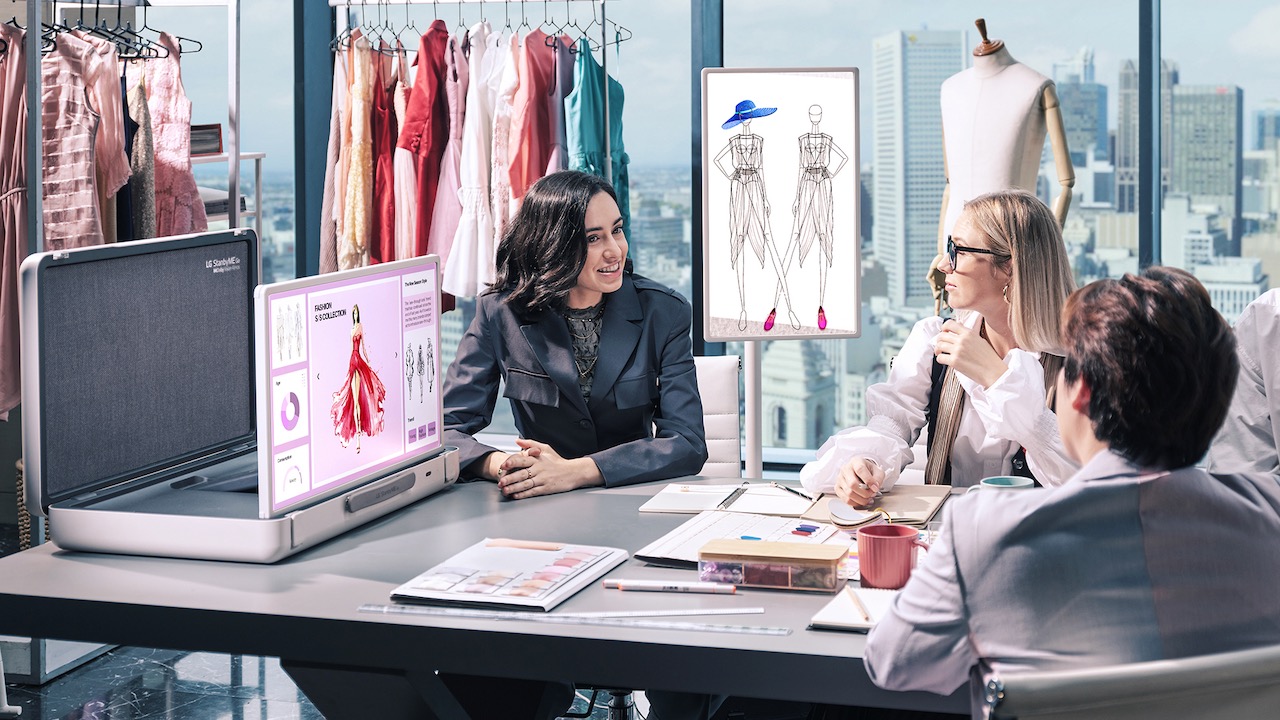 LG's commitment to durability shines through in the LG StanbyME Go, which meets 11 tests compliant with the U.S. military's rigorous MIL-STD-810G standard. Proving its resilience in various environmental conditions – low pressure, extreme temperatures, dust and salt spray – the device is engineered to withstand accidental drops, vibration, and shock, ensuring an uninterrupted entertainment experience no matter where it goes (3).
Immersive Sound Experience with AI
In addition to its top-tier hardware, the LG StanbyME Go offers an immersive audiovisual experience with built-in speakers and AI Sound Pro technology that intelligently optimises audio output to the front of the screen. Whether the screen is set on table, horizontal or vertical mode, the 3-way sound optimiser delivers optimised sound for any setting. With Bluetooth Surround Ready and support for Dolby's advanced video and sound technologies, Dolby Vision® and Dolby Atmos®, the LG StanbyME Go promises unparalleled audio and visual quality.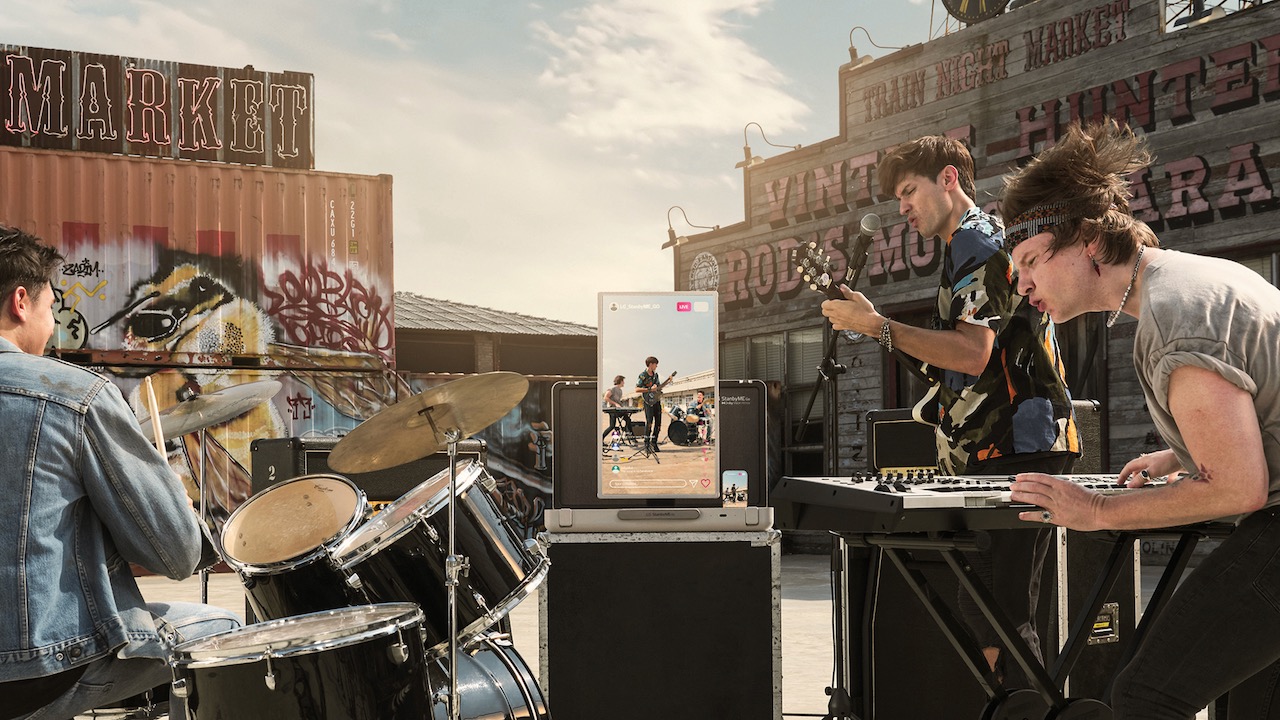 Effortless Integration
The LG StanbyME Go also comes equipped with LG's webOS smart TV platform. Equipped with LG ThinQ™ AI, the device intuitively adapts to users' preferences. This integration enables seamless connectivity to iOS or Android devices, extending to popular platforms such as Airplay2, Homekit, and Hey Google, providing seamless connectivity options. Furthermore, with Hands-Free Voice Control (4), users can launch apps, adjust sound settings and search for content without lifting a finger – the perfect solution for multitaskers.
"LG Electronics dedicates itself to pushing the boundaries of innovation in entertainment," said Lee Chang Ha, Product Director of Home Electronics. "The LG StanbyME Go exemplifies our commitment to creating products that seamlessly integrate into our customer's lives, providing them with exceptional entertainment experiences wherever they go."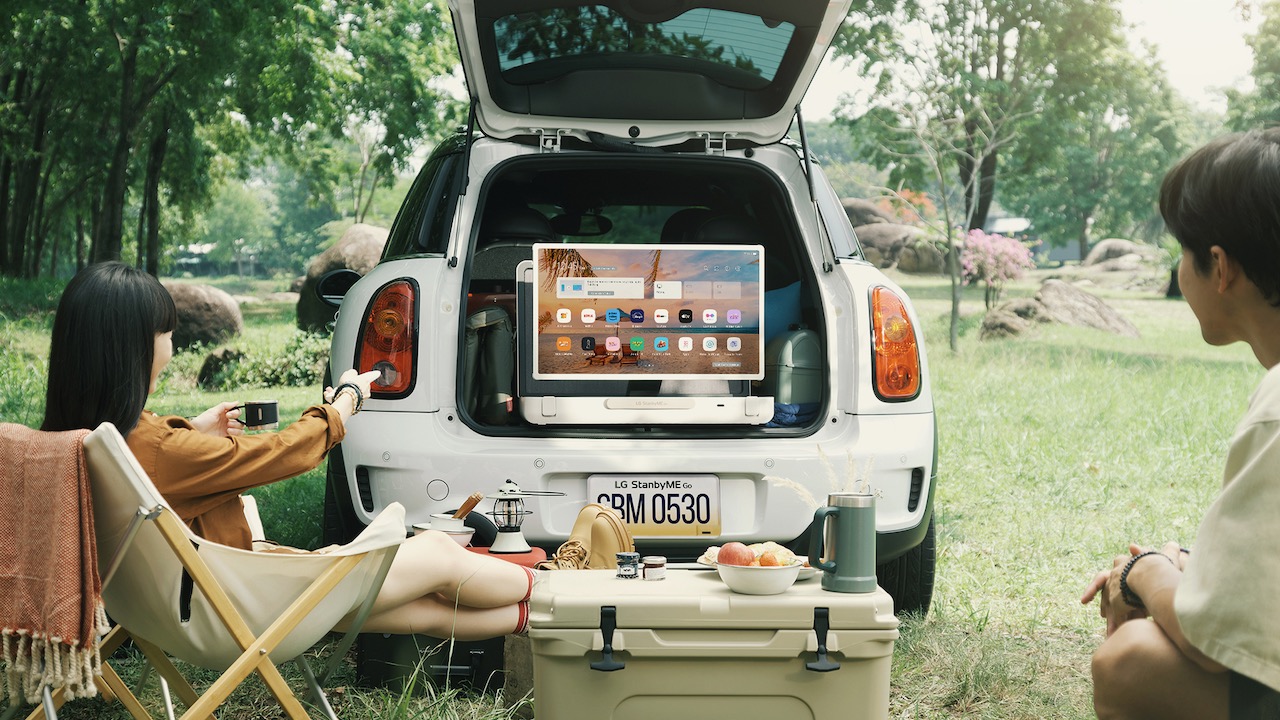 Pricing and Availability
The LG StanbyME Go is priced at S$1,799 and will be available at LG Online Brand Store, Amazon, Shopee, Lazada, KrisShop and authorised retailers – Audio House, Best Denki, Courts, Gain City, Harvey Norman, Mega Discount Store and Parisilk.
Notes:
The 3-hour duration is based on using the device in eco mode, actual battery usage may vary depending on conditions.
The touch screen feature may vary by the app and connected device, and certain operations may not be supported.
The product is not waterproof.
The hands-free voice control is disabled at the initial setting due to privacy. It can be used after activating it in the menu. The product needs to be connected to the internet.
* Information and pictures courtesy of LG Electronics Singapore and APRW *