Seagate announced PC gaming SSD FireCuda™ 530
Seagate Technology Holdings plc (NASDAQ: STX) recently announced its newest PC gaming SSD, the FireCuda™ 530. This new PC gaming SSD is now available in Singapore. The new drive offers gamers the latest PCIe Gen4 NVMe SSD technology and the fastest performance from the company's line of PC gaming storage products – bringing speed, endurance, and high capacity to the peak of PC performance. Seagate also offers a minimalistic heatsink option for FireCuda 530, specially designed by EKWB for tighter builds and enhanced thermal management.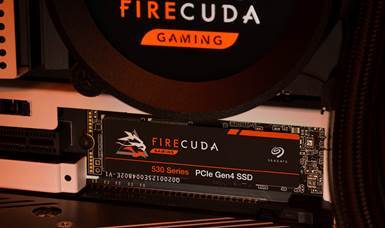 Seagate FireCuda 530 drives
Seagate's FireCuda 530 drives come with a three-year Rescue Data Recovery Service plan and a five-year limited warranty. This would give gamers a peace of mind knowing their data is secure. The new Seagate FireCuda drive also comes bundled with Seagate's SeaTools and DiscWizard, making it easy for gamers and PC builders to add new drives to their computer and monitor the health and performance of each drive.
Delivering sequential read speeds of up to 7300 MB/s, the FireCuda 530 catalyzes PCIe Gen4 power with transfer rates up to two times faster than PCIe Gen3 SSDs and 12 times faster than SATA-based SSDs. The drive is built with a Seagate-validated E18 controller and the latest 3D TLC NAND to provide the most advanced speed and durability for PC gaming.
Seagate FireCuda 530 Heatsink Option
NVMe PCIe Gen4 extreme speeds generate extra heat. That's why Seagate partnered with EKWB — a leader in heat management — to develop FireCuda 530's custom heatsink. Built from a high-grade aluminium block with a finely textured anodized finish to help maximise cooling efficiency, this built-in heatsink helps minimise thermal throttling while maximising peak performance for longer periods of time.
The FireCuda 530 with heatsink is compatible with PS5™ consoles, and meets PS5 specs* on performance and dimensions. FireCuda's built-in heatsink and SSD combo makes for an easy drop-in expansion solution with no additional parts needed.
Pricing and Availability
The Seagate FireCuda 530 drives are available in capacities up to 4TB, the FireCuda 530 offers long lasting endurance of 1.8M MTBF and up to 5100 TBW— meaning gamers can write and delete 70% of the drive capacity every day for 5 years.
The Seagate FireCuda 530 is available now for S$199 (500GB), S$349 (1TB), S$729 (2TB) and S$1,399 (4TB). To celebrate the launch in Singapore, Seagate FireCuda 530 will be offered for S$189 (500GB), S$339 (1TB), S$699 (2TB) and S$1,369 (4TB) until 30 September 2021. The FireCuda 530 will be available on Seagate's official stores on Shopee and Lazada.
The Seagate FireCuda 530 with heatsink, also available now, is offered for S$819 (2TB) and S$1,499 (4TB) on Seagate's official stores on Shopee and Lazada. Until 30 September 2021, enjoy special launch promo of S$789 (2TB) and S$1,459 (4TB).
For more information and to learn more about FireCuda 530, visit: https://www.seagate.com/sg/en/products/gaming-drives/pc-gaming/firecuda-530-ssd/#
Participate in the "Win with Seagate's new Stylish, Speedy and Secure Storage" lucky draw  until 18 September 2021 here https://bit.ly/SG-OT-Gaming, and stand the chance to win FireCuda 530 and other Seagate gaming products.
* Information and picture courtesy of Seagate Technology *