Huawei launched first desktop monitor range in Singapore
Huawei recently announced the launch of the its first desktop monitor range in Singapore. They include the flagship standalone display HUAWEI MateView and gaming desktop monitor HUAWEI MateView GT. The HUAWEI MateView carry the flagship "Mate" name, marking Huawei's entry into high-end monitor market. Both monitors have stunning image quality, smart features and sleek designs, they are set to compel working professionals and gamers.
There is also another monitor, the HUAWEI Display 23.8″, a TÜV Rheinland eye comfort-certified Full-HD panel with three narrow bezels measuring as thin as 5.7mm to produce a screen-to-body ratio of 90%. If you are keen on the three new Huawei monitors, they are now available exclusively online in Shopee Huawei Official Store from 1 September 2021. Customers can also visit selected Huawei Experience Stores* and purchase the monitors on Lazada Huawei Flagship Store from 17 September 2021.
HUAWEI MateView: First Flagship 28.2-inch Standalone Monitor with Professional-grade Performance to Power Productivity
Packed with high resolution, dynamic range and colour accuracy, HUAWEI MateView is an excellent all-rounder monitor for content creation, productivity, and entertainment, fitting seamlessly into any working space with its minimalist design and meticulous craftsmanship.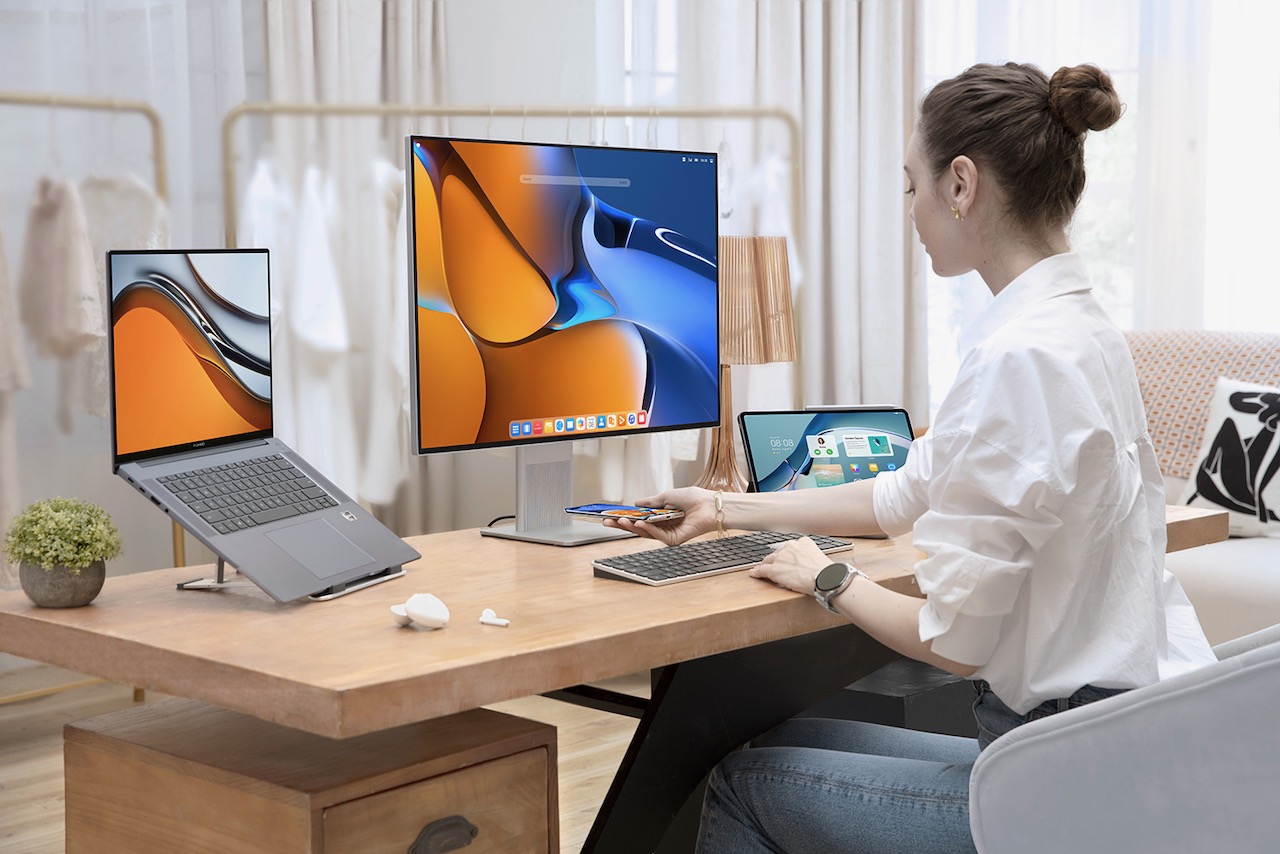 Large 4K+ Ultra-HD Display with Detailed Image Quality
As Huawei's first flagship monitor, the HUAWEI MateView has a large 28.2-inch display with a high 4K+ resolution of 3840×2560, delivering outstanding viewing experience and detailed image quality. Each monitor is professionally calibrated to provide greater colour accuracy and precise colour reproduction covering 98% of the cinema-standard DCI-P3 colour gamut, meeting the VESA DisplayHDR™ 400 standard. Its 3:2 aspect ratio and large 28.2-inch diameter maximise the viewing area for increased productivity, while the display's near-borderless design minimises distractions. Eye fatigue is reduced with low blue light emissions and flicker-free operation, certified by TÜV Rheinland.
Wireless Connectivity and Smart Features Offer Maximum Flexibility
Through wireless connection, the Huawei laptops, smartphones and tablets can be projected to the HUAWEI MateView, maximising the large 3:2 productivity screen. Users can also choose to duplicate or extend the PC screen, allowing you to open multiple windows at the same time. With this mode, users can fully harness the computing power of their smartphones and enjoy the ultimate productivity experience on the large screen. To deliver a responsive and high-quality screen casting experience, the HUAWEI MateView also supports a high resolution of 2K for PC screen casting6, and does so at a low latency.
Behind the monitor, users have access to a versatile range of ports for every office use case, including two USB-C ports, two USB-A ports, one HDMI port, one Mini DisplayPort and one 3.5mm audio jack. Desk clutter is reduced with the MateView's in-built USB ports, allowing peripherals such as mice and keyboards to be easily switched between devices.
Unique HUAWEI Smart Bar Delivers a Simplified UI Control Experience
In contrast to unintuitive on-screen display (OSD) settings menus found on traditional monitors, the MateView's brand-new HUAWEI Smart Bar offers a user-friendly touch interface for quickly and easily adjusting display settings.
Spectacular Sound — In and Out
Two high-powered, front-firing speakers are embedded into the stand, delivering spectacular sound whilst minimising any quality loss from reflected sound waves. Also integrated into the stand are two microphones supporting built-in noise reduction algorithms and sound pickup from sources up to four metres away.
Minimalist Aesthetics that Accent any Décor
Inspired by renowned painter Wassily Kandinsky, HUAWEI MateView abandons bulky traditional monitor design and instead incorporates a Futurist approach that adorns sleek minimalism with subtle details. With its precise craftsmanship and artful design, HUAWEI MateView seamlessly and beautifully complements any working space.
HUAWEI MateView GT: Ultimate Gaming Performance with Curved 34-inch Ultrawide Display and High 165Hz Refresh Rate
With an expansive, curved, ultra-wide and ultra-responsive panel, the all-new HUAWEI MateView GT immerses gamers completely and provides them with a competitive advantage. A striking, sports car-inspired design bolsters HUAWEI MateView GT's presence on the desk, making it an impressive centrepiece on any gaming setup.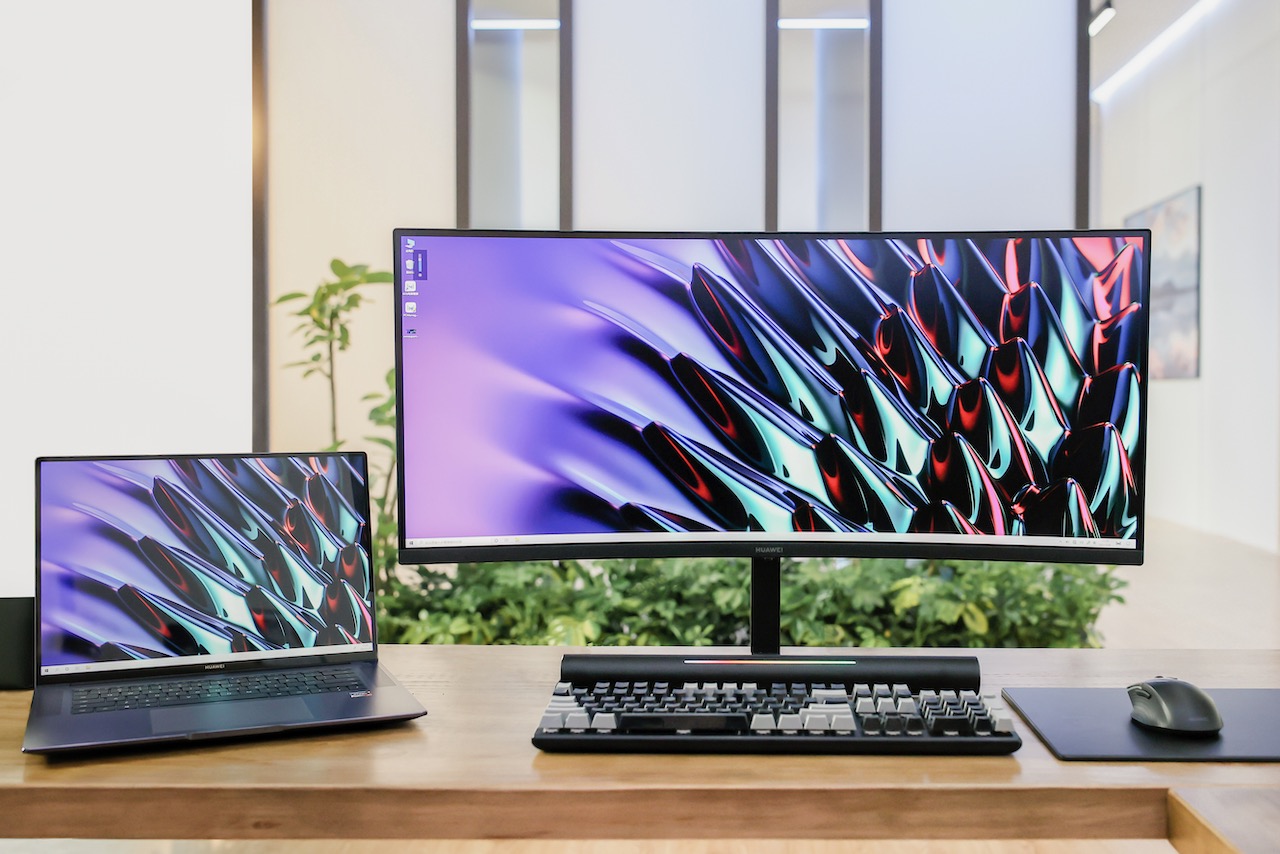 Immersive Surround Display, Engineered for Gamers
With its ultra-wide 21:9 ultra-wide aspect ratio, 1500R curvature and expansive 34-inch size, HUAWEI MateView GT surrounds gamers with an immersive, super large-screen experience. The panel's ultra-fast 165Hz refresh rate results in enhanced responsiveness — an important advantage in competitive gaming scenarios — and smoother motion that is more fluid than on standard 60Hz displays. An in-built crosshair display can be enabled, helping competitive first-person shooter gamers to quickly target their opponents, while TÜV Rheinland-certified low blue light emissions and flicker-free operation reduce eye fatigue during intense gaming sessions.
Integrated Soundbar and Dual-microphone System for Realistic Sound and Clear Communication
A unique soundbar design integrates the dual speakers with the base. The dual 5W full-range speaker units, which can be adjusted easily via the touch-sensitive light bar, are tuned with Huawei's own intelligent algorithms to deliver fuller and more realistic sound, while an innovative dual-microphone voice system supports intelligent noise cancellation, feedback elimination and proximity pairing of up to 4m in distance for crystal-clear communication.
Iconic, Striking High-Tech Aesthetic
A high-end, luxurious look and feel is achieved through the HUAWEI MateView GT's sleek geometric design. A matte finish and futuristic ring pattern on the back create a striking, highly unique and recognisable look that resembles a high-tech sculpture for the desk.
HUAWEI Display 23.8": Simplicity at Best with 90% Screen-to-Body Ratio
Featuring a unibody design, with three narrow bezels measuring as thin as 5.7mm to produce a screen-to-body ratio of 90%, the HUAWEI Display 23.8" aids productivity and provides great entertainment for mainstream users. Its panel measures 23.8 inches wide and supports a Full HD resolution of 1920×1080, with a 1000:1 contrast ratio and wide 178 degrees viewing angle that provides premium picture quality and vivid detail. Its 60Hz refresh rate and AMD FreeSync™ support enables smoother motion and eliminates screen tearing in gaming situations.
Pricing and Availability 
Product

Retail Price (SGD)

Launch Promo

HUAWEI MateView

$998

Get it for only $858 (save $140) when you purchase the voucher for $1 in Shopee between 1 – 8 Sept

• Free HUAWEI FreeBuds Studio (worth $398) for online purchase via official stores in Lazada and Shopee
• 3-year warranty

HUAWEI MateView GT

$798

Get it for only $658 (save $140) when you purchase the voucher for $1 in Shopee between 1 – 8 Sept

• Free HUAWEI FreeBuds Studio (worth $398) for online purchase via official stores in Lazada and Shopee
• 3-year warranty

HUAWEI Display 23.8"

$228

Get it for only $179 (save $49) in a Group Buy purchase in Shopee from 9 – 11 Sept

• Enjoy $30 off RRP for purchase in selected Huawei Experience Stores from 17 – 30 Sept
• 1-year warranty
* Information and pictures courtesy of Huawei Consumer BG and MSL Group *